Summer is almost here, and to me, summer means barbecue. Like most people, I love a good barbecue, and lucky for me, my fiancé loves to grill. Any time we have a stretch of good weather, he's ready to grill up some burgers or steak. So, of course, we were excited to be able to try out some grilling spices and sauces from McCormick.
I was sent the following items from McCormick to review: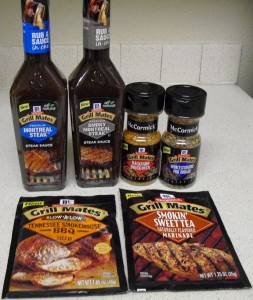 I received the McCormick Grill Mates Premium Montreal Steak Sauce, Premium Smoky Montreal Steak Sauce, the Backyard Brick Oven Seasoning, Worcestershire Pub Burger Seasoning, Smokin' Sweet Tea Marinade, and Tennessee Smokehouse BBQ Rub.
One of the ways we used the seasoning and sauces was on steak. My fiancé used both the Backyard Brick Oven Seasoning, and Worcestershire Pub Burger Seasoning on the steaks. He also used the Premium Montreal Steak Sauce and Premium Smoky Montreal Steak Sauce as marinades for the steak, and they turned out really good! The seasonings and marinades made them taste delicious.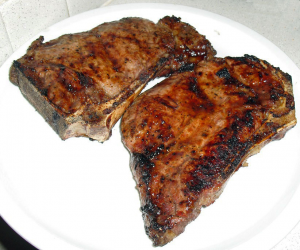 The steak was great on it own, but the McCormick Grill Mates Steak Sauces were really good on them as well. Both sauces were a bit thinner than steak sauces I'm used to using, but they both had a really nice flavor. I also liked that they both doubled as marinades, and are all natural. There's no MSG, or high-fructose corn syrup in them, which many other steak sauces have.
My favorite spice was definitely the Worcestershire Pub Burger Seasoning. I love Worcestershire sauce, I put it on just about everything, and this seasoning definitely has that Worcestershire flavor that I love. The Worcestershire Pub Burger Seasoning was great on burgers, as it's name suggests, but I also used it when cooking some mushroom burgers, and on chicken. It's a great, versatile spice, that has definitely gotten a lot of use since I received it.
The rubs and marinade packets were also great. I used both the Smokin' Sweet Tea Marinade and the Tennessee Smokehouse BBQ Rub on chicken. The instructions were easy, and it made making some really good chicken extremely easy.
Overall, I really enjoyed these barbecue spices. They're great for the upcoming barbecue season, and great to have as added flavoring to just about any dish. I also really liked that all the McCormick Grill Mates seasonings are MSG free, and the steak sauces are all natural. You can enjoy these spices and seasoning without having to worry about any harmful ingredients. These spices would also make a great Father's Day Gift, especially paired with some other grilling essentials!
Buy it: You can purchase the McCormick Grill Mates Seasonings, Rubs, Marinades, and Sauces seen here, and many more at your local grocery store.
Connect: You can connect with McCormick Grill Mates on their Website, Facebook and YouTube.
Win it: One lucky reader gets to win a kit of the McCormick Spices seen here. This giveaway is open to US residents 18 years of age and older, and ends on June 15, 2013 at 11:59 PM EST. To enter, just fill out the Giveaway Tools form below. Good luck!


This post currently has 11 responses.