Thank you Hammock Universe
for providing me with a product to review, free of charge.
These are my own honest opinions.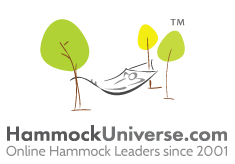 During hot summer days, nothing relaxes me more than lounging in a hammock. We used to have one but it wasn't a very good quality hammock and didn't last. Even since we got rid of it, I've been dreaming about the soothing motion and the joy of reading a book or simply relaxing in a hammock. I didn't want to get another poor quality one because I knew it would be a waste of money but I wasn't quite sure where to go for a high quality hammock. Turns out the answer was Hammock Universe.
Hammock Universe is a Canadian company that's been around for over 10 years and as their name suggests, they specialize in all things hammocks: hammocks, hammock stands, hanging chairs and accessories. Because they're not a big box store selling a million other products, they really know their products and only offer the best quality. Here's a small sample of the products you'll find on Hammock Universe.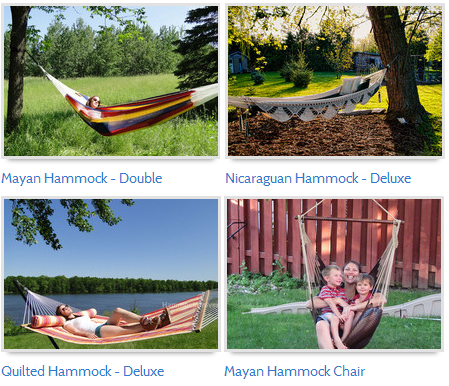 For this review, I received a Double Cotton Rope Hammock with Eco-Friendly Hammock Tree Straps.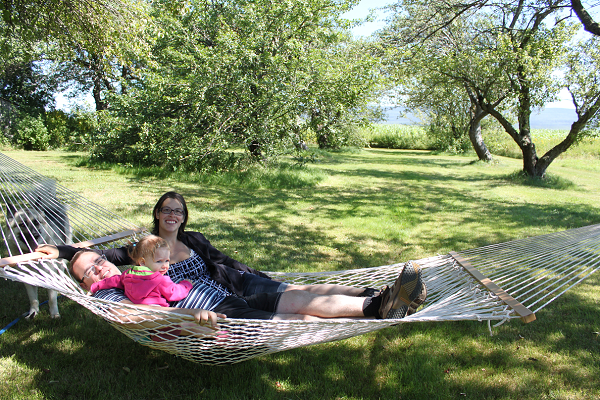 The Double Cotton Rope Hammock is a very roomy hammock, measuring 7 feet from spreader to spreader by 5 feet. It can easily accommodate 2 adults with a weight limit of 450lbs. I like the 2 spreader bars because they make it easy to get in and out of the hammock. The twisted rope design is very comfortable because the cotton breathes and you can feel the wind blow through the hammock.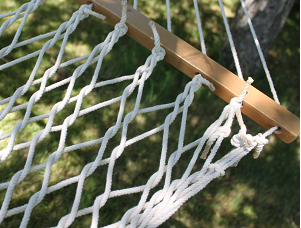 The one downfall of cotton rope hammock is that is absorbs moisture making it more prone to mildew. It is therefore recommended to store it when not in use.
This hammock measures a good 13 feet in total so you'll need at least that much space to hang it (the recommended distance is 13 to 17 feet). Hammock Universe sells beautiful stands and I'll think I'll be getting a 3-Beam Hammock Stand so I can move it around from shade to sun.

At the moment, I use the Eco-Friendly Hammock Tree Straps to hang it. These straps require no drilling or nailing into the tree trunk so it doesn't harm the tree in any way. The straps measure 10 feet long each which mean you can literally attach your hammock to any trees. They work with all types of hammocks. They are made of heavy duty Nylon and can hold up to 450lbs which is conveniently the weight limit on my hammock as well.
The straps are very easy to attach and you can adjust them to be at the height that you want. All you do is wrap the straps around the tree and through the loop at the end of the strap. Keep wrapping around the tree and into the loop until you get the right length to attach the hammock.  It takes about 10-15 minutes and you're ready to enjoy your hammock. It took me longer to decide under which trees I wanted to attach the hammock than to actually do it!
If you're not familiar with the many different types of hammocks and would like to find out more, take a look at the helpful Hammock Buying Guide. You'll be able to find the perfect hammock based on the features that matter most to you: comfort, durability, kid friendly, weight capacity, etc.
Buy It: Head over to Hammock Universe to see for yourself the great selection of hammocks and hammock accessories they offer. They offer free shipping on order $35+!
Connect: Don't forget to like them on Facebook and follow them on Twitter for all the latest news and promotions.


This post currently has 9 responses.