BooginHead is a company committed to producing products that help makes parent's lives a little easier. The term BooginHead was created in the founders family to describe when someone does something they shouldn't such as when your 1 year old is throwing their sippy cup on the floor over and over again just to watch you pick it up. In their family, they would laughingly and lovingly refer to that as being a BooginHead. A term that can't help but make you smile during sometimes frustrating days.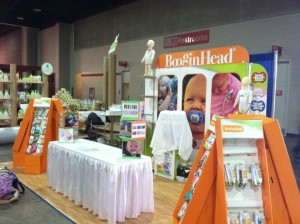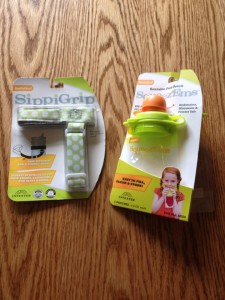 I was sent samples of BooginHead's SippiGrip and Squeeze'Ems.  The Sippi Grip does just what it says.  It grips your child's sippy cup or toy and prevents it from falling to the floor or ground.  The SippiGrip is easy to use.  You just place the grip part of the material around the cup or toy and thread the strap through the ring and pull it tight and connect the velcro.  The other end is adjustable to allow you to secure your SippiGrip to a chair, stroller, car seat, or wherever you want it attached.  If your SippiGrip gets dirty, you can hand wash in cold water and line dry it.  We really like the SippiGrip since our 1 year old loves to play "The Game."  No matter how many times you give him a toy, cup, or snack, he enjoys seeing how long it takes before you quit returning the item back to him.  Throw.  Pick up.  Throw.  Pick up.  Throw.  Pick up.  If you have a child, I'm sure you know the game well.  BooginHead has come to my rescue because even though it's my sons favorite game, it's not mine.  The SippiGrip comes in an assortment of different colors and patterns.  The Camo is my favorite.
The Squeeze'Ems is a Reusable Food Pouch that is dishwasher, microwave, and freezer safe.  They are BPA free, PVC free, and Phthalate Free.  I was excited to try the Squeeze'Ems because our one year old likes pureed food yet and baby food pouches are expensive.  I thought this would be a great way to allow him to feed himself and save some money.  Plus, I purchased some applesauce pouches for our older children for a picnic last month and they have been asking for more ever since.  I like the fact that I can make my own baby food and pour it into the Squeeze'Ems or just fill with applesauce for our older children.  I found the Squeeze'Ems easy to fill.  You just pop the top open and pour the food in and then snap the lid shut.  The cover is a twist on/off but stays attached to the pouch so you don't loose it.  I also found it easy to clean the pouches out.  I just hand washed in warm soapy water.  While we liked these, the kids did have trouble getting the pouch completely empty but there wan't too much waste.  I'm looking forward to using these for healthy snacks when we head to the beach, park, and zoo.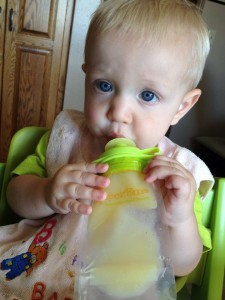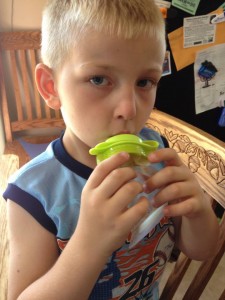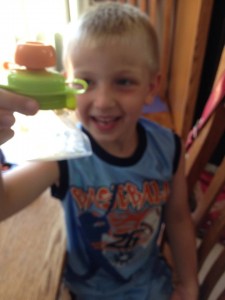 Buy It: Head over to BooginHead to see for yourself the great selection of Squeeze'Ems, PaciGrip, SippiGrip, SplatMat, and PaciPouch products they offer.
Connect: Don't forget to like BooginHead on Facebook, follow them on Twitter and Pinterest, and subscribe to their YouTube Channel for all the latest news and promotions.
Win It:  BooginHead is generously offering one of our lucky readers a Squeeze'Em and SippiGrip. The giveaway is open to US only. The giveaway will end August 22nd, 2013. For your chance to win, enter the Giveaway Tools below. Good luck!
*Emily Reviews is currently testing out the upgraded giveaway tools entry form. Because it is so new, it may have some bugs or technical problems. If you experience any problems with the form, please email Giveaway Tools at Support@giveawaytools.com.


I'm a city girl turned country by my awesome husband and we have three busy boys and two darling daughters. I love spending time with my family, reading Karen Kingsbury novels, and catching up with friends while our kiddos have play dates. I'm blessed beyond measure and can't wait to see what God has in store.
Follow Miranda on Pinterest | Twitter| Blog | Instagram
This post currently has 9 responses.