Thank you In A Pikle
for providing me with a product to review, free of charge.
These are my own honest opinions.
Even before I was a mom, I always carried a million 'just-in-case' things in my purse. Now that I'm a mom, it seems that I have even more little must-haves to bring along. My husband would make fun of me all the time because I had disorganized baggies full of bandages, hand sanitizer, bobby pins, nail file, etc. Of course, he was always happy (and somewhat surprised) that I had thought about packing all that but it was sometimes time consuming to find something. Not to mention that the little baggies would rip and everything would end up out of reach at the bottom on my rather large purse…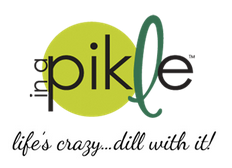 Apparently, there are people much more clever than me who thought of a better – and stylish – way to organize dozens of purse-essentials! The company is called In A Pikle and they have designed the cutest organizer bags with see-through zippered sleeves so you can 'dill' with small emergencies and unexpected situations without losing your cool and your style! The bags comes in many different styles and colors. Take a look at some of their adorable bags: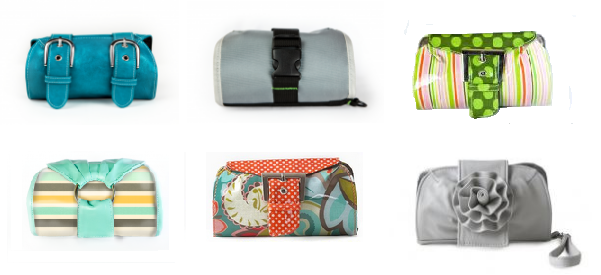 The way these organizers work is simple. First, you get to choose the bag that you want (this might be more difficult than it seems because they have so many pretty ones to choose from). Each bag comes with 4 clear sleeves (each bag has an opening on each end so you get 8 pouches). The bag also has a zippered pocket at the back and elastic straps in the inside cover for larger items such as tissues, a spot remover pen, etc. You can choose to get a Starter Pak with your bag or not but for the price difference, I recommend you get the Starter Pak because you'll probably end up spending more if you buy the items individually yourself. The Starter Pak has 22 different items, some of which you get multiples of. For example, you get 10 bandages, 3 hair bands, 5 safety pins, etc. In total, you get 52 must-haves to fill your bag including tweezers, small scissors, 2 screwdrivers, a sewing kit, a mirror and much much more! When your supplies are low, you can also buy an complete refill pak or buy a thematic refill pak.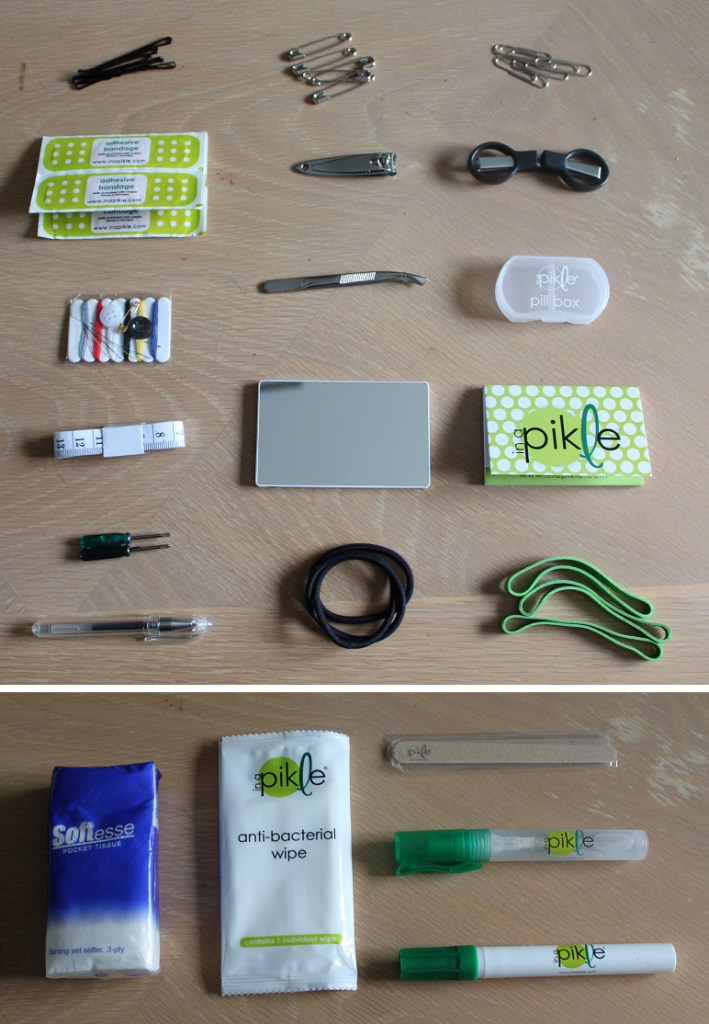 Setting up and organizing the bag is very straight forward: you open the bag up, unsnap the 2 interior straps, place your empty clear sleeves on top of each other and line them up so their holes are over the snaps. Then you snap the straps back into place and you can start filling up the sleeves. You can really arrange your items in any way you want but In A Pikle also has a handy diagram to make sure everything fits.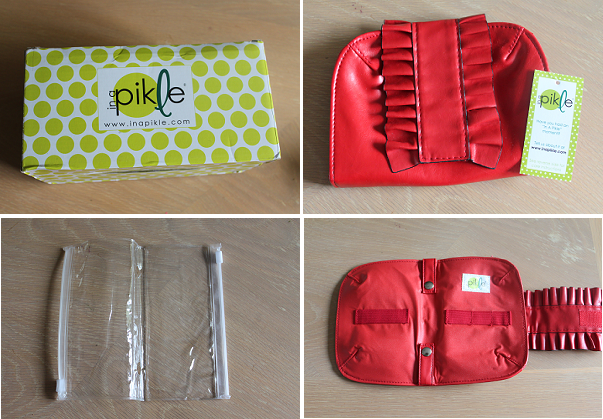 For this review, I received the gorgeous Pepper Pikle in Red. I love the ruffles on either side of the strap! When people see it, they compliment me on how cute the bag is but you should see their face when I show them what's inside! They are always surprised to find out that such a pretty bag can also be packed with so many must-haves. When it's full, the bag measures approximately 7 inches by 3.5 inches in diameter so it fits easily in my purse or in my backpack.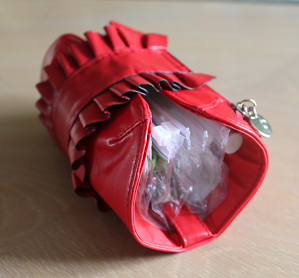 I love that I don't have to worry about forgetting something important because I know that everything I can possibly need is in my bag. The way I organized it, I was actually left with an empty pouch and a few empty elastic straps in the cover which I filled with more essentials: a face cloth, a spork, antibacterial ointment, etc.
Overall, I am thrilled with my In A Pikle organizer. First of all, it's super cute! But most importantly, it keeps all my purse-essentials together. With the see-through sleeves, it's easy to find what I'm looking for so no more digging at the bottom of my purse for an elusive nail file or bandage! I'm thinking about getting another one to keep in the glove compartment of the car.
Buy It: Head over to In A Pikle to see for yourself the beautiful organizer bags they offer.
Connect: Don't forget to like In A Pikle on Facebook, and follow them on Twitter and Pinterest for all the latest news and promotions. Speaking of promotions, In A Pikle is offering you a chance to enter in their giveaway to win a Paisley Dill Pikle bag with Starter Pak. Visit their blog here to enter. In A Pikle is also offering Emily Reviews' readers a special 10% discount. Simly use the code emilyreviews at checkout.


This post currently has 10 responses.