Monthly subscriptions are becoming more and more popular.  There seems to be subscriptions available for anything and every one.  Many times, they make fantastic gifts for hard to buy for people or just a fun surprise for yourself or loved ones that are the recipients.  I just recently became aware of a great little company that provides a subscription service geared for boys and girls ages 0 through 3 years.  Googaro sent me a sample box to facilitate this review.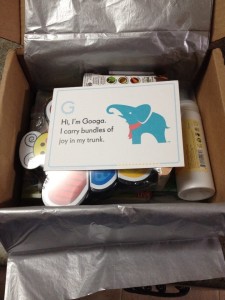 We received a Subscription Box for a 1-2 year old male because our son is 19 months.  I wasn't sure exactly what to expect since they don't specify exact products.  I was hoping for a nice variety and not all toys or all snack items.  I am happy to report that we did receive a wide range of product.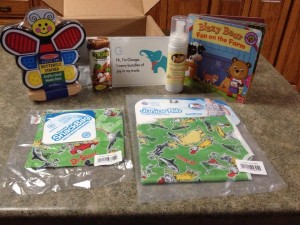 Included in the January 1-2 year old Boy Box that we received was: Melissa & Doug Wooden Butterfly Stacker, Bizzy Bear Fun on the Farm Board Book, Earth Mama Angel Baby Shampoo & Body Wash, Bumkins Waterproof Junior Bib and Reusable Snack Bag, and a one size serving of Sneakz Chocolate Milk.
I put everything back in the box so our son would be able to open his box himself.  At 19 months, he already tries to do everything his older siblings do and when the older kids grab magazines and flyers from the mail, our youngest wants in on the action.  This time, I was able to hand him his Googaro package.  Upon opening, he was quick to notice the food item and insisted on having some immediately.  It ended up being a hit with both him and his 3 year old brother.
I really like the fact that Googaro also included a really great board book.  It's intriguing because each page has something that can be slid or moved and an animal shows up or something changes.  All four of our kids are really enjoying reading and playing with this book.
The Melissa & Doug Wooden Stacking Butterfly Toy is a great product but it is slightly difficult to do.  While he tries, our 19 month old is unable to get the 3 butterfly wing pieces on by himself because you have to line up two holes on each one.  He still enjoys playing with it but I have to assist him.  He is able to get the head on himself because that is only lining up one hole.  It's a nice sturdy toy but I think it would have been better in the 2-3 year old age group box.
The bib and snack bag are perfect for this age group.  Snacks are a must when we leave our house.  I always make sure to keep at least one edible item in the diaper bag at all times.  A reusable snack bag is a great eco friendly way for me to serve him the snack.  The fact that the bib is able to fold up so small but protect a large area is also great.  This is going to be our new diaper bag bib.  The final product, Earth Mama Angel Baby Shampoo & Body Wash finishes off the box perfectly.  While I have used some products from this company, this is my first time trying this particular one.
Overall, our Googaro package was a hit.  Even the toy that was too hard for our youngest will be perfect for him in a couple months.
Buy It: Head over to Googaro to learn more about what they offer.
Connect: Don't forget to like Googaro on Facebook, follow them on Twitter and Pinterest, and subscribe to their YouTube Channel for all the latest news and promotions.
Win It: Googaro is generously offering one of our lucky readers a One Month Subscription Box in winners choice of age and gender. The giveaway is open to US only and will end February 10th, 2014. For your chance to win, enter the Giveaway Tools below. Good luck!
This post currently has 3 responses.