Listening to music has never been so convenient and simple as it is today. Now we all have music on MP3 players, or on our phones, and can easily listen to it with headphones. However, it's often nice to play the music aloud for everyone to hear. That's when a wireless speaker comes in handy. The Lepow Modre is a wireless bluetooth speaker that can be connected to any phone, or other devices, with bluetooth, and play the music. I was lucky enough to be able to try out the Lepow Modre speaker.
I received the following from Lepow Modre for review: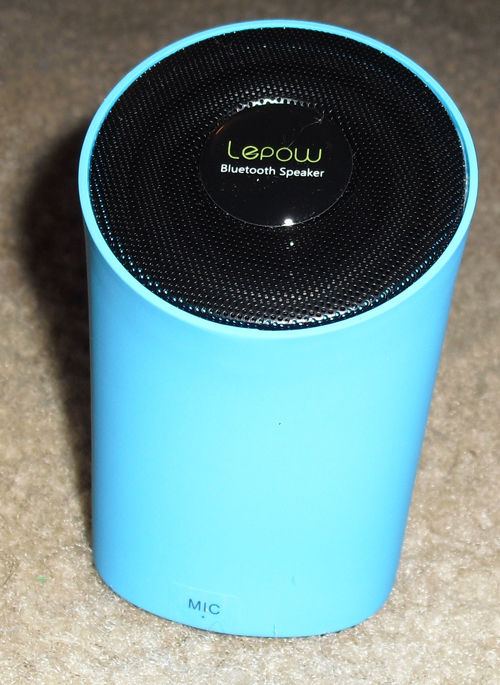 I received the Lepow Modre in blue. It also comes in green and orange. It's hard to tell from the picture, but this speaker is small. It's only 3.5 inches tall and 2.3 inches wide. It has a stainless steel body, and is cute and striking. It has an on/off button, a charging port, and auxiliary port.
The Lepow Modre speaker has a lot of great features. It connects through bluetooth, which means it can connect with most phones, as well as many other devices, and it does so wirelessly. You just turn your bluetooth on, connect to the device, and start your music. I used mine with my laptop quite often. The speaker also has an auxiliary, or 3.5 mm port, or headphone jack, which means it can also connect to any device with a headphone port. It also has a built-in microphone so you can use it for hands-free calling. The speaker is also rechargeable, and plays for 7 hours on one charge, and is completely portable. It's engineered to have 360 degree surround sound. And all in such a little speaker!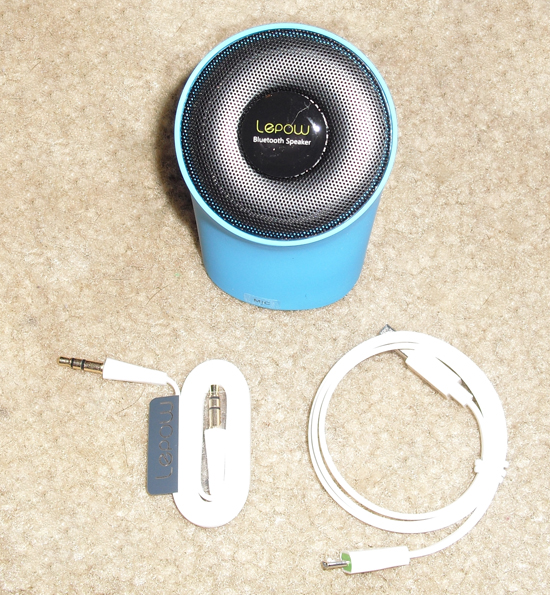 So how did it work? I have to say, I was a bit skeptical of the wireless speaker, considering it's small size, I was sure it wouldn't have a very good sound. However, I was completely wrong! I could not believe the quality of sound that came out of this speaker. Songs sound amazing on it! It has a wide frequency range, and didn't sound tin-like at all. It also gets really loud, but without distorting the sound. If you walked into a room with this speaker going, you would never expect that kind of sound to come from such a small speaker.
The Lepow Modre speaker also has a great bluetooth connection, and a really good range. I could have my phone in the bedroom, and it would play perfectly fine out in the living room. The bluetooth connection is really strong, and seamless. Music plays as if it's connected by wire. It was also very easy to get set up on my bluetooth devices. We had the speaker going in just a few minutes after receiving it.
The built-in microphone works really well too. I've used it for calls in between listing to music with it, and it worked perfectly. People could hear me just fine, and no one could even tell that I was using the speaker rather than my phone.
Overall, I have been extremely impressed with the Lepow Modre wireless speaker. It's small, cute, and works perfectly. I would recommend it to anyone looking for a convenient, portable speaker that has a great sound. At the moment, you can get it for only $35.99, so you should definitely check it out!
Buy it: You can purchase the Lepow Modre wireless speaker seen here online on its Amazon product page.
Connect: You can connect with Lepow on their Facebook, and Twitter.
Win it: One lucky reader will get to win a Lepow Modre Wireless Bluetooth Speaker in their color of choice. This giveaway is open to US residents 18 years of age and older. This giveaway ends on March 27, 2014 at 11:59 PM EST. To enter, simply fill out the Giveaway Tools form below. Good luck!


This post currently has 3 responses.