*There are affiliate links in this blog post.
I've lived in a few different apartments in the past five years. Anyone who has lived in an apartment knows that they aren't usually ideal for storage in general. However, every single apartment I have been in has skimped on bathroom space. I'm not a girly girl who has a huge supply of makeup or hair products but I still have a hard time storing what we have in our small apartment bathrooms. Here are 10 storage solutions that I've found really helpful for coping with a tiny bathroom.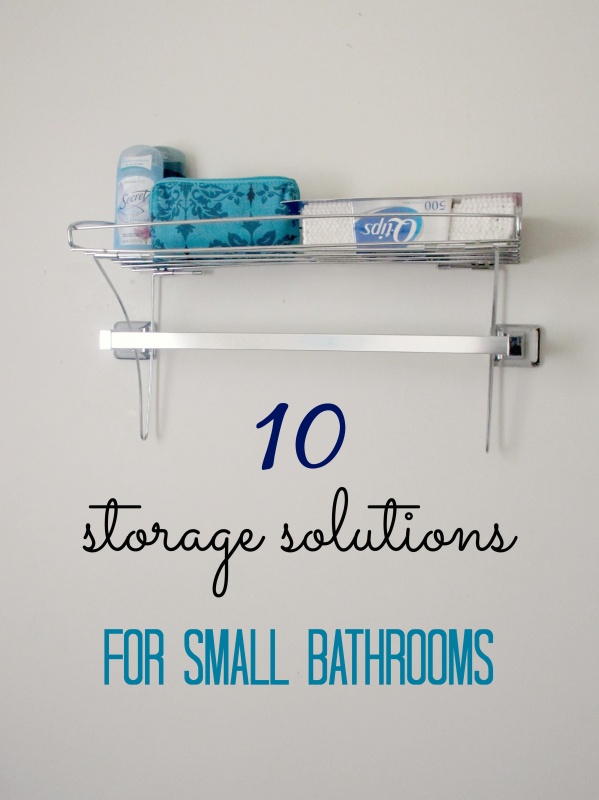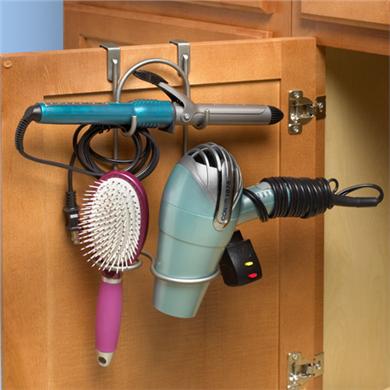 1.Over Cabinet – Hair Styling Tool Holder
. This hangs over a cabinet door and can hold three styling tools such as a blow dryer, flat-iron and curling iron. I use mine to hold a curling iron, blow dryer and my boyfriend's electric razor. These are items that we used to let clutter our counter top, so it's been great to have them off the counter without taking up a ton of horizontal space under the sink. Check out my Spectrum Diversified Review for a more in-depth review of this holder.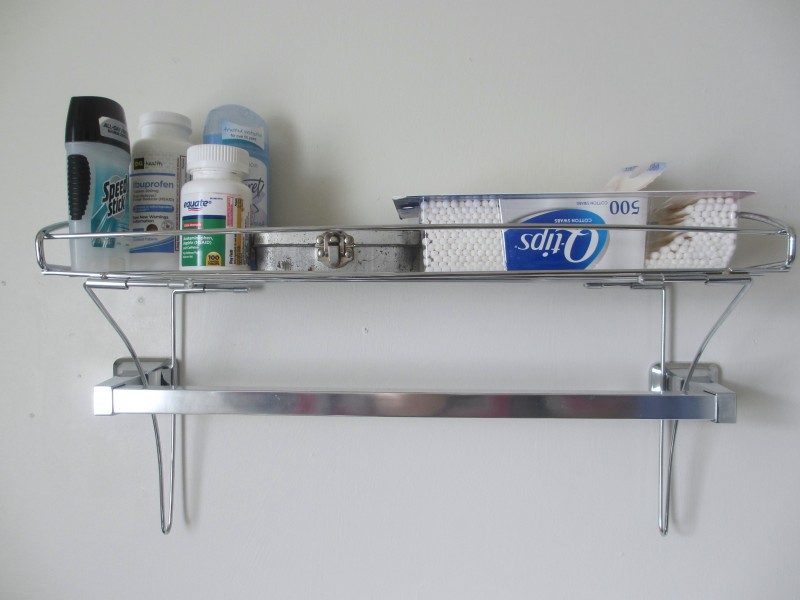 2. Zenith Over Towel Bar Shelf
. This can be used over the top of almost any towel-bar  and there is enough space between the towel bar and the shelf that you can still use the towel bar to hold a towel. It's great for getting random odds-and-ends off of your counter.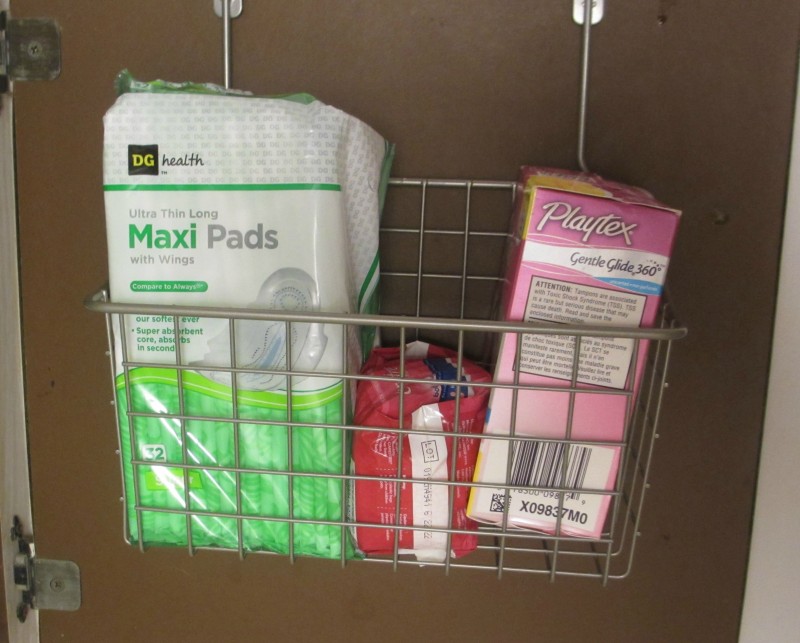 3. Over Cabinet Basket
. This hangs on the other cabinet door under my bathroom sink. I use it to hold feminine protection items but it can hold a wide range of different items depending on your needs. It's a great way to utilize every last inch of space under your sink. If you move to a new place later and no longer need it for the bathroom it would work great in a kitchen or other part of the home as well because it's so versatile. For a full review of this basket check out my Spectrum Diversified Review.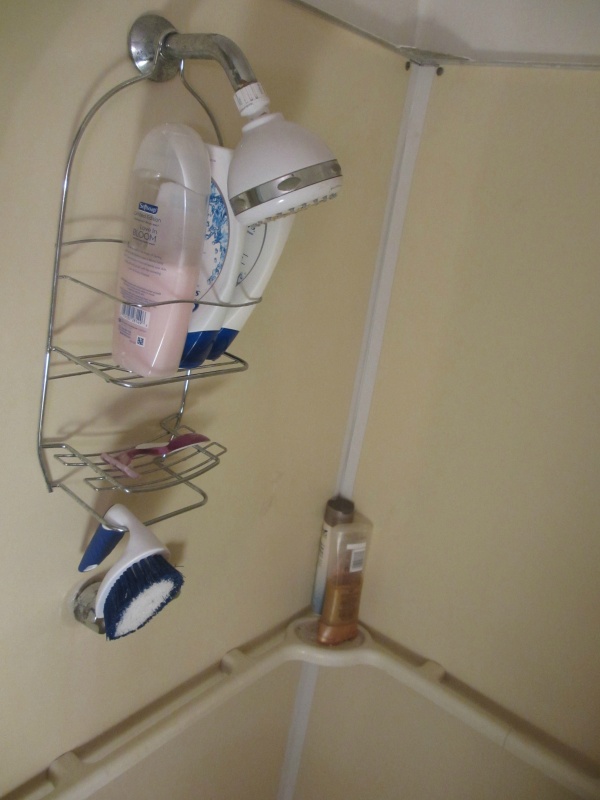 4. Shower Caddy
. If your apartment has a stand-up shower instead of a tub or if you like to use a different set of shampoo and body wash than your spouse uses, having extra storage space in your shower is a must. The Spectrum Diversified caddy is cheap but well made. It is big enough to hold 3 large bottles (shampoo, conditioner & body wash) as well as two shaving razors and it also has room to hang a washcloth or loofah.
5. Upright hamper. The frugal girl in me loves the idea of using laundry baskets as hampers instead of buying a hamper and then transferring the clothing to a basket for washing. Yet, when it comes to a bathroom hamper I completely think it's worth paying money for an upright hamper so that you can save on floor space. I bought a plastic hamper at Target and it just happened to be about the same height as my bathroom sink so I'm able to use the top of it for sitting my PJs while I shower or other "temporary counter space" needs which is great because my bathroom counter-top isn't big enough to hold an outfit.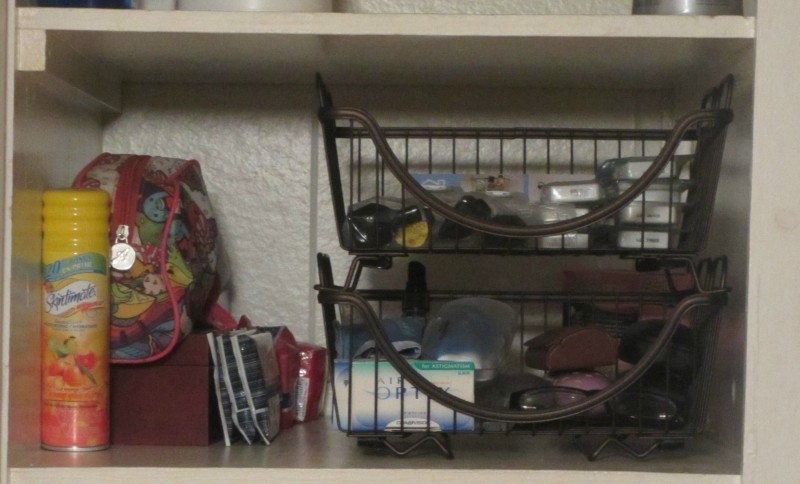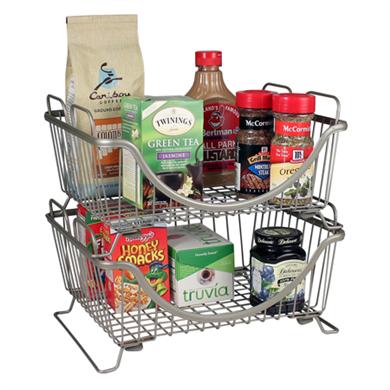 6. Stacking bins. For under-sink or cabinet storage in your bathroom, these stacking bins are great for storing small items like medicine bottles or first aid items to keep them contained. I used to purchase random baskets and just attempt to stack them but they wouldn't stay put very well and it was just messy. These baskets are great. If your cabinets are larger you can buy multiple sets and stack them 3+ high. Check out my Spectrum Diversified Review for a more thorough review of these baskets.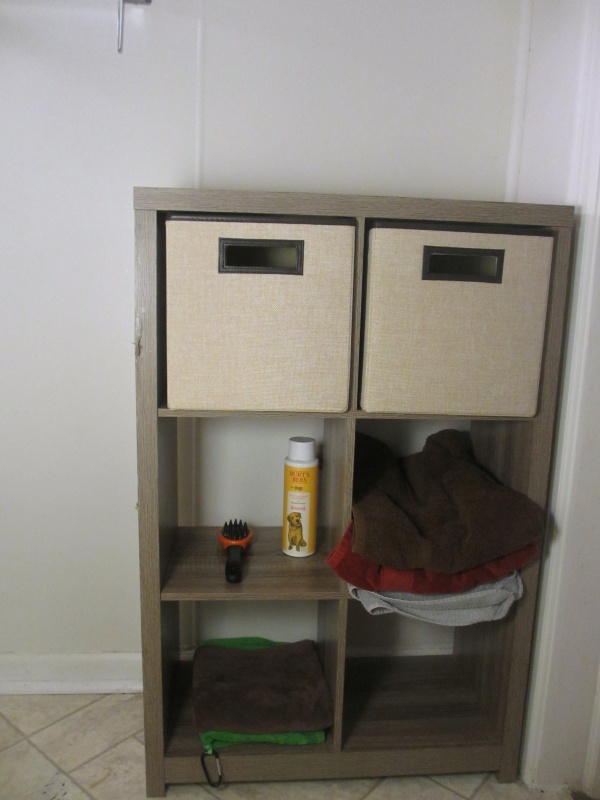 7. Towel holder. Only one of the apartments that I've lived in had a linen closet which was really frustrating because it meant that I needed to keep my towels in my tiny bathroom. My current bathroom only had one area left to store towels and it was behind the door, meaning the storage container needed to be about 12′ deep or less to fit. I had such a hard time finding a towel rack that was short enough that I gave in and bought one that was too wide and stuck out into the doorway – it was a mess. I had a Closetmaid cube storage unit that I was using to store sewing supplies and one day I realized it was about the perfect depth at around 12″. So I moved it into my bathroom! It looks a little odd because it has six cubes but now that I know Closetmaid units are the right depth I plan to purchase a smaller one like the Closetmaid 3 Shelf Unit
.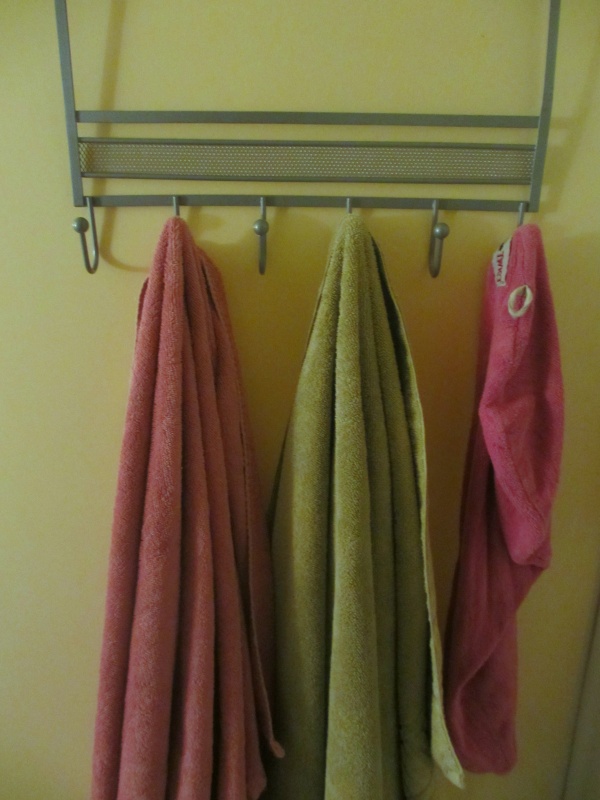 8. Over door towel holder. Each of my apartments has had a single towel bar which isn't ideal when you have two or more people living in the same home. In some apartments we would hang our wet towels over the shower rod but our current apartment has a stand-up shower so we can't do that. I purchased the DecoBros Over The Door 6 Hook Organizer Rack
 over a year and a half ago. I think it is actually intended to be used as a coat rack but it works great for holding our towels. For just $10 it's really sturdy.
9. Medicine Cabinet. If your place has a mirror hanging over the bathroom sink that doesn't include storage, it's definitely worth it to ditch the mirror for a medicine cabinet. Our sink space is really small so having a medicine cabinet keeps our toothpaste, mouthwash, tweezers, etc all off the counter.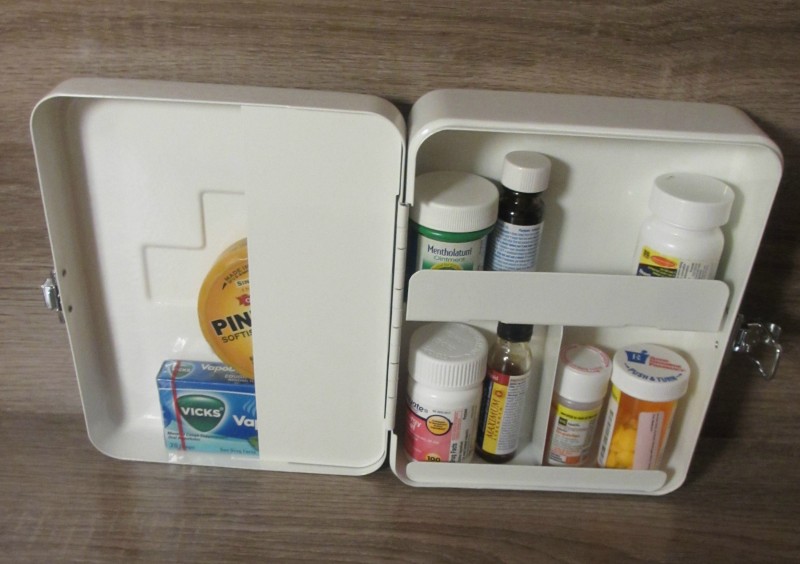 10. Kikkerland First Aid Box
. I love unique, quirky home decor and the Kikkerland first-aid box definitely fits that bill. I was surprised at how small it is in person but I it's a cute way to add a little extra storage if you don't have a medicine cabinet. It's super sturdy and has three diving sections inside. It can be wall mounted or you could use it for storage inside of a cabinet and then take it on the go.
Need more storage solutions? Check out my 10 storage solutions for small apartments blog post.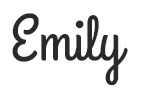 *There are affiliate links in this blog post.
This post currently has 14 responses.