Thank you BuyGreen.com
for providing me with products to review, free of charge,
and for sponsoring this giveaway.
These are my own honest opinions.

The Holiday Season is a time to share and show our appreciation of others. It is also a time where it can be easy to overlook or forget the principles that usually drive our choices as consumers. I, for one, always look for green products and try to maintain this resolution even when shopping for gifts. It can be difficult to find eco-friendly products for everyone but I find BuyGreen.com is a great one-stop e-commerce for all my 'green' needs.
It's easy to find products for kids, for adults, even for pets. They have a great selection of home products, from kitchen items to cleaning products and decor items. They also have personal care products and clothes and accessories. I can literally find something for everyone on my list just by visiting BuyGreen's website. And of course, I can also be confident that each and every product is eco-friendly.

BuyGreen carefully chooses the products they offer and they provide a great rating system. It's called the Green Product Standard which is a detailed analysis of the materials used, the manufacturing process, the product usage and its disposal. For example, they look at the materials used to make the item are natural and organic. They also look at how products are shipped and packaged, and pollution generated by the manufacturing process. We all know there is no such thing as a 100% green product so this transparent rating system really helps clarify and compare products.
To show how diverse their selection of products is, BuyGreen sent me many products to review.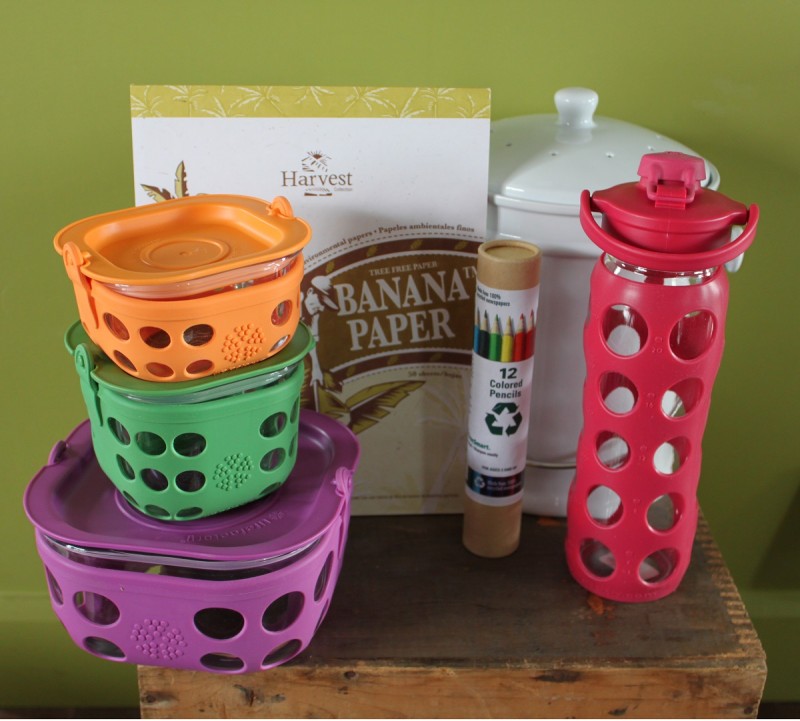 I received 3 food glass storage containers and a glass bottle. All 4 items have a unique protective silicone sleeve which doesn't need to be removed for cleaning (even in the dishwasher) or heating (even in the oven). The food containers come in 3 sizes: 1-cup, 2-cup, and 4-cup, and the sleeves acomes in 4 colors: grass Green, graphite, huckleberry and orange. They are my absolute favorite lunch and leftover containers! As for the bottles, they come in 4 sizes: 9-oz, 12-oz, 16-oz, and 22-oz. I love glass because it's inert so it doesn't leach chemical into food and drinks and since they are made of tempered glass, they are actually quite resistant. With the silicone sleeve, they have an added layer of protection which makes them even less prone to chiping, scratching, and cracking.
The second product I received is a white ceramic compost bin. Having a container to store food scraps in the kitchen is a must for anyone who composts. I love this white ceramic bin because it has a classic flair and actually doesn't scream compost bin. The fact that it has a vented lit with a charcoal filter helps control odor which is an added bonus! This bin can contain 1 gallon of food scraps and is a breeze to clean because it's dishwasher safe.
The last 2 products are a pad of tree-free banana paper and a pack of 12 color recycled newspaper pencils. The pad of paper is made of 100% recycled materials, 95% of which is post consumer content and 5% come from agricultural waste fiber from banana, coffee, lemon or mango. The paper is natural color because it hasn't been bleached and is also acid-free. It can be used with your inkjet or laser printer (note that it is lined). You can get a Junior Legal size (5.5″ x 8.5″) or a Legal size (8 1/2″ x 11″) pad. This unique paper feels great, it has a nice weight and texture and works especially well when using pens. I personally find the natural color is a little dark when using pencils.
The pack of 12 pencils is a great gift for artists, young and old. They are made of rolled up newspapers with a clay stick core. They use a special adhesive which makes the pencils are hard as wood. I was very pleased with this feature as all the other recycled newpaper pencils I've tried before ended up unravelling or tearing. Sharpening them was also a pain because the newspaper would get stuck or rip in the pencil sharpener. I know this won't be a problem with these pencils! I also like that they come in a convenient tube to store them all together and carry them around.

This is just a small sample of the products you can find at BuyGreen. As I said, this is really the one website you want to visit to find unique, practical, or fun gifts. I'm sure you'll find something for every person on your list – and probably a few things for yourself (you deserve it!)
Find Out More: Head over to BuyGreen.com. to see for yourself the great selection of eco-friendly products they offer. 
Connect: BuyGreen.com is connected! Don't forget to like them on Facebook, follow them on Twitter, Pinterest,  and Instagram, and follow them on YouTube for all the latest news and promotion.
Giveaway: BuyGreen.com is generously offering one of our lucky readers a $25 gift certificate. The giveaway is open to the US and Canada and will end November 17th. For your chance to win, enter the Giveaway Tools below. Good luck!


This post currently has 3 responses.