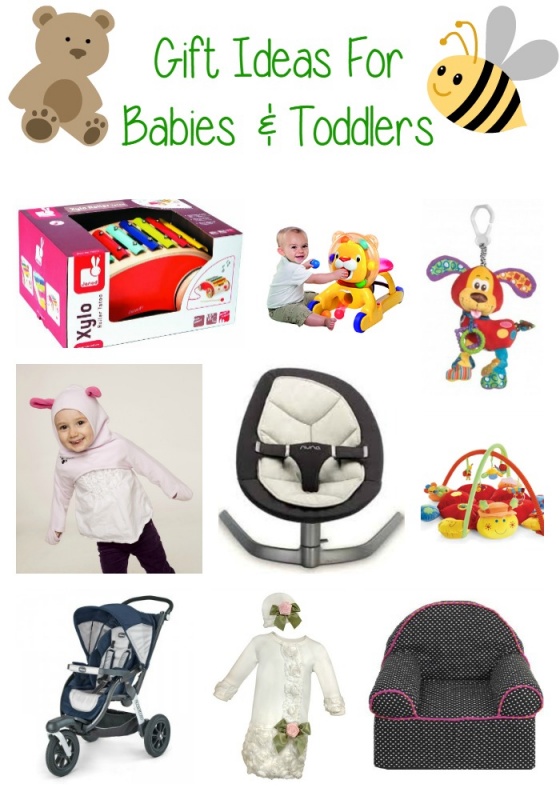 *Emily Reviews writers were provided with samples. All opinions are our own.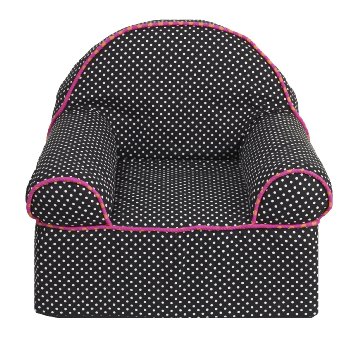 Baby's 1st Chair from Cotton Tale Designs – available in several designs. My niece Kelsie is 18 months and she LOVES her Baby's 1st Chair – she has quite a bit of room to grow in the chair. It sits very low to the ground so it is safe for babies once they can sit up on their own. There is nothing cuter than seeing Kesie lean back in this chair with a sippy cup and her blanket. Kelsie has quite a bit of growing room in the chair and it's quite sturdy for being a foam chair. Even when she (or her 4 year old brother) lean back into the chair it holds its form. The cover unzips and is machine washable. Check out my whole Cotton Tale Designs review for more details.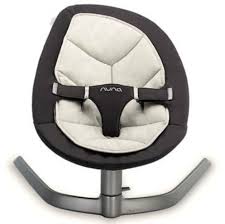 Can you think of a more soothing movement than that of of a leaf on a breeze? Nuna created the LEAF baby seat to emulate this calming motion. This innovative motor-free seat gently rocks baby for a couple minutes with a gentle push. The glidding mechanism is so well-designed baby can also activate it herself by wiggling her arms and legs, turning her head, etc. It's a little nest for baby as she plays and rests but it can accomodate toddlers and young children who will also snuggle in it to read books, watch TV, or just relax. In terms of design, it has a modern and elegant appeal so it will blend in any decor. As for the fabrics used, Nuna chose organic textiles so only the softest and safest fabrics touch baby's skin. Here is my full Nuna LEAF and ZAAZ Review.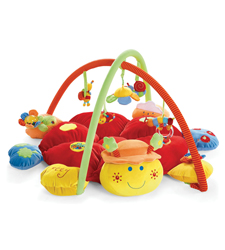 The Light and Sound Lotty Playmat from Mamas & Papas is no ordinary playmat! First off, it's colorful and has over a dozen features to stimulate baby including sounds and music, lights, a miror, and more. It's a fun way for baby to explore and discover through touch, sound, and sight. It's super plush which I like because some other playmats I've seen are barely padded. This one looks . This one is wide enough that it provides enough cushioning for baby when she learns to sit up. It provides lots of opportunities for play and interaction, even basic problem solving and cause and effect. Lotty has a cheerful voice and her little critter companions do too! The critter theme will appeal to both baby boys and baby girls. Here is my full Mamas & Papas Playmat Review.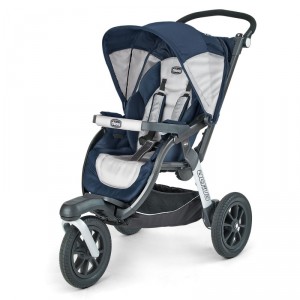 The Activ3 from Chicco is designed for parents who need a stroller that can tackle any terrain and allows them to include baby in all their sporting activites, from jogging to walking on uneven paths. It's designed with 3 large wheels, an ajustable suspension, an extendable canopy, and a large basket. The handlebar is adjustable and raises high enough that even tall dads can push it comfortably and even jog without being afraid of accidentally hitting the stroller with their feet. There is also a runaway strap for parents to slip on their wrist (which will prevent the stroller from rolling away from you if you fall down). The Activ3 is extremely stable and easy to maneuver. When running or using the stroller on unever terrain, you have the possibility of locking the front swivel wheel with a lever directly on the handlebar (no need to go the front of the stroller and lock it manually!) The brake lock is also on the handlebar, again easy access and no risk of activiting it by accident with your feet. The last feature is a one-handed folding and locking mechanism which means no bending down and no straining. Here is my full Activ3 review from Chicco.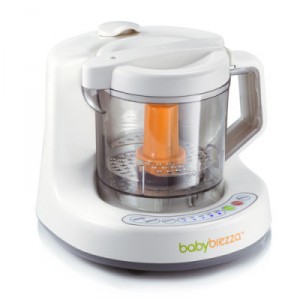 BabyBrezza has a great tool for new parents: the One Step Baby Food Maker. This amazing small appliance does the work for you in minutes: it will steam foods and blend them to the perfect consistency. All you have to do is place the ingredients, set the time and… that's it! The whole process happens in the same bowl which means fewer steps and transfers from bowl to bowl and fewer things to wash (bonus: it's also dishwasher-safe). You can make delicious meals with fruits and veggies but also meat and fish. It's the best way to know exactly what is in your baby's food and you can also experiment with yummy food combinations and flavors. My full review of the One Step Baby Food Maker and another BabyBrezza product coming soon.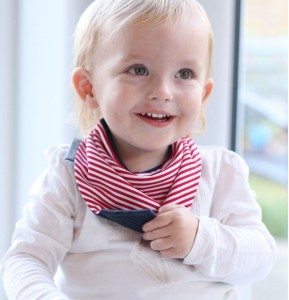 If you have young babies, you know they all go through a stage when they want to chew everything. Teethers can be great but they are easy to lose, end up on the floor when they collect dust and germs. That's why Cheeky Chompers' Neckerchews are great! They are the first dribble bibs designed for babies who love to chew! It will not only protect shirts from getting soaked, they are also super soft and come in many great color combinations. They are reversible so you get 2 styles for the price of 1! As for the chewing, there is a textured triangle that little ones can chew as much as they want. It's soft and durable and free from phtalates and BPA. Since it's attached to the bib, you'll never lose it or worry about it getting dirty. Baby can easily reach it and chew away. Stylish and practical! It's a baby product any new moms would love!
Playgro has tons of great baby products, including the Activity Friends. They are some great multi-featured plush toys and there is a great variety from a cute koala, to a friend dog, and a pretty butterfly. The Activity Friends have been around for years and years and are still hugely popular. They are full of colors, patterns and textures to provide baby with lots of fun discovery opportunities and all include a textured teether. They also all have a convenient clip so they can be easily and safely attached to a stroller or a car seat. Speaking for stollers, there are also the Twirly Whirlies which are especially designed to wrap around a stroller's bar (or crib rail for that matter). The Twirly Whirlies feature the same signature animals and critters that we all love but in a smaller size. They also have crinkles, rattles, and squeakers to keep baby entertained and a textures teether to chew on.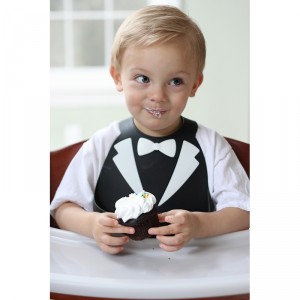 Make My Day offers some of the cutest baby bibs I've ever seen! They are made of 100% food-grade, BPA-free silicone which means they never fade, never tear, and never get stained. They are a breeze to clean under hot water after each meal but if your little has been particularly messy, you can even throw it directly in the dishwasher! Because these bibs are in silicone, they keep their shape very well so the crumb catcher is very effective. They stay in place securely with an adjustable stap which means it can fit babies from 6 months to 3 years old. They come in my colors and styles for girls and boys.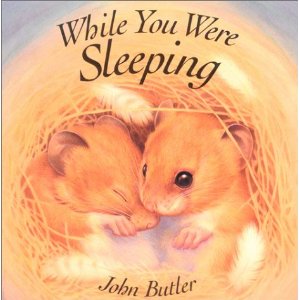 While You Were Sleeping By John Butler. This adorable board book is currently one of 1-year-old Kelsie's favorite books. It discusses a variety of animals and their nighttime behaviors. It's a great way to create dialog about various animals. Many of the pages have a single color that covers the majority of the page, so we've also used it to point out and discuss colors. Peachtree Publishing offers other board books such as Fabulous Fishes and Can You Cuddle Like A Koala? That are perfect for babies and younger toddlers.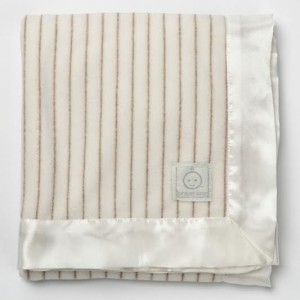 Antimicrobial Fleece Baby Blanket from Berkshire Blanket. This 30″ by 40″ fleece blanket is the perfect size for babies or young toddlers to snuggle up with. The majority of the blanket is fleece while the trim is satin which Kelsie loves to rub between her fingers or up against her face while drifting off to sleep. What's truly unique about this blanket is how it has X-STATIC strips of pure silver woven into the blanket. Silver is naturally antimicrobial so the blanket will inhibit the growth of microbes and bacteria. Of course, you'll still want to wash it regularly but the silver feature of the blanket doesn't change the way that you care for the blanket – just machine wash like any other blanket! Full review coming soon.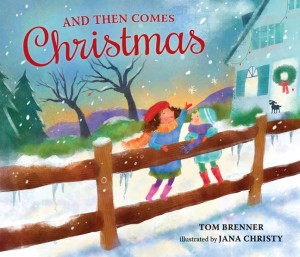 Candlewick Press offers a plethora of children's story books, ebooks and gift box sets. They cover many subjects, themes and holidays. They even have books that can help children work through different issues, such as a new baby in the family, moving, making friends, new school, etc. Candlewick Press offers books for all skill levels including toddlers on up to established readers. Candlewick Press books are a fun and education gift. See my full Candlewick Press Review.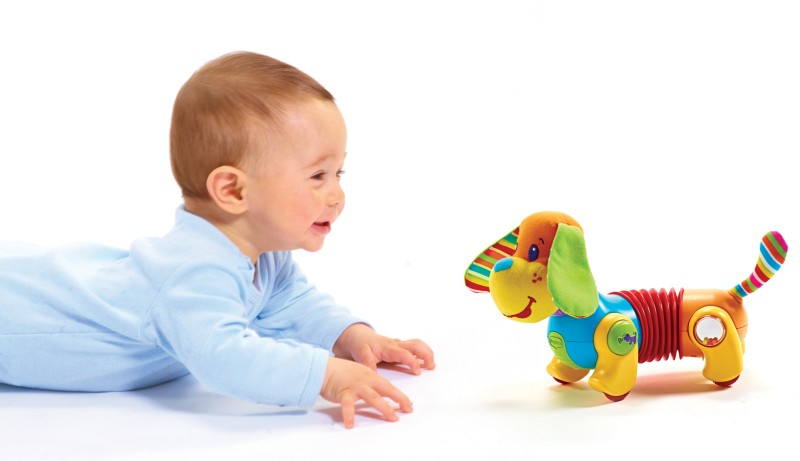 Toys that engage and encourage make great gifts and the Follow Me Fred from Tiny Love does not disappoint.  Also available in the "Follow Me Fiona" for the girls who love pink and purple, these adorable little dogs bark, play music, and roll (walk) when touched or set down.  The flexible middle allows Fred (or Fiona) to travel in a circle.  This toy encourages children to move and are a delightful addition to any family.  Head over to Tiny Love to learn more about their variety of infant and children's equipment, toys, and products and pick up a Follow Me Fred for under the tree this Christmas.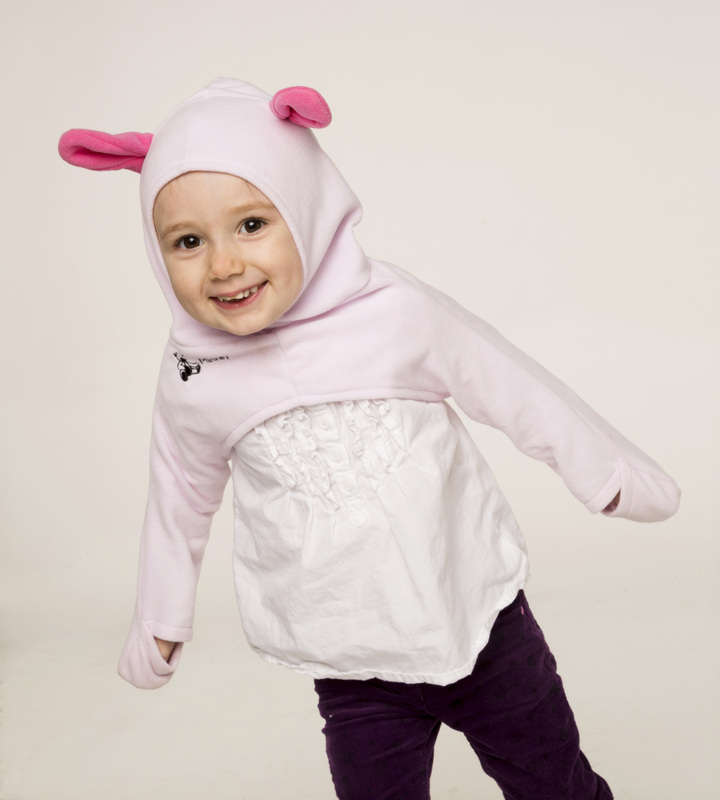 Hats, scarves, and gloves get lost and fall off.  So OLIE found a better way.  Enter: The Minkey.  This one item does the job of three.  The Minkey is super easy to use and stays put, even if a child doesn't want it to.  Simply pull the Mikey over the child's head and place their arms in the sleeves.  Sweaters or coats can go right over the top.  The Minkey is cute and effective and available in several different styles and colors for both boys and girls.  Head over to Olie today to learn more about the Minkey.  Don't forget to add a Minkey or two under the tree or in Christmas stockings this year. See my full Olie Minkey review for more information or for your chance to win one (giveaway ends 11/30/2014).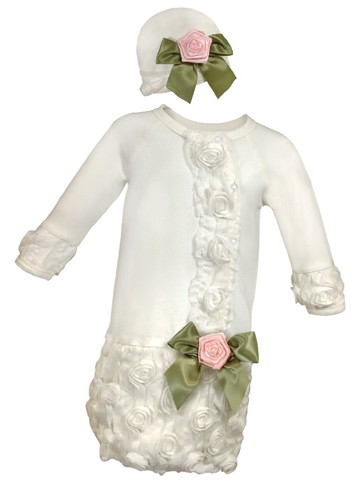 An outfit fit for a princess, the Girl's Night Out Gown & Cap Set would make a great gift for any new baby girl.  Designed with frothy chiffon rosettes and a silk bow, this gown is the perfect pair of comfort and cuteness.  The cotton/spandex blend material gives a slight stretch while providing a great fit for babies 0-3 months old.  This outfit would be perfect for Christmas photos or babies first photo session.  Head over to Stephen Baby to discover their large selection of heartwarming gifts for little ones.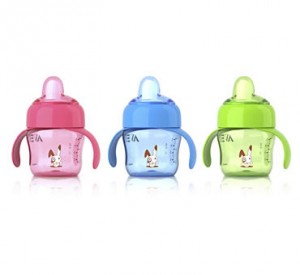 I have found some really great sippy cups for infants and toddlers.  The Philips AVENT Spout Cups have a soft spout, easy to grip handles, fun colors, and a flip top that is perfect for keeping the spout clean when not in use.  Included on the side of the cup is a measure scale as well.  This is one of our favorite non-spill cups and perfect for on the go use.  Head over to Philips AVENT to learn more about all their products and scroll down and enter to win your own set of cups below.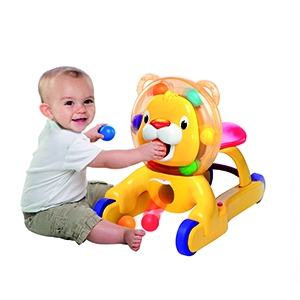 Infants and toddlers alike can enjoy the 3-in-1 Step 'n Ride Lion.  Three modes of play: Sitting, Walking Behind, and Riding, offer hours of fun.  The balls spin and lights and music go with the push of the friendly lions red nose.  A versatile toy that can be enjoyed for years as baby grows makes a great gift this Christmas.  Head over to Bright Starts to see the wide variety of quality infant, toddler, and children's products they have available.  Great quality, bright colors, and run abound over at Bright Starts.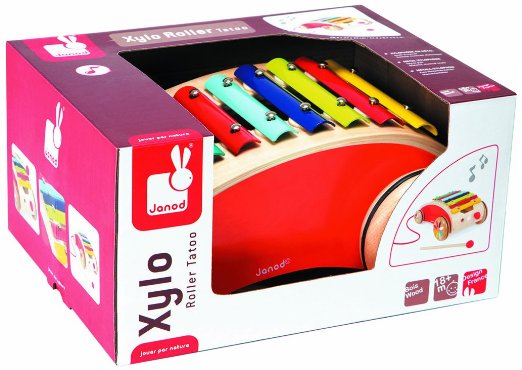 The Xylo Roller from Janod Toys is an eye catching colorful toy that will definitely please the little ones in the family.  Geared for ages 18 months through about 5 years, this pull toy metal xylophone appeals to boys and girls alike.  The wheels have a line of rubber to help keep the Xylo Roller grounded and stable while the included mallet allows children to take their music with them any where.  This is a great high quality toy that would be perfect under the tree this Christmas.  Head over to Janod to see the large selection of quality and fun products they have available.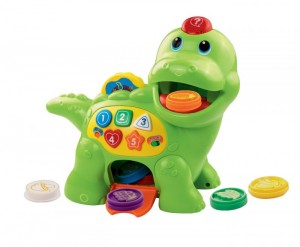 Vtech Chomp & Count Dino is for ages 12-36 months. It comes with brightly colored pieces. When you "Feed" the dino he'll recognize each piece and respond accordingly. The dino sings songs, discusses fruit, counts and even discusses shapes. It has two modes of play (meal mode and counting mode). There are two sound level options and you can also turn the sound off. The individual tokens can all be stored inside of the dino's belly by either being "fed" to the dino or by opening a flap near his belly and inserting them that way. The Chomp & Count Dino is currently listed for $12.59 making it a really affordable gift for the toddler on your list!
TMNT Half Shell Heroes 2.5 inch figures from Playmates Toys. These are only suitable for older toddlers or preschoolers because they are a choking hazard for kids under age 3. I know my nephew Drew would have loved them the day that he turned 3 or before, honestly. They are the perfect size for little hands to pretend play with. Each figure comes with a mode of transportation such as a surfboard, wings, or motorcycle. They are about $6.99 each and are a great size to throw in a stocking. They are also a great size to throw in a diaper bag or purse to bring along for quiet play in a waiting room or similar location where you need to distract the kids without dragging something bulky along.
Teaching sign language to babies is made easier with the Baby Sign Language Standard Kit from BabySignLanguage.com.  Included in this great set is: 52 sturdy flash cards, guide book, signing dictionary that includes over 600 signs, and a 24″ x  36″ wall chart depicting 22 basic signs.  This set includes everything needed to get started including covering essentials for teaching baby signs.   High quality educational materials with a 100% money back guarantee.  Be sure to scroll down and enter to win your own Baby Sign Language Standard Kit. SPECIAL OFFER: Head over HERE to learn more about the special that allows you to get reimbursed for your purchase.
Need more gift ideas for babies and toddlers? See our 2015 babies and toddlers gift guide.


Hi there! I am Emily Evert, the owner of Emily Reviews. I am 28 and live in a small town in Michigan with my boyfriend Ryan and our two pugs. I have a large family and I adore my nieces and nephews. I love reading memoirs, and learning about child development and psychology. I love watching The Game of Thrones, Teen Mom, Sister Wives and Veep. I like listening to Jason Isbell, John Prine, and other alt-country or Americana music. I created Emily Reviews as a creative outlet to share my life and the products that I love with others.
This post currently has 5 responses.