Thank you Imagine Toys
for providing me with products to review, free of charge,
and for sponsoring this giveaway.
These are my own honest opinions.

 Imagine Toys is one of my favorite online toy stores. Their mission is to provide quality toys that foster imaginative play which we all know is very important for children. It helps with their reasoning skills, langague skills, planning and exploration, etc. They carry many great brands such as Djeco, Haba, Hape Toys, and much more.
Their website is very easy to navigate and you can search for the perfect toy using different criteria:
– category : pretend toys, ride on toys, games and puzzles, etc.
– age: from 2 and under all the way to 11+
– interest: animal lover, artist, builder, cowboy or cowgirl, etc.
– gender
-price: under $10 to $100+
– brand: art 101, Haba, Paradise Kids, etc.
Imagine Toys really makes Christmas shopping easy! In case you're worried about finding a better price elsewhere, it's good to know that they have a great price matching policy so even if you do find a better price somewhere, they'll match it for you. No problem!
For this review, I received 4 great toys to share with you: an Electronic Cash Register, a Doll Nursery Center, a Lotus Little Yoga Mat, and a Flower Power Bead Set.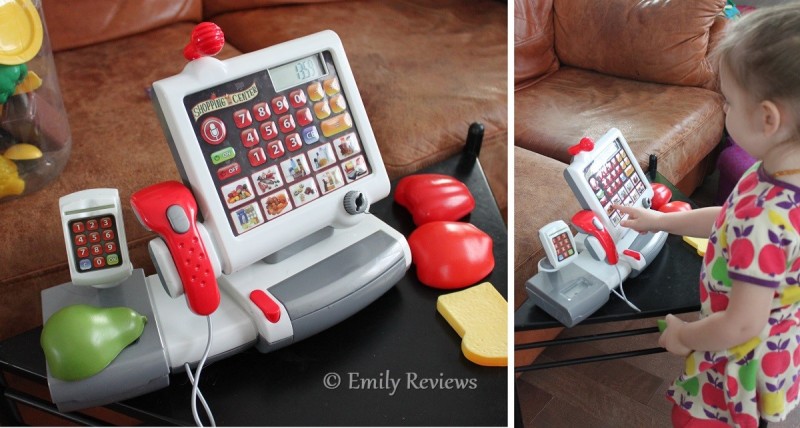 The Electronic Cash Register was a HUGE hit with my daughter! She already loves to pretend to cook in her little kitchen but now we can pretend to buy food at the grocery store before we bring it in our little kitchen to prepare. I was also impressed with the design and how it looks like a real cash register (things certainly evolved since I was a little kid!) The screen has lots of buttons including all the numbers and basic mathematical operations (add, subtract, multiply and divide) which is awesome! There are also pictures of different food categories which is a great way to introduce my daughter to the different categories of food. It has a cash drawer that opens which kid sized money (that looks realistic) so kids can learn to manipulate money, make change, etc. There is also a credit card that can be swiped just like mommy's. There is a scanner and a weighing platform and the cash register makes realistic sounds. I like that there is so much my daughter can learn with this yet all she sees is a fun new toy!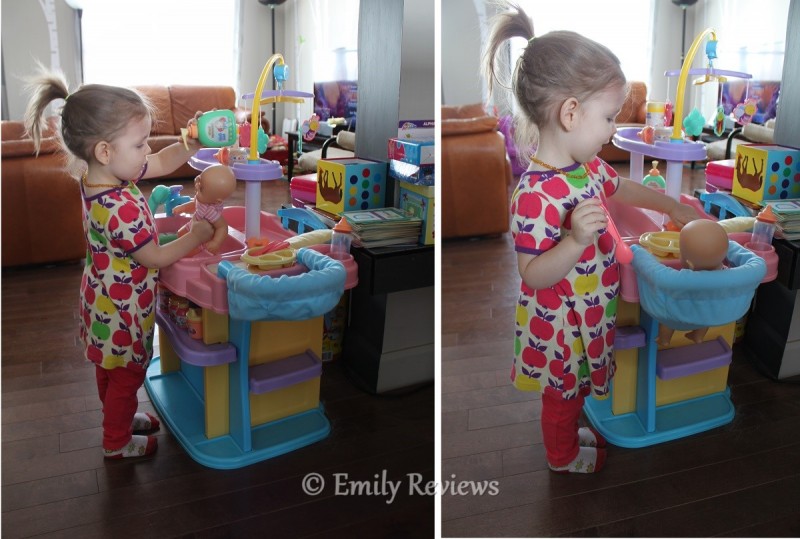 The Doll Nursery Center has everything your child needs to play with baby. They can pretend to be parents and do exactly what we do: feed baby, bathe baby, change baby, dress baby, put baby to sleep, etc. I love that everything is in one piece instead of having to buy a pretend high chair, a pretend bed, a pretend bathtub, etc. Not only are there different 'stations', there are also all the accessories needed to take care of baby. From soap, shampoo and lotion to a plate and utensils, with baby food jars and more. There are mini shelves and storage, and even a closet underneath. I personally added a small basket in the closet so everything can be stored together when not in use. My daughter loves to play with her dolls. She can manipulate everything herself except for the feeding chair which is made of fabric and a flexible piece of plastic which bends as soon as she tries to put one of her dolls in it. The doll either slides down or ends up in a semi-reclined position. Other than that, it's an awesome toy. My daughter hasn't played with her dolls that much in a long time! Having all these 'tasks' to do is really fun for her.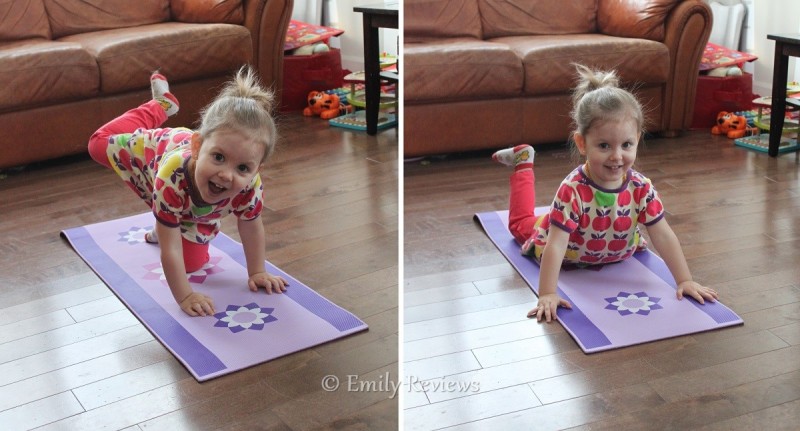 The Lotus Little Yoga Mat is made for children from bith to 5 years old. It's great to exercice, dance, play or even nap. It has a fun lotus design and cute girly colors. It's super light, weighing less than a pound and is made of TPE which is  a rubber-like material that is hypoallergenic, biodegradable and recyclable. It contains on BPA, latex, PVC or lead. I got this for my daughter because she likes to see me exercice and of course, wants to join in but there is only so much space on my yoga mat! I figured she would like to have hers and I was right! She unrolls it herself and shows me 'yoga' moves. I can teach her some exercices to help develop her balance and coordination. My youngest daughter also likes to sit on it while she plays with her toys and we practice walking on it too. I think I might have to get another one for her soon!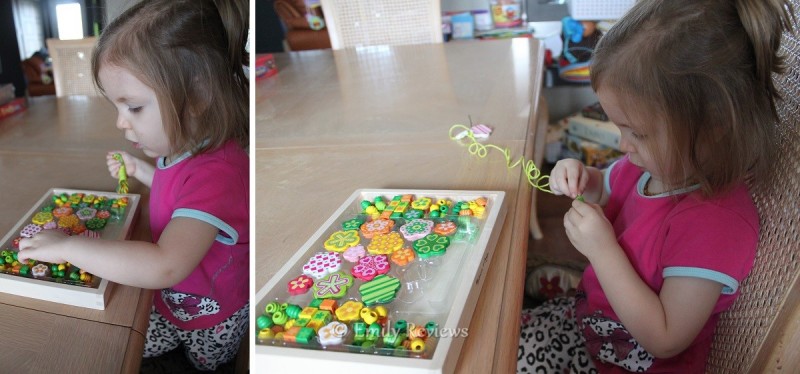 The Flower Power Bead Set is set of 150+ wooden beads. It comes with 5 cords with reinforced tips (like thin shoelaces) so it's easy for little ones to string beads by themselves. They can create bracelets and necklaces (but all the cords are the same length) or anything their imagination can come up with! The beads are really pretty and cheerful and I find they look much better than cheap plastic beads. They come in different colors, shapes and sizes so it's a great opportunity to introduce new vocabulary around these concepts. I find the clasps a little difficult to tie because of the reinforced tips on the cords but other than that, my daughter can sting a whole necklace by herself! It's a great way to develop fine motor skills and hand-eye coordination. The set comes in a wooden tray with a plastic insert and a plastic lid. I wish the whole thing was in wood because I can tell that the plastic won't last and even if it did, it doesn't close securely which means at one point, my daughter will drop the whole thing (or I will for that matter) and we'll have beads everywhere! I'll probably just end up storing everything in a container. Other than that, both my daughter and I love these beads and we'll definitely get more sets to create even more beautiful jewelry.
Find Out More: Head over to Imagine Toys to see for yourself the great selection of thoughtful toys they offer. They have many great styles and colors to choose from.
Connect: Imagine Toys is connected! Don't forget to like them on Facebook and follow them on Twitter, Pinterest  for all the latest news and promotions.

Giveaway: Imagine Toys is generously offering one of our lucky readers a $50 Gift Card. The giveaway is open to the US and will end December 7th. For your chance to win, enter the Giveaway Tools below. Good luck!


This post currently has 4 responses.