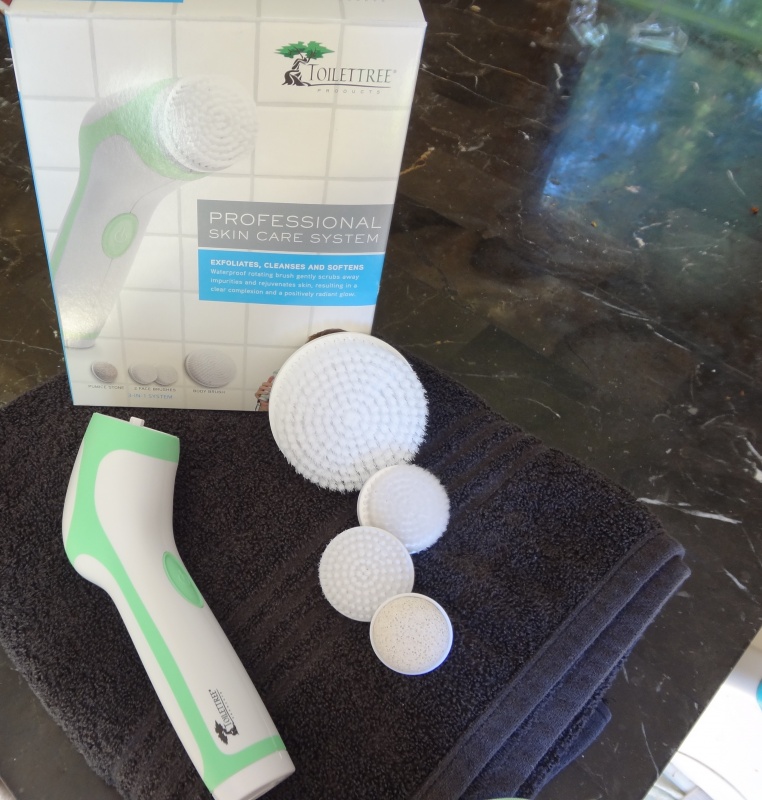 Thank you to Toilettree for sending me product in exchange for review purposes. All opinions belong to me. 
I believe the first place I ever saw a rotating head facial cleanser was in the mall. Since that day I have always wanted to try one, but with a lot of them running near the hundred dollar mark I had a hard time justifying the purchase. Thankfully Toilettree has priced their cleanser at a more reasonable rate that most can afford. Wait lets back up, Toilettree? I think we need a mini applause for the clever naming of this company, I love humor and I love when a company is willing to let loose and give the consumers a giggle while still producing a quality product!
I was sent a Professional Skin Care System for review. The system contains a larger sized soft bristled body brush, a smaller soft and medium bristled facial brush and a small pumice disk. I was equally excited about each of the components. I knew I would love using the body brush because often times a loofah is to harsh on my skin. Both facial disks would be used, soft for me and medium for my husband. The pumice stone would also definitely be used as I'm a sort of barefoot in nature kind of girl and while I love being barefoot and earthing (hippie lingo, to find out more just do a Google search) I don't always like that my feet show their strength so to say. I really love the body brush, just as I had expected, it's not to harsh and not to delicate to exfoliate my body. Adding soap to the body brush makes a shower a frothy experience to say the least! There is definitely a limit on the pressure your able to apply to the cleanser before it begins to tire the motor, which I think is a good aspect considering you wouldn't want the ability to sand your skin raw!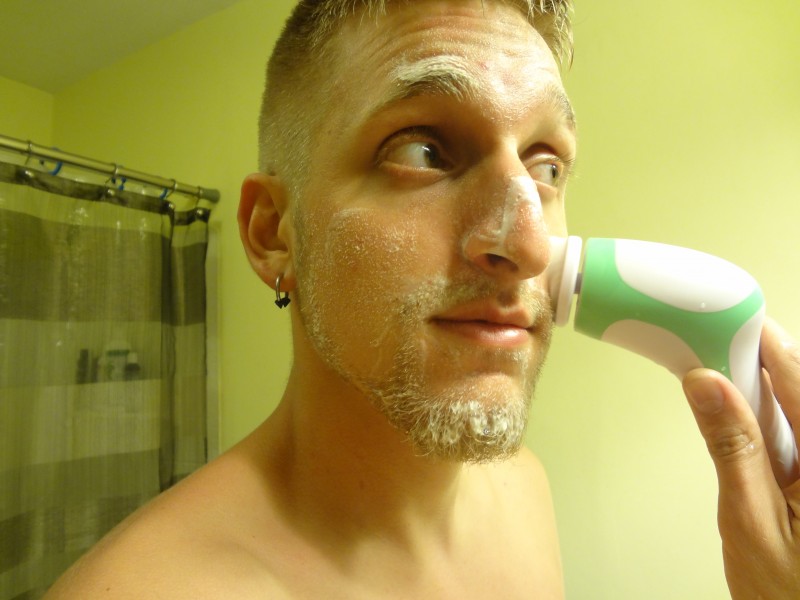 My face is sensitive and this really coddled that sensitivity. My normal shower routine is to wait until the very end and wash my face with just water and a wash cloth but most times in order to really get the dead skin off this leaves my skin pretty red and irritated. Using the facial cleanser was very much the opposite. My skin felt like it was getting a mini massage that was also clearing away dead skin cells bit by bit. When I got out my face was extremely soft, smooth and not one bit irritated. I did notice after a few uses the bristles started to get a bit discolored on the tips but a tiny swirl on a bar of soap followed by a quick rinse immediately took care of it. My husband also loved his disk and has vowed to use it every shower, as he felt it really reduced the darkness of both of our blackheads on our noses. The system is waterproof, which is an amazing feature that allowed us to ditch our pre-shower ritual and just use it in the shower instead.  I'm a one stop type of person!
The pumice disk has been phenomenal, I have tried a hand held pumice stone before with not great results. The hand held took a lot of my shower time up as well as didn't work well overall. In the shower using the pumice disk I found myself having similar doubts to not getting a smooth finish on my heels and calluses but I kept on. When I got out of the shower my feet were so incredibly soft, no harsh edges, and no cracks! There no doubt I will be using each aspect of this system every single shower!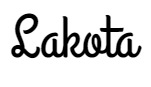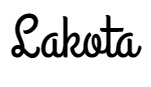 I am a stay at home mother of two, who loves to create in every form, from cooking, to henna, to painting or sculpting, creating with my hands is my passion! I love to dance and let loose when the music flows right. Being outside is a special kind of therapy I think humans need more of as well as mindfulness! I love all things new and adventurous and am always looking to experience more of life 🙂
This post currently has one response.