I am a Nutrisystem blogger. I am provided with a Nutrisystem plan in exchange for writing regular updates. All opinions are my own.
This time of year a lot of people are thinking about health or weight loss related resolutions. We hear jokes about how busy the gym is in January compared to September. Unfortunately, sometimes people who are committing to losing weight in January get mocked as not being serious. There is simply no reason why people who start losing weight in January from a resolution will be more or less successful than someone who starts at any other time of year.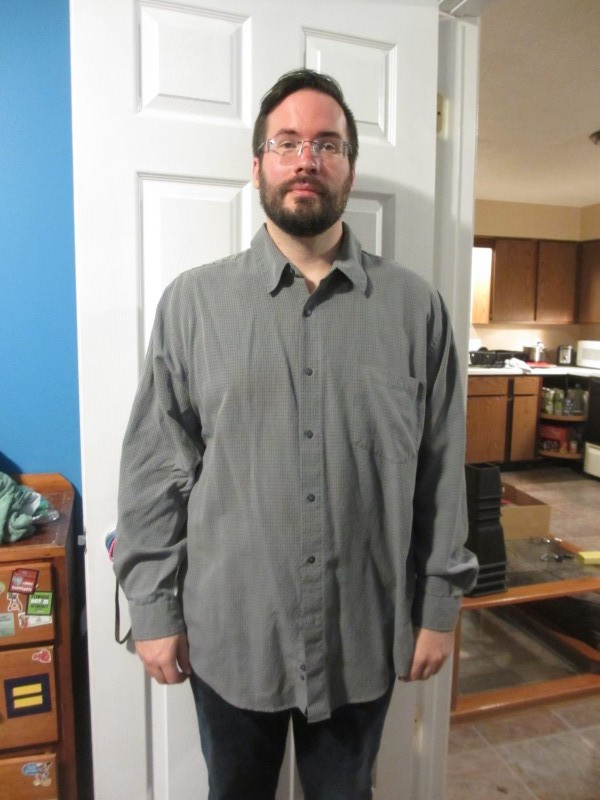 Ryan wearing a shirt that used to fit great. He wore this all the time back in 2015 or so! 
My tips for making your health and weight loss resolution work for you.
Make sure that you're on a meal plan that is at the right calorie level and doesn't leave you feeling deprived. I've heard of diets that are drinks only, shakes only, carbs only, etc. For most people those types of plans just are not realistic long-term. It's important to make lifestyle changes if you want to lose and then maintain a lower weight. Ryan uses Nutrisystem because it doesn't cut out any food group and it focuses on protein and fiber to keep him feeling full, while being low-calorie.
Think about the long-term. If you have a bad day, or even a bad week don't feel like your entire year has went to waste. Each meal setting is a fresh chance to make good choices.
Make a support team that is committed. It's great to make resolutions with friends, but if your friend gives up make sure that you keep going! It might be a better plan to make your workout or fitness buddy someone who has already been successful at maintaining weight loss or a fitness routine for a while.
Track progress in multiple ways. There will inevitably be some weeks where the scale doesn't move. Measuring your progress through body measurements, checking your body fat percentage, your clothing size, or your longevity during workouts provides other ways to see progress even if or when the scale doesn't move.
Keep temptation at bay by not purchasing treats. After several months on Nutrisystem Ryan felt comfortable having a treat for his birthday or other special occasions. However, the first few weeks of a new health change are hardest because the habit hasn't been created yet. If you can avoid letting treats or junk food come into your house the temptation won't be easily accessible which can assist you with self control until your positive new habits have been formed.



This post currently has 5 responses.