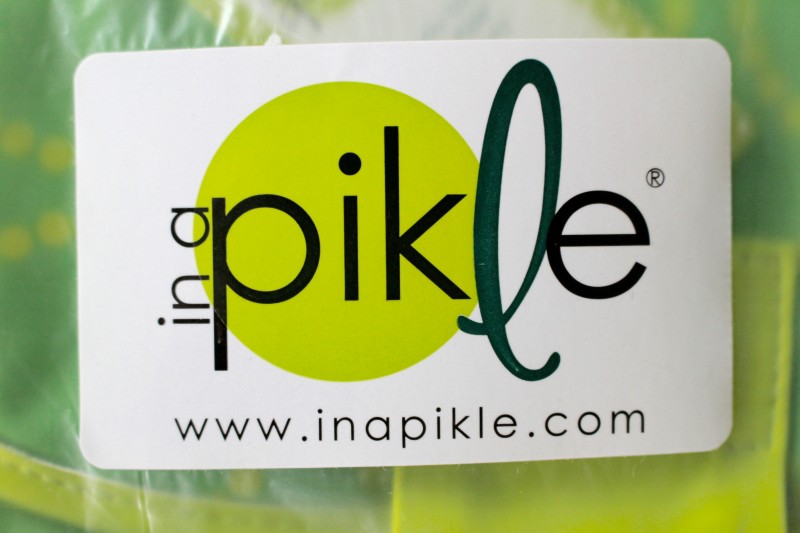 Thank you to In A Pikle for sending product for review in exchange for my honest opinion.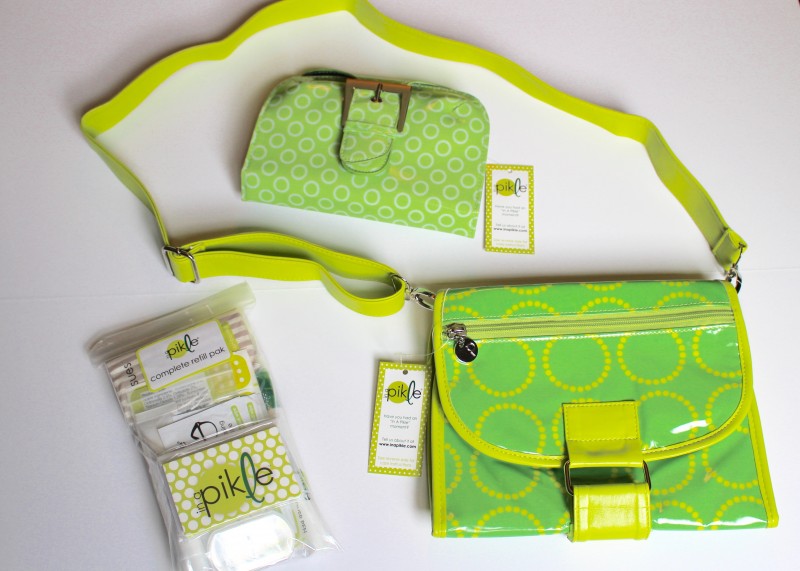 In A Pikle was founded by two moms. In A Pikle makes compact organizers that you can fill with necessities to help you out when you find yourself "In A Pikle". These organizers can be used as a diaper clutch, kids travel pack, make-up bag, first aid kit, gadget and cord keeper, or art, craft & hobby supplier organizer. The options are endless!

The Dill Pikle organizer pictured above is about the size of a normal wallet so it slides easily into your purse or diaper bag. It also fits nicely in a center console of the car or in the glove box. In A Pikle also offers a wristlet attachment that you can purchase separately if you would like to wear it.
The Sweet Bundle Cover pictured above is larger than the Dill organizer. With the shoulder stap shown above (that can be purchased separately), it is easy to carry in place of a purse. There is lots of room to keep any small item that you think you might need close at hand. I love being the "go to" person when someone needs something, I usually have it. Although, I have to admit that there were some things that In A Pikle included that I didn't have in my purse before!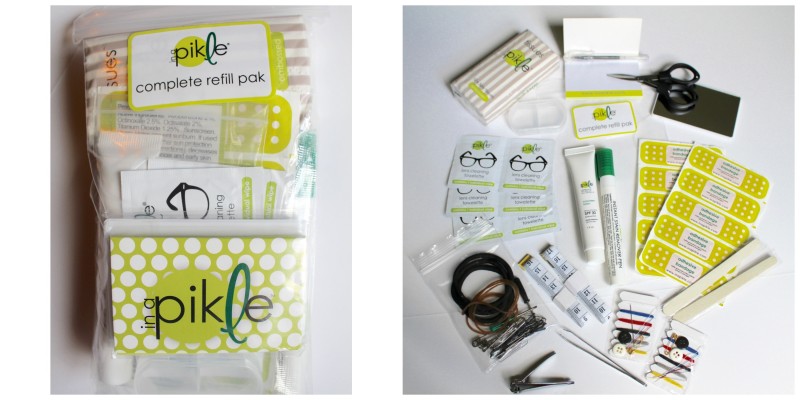 The In A Pikle organizers come empty. You can fill them with items of your own, buy an In A Pikle refill pack, as pictured above, or do both! My pack is pictured above. It came with tissues, a pill box, glasses wipes, hair bands, rubber bands, safety pins, bobby pins, paper clips, two small screwdrivers, fingernail clipper, tweezer, sewing kit, emory board, bandages, tape measure, spot remover pen, sunscreen, dental floss, mirror, scissors, paper and pen. *Note: In A Pikle reserves the right to substitute any of these items for an item of equal or greater value.
With tons of options and color choices available, an In A Pikle organizer would make a great gift! Anyone could use an In A Pikle, but two groups of people I think could especially use a Pikle are students going off to college and parents.
Buy It: Head over to In A Pikle to see for yourself the great selection of products they offer.
Connect: Don't forget to like them on Facebook, follow them on Twitter and Pinterest for all the latest news and promotions.
Win It: In A Pikle is generously offering one of our lucky readers a Relish Pikle in Gleaming Gold. The giveaway is open to US only. The giveaway will end July 20th, 2017. For your chance to win, enter the Giveaway Tools below. Good luck!



Hi, my name is Asha. I am 34-years-old and am a nurse by profession. Right now I am battling Breast Cancer. My husband and I have been married for 8 years and together we have a sweet seven-year-old daughter, a fun four-year-old son, and a lovable bunny named Caramel. I enjoy spending time with family, taking photographs, scrapbooking, hunting, fishing, cooking and gardening.
This post currently has 12 responses.