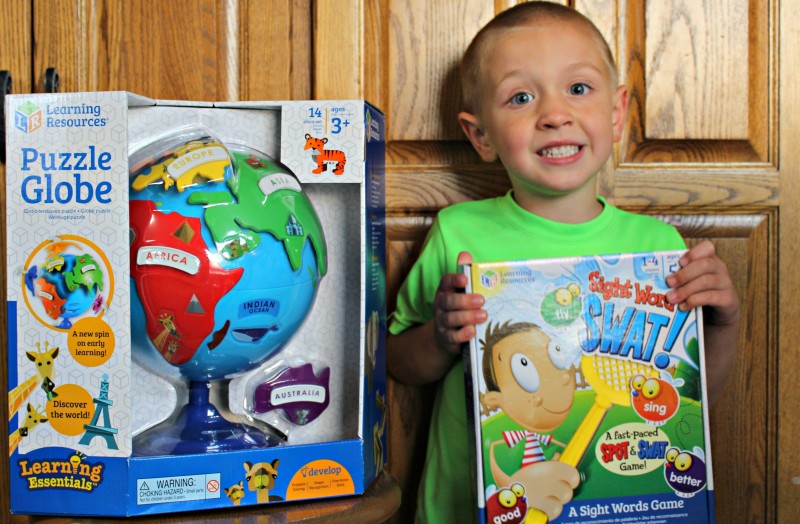 I received product from Learning Resources to facilitate this review.  All opinions are my own.
Now that the weather is getting cooler and we're stuck indoors a bit more, I began a hunt for some fun learning games and toys.  I wanted to add to our options as I know the kids get bored after years of the same items.  Since I have a variety of ages, from 3 to 12, I wanted something that could be useful to everyone, even if it was something the older kids could come along side the younger ones to play.  I find that our younger kids get more excited about learning when big brother and big sister are in there playing too.  So today, I have two great Learning Resources products to share with you.

Sight Word Swat! Game
Learning how to read can be really hard for some kids.  The English language has tons of rules to follow, yet then you have those exceptions too.  Such as the good old I before E except after C but not with words like heifer and sleigh.  So learning sight words can be a really big help to children.  To aid in the process, Learning Resources created their Sight Word Swat! Game.  Featuring 110 double sided sight word "flies" this game offers five levels of play.  There are five different colored flies that coordinate with the levels for easy distinction.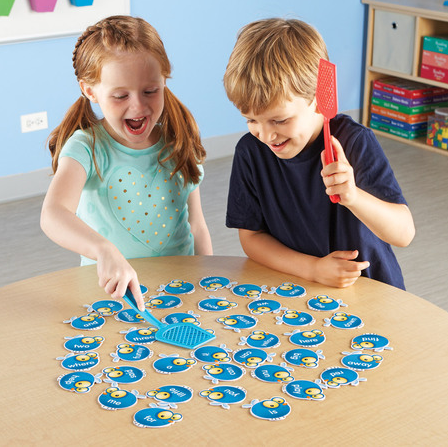 To play, an adult calls out a sight word and the players race to swat the correct word.  Whoever gets it first, collects the fly.  At the end of game, the player with the most flies wins!  Fast paced and kids love a game style learning process.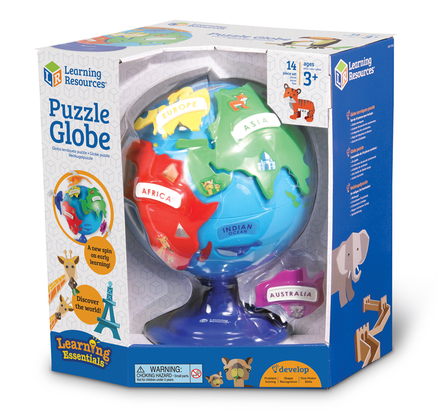 Puzzle Globe
The combination of puzzle meets geography equals the Learning Resources Puzzle Globe.  Perfect for early learning, this fun toy puts a new spin on ways to discover the world.  Geared for ages 3 and up, all seven continents are represented on this globe which features their names as well as landmarks and animals.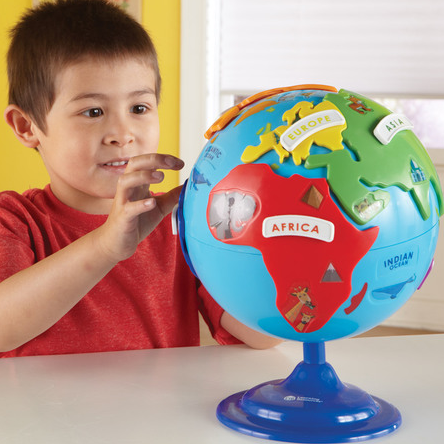 The large pieces are perfect for little hands and help to develop fine motor skills, problem solving, and hand-eye coordination.  This durable plastic globe is a bright and colorful way to help kids recognize continents and bridge into deeper learning.
So tell me, are you a fan of Learning Resources?  I've been a customer of theirs for years, ever since I ran an in-home daycare over fifteen years ago and have loved the quality I've found.  Do you have a favorite Learning Resources product?
Buy It: Head over to Learning Resources to see for yourself the great selection of products they offer.
Connect: Don't forget to like Learning Resources on Facebook, follow them on Twitter, Instagram, and Pinterest, and subscribe to their You Tube Channel for all the latest news and promotions.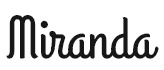 This post currently has 6 responses.