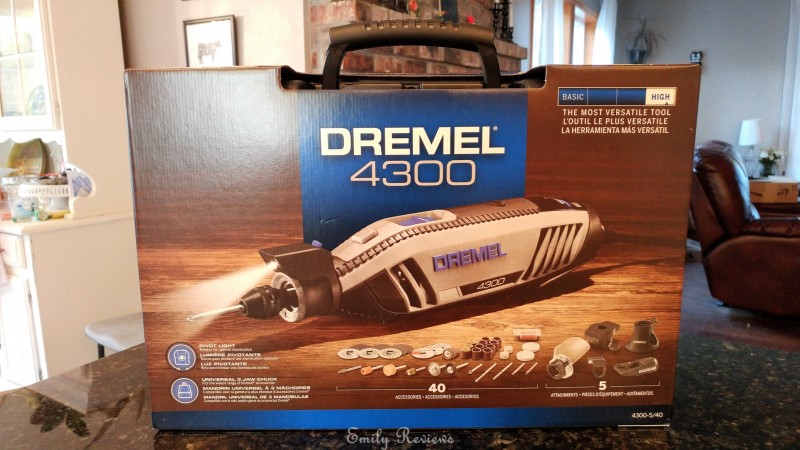 Thank you to Dremel for providing me with products to facilitate my blog review. All opinions are 100% my own.
Today I want to tell you about my new favorite tool, the Dremel 4300.
Dremel 4300-5/40 High-Performance Rotary Tool Kit is perfect for all of your DIY projects. The Dremel 4300 comes with a Universal 3-Jaw Chuck, 5 Attachments, and 40 Accessories! Whether you are cutting, grinding, sanding, or polishing, the Dremel 4300 will help you get the job done.When you are in between projects, the Dremel 4300 and all of its accessories can be safely stored in the convenient carrying case.
If you follow my posts regularly or even semi-regularly then you probably know we have been working on renovating our kitchen for the last five months. We have removed wallpapers, painted, replaced vinyl flooring with tile, changed lighting fixtures, updated appliances, replaced outlets, installed undercabinet lighting, and swapped out tile countertops for granite. We have done a lot of the work ourselves. It has been a fun, challenging, and educational experience.
One (of many) of our learning lessons game with installing the tile backsplash. We were tired and up against a time deadline. We weren't paying as close attention to the project details as we should have been. We realized after installing all of the tiles, that we had forgotten to pull the outlets out of the walls, to allow for the extra height of the tiles. At that point, we had two options, rip the tiles off the wall or figure out a way to cut the tiles. We decided to find a way to cut them.
Earlier that week,  I had received a Dremel 4300 for review. I ran to my office and opened the Dremel case. After reading the included booklet, we found the best accessory for cutting tiles. It took a little bit of time, but the Dremel was the exact tool we needed! We were able to cut the tiles, pull out the outlets and install the outlet covers. Whew!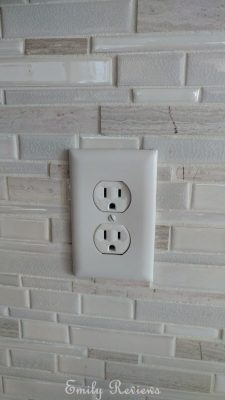 I look forward to completing more DIY projects with my Dremel 4300!
Buy It: Please visit the Dremel website to see the great selection of products they offer and convenient shopping locations.
Connect: Don't forget to follow Dremel on Facebook, Twitter, and Pinterest for the latest product announcements and special offers.


Hello, my name is Laurie. I have been married to my husband for 13 years. We have two young daughters, ages 9 and 12 years old. My family and I live in Oregon so that means we are just minutes from the beach, mountains, and desert.  We love it here and try to spend as much time outdoors playing as we can. When we aren't outside playing, I enjoy reading, baking, refinishing furniture, and other crafts.
This post currently has 14 responses.