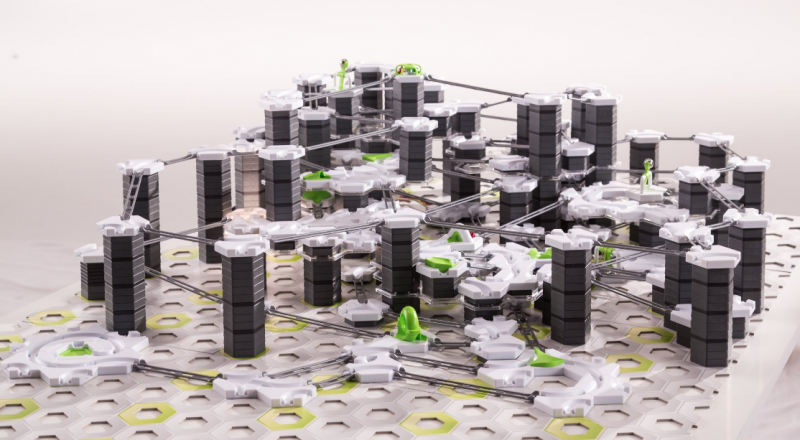 I received product in exchange for this post.  All opinions are my own.
The holiday season is quickly approaching, and this year, you should consider the Ravensburger brands for the loved ones on your shopping lists this year.   They offer a wide range of products that that fit well with a variety of age ranges and personal likes.  So check out some of our favorites below:
Big Money Board Game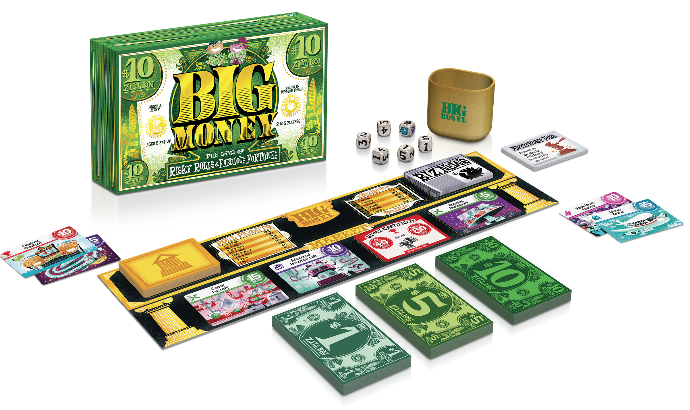 Big Money is a fun board game that features risky rolls and fabulous fortunes.  It combines what you love about famous dice and money games all into one attractive package.  Kids and adults alike fall in love with this game as it's quick and easy to learn.  Which also makes it the perfect board game for family nights, organized events, birthday parties, and more.
Geared for ages 8 and up, Big Money takes just 30 minutes to play which makes it a perfect choice for young attention spans.  Board game buffs and beginners alike all find it an easy game to pick up.  Just roll the dice and start earning Zillions of dollars!  Super fun and will quickly become a family favorite.
Five Little Fish Game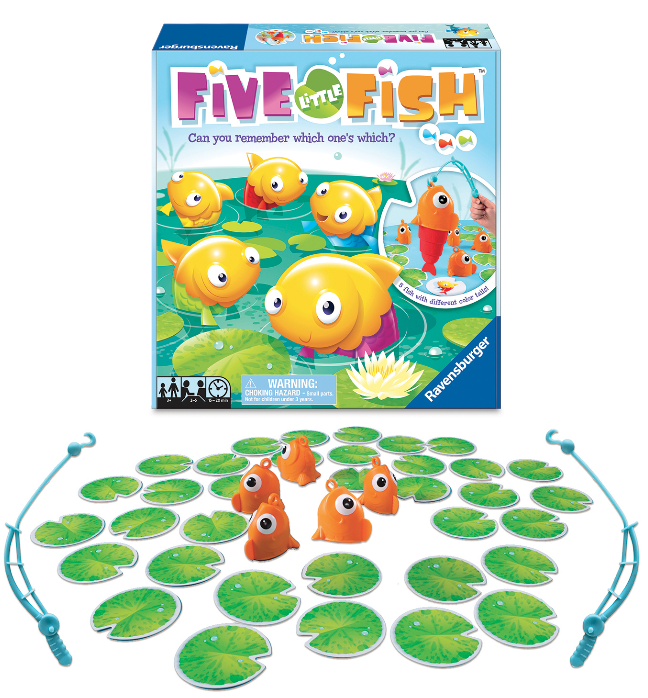 Fun and challenging, Five Little Fish is the perfect starter game for the younger crowd that they will continue to enjoy for years. Can you remember which one's which?  A preschool Memory Game with magical color reveal fish that is short and easy to learn.  It also helps teach some basic motor skills during play too.
To play, you just turn a card & try to find the matching color fish. If the player is right, they get to keep the fish & the card is removed from play.  The rest of the players now need to remember that you now have that color fish.   Accommodates 2-5 players.
Brio Airport with Control Tower Wooden Train, Blue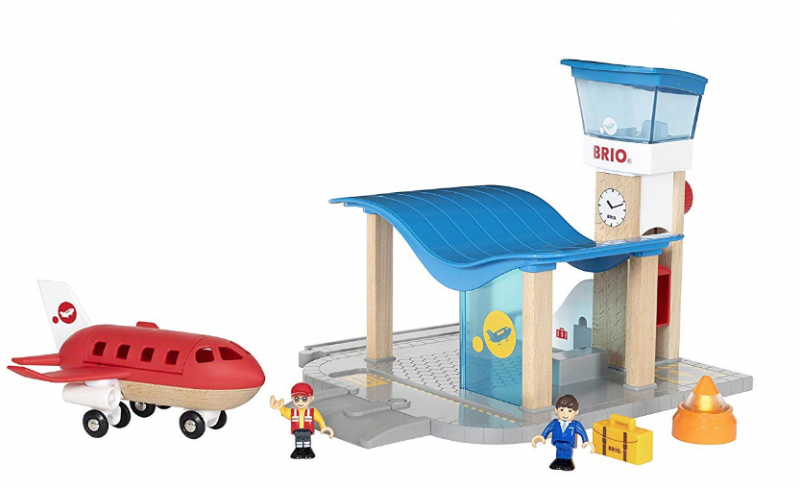 The BRIO name runs simultaneously with the word high quality.  Known for many great toys through the years, the Brio Airport with Control Tower is another one for the list.  This fun set is compatible and works with all BRIO wooden railway sets.  Super fun, open ended toy that encourages imaginative play, it features: a battery operated warning light (batteries included), figures with bendable arms and legs, working baggage handling system, airplane opens up to allow pilot and baggage to be inserted.
Brio Smart Engine Set With Action Tunnels Wooden Train (17 Piece Set)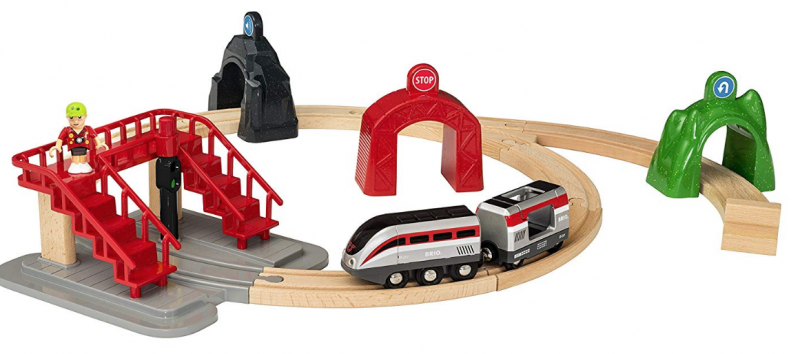 Made from the highest quality materials, including European Beech Wood, this Brio Smart Engine Set With Action Tunnels & Train is extremely durable.  Along with that, it's also super fun with the interactive smart technology built in.  The train actually communicates with the tunnels and bridge. So it can stop, honk the horn, back up, or even blink its lights.
Ravensburger Assortment Of Many Puzzles
Ravensburger offers a variety of beautiful puzzles.  From very basic with just a few pieces up to hundreds and then even thousands of pieces.  They have the perfect size and design for every person, no matter the age.  Choose from your favorite characters, adorable animals, fantasy images, landscapes, monuments, and more.  Since 1891 Ravensburger has been making the finest puzzles right in Ravensburg, Germany.  It's their attention to detail which makes them the world's greatest puzzle brand that everyone loves!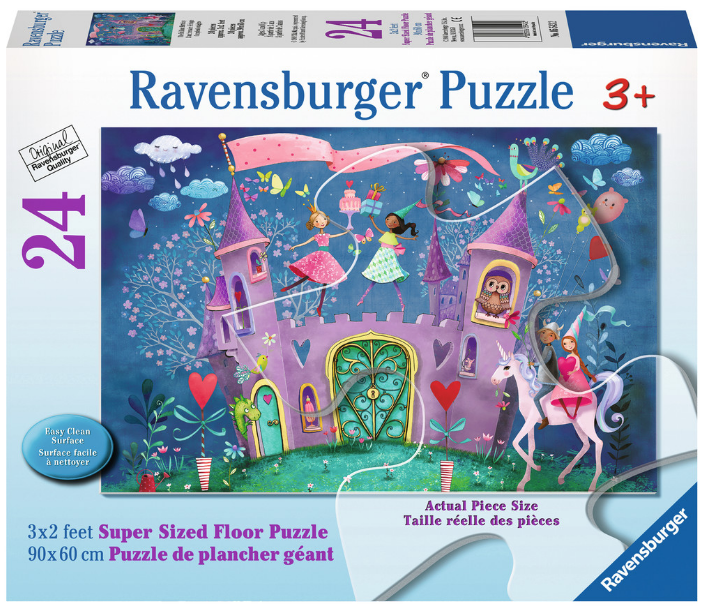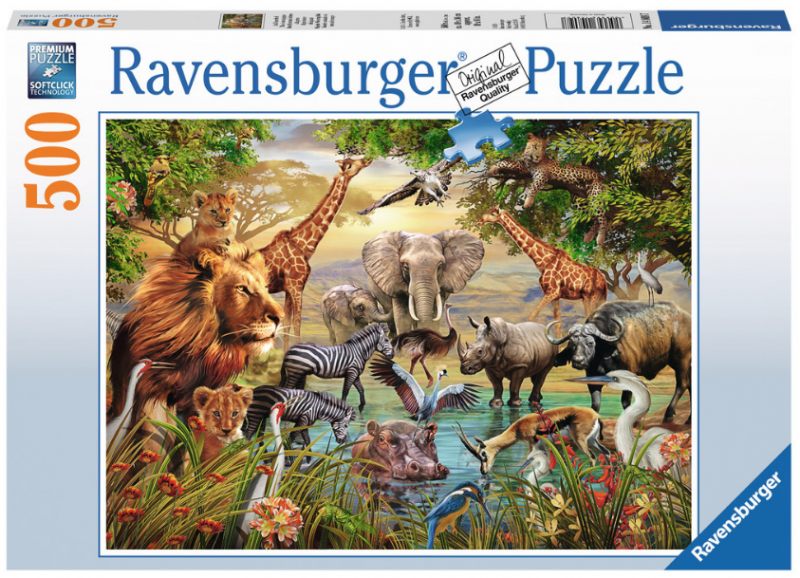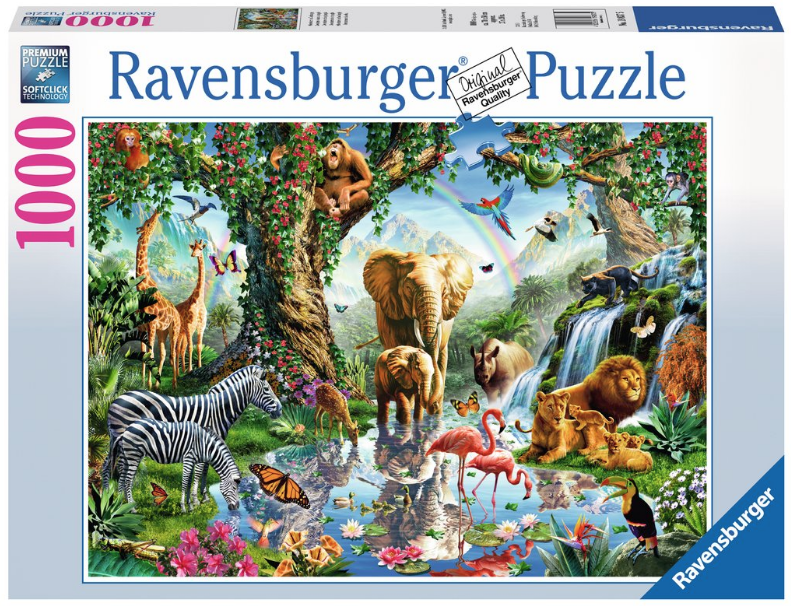 And they have so many more great options to choose from too!  It was so hard to pick just a couple of favorites.
GraviTrax Starter Set + Add Ons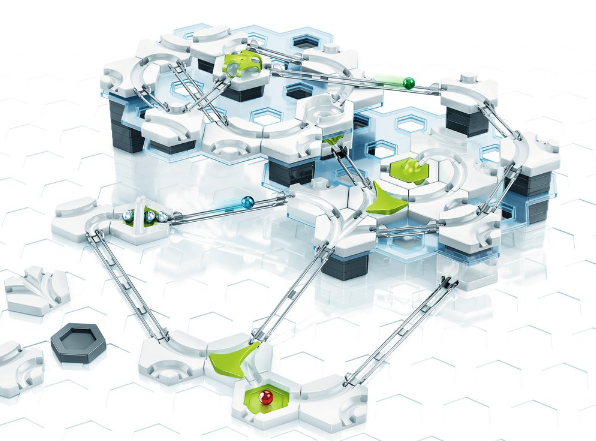 For the creative, hands on kids, teens, and even adults on your list, you are going to want to check out GraviTrax.  With this interactive, innovative track system and marble run, you can design and build your own race however you'd like.  And to make it bigger, better, and even more cool, there are a variety of add-ons and extensions.  Including the Magnetic Cannon, Looping, and Hammer, as well as Building and Trax Expansions.
I could tell you all about it but this video says it all in a MUCH more effective way!  So take a minute and view how the GraviTrax works:
Geared for ages 8 to 99, this one is sure to be a crowd pleaser.  It's a great STEM toy for both boys and girls.  Included are clear instructions that will have you building within minutes.  This awesome, interactive toy is one that you will be so glad you chose.  And you can also find the GraviTrax Starter System on Amazon.
As you can see, Ravensburger brands has got you covered.  And this was just a small sampling of all they offer!
Buy It: So head over to Ravensburger and BRIO to see for yourself the great selection of products they offer.
GIVEAWAY!
I'm super excited to share that Ravensburger brands is also sponsoring a giveaway!  We will have 4 lucky winners each receiving a prize pack!
Winner 1 (Prize Package #1): Big Money Board Game & Five Little Fish Game
Winner 2 (Prize Package #2): BRIO Airport With Control Tower & BRIO Smart Engine Set With Action Tunnels
Winner 3 (Prize Package #3):  Brilliant Birthday 24 Piece Puzzle, Majestic Watering Hole 500 Piece Puzzle, & Adventures In The Jungle 1,000 Piece Puzzle
Winner 4 (Prize Package #4):  GraviTrax Starter Set
This giveaway is open to the US & Canada.  Just enter the widget below for your chance!
Entry Form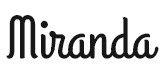 I'm a city girl turned country by my awesome husband and we have three busy boys and two darling daughters. I love spending time with my family, reading Karen Kingsbury novels, and catching up with friends while our kiddos have play dates. I'm blessed beyond measure and can't wait to see what God has in store.
Follow Miranda on Pinterest | Twitter| Blog | Instagram
This post currently has 14 responses.