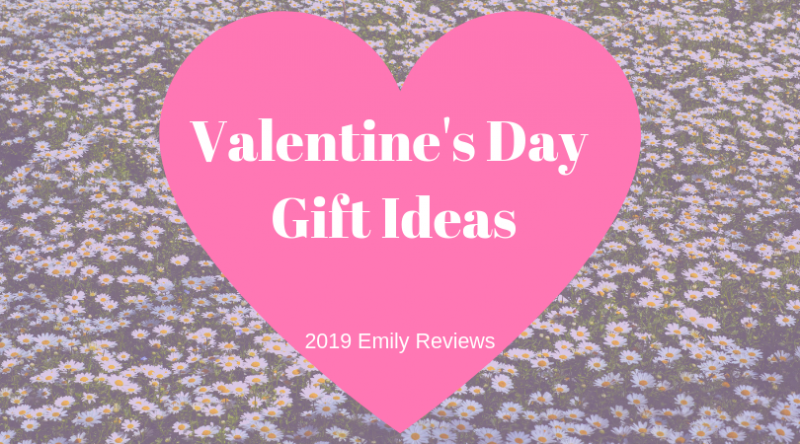 Emily Reviews writers were sent samples in exchange for including items in our gift guide. There are affiliate links in this post.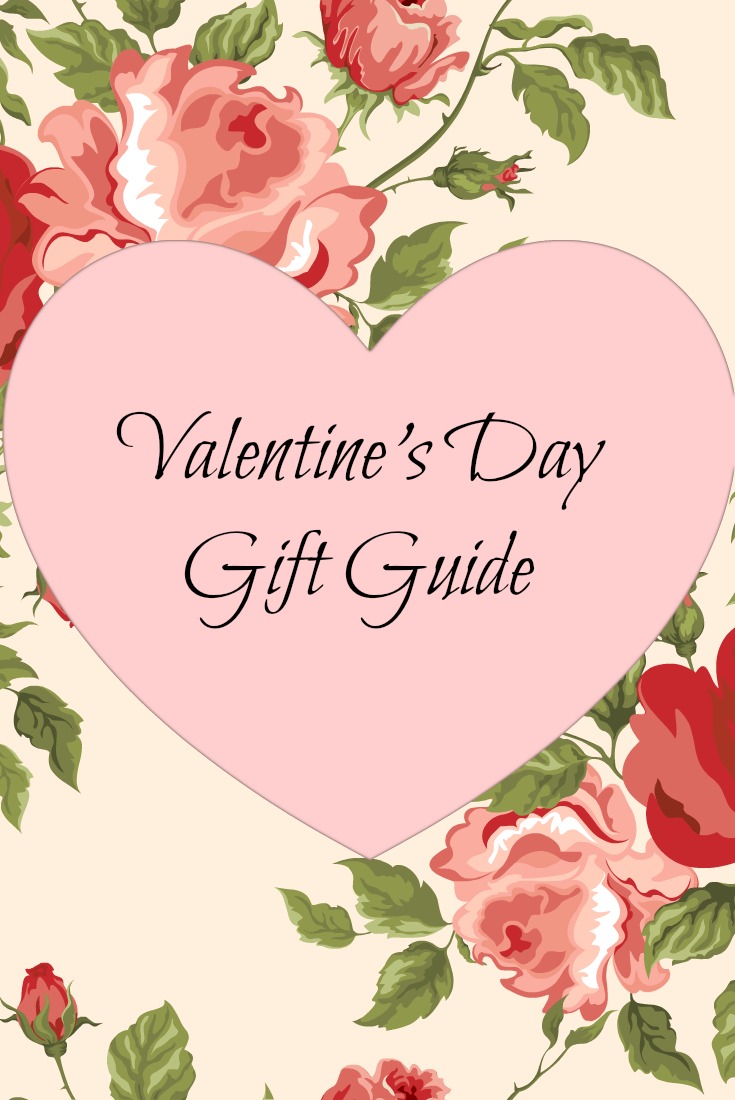 Valentine's day gift ideas for adults
For carry-on friendly grooming essentials that make for a great gift, consider the Murdock London "A Gentleman Of Two Cities Kit".  This set allows you to take a little piece of home with you wherever you go.  Featuring their grooming fundamentals that everyone loves in carry-on friendly sizes.  Use this delightful Shampoo and Body Wash to keep fresh, Sea Salt Spray and Texture Paste to look sharp, and amazing Black Tea Cologne to add intrigue.  The man in your life will LOVE it!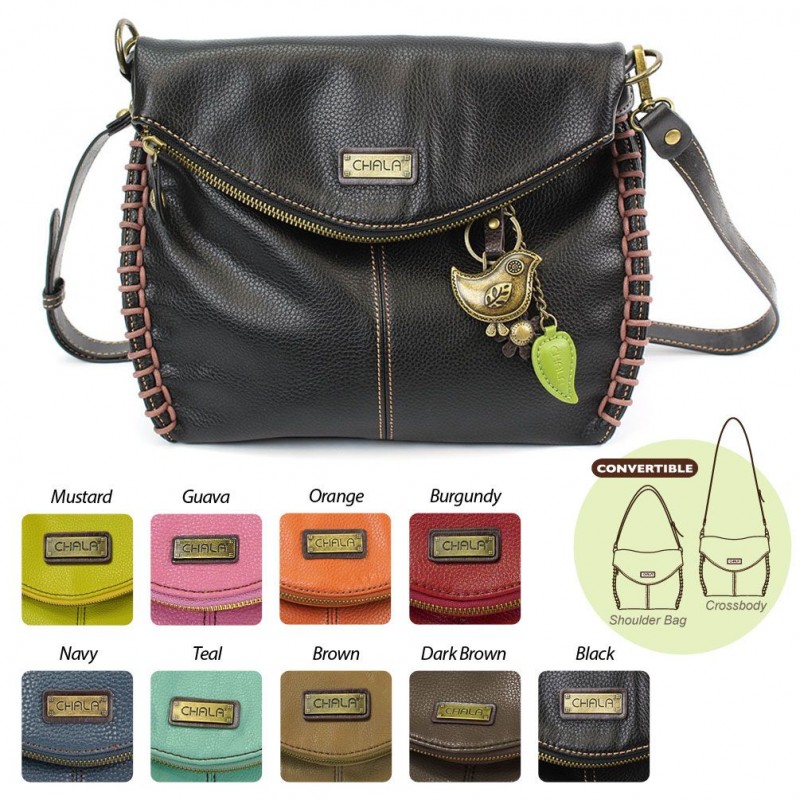 Chala Bags makes handbags that are very practical and functional, with just a bit of whimsy. Their Charming Crossbody bag is a great mid-sized purse available in 9 different colors (Dark brown is shown). You can choose from several "chala pal" keychain options to add a bit of flare. The handle can be doubled over to make it a shoulder bag as well. I have been loving my charming crossbody bag and I know a lot of women would love to get this for Valentine's day!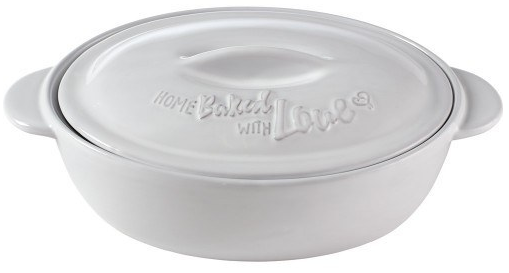 Consider gifting this Precious Moments Bountiful Blessings Hand-Crafted Covered Serving Dish this Valentine's Day.  It features a crisp, clean, cozy farmhouse style with a heartwarming sentiment. The best part is that it conveniently goes from oven to table with ease.  It's a thoughtful gift that you can give alone or filled with something delicious that you whipped up.  Measures in at 9.5″ x 6″ inches.  Plus, it's microwave, dishwasher, and oven safe.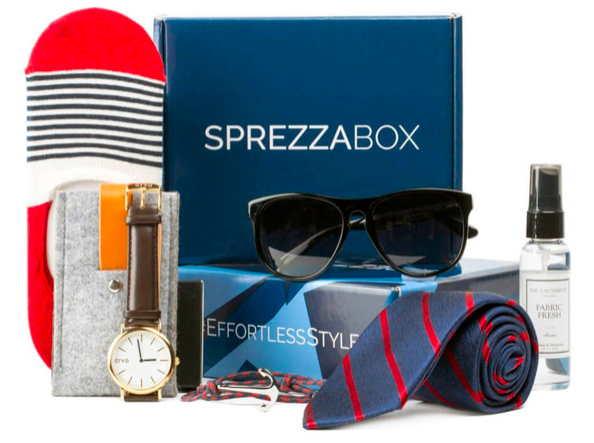 If you are looking to treat your man to some items to spice up his wardrobe this Valentine's Day, SprezzaBox is the answer! SprezzaBox is a men's subscription service. For just $28 per month, SprezzaBox sends five or six fashion and/or lifestyle products straight to your favorite guy's doorstep. The products in the box are guaranteed to have a value over $100 each month. Some of the items he might find in his monthly box include: socks, watches, sunglasses, ties, tie clips, pocket squares, cuff links, grooming products and more.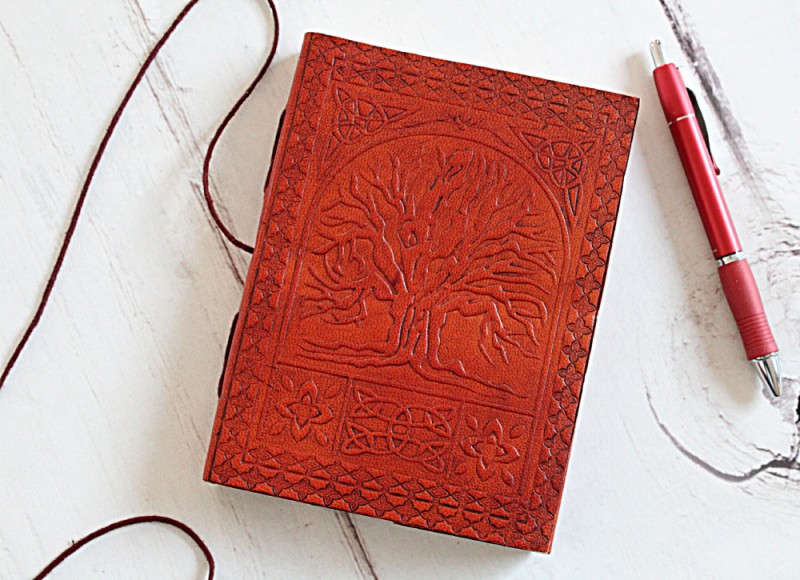 A Soothi Hand Crafted Leather Journal is more than a work surface.  It's a place to record thoughts, feelings, inspirations, joys, and so much more.  Create and curate your inspired dreams onto the pages of these beautiful books.  Available in a variety of styles and designs, these journals make a wonderful, and personal, gift choice for all ages.  Created from sustainable materials, you can feel good about giving a gift that leaves a small footprint in our world but a big impact in the life of your loved one.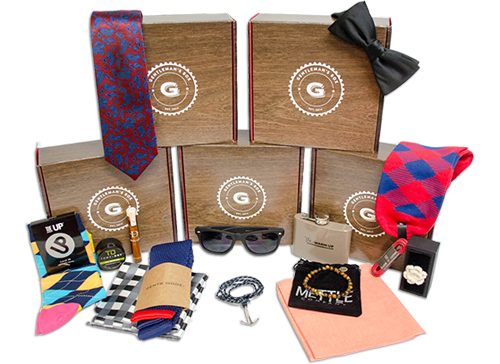 Searching for a gift for that hard-to-buy-for man on your list? Check out a Gentleman's Box Classic or Premium subscription! Each season, Gentleman's Box delivers high-quality lifestyle items to your door. Past premium boxes have contained grooming products, electronics, high-end ties and socks, and more! Choose from 1, 2, 3, or 4 quarter options for premium subscriptions, or choose a monthly classic subscription. With the Premium Subscription you receive over $300 in product plus a free year of GQ magazine. Use the code EMILY20 to save 20% off your first order!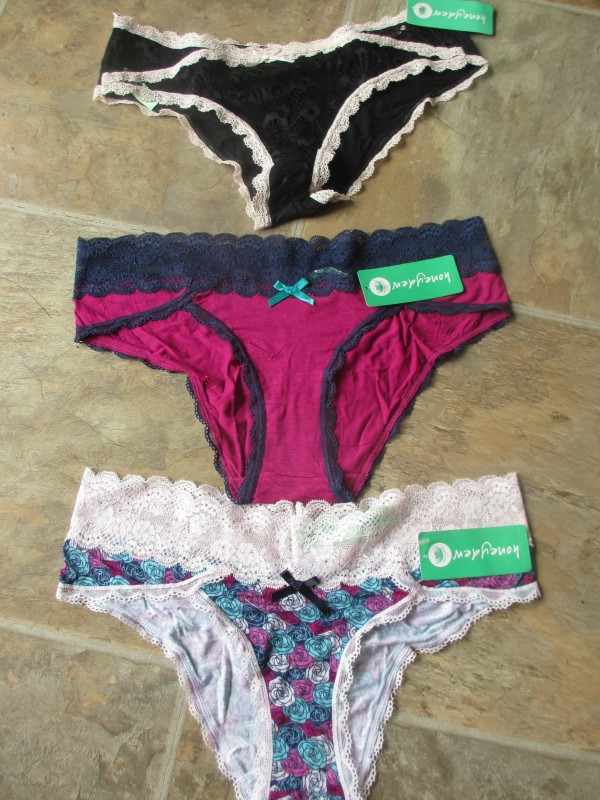 Panty Drop is a subscription service for women's underwear. You choose a size, style (bikini, thong or boyshorts) and material (cotton, lace or performance). If you wish, you can choose multiple materials and styles, or just one of each. You get sent 3 pairs of panties per box and they are a surprise, yet limited to the styles and materials you selected. I love this because it is a surprise but without much risk of getting items you don't like. However, if you do get something that you don't love, they allow exchanges! I've tried out Panty Drop multiple times and am always happy with the quality and selection they've offered me. There's just something mood-boosting about getting new panties in the mail.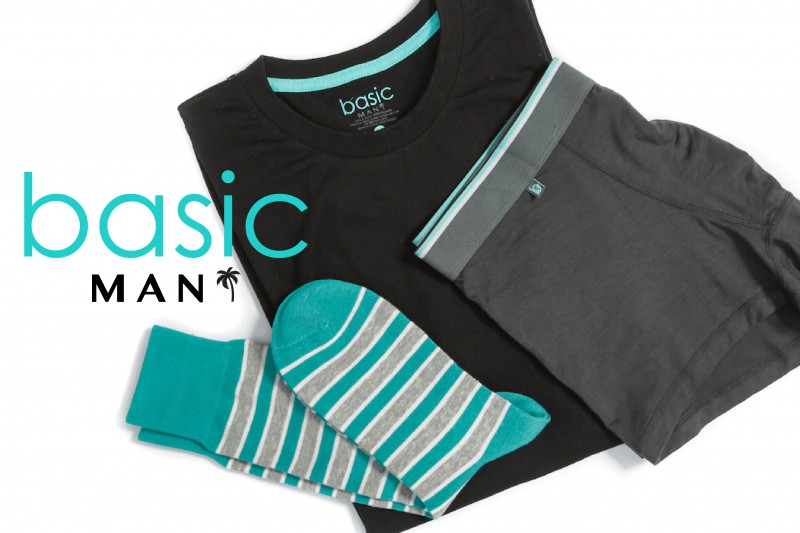 For less than 20 dollars per month, Basic MAN will send your Valentine a t-shirt, boxer briefs and a pair of socks. Ordering is easy: just enter his t-shirt size and underwear size and choose a plan (either monthly, 3 months, 6 months or a full year). Basic MAN t-shirts are a hybrid between an undershirt and an everyday t-shirt. They use a heavier blended cotton fabric making them extremely soft while minimizing shrinking and bunching. Basic MAN boxer-briefs are made of Modal, which is a sustainable fabric that is 50% more absorbent than cotton, is breathable, soft, comfortable and odor resistant. Basic MAN socks are made from premium cotton and bamboo for comfort. Basic MAN provides basics that are a perfect blend of style and comfort.
Buy It: Basic MAN – Use code EMILY50 to get 50% off your first month!

Choose a gorgeous Valentine's Day floral arrangement like Teleflora's Sweetest Satin Bouquet.  This particular elegant arrangement is brimming with beautiful red roses, white Asiatic lilies, sleek red Alstroemeria, and the perfect green accents.  Arriving right to the doorstep of the special person you choose, it includes the unique satiny gloss and quilted pattern vase.  This arrangement is eye-catching and sure to bring joy to the receiver.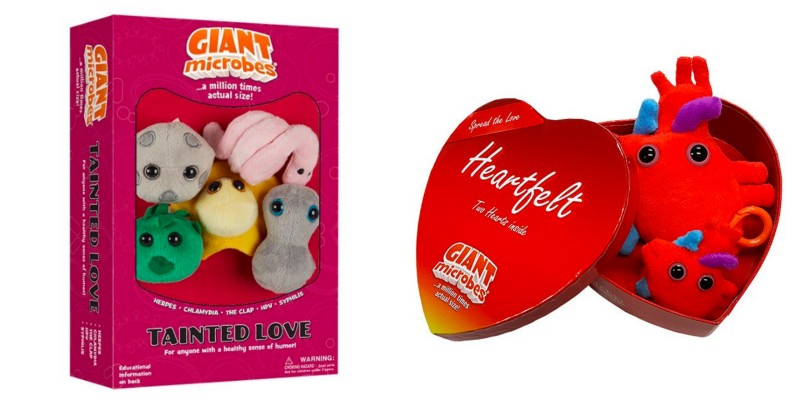 GIANTmicrobes are adorable plush that are based on actual microbes, cells, organisms and other critters. These fun little creatures are blown up to a million times their actual size! A perfect Valentine's Day gift for a health care worker, teacher, or anyone with a healthy sense of humor. The Heart of Gold, Heartfelt Box and Tainted Love Themed Gift Box are all great gifts and best sellers for Valentine's Day! The Tainted Love box features educational information on the back of the box. The Heartfelt Box includes a life-size beating Heart and a mini Heart Organ key chain. Use code: VDGIFT628 for 20% off (US only, expires 2/22. 1-time use per customer).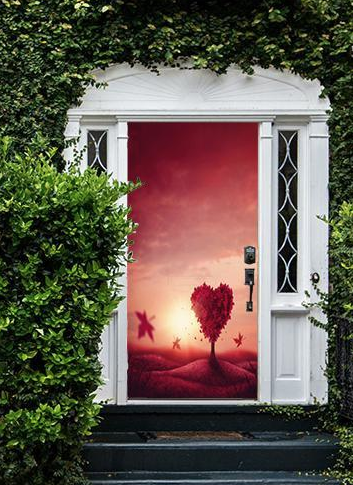 Love is in the air this Valentines Day!  DoorFoto offers fabric door covers that bring life and excitement to any door.  Available in a variety of colors, shapes, designs, and scenes for every occasion and day of the year. These covers take less then a minute to put on and take off.  And they are guaranteed to transform any door into a one of kind piece of artwork.  Not only that, these door wraps are washable, reusable, and made in the USA.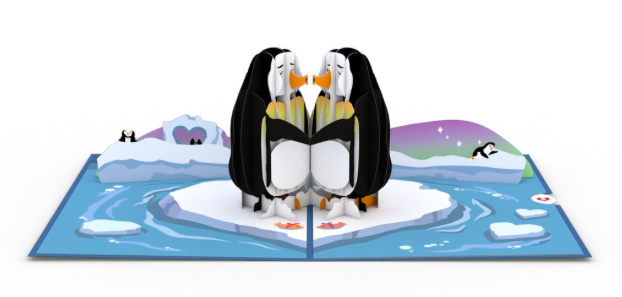 Be their favorite Valentine with Lovepop Cards! These cards are perfect for when you don't want to send a one-message-fits-all card from the drugstore. A Lovepop is more than just a card. They are intricate 3D paper sculptures that are designed by naval engineers on cutting-edge software and then handcrafted in the Asian art form of sliceform kirigami. With tons of designs to choose from, there is truly something for everyone! When you order online, they can write a custom message on your card and mail it directly, so you can send a personalized card from your phone in only about a minute.
Sometimes it is hard to get out of the house to go on a date. So, how about a date night at home? Crated With Love is a super fun date night subscription box that helps you do just that. Each box includes four or five date night challenges or activities along with all the items you will need. Every box comes with a theme, such as I Love You A Sloth, Tropical Escape, Date Night Down Under, or Game Show Date Night. Crated With Love's goal is to help inspire laughter so couples can reconnect and create quality time together. Crated With Love boxes can be purchased as a one time gift or as a monthly subscription. They are running a Valentine's Day deal right now: use code VDAY19 for $15 off your initial subscription now through Valentine's Day.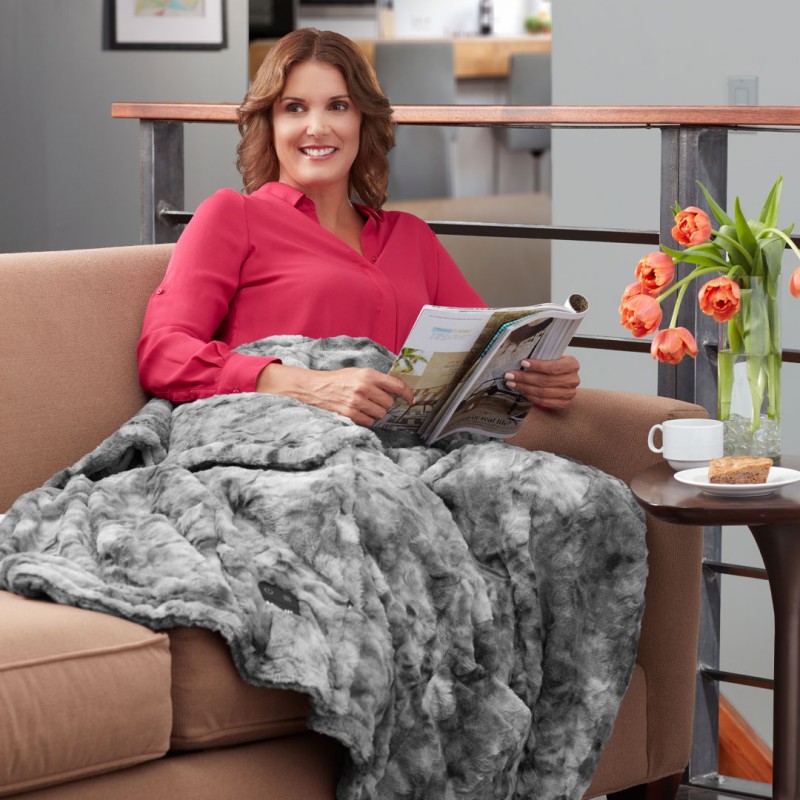 Keep your Valentine feeling cozy with the HoMedics Cordless Throw & Cape with Soothing Heat & Vibrating Massage. The throw is versatile and can be used as a traditional throw or can be converted into a cape to drape over their shoulders. The throw is cordless, so it is perfect for outdoor sporting events, concerts, or cool nights on the front porch. The vibration massage relaxes tense neck, shoulder, and back muscles, and heat can be used for an extra soothing experience. The HoMedics Cordless Throw & Cape with Soothing Heat & Vibrating Massage features a rechargeable battery for convenience and portability, and integrated controls to make getting the perfect massage super simple.

A gift to be remembered and loved, pair some chocolate covered strawberries or another special treat on this Seasoned With Love Oval Serving Dish.  This pretty hand-crafted serving dish features everything that is needed to make a great impression.  It has a creamy white color, a cozy farmhouse style, an inspiring sentiment, and a unique and practical shape that makes it useful for any occasion.  Measures in at 15″ (L) x 5.75″ (W), it's microwave, dishwasher, and oven safe.
Valentine's day gift ideas for kids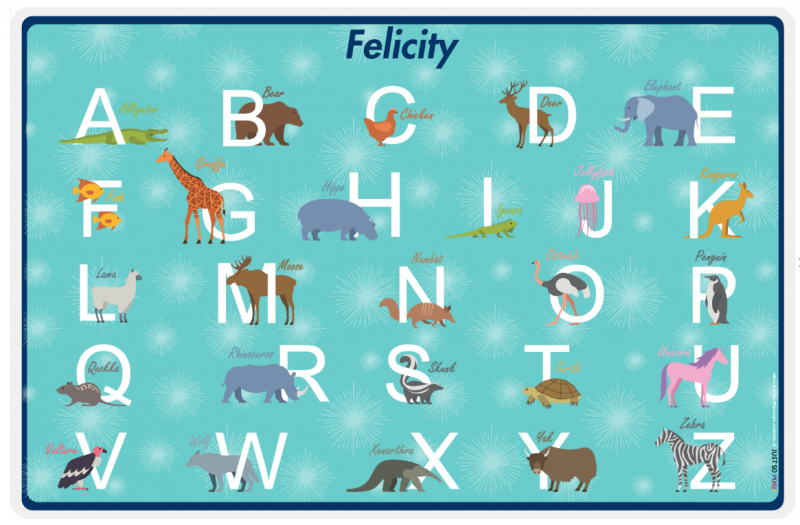 Head over and order a custom Just So Posh Play And Eat Personalized Placemat for the younger Valentines in your life.  Their selection includes a variety of pictures, activities, colors, and designs to fit a variety of ages, likes, and preferences.  Choose from a firetruck scene for those active little boys and girls to one featuring your favorite animal.  Or, like this Alphabet Play Mat, pick a favorite learning activity such as Money Counting, Colors, Shapes, Numbers, and more.  Educational and fun!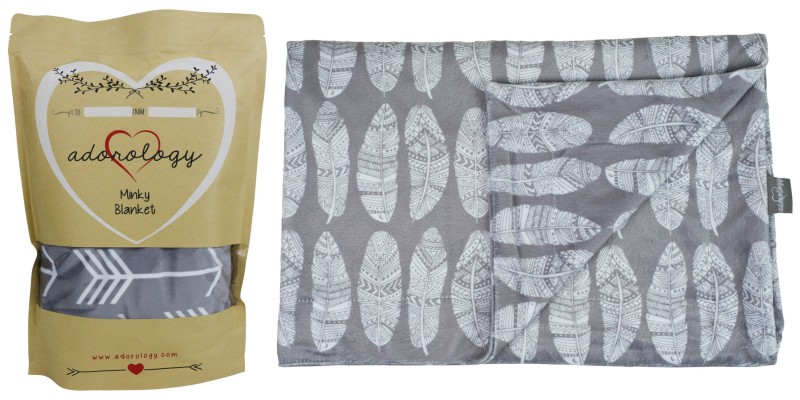 If you are looking for a gift for tiny valentine, a minky blanket from Adorology might be just the thing! These minky blankets are brand new – something that your gift recipient is sure not to have! Adorology's double layer minky blankets provide comfort and warmth for your little one. They are easy to wash and hold up well after washing. They are generously sized at 30″ x 40″ so your baby can use it through their toddler years. These minky blankets are super soft and are great for swaddling, a stroller blanket, nursing cover, play mat, nap time, sun shade, changing pad cover, tummy time and security blanket.
This playful new Scholastic You Are My Sunshine shaped board book from Sandra Magsamen delightfully features a plush sun-shaped finger puppet that is embedded through the center of the book!  As you flip through, you'll notice that the puppet actually becomes a character on each page.  This sweet interpretation of this beloved children's song features adorable illustrations that children love.  A great hardcover board book for the youngest Valentine in your life.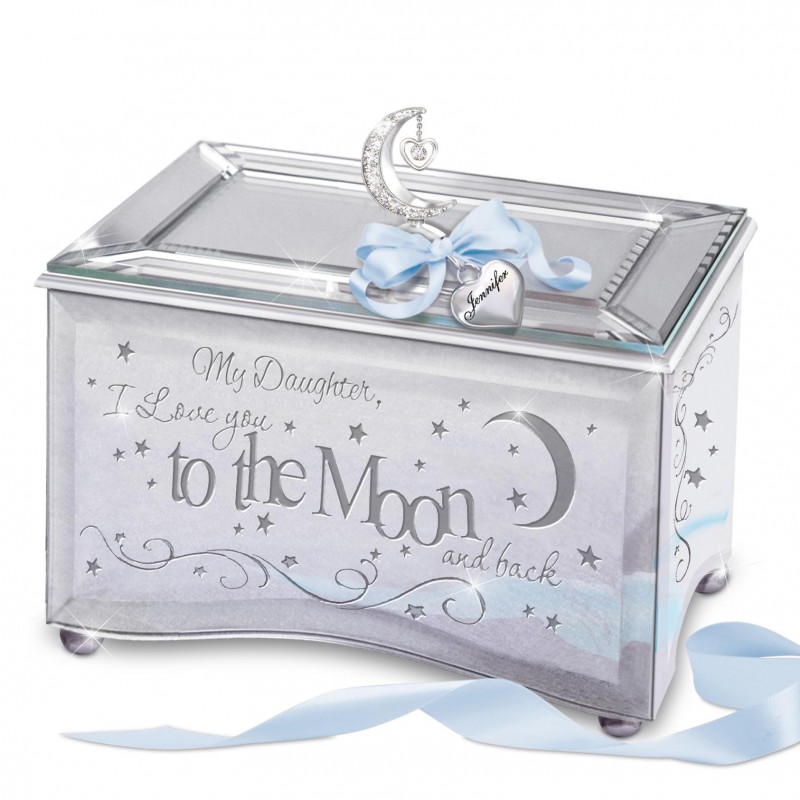 This timeless music box from The Bradford Exchange will make a beautiful, treasured Valentine's Day gift for your daughter, young or old. It's handcrafted of beveled mirrored glass and has silvery legs, plus scroll design etched on all four sides with a beautiful star motif. The sentiment reads "I love you to the moon and back" and personalized heart adorns the top. The music box opens and plays "You Are So Beautiful". Arriving with a poem card and original poem, this will be a gift she'll always remember and love.
If you are looking for a little something to get a special little girl in your life – check out Radz Smooshy Mushy 4 in 1 Deluxe Blind Bags. Each blind bag comes with a colorful bracelet, a surprise charm, a mini poster and yummy candy in exclusive Smooshy Mushy inspired flavors. Plus, they will find a real Squishy Bestie in each bag! There are 13 different charms and Squishy Besties to collect, these blind bags are a super sweet Valentine's (or any time) gift. The best part is, they are priced at less than $5 each.
Buy It: Radz Smooshy Mushy 4 in 1 Deluxe Blind Bags can be found at your local Target or Walmart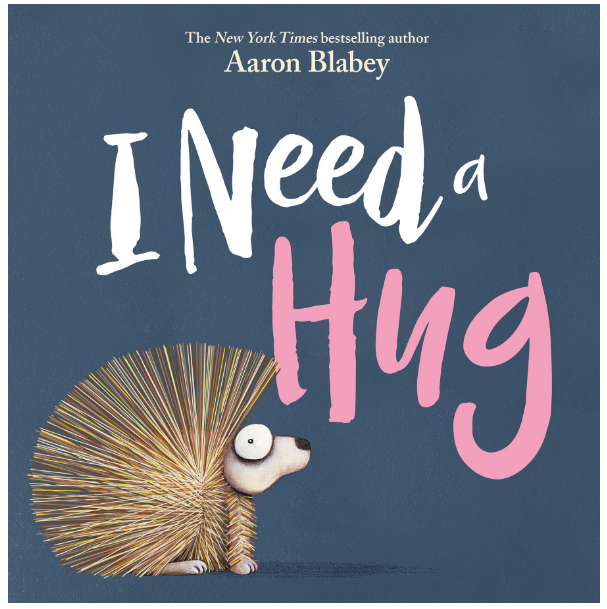 From the New York Times best-selling author, Aaron Blabey delivers this adorable "I Need A Hug" hardcover book.  Follow through the story as tiny porcupine just wants a cuddle.  But it's no surprise that everyone is turning him away because of his prickly spikes!  Will he ever find an animal who is willing to hug him?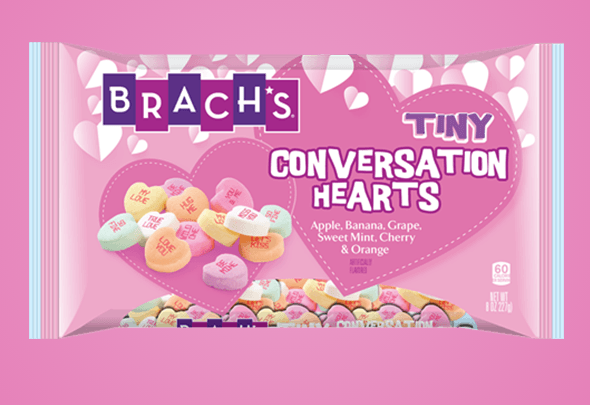 Looking for that classic little touch that every Valentine's Day needs?  Look no further than Brach's Tiny Conversation Hearts.  These yummy little candies contain fun and flirtatious phrases such as "Crazy 4 U" and "One & Only" printed on each and every piece.  You'll find the popular, sweet flavors including: lemon, banana, cherry, grape, orange, and wintergreen. They are treasured candies that are great for snacking, baking, and even crafting.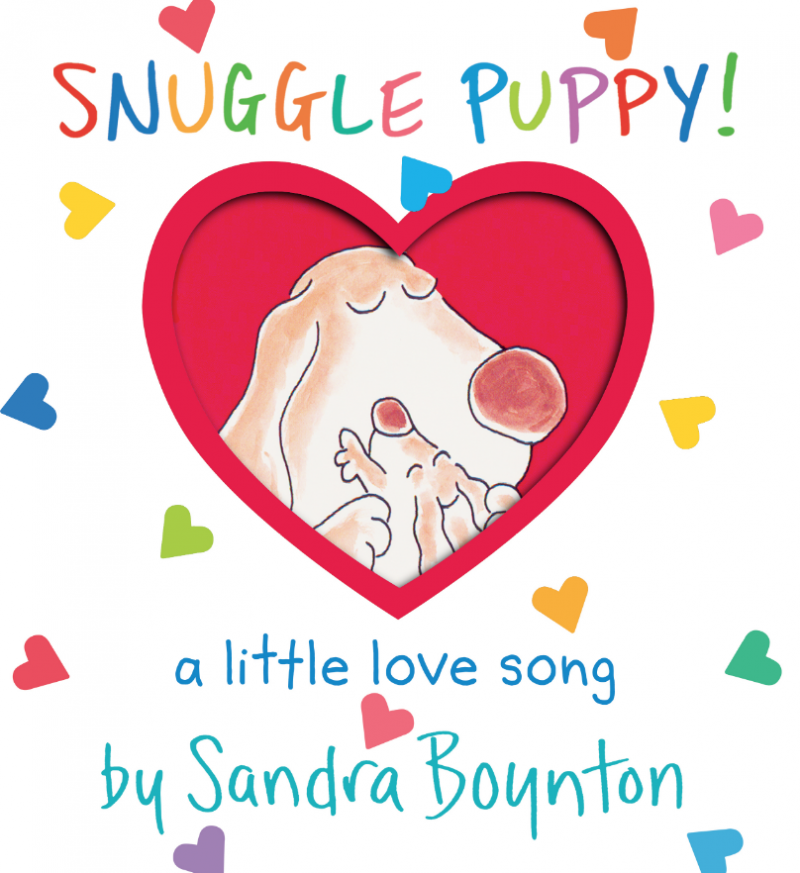 Sandra Boynton's children's titles sell big and this larger, extra fun size of Snuggle Puppy from Workman Publishing is sure to be a hit.  Measuring in at a 8 ½" x 9 ¼" format, the sturdy board construction makes a great gift for toddlers and preschoolers while also being easy to grasp for adults who are reading along.  It's perfect for reading aloud to the smallest snuggle puppies in your life!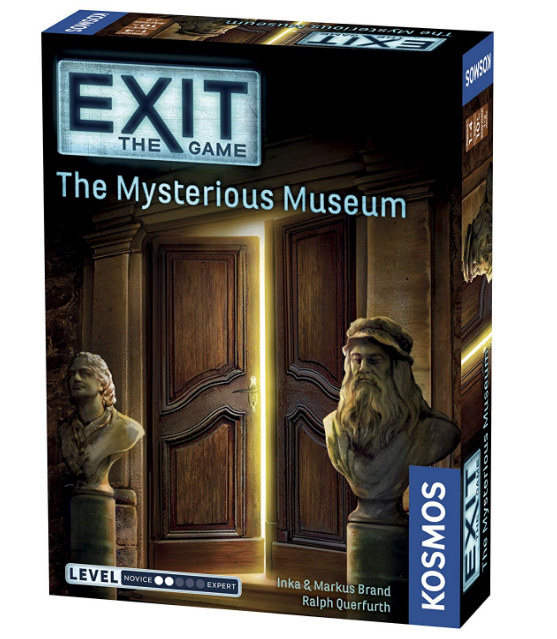 Something for the 10 and up crowd from Thames & Kosmos!  Get ready because you are on a trip to the Florence Natural History Museum and are intent on visiting the sunken treasure of the Santa Maria. But your relaxing day at the museum is quickly derailed by an incredible adventure! Can you solve the mysteries of the museum and find a way out?  Difficulty Level: 2 of 5.  It's a great way to bring the escape room game right to your home!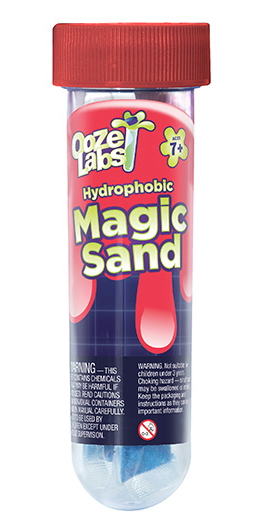 Add some education and fun for kids this Valentine's Day and explore the bizarre properties of hydrophobic (water-hating) sand.  Kids will be amazed as they play because this sand, which never gets wet and forms fascinating structures underwater, is so cool!  Ooze Labs are fun and simple science experiments in big chunky plastic test tubes!  Each Hydrophic Magic Sand tube contains a simple science experiment to create a safe material that is both fun to play with and chemically interesting.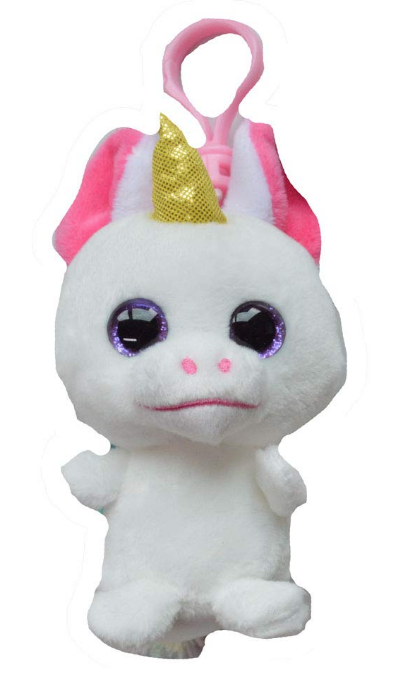 Everyone needs a little friend to tag along for the ride!  And this adorable little unicorn stuffed animal is even more fun because she's watermelon scented to match her color!  With an extra soft fabrics and bright, glitter-rimmed eyes to add to her appeal, she is simply irresistible.  Simply the use the plastic clip so she can go along with you anywhere.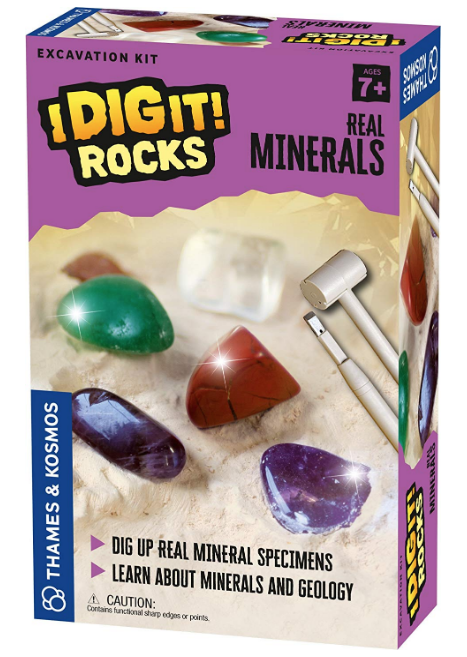 Now's the time where young geologists can explore and discover as they dig up minerals and gemstones with the Thames & Kosmos Real Minerals Excavation Kit.  Explorers get the chance to dig a variety of five different minerals out of the plaster block.  And then they can learn the names and more info with the included full-color manual.  All tools included for this fun adventure!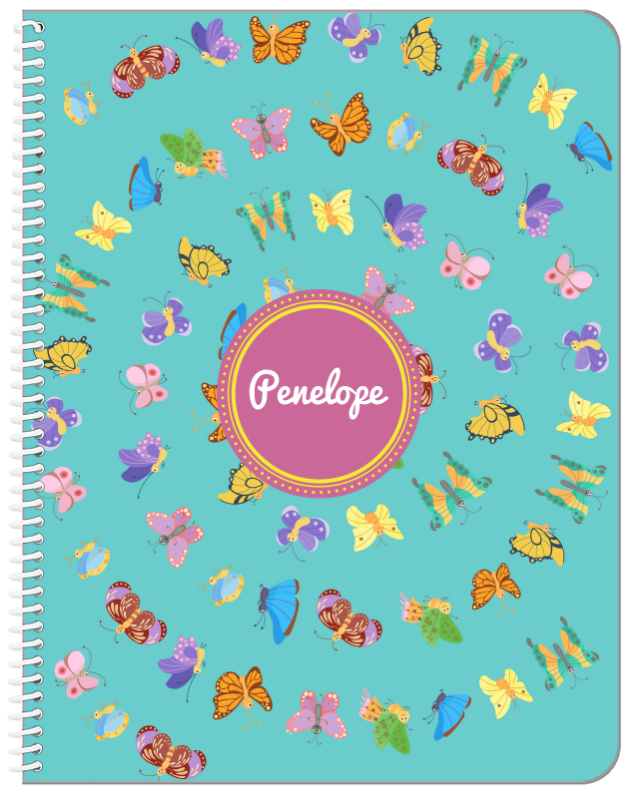 Just So Posh has a variety of fun personalized products that kids would adore.  This particular butterfly personalized notebook can be personalized for your child's school needs.  Chose to use their initials, their family name, or even a fun phrase or school subject. These colorful notebooks are great for school work, journaling, and note taking.  And the best part is that there is no personalization fees on this item!  It's included!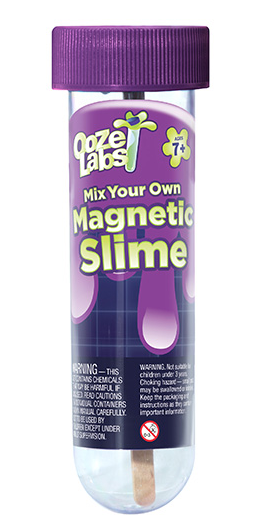 Kids everywhere will flip!  You can now mix up a batch of fun slime that will react to a magnet. Ooze Labs Mix Your Own Magnet Slime is geared for ages 7 and up and offers fun and simple science experiments in big chunky plastic test tubes! Each tube contains a simple science experiment that allows you to create a safe material that is both fun to play with and chemically interesting.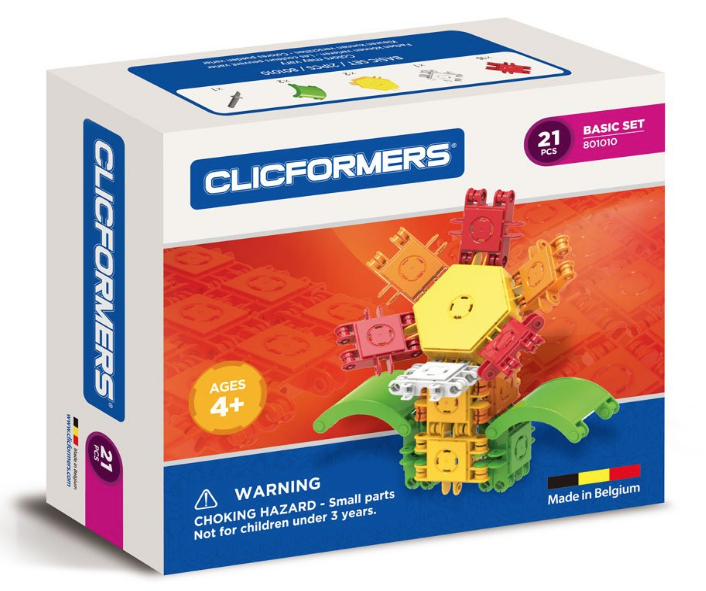 Set imaginations in bloom with this fun beginner set of Clicformers 21 piece basic set.  Because construction toys are ideal helping with development of eye-hand-coordination of children aged 4-12, this colorful set is appealing to kids.  Use the enclosed idea booklet or you can even work to build your own creations!  This set is perfect for STEM education and easy to stack and put away when finished with play!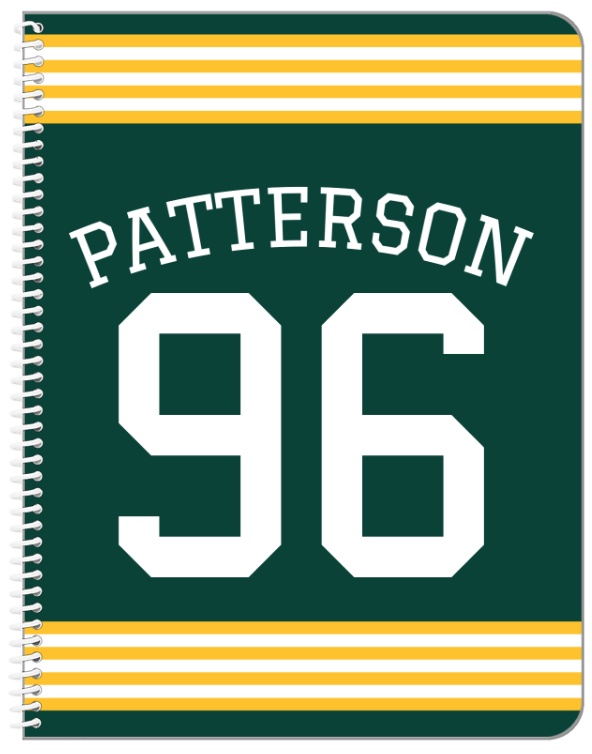 Another Just So Posh personalized personalized notebook  that is perfect for the sports fans in your life.  It can be customized for your child's school needs.  Chose to use their initials, their family name, or even a fun phrase or school subject. You can also choose from a variety of colors and several numbers.  These colorful notebooks are great for school work, journaling, and note taking.  Personalization is included for free!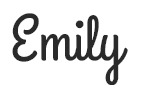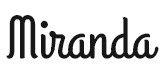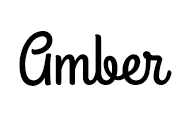 Hi there! I am Emily Evert, the owner of Emily Reviews. I am 25 and live in a small town in Michigan with my boyfriend Ryan and our two pugs. I have a large family and I adore my nieces and nephews. I am a calorie counter who loves soda. I budget to save money so I can spend it on my dogs. I love reading memoirs, and learning about child development and psychology. I love watching The Game of Thrones, Teen Mom, Sister Wives and Veep. I like listening to Jason Isbell, John Prine, Kris Kristofferson and Blue October. I created Emily Reviews as a creative outlet to share my life and the products that I love with others.
This post currently has 11 responses.