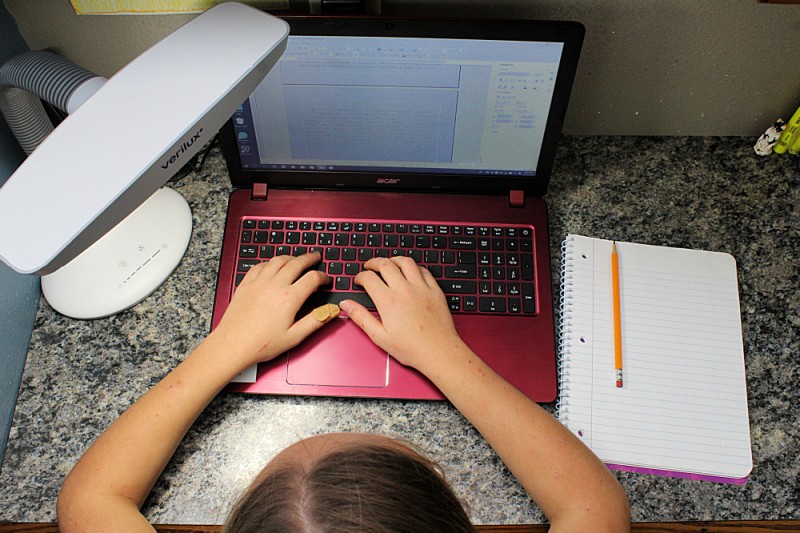 Over the years, our home has changed quite a bit.  When we first moved in, we completely gutted the kitchen.  Taking out the peninsula, yes you had to walk around 3 sets of "cupboards" to get into the actual kitchen, made a huge difference.  The layout of the house was still the same but we felt making some changes made it more practical.
We Need An Office
The one problem we had though was a lack of an office.  For many years, our "office" was just a large desk located in our living room.  Then, about 6 years ago, we added on a laundry room and attached garage.  That freed up what had been our old laundry room. So we moved our desk in there, added a second desk, and finally had an office.
Finally, But Not Working Out As We Had Hoped
However, this particular office wasn't an ideal shape.  It was long and skinny.  So the big desk had no place but the far wall to go.  And this room became a dumping ground for anything and everything.  NOT efficient in the least!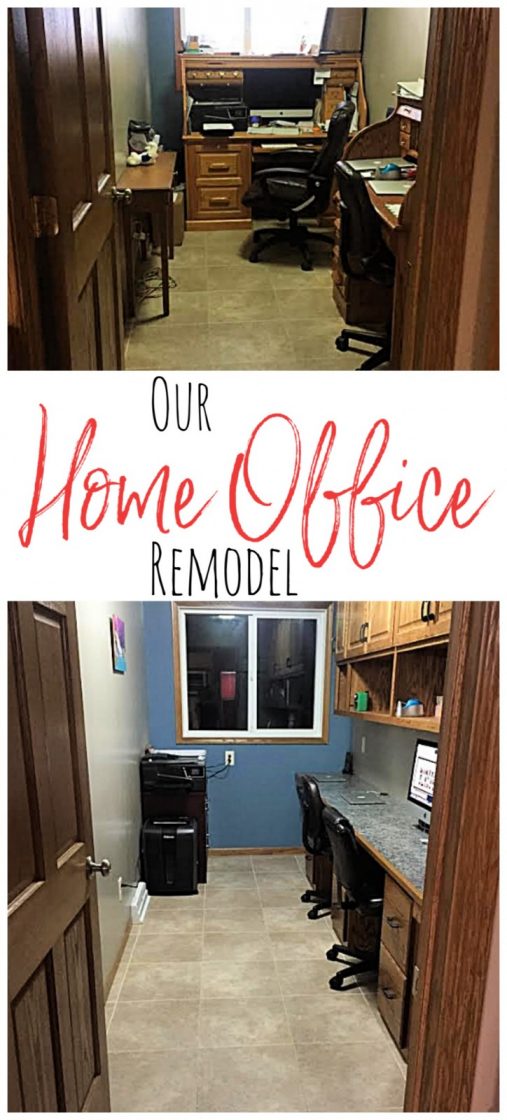 What We Did To Get The Office We'd Been Dreaming Of
The first thing we decided that needed to happen was to hire someone to build us a custom office.  Since the room was such an odd shape, the chances of finding desks and furniture that would help us accomplish what we wanted was very slim.
After finding a cabinet maker, we sat down with him and discussed our needs.  Since we homeschool, farm, and I blog, this space needed to serve multiple purposes.  We settled on creating four "stations".
Each station featured:
Desk Top Space
2 File Drawers
1 Small Pencil/Laptop Drawer 
Space For A Chair
Not to mention, we also had built ins created for above the desk stations too.  So now we had plenty of space and storage for everything we needed!
Order And Efficiency
This new space served the purpose intended.  We loved that school supplies had a designated space.  I loved that my blogging station was clean, orderly, and allowed me to be more efficient.  While having something custom made was the more expensive option, we found that it was the best way to go for this job.  Sometimes investing in a project makes more sense than cutting corners.
More Changes To Come
It's been several years now since we did this original office remodel and our needs have changed yet again.  So now we're in the process of moving our office/school area to an upstairs loft that we've recently created.  The wall in this office is coming down and we are expanding our living room into it, creating one large open room.  Because as our children are getting older, we're finding that we needed more gathering space for every day.  A place to hang out, play games, watch a movie, and read.  At some point, once everything is completed, I'll share those renovation results with you too!
So tell me, have you done any remodeling?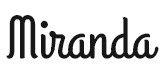 I'm a city girl turned country by my awesome husband and we have three busy boys and two darling daughters. I love spending time with my family, reading Karen Kingsbury novels, and catching up with friends while our kiddos have play dates. I'm blessed beyond measure and can't wait to see what God has in store.
Follow Miranda on Pinterest | Twitter| Blog | Instagram
This post currently has 4 responses.