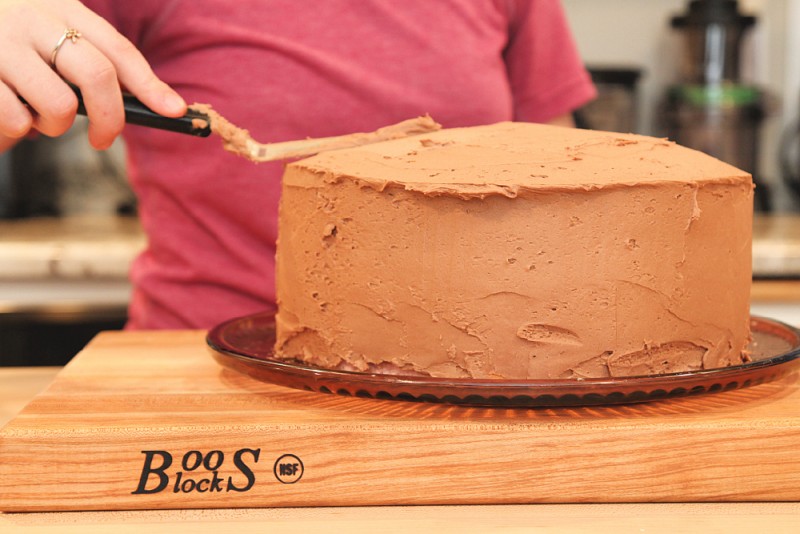 I received product from John Boos to facilitate this post.  All opinions are my own.
We may have been a little crazy last year.  Because, let's be real here.  Who in their right mind starts a big renovation project the week BEFORE Christmas…..!?  Turns out, we do.  What started out as a small, two wall removal somehow morphed into renovating almost our entire main level plus an upstairs loft.  But now that the end is so very close, let me tell you that the pain was worth it.  For a couple of months, we were basically living out of our garage.  Our flooring was torn up everywhere.  And because walls were removed and ceilings were torn into, dust-covered every open space.  It was pure chaos.  But now, we're busy enjoying the wonderful results.  And with the help of John Boos, we're making the most out of our butler pantry too!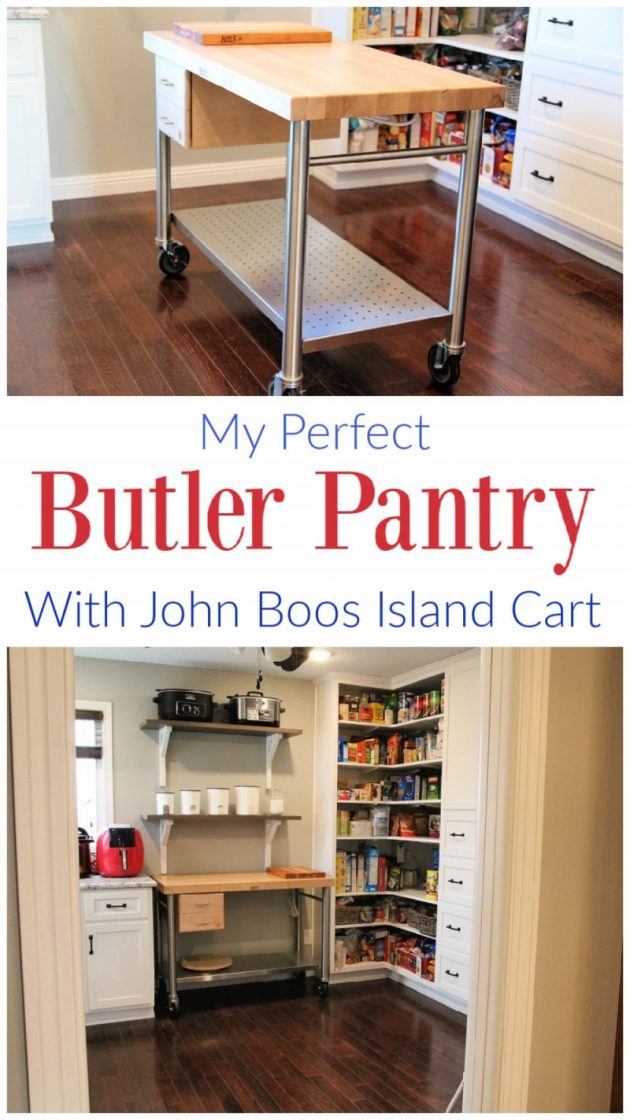 Making The Most Of Our Butler Pantry With The Help Of John Boos
First off, I'll share a bit about the design of our pantry.  In my book, there are a lot of must haves for a butler's pantry.  At the top of my list was a second oven.  While we purchased a 'wall oven', we actually had it installed below the cabinets so we wouldn't lose any counter space.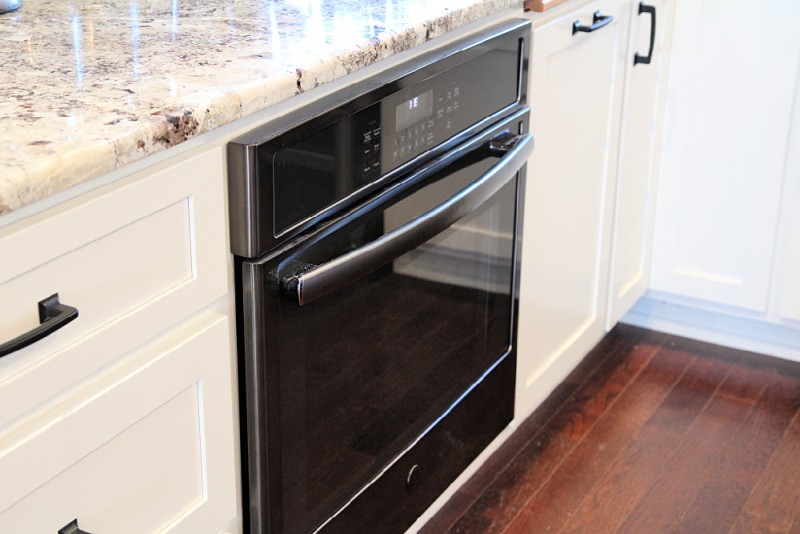 Secondly, I needed space for all of our small appliances.  It used to drive me nuts having our counter tops cluttered in our kitchen.  So I was insistent on having a dedicated space where our toaster, blender, air fryer, pressure cooker, and whatever else I decide to get could just sit out.  (And because of all these counter-top appliances, there is also a door on my butler pantry so I can close it off when we have guests.)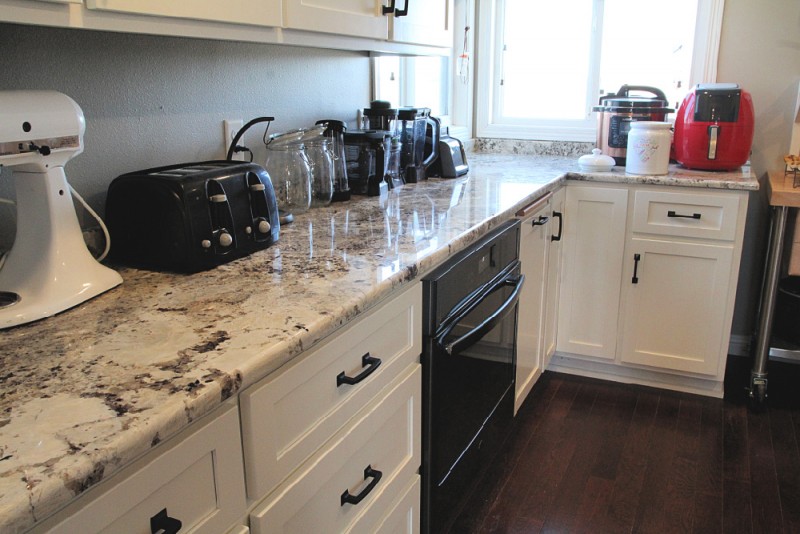 Working my way on, I wanted plenty of storage space.  So I scoured Pinterest for ideas and actually designed the pantry by compiling everything I wanted.  And I'm really happy with the results!  We have a wall of upper cabinets, granite counter top, and lower cabinets.  On the other side of the room, I have some open pantry shelving, drawers for storing canned goods, and additional shelves with doors.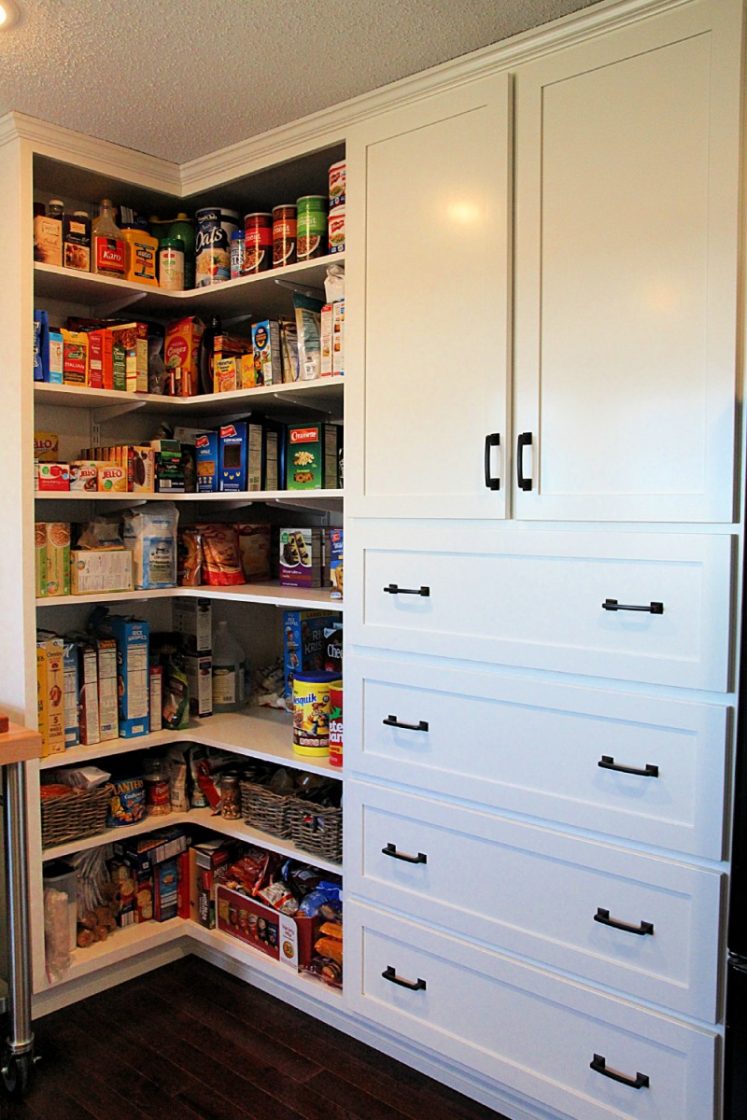 As a family of seven, we go through a lot of food.  So we actually moved our old refrigerator into our butler pantry and added a new one to our kitchen.
Finally, the last must have for a butler's pantry is a working island.  And that's where John Boos came in.  They have so many high quality options, I just love everything they offer.  But for the size, space, and functionality we needed, we settled on the "CUCIC" CUCINA MAGNIFICO Island Cart.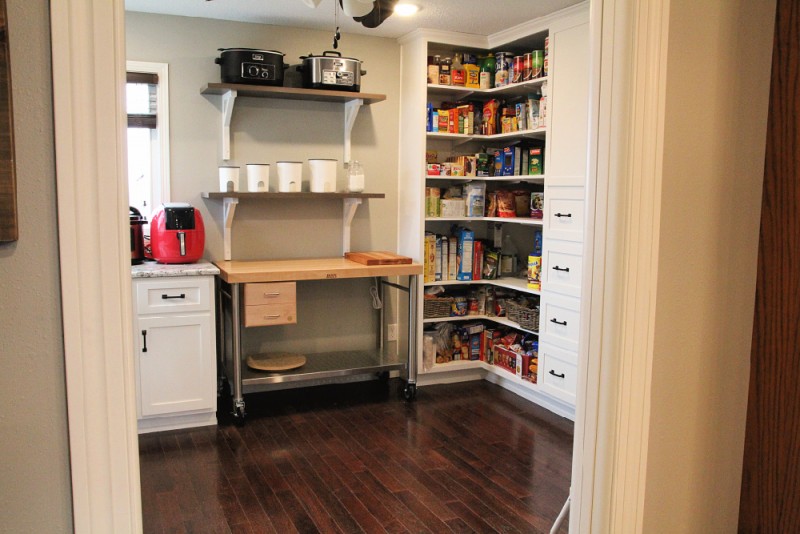 John Boos' "CUCIC" CUCINA MAGNIFICO Island Cart
In the center of our butler pantry, I made sure to leave some space for a 'work island'.  I wanted to have a piece of furniture that would be useful when we are busy baking, cooking, and prepping.  But also something that could easily be moved out of the way when not in use.  And let me tell you, the Cucina Magnifico Island Cart is everything I was looking for.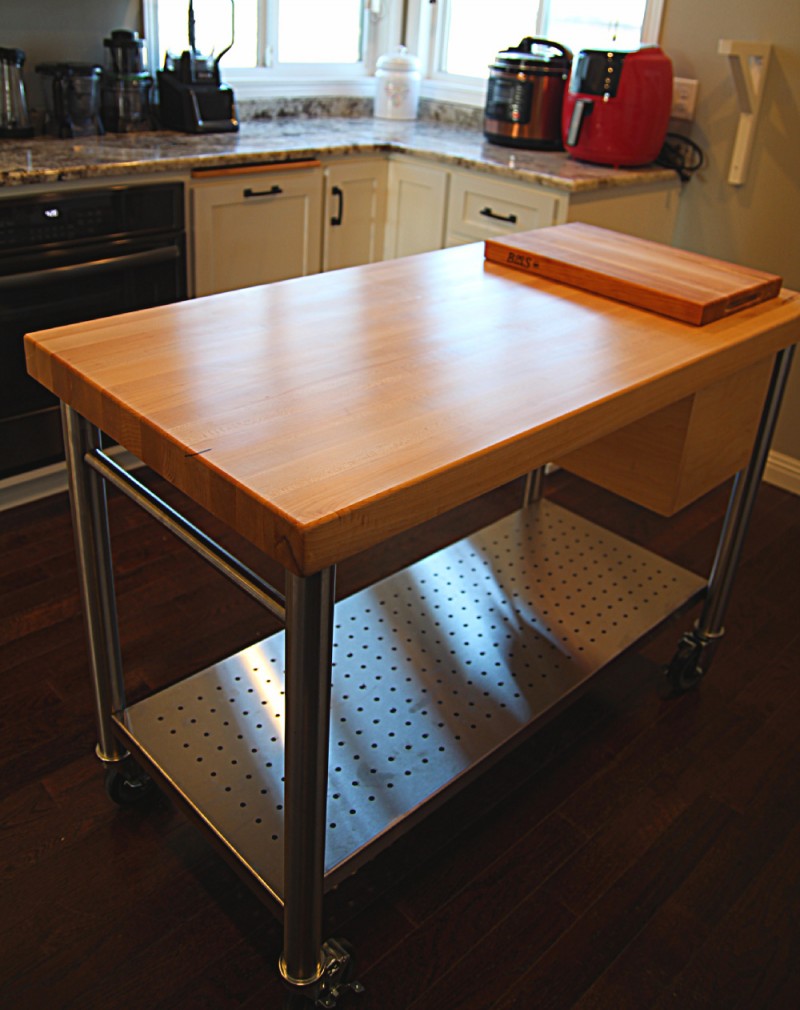 Loaded With Features And Beauty
This John Boos island cart is absolutely gorgeous in person and offers all the features I was looking for AND MORE!  The Cucuina Magnifico Island Cart boasts:
Northern Hard Rock Maple Edge Grain Top
Varnique Finished Top
Food Service Grade Stainless Steel Lower Shelf
Gorgeous Dovetailed Drawers
Stainless Steel End Towel Bar
Commercial Grade 5″ Locking Caster Wheels
Power Strip Installed Underneath Wood Top
Shipped FULLY ASSEMBLED!

Love How Easy It Is To Use
A great thing about this Cucina Magnifico Island Cart from John Boos is the fact that it can easily be moved from space to space.  We designed the pantry to have enough room under our wall shelves so we can store this beautiful cart when not in use.  So we simply unlock the caster wheels, push it over, and lock them again.  When we need the island prep space, it literally takes 30 seconds to have the cart in the center of the room and casters locked so it's ready to go.  It's amazing!
Beautiful
The high quality hard rock maple edge grain varnique finished top is gorgeous.  It's smooth and so pretty.  I love how great it works when we need space to roll out dough, mix on desserts, or whip up a salad.  NOTE*** This island cart is not meant to be used as a cutting board.  So definitely grab a separate John Boos Wood Cutting Board to keep on top the island for any cutting.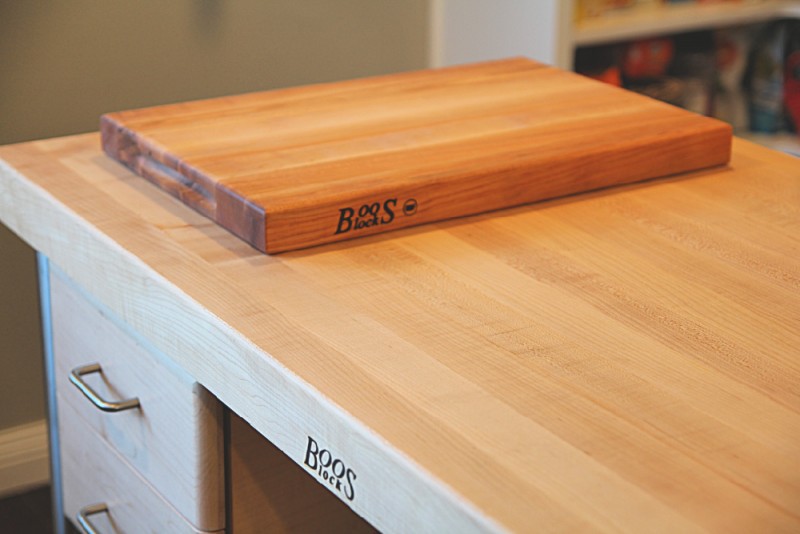 Use And Care Of Wood
For the wooden cutting board that we keep on top of our cart, there is a little care involved but it's really quite simple.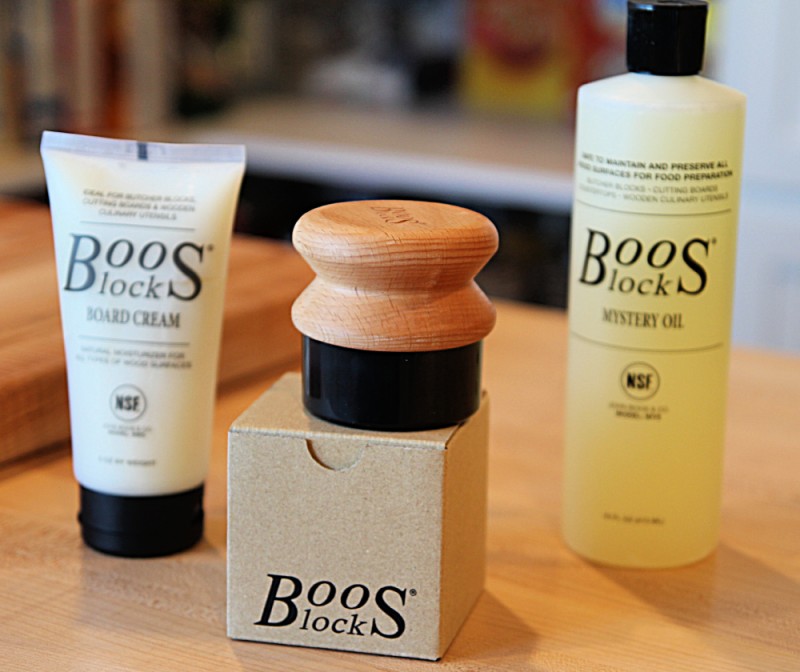 At least once a month, we just use John Boos Mystery Oil as directed on the bottle.  Then, we follow up the next day with a coat of board cream.  To keep these tools handy, we just store them in one of the island drawers.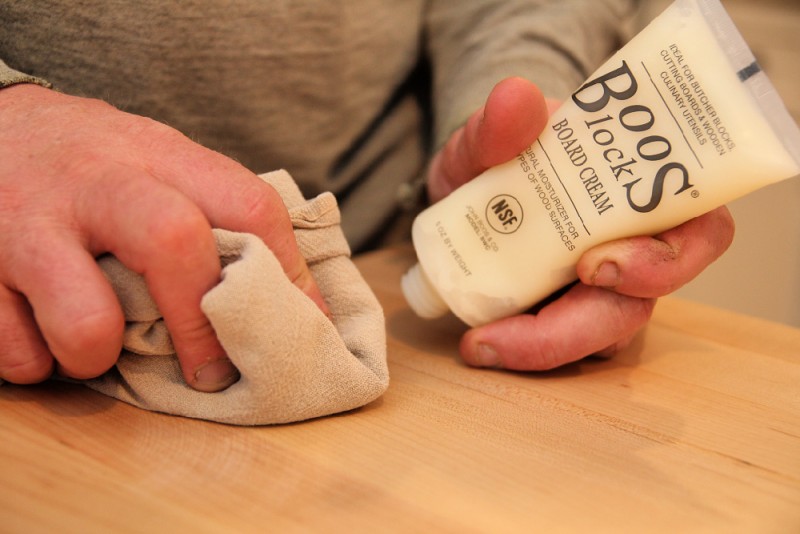 Multi-Purpose
We love using the drawers to store our wood care products as utensils and tools we use when baking.  So the fact that they designed this cart with two drawers is awesome.  The top one is dedicated to our most used kitchen tools.  So when, utilizing our cart, the drawer keeps them handy for us.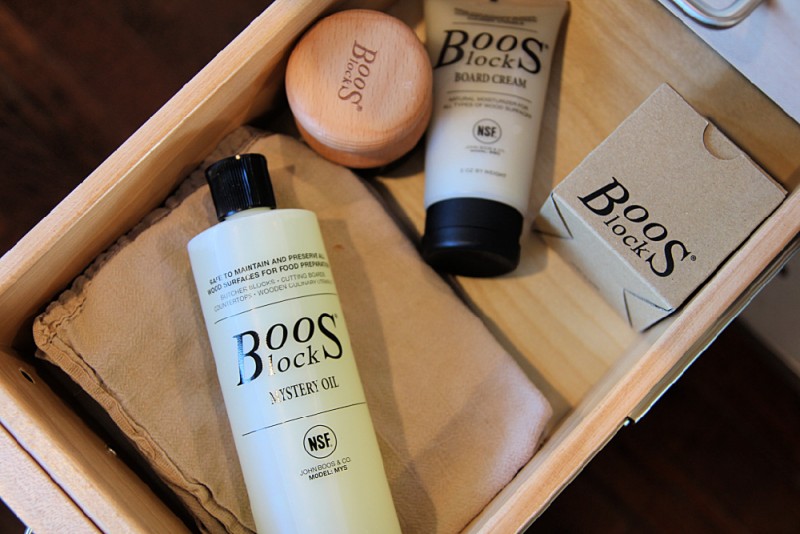 The food grade shelf is the perfect place to store bowls and other equipment.  Often times, I'll keep one of my cookers there so they are easy to grab when I need to throw a meal in before heading out for the day.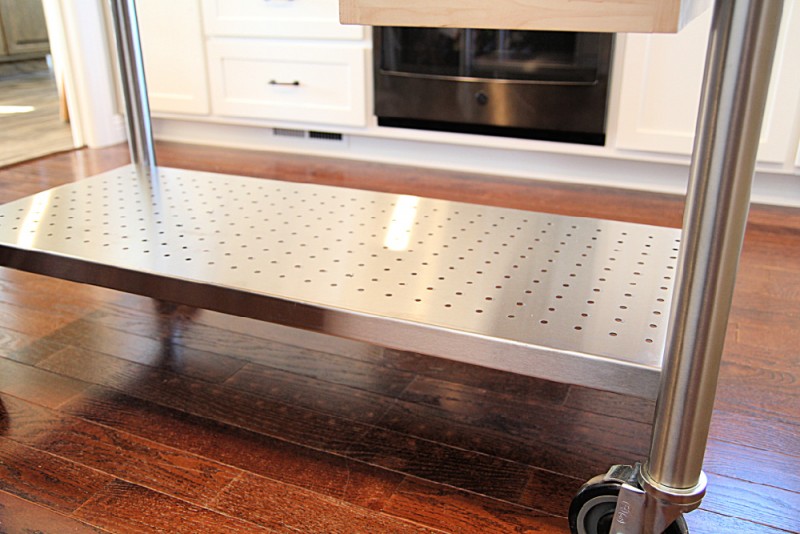 I LOVE LOVE LOVE the fact that John Boos designed this island cart to be able to hook up to electricity.  The power strip that is mounted underneath the wood top is absolutely GENIUS!
All Around Great Island Cart
Seriously!  This John Boos Cucina Magnifico Island Cart is perfect.  Almost everyone who has seen it has commented on how beautiful and functional it is.  And I love that for holidays and parties, we can actually wheel it out to the kitchen or dining room for additional serving space!  I just can't recommend it enough.  Definitely gets 2 enthusiastic thumbs up. 5+ stars.  And the 1st place prize!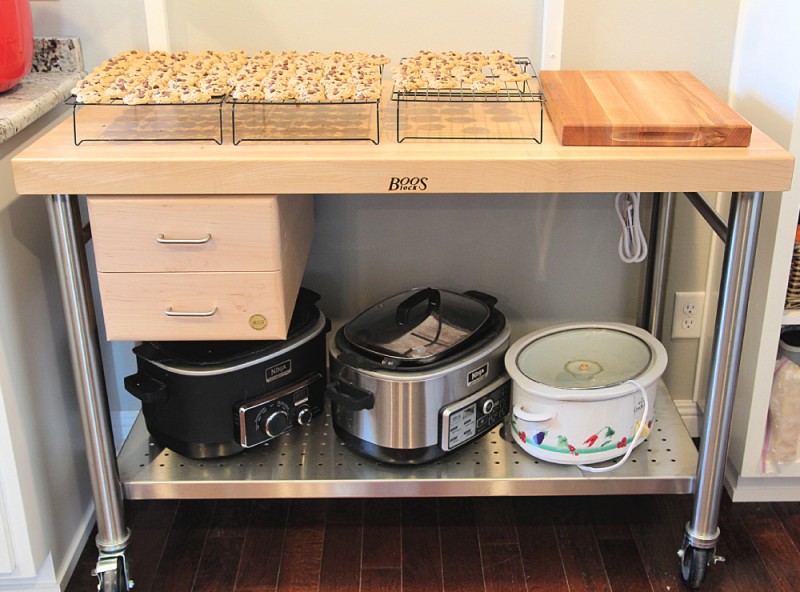 Chocolate Buttercream Frosting Recipe
The very first time we used our island cart was when our oldest daughter made her birthday cake.  It was a triple layer, gorgeous creation that tasted just as wonderful as it looked.  The island cart made for a great work station when making, stacking, and finally frosting her cake.  So I thought I'd share her delectable chocolate buttercream frosting recipe with you.  It's super easy to make and tastes so much better than canned options.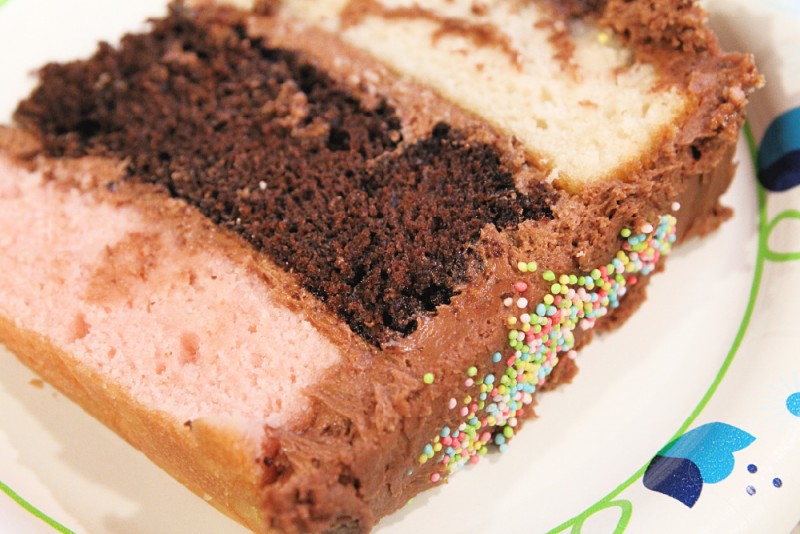 Chocolate Buttercream Frosting
Perfect for cakes and cupcakes.
Ingredients
3¾ cups powder sugar
⅓ cup cocoa powder
1 cup butter, room temp.
1 teaspoon vanilla
3-5 tablespoons milk
Instructions
Combine powder sugar and cocoa together in a medium sized bowl. Set aside.
Beat butter and vanilla together in a mixing bowl for at least 2 minutes.
Add the dry mixture to your butter. Mix.
Slowly add milk a tablespoon at a time, beating constantly, till you reach the desired consistency.
Frost your cake or cupcake.
Enjoy!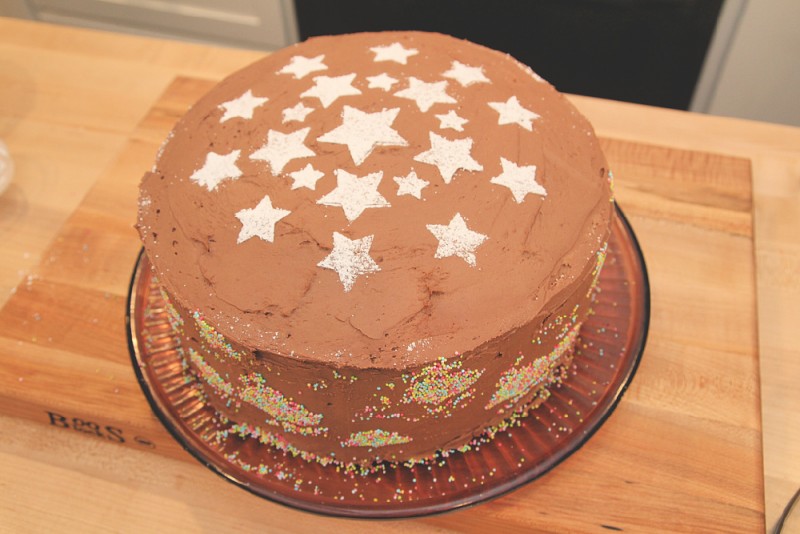 So tell me, what would be your top must have for a butler pantry?
Connect With John Boos
Website / Facebook / Twitter /  Instagram

Enter To Win:
One lucky Emily Reviews reader will win their very own 18x12x1.5″ Maple Edge Grain Cutting Board, Mystery Oil, Board Cream, Applicator!  Open to the Continental US only.  Enter the widget below for your chance.  Good luck!
I'm a city girl turned country by my awesome husband and we have three busy boys and two darling daughters. I love spending time with my family, reading Karen Kingsbury novels, and catching up with friends while our kiddos have play dates. I'm blessed beyond measure and can't wait to see what God has in store.
Follow Miranda on Pinterest | Twitter| Blog | Instagram
This post currently has 133 responses.