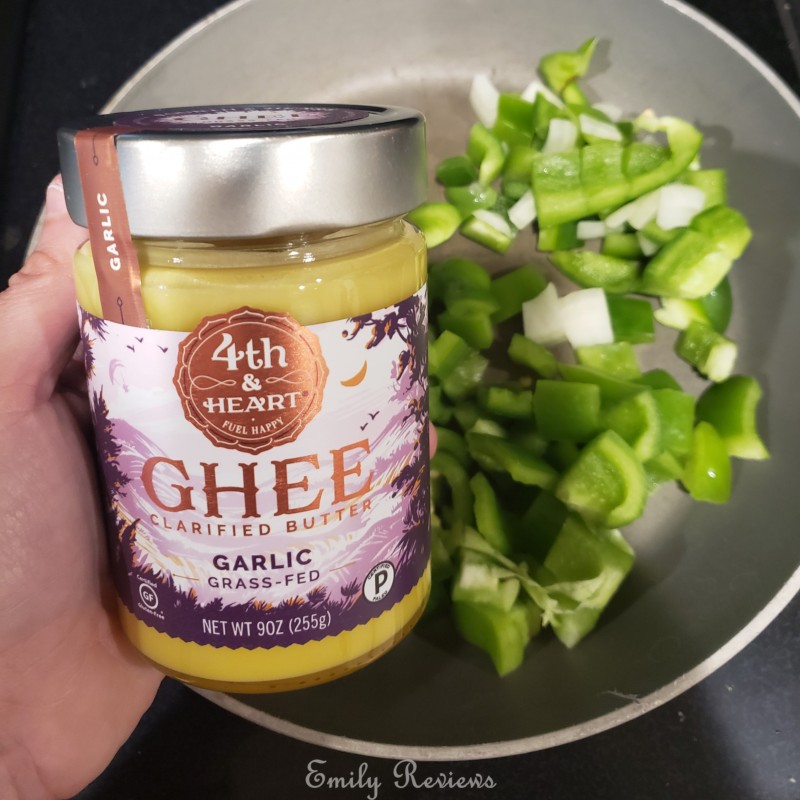 Thank you to Fourth & Heart for providing me with products to facilitate my blog review. All opinions are 100% my own.
Have you ever heard about Ghee or its benefits?
Ghee is a healthy alternative to your everyday butter, oils, sprays, etc. When you cook butter, it allows the milk solids to separate from the rest of the butter. After removing as much of the milk solids as possible, you are left with a golden liquid at the bottom of the pan that is clarified butter. If you take that clarified butter and continue cooking it until all of the moisture evaporates and the remaining milk solids brown slightly, you have ghee.
Ghee contains medium chain fatty acids. Medium chain fatty acids are easy to digest and better for your heart than other saturated fatty acids. Ghee contains butyric acid which is known for its positive effects on immune function, anti-inflammation, and it may help improve irritable bowel syndrome.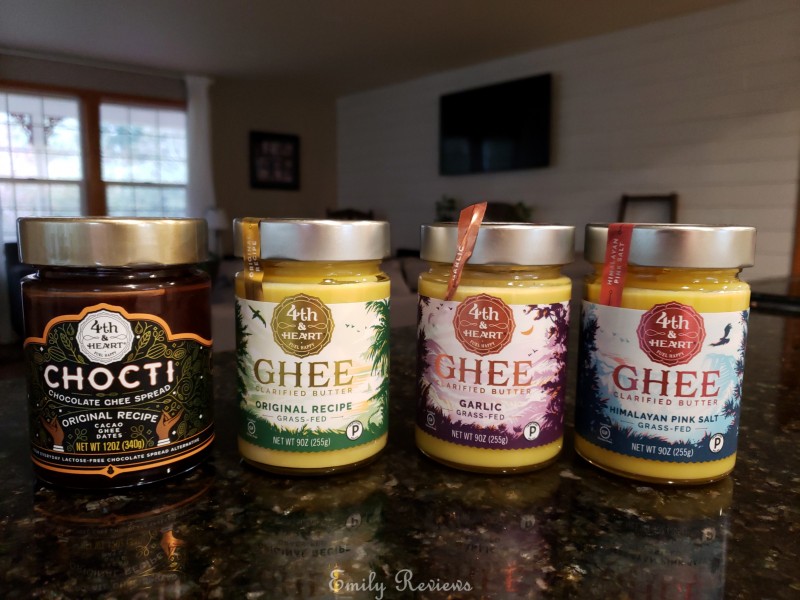 While researching ghee and it's benefits, I found Fourth & Heart Ghee. Fourth & Heart makes ghee using milk from grass-fed, pasture-raised cows in New Zealand. They offer customers an Original unflavored ghee, as well as California Garlic, Himalayan Pink Salt, and Madagascar Vanilla Bean.
Fourth & Heart ghee is easy to use. I used it in place of butter and my go-to cooking oils. Most of the time, you aren't able to tell that I am using anything different. If you can tell, it is because of the nice flavoring it adds. This is especially true when I use the Garlic Ghee to saute vegetables. Oh my goodness that is so good!
Fourth & Heart also makes Chocti Chocolate Spreads. Wow, these are to dye for! Think…hot fudge, but better! Chocti Chocolate Spreads are made with dates, cacao, and vanilla bean ghee. In addition to the Original Recipe, they also have a Passionfruit Chocti and Coffee Guaraná Chocti.  I honestly can't think of any dish that wouldn't be made better with Chocti Chocolate Spreads…assuming they make it that far. We may or may not have eaten our Chocti Chocolate Spread right from the jar with a spoon! Lol.
I LOVE my Fourth & Heart products. I will for sure be a repeat customer!
Buy It: Please visit the Fourth & Heart website to see the great selection of products they offer and convenient shopping locations.
Connect: Don't forget to follow Fourth & Heart on Facebook, Twitter, and Instagram for the latest product announcements and special offers.


Hello, my name is Laurie. I have been married to my husband for 14 years. We have two young daughters, ages 10 and 13 years old. My family and I live in Oregon so that means we are just minutes from the beach, mountains, and desert.  We love it here and try to spend as much time outdoors playing as we can. When we aren't outside playing, I enjoy reading, baking, refinishing furniture, and other crafts.
This post currently has 5 responses.