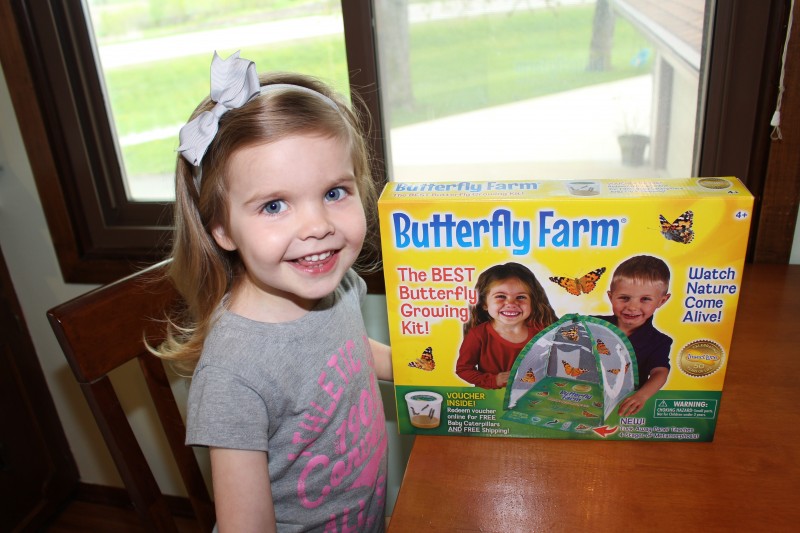 Thank you to Insect Lore for sending a Butterfly Farm Kit in exchange for my honest opinion in this review.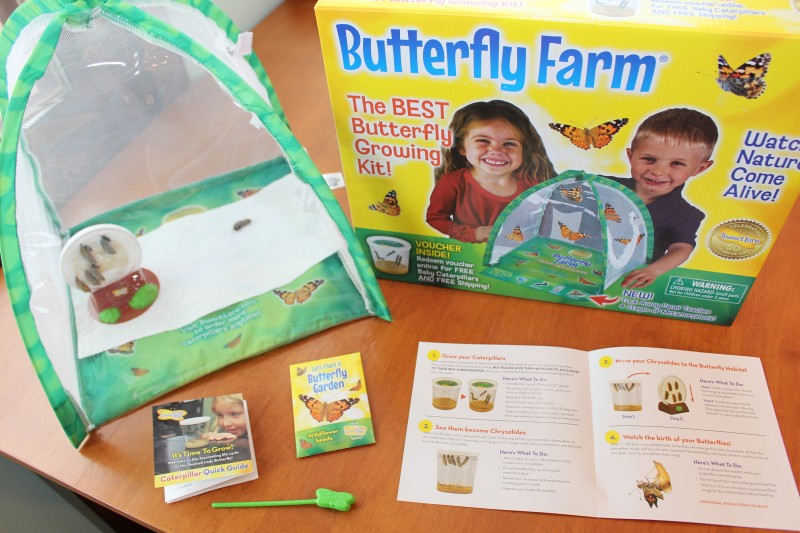 From the moment our Butterfly Farm from Insect Lore came in the mail, my daughter was so excited! She loves butterflies (and so do I)! I waited a couple weeks before I ordered our caterpillars because it was a cold spring here in the upper midwest. Once I ordered the caterpillars they shipped free and arrived in only a couple days. We got 6 live caterpillars in our shipment (5 are promised), so that was a fun surprise.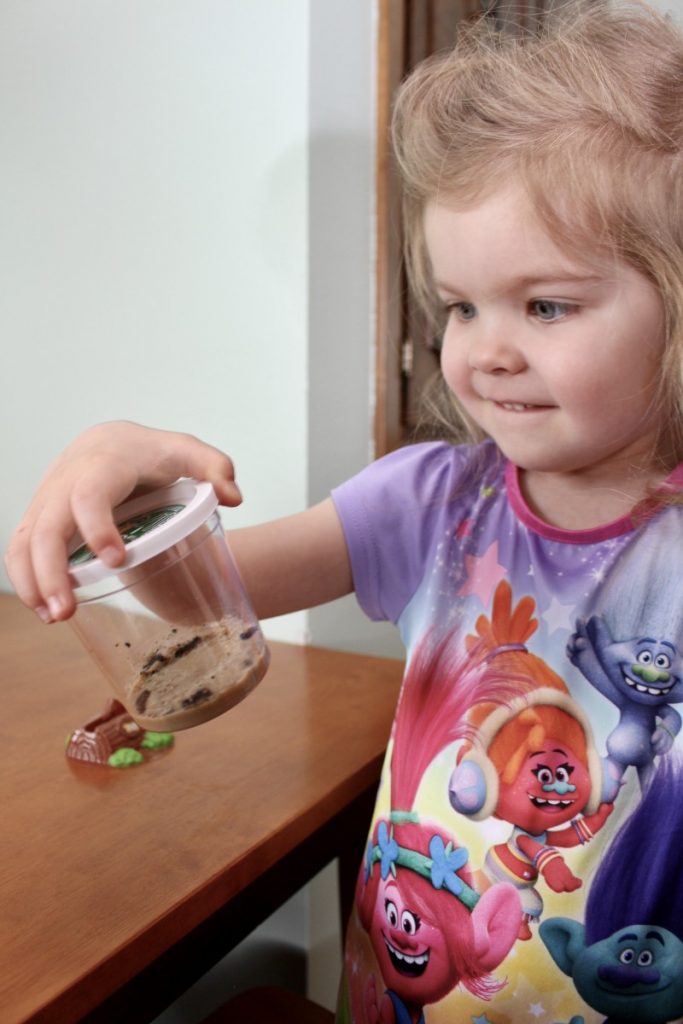 Included in the Butterfly Farm:
~ Butterfly Farm Habitat
~ Cup of 5 live baby painted lady caterpillars and food (if you buy online) or voucher to redeem later for 5 free baby caterpillars and free shipping (if you buy in store)
~ Chrysalis Station Log
~ Butterfly Feeding Dropper
~ 2 Sugar Packets to make butterfly nectar
~ Special flower-shaped butterfly feeder
~ Caterpillar Quick Guide
~ "Read Me" including helpful caterpillar-raising tips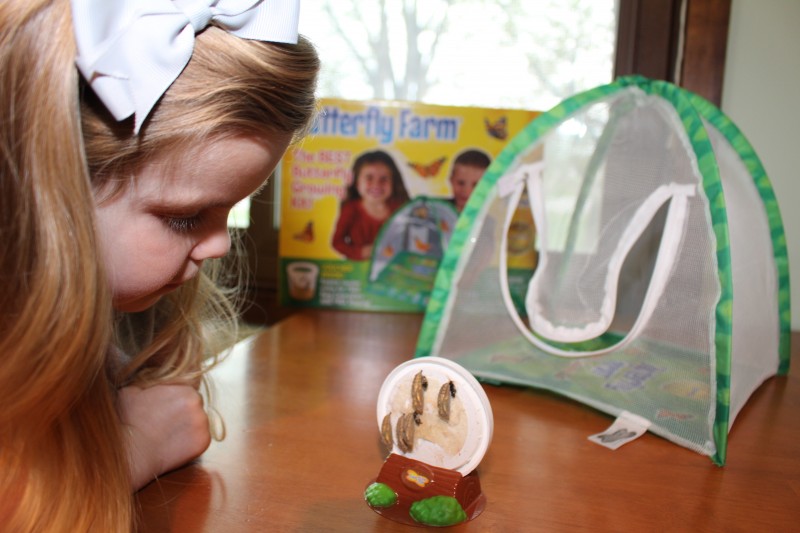 *** Note we did not receive the 2 sugar packets nor the special flower-shaped butterfly feeder in our box. I did not try to contact the company to get replacements, though I am sure they would have sent them if I would have. We fed our butterflies fresh watermelon and overripe bananas, as the instructions indicated we could do. ***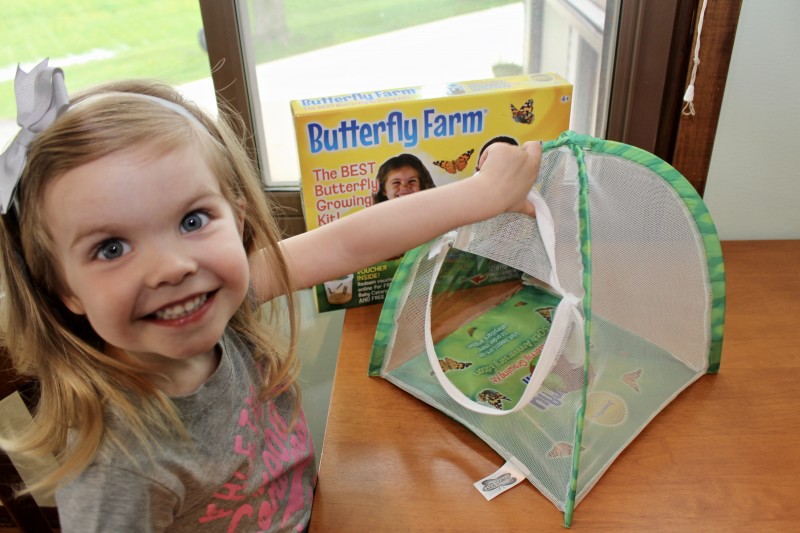 We watched the caterpillars eat and grow and move around in the container they came in for about 10 days and then they changed into chrysalises and 5/6 hung from the top of the container, one had fallen to the bottom of the container. We let the chrysalises harden for three days as the instructions said to do. Then we transferred the top of the container to the chrysalis station log. I checked the Insect Lore site and it said to transfer the one that had fallen onto a paper towel on the floor of the butterfly farm so I did so.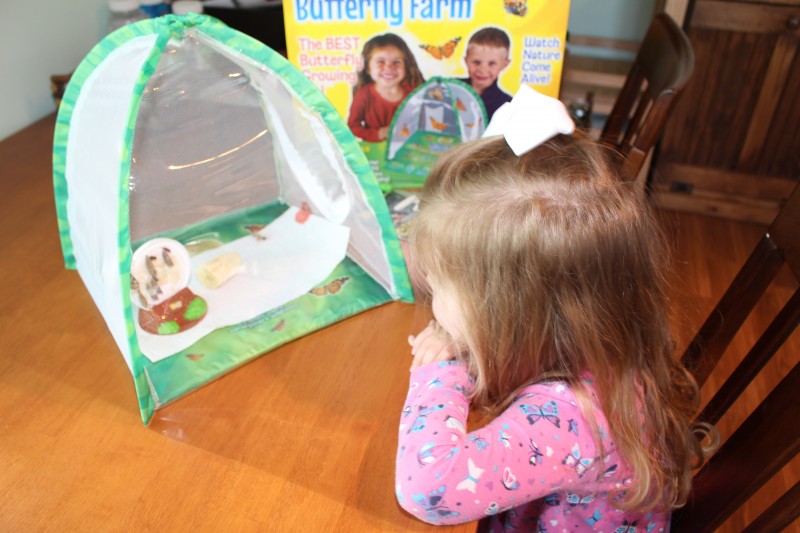 We then waited another approximately 10 days and the butterflies started to hatch! My daughter was so excited. Every day she would check on the status of her butterflies and the morning the first butterfly had hatched she didn't want to leave it to go to daycare!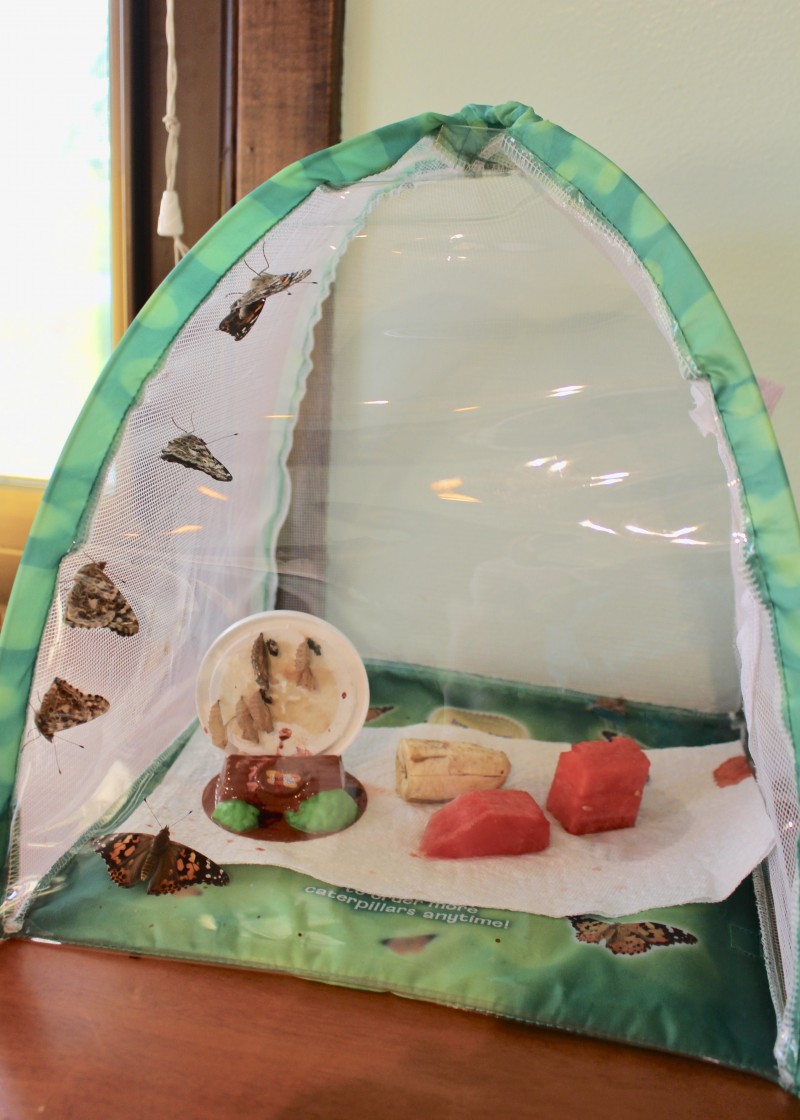 After 6 butterflies hatched we watched them for a few days in the Butterfly Farm then we set them free outside.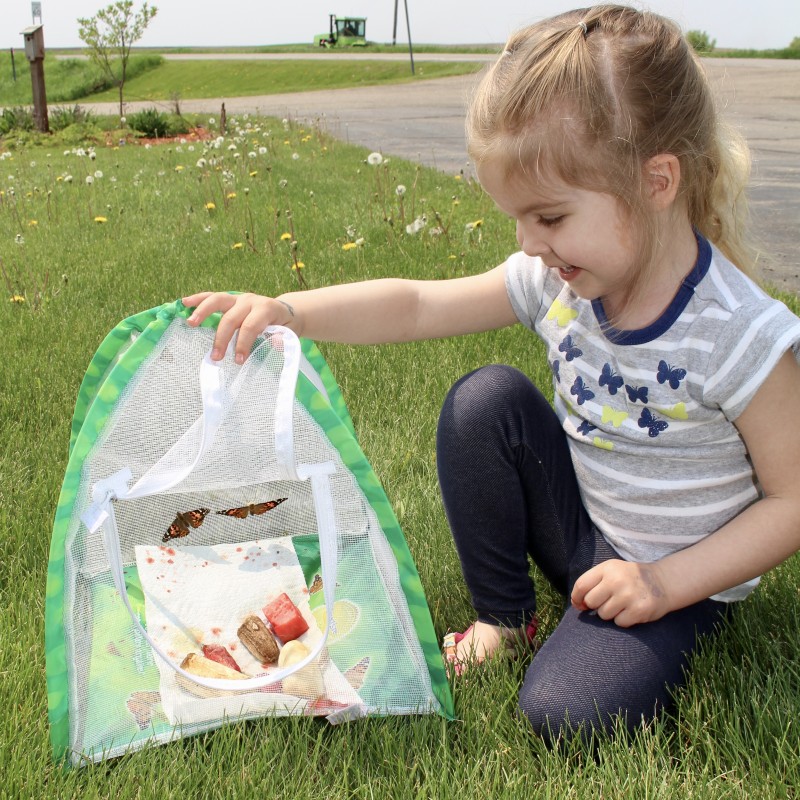 My parents were over when we released the butterflies, and it was a family affair! It was so much fun to see the excitement on my daughter's face as we released them!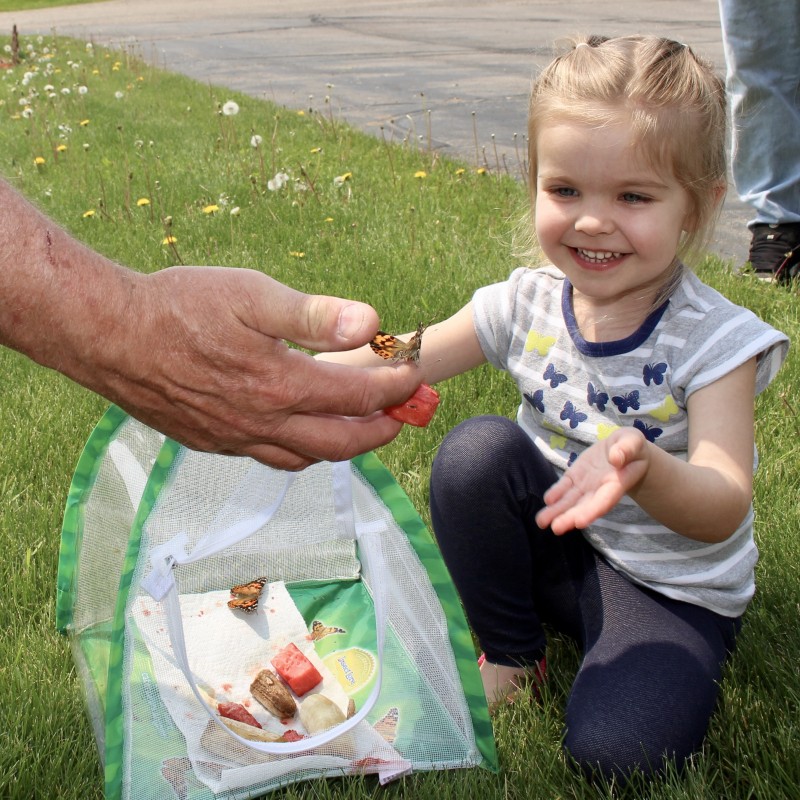 Every time I see a Painted Lady butterfly in our yard/garden this summer I will wonder if it is one of the ones we grew!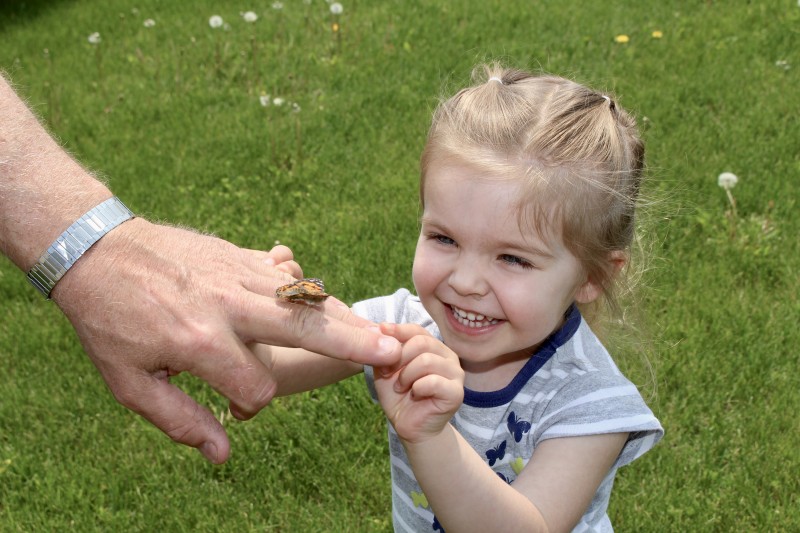 Insect Lore also offers other butterfly growing kits including the Butterfly Garden and The Butterfly Pavilion. You can also grow other insects with Insect Lore's Ladybug Land (where you can grow your own ladybugs from larvae), Ant Mountain, or their Praying Mantis Gift Set (it comes with a praying mantis egg case containing 75-200 baby mantids!) Insect Lore also has a "Life Cycle Collection" and "Nature Collection" featuring Eric Carle's Very Hungry Caterpillar and The Grouchy Ladybug. Insect Lore also offers new Life Cycle Figurines and much more.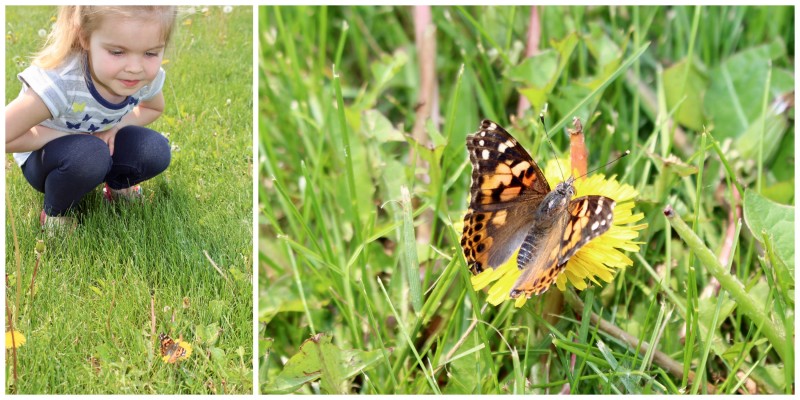 Buy It: Head over to Insect Lore to see for yourself the great selection of products they offer.
Connect: Don't forget to like them on Facebook, follow them on Instagram, Twitter and Pinterest, and subscribe to their YouTube channel for all the latest news and promotions.
Win It: Insect Lore  is generously offering one of our lucky readers a Butterfly Farm with live insects. The giveaway is open to the continental US only. The giveaway will end June 22nd, 2016. For your chance to win, enter the Giveaway Tools below. Good luck!


This post currently has 6 responses.