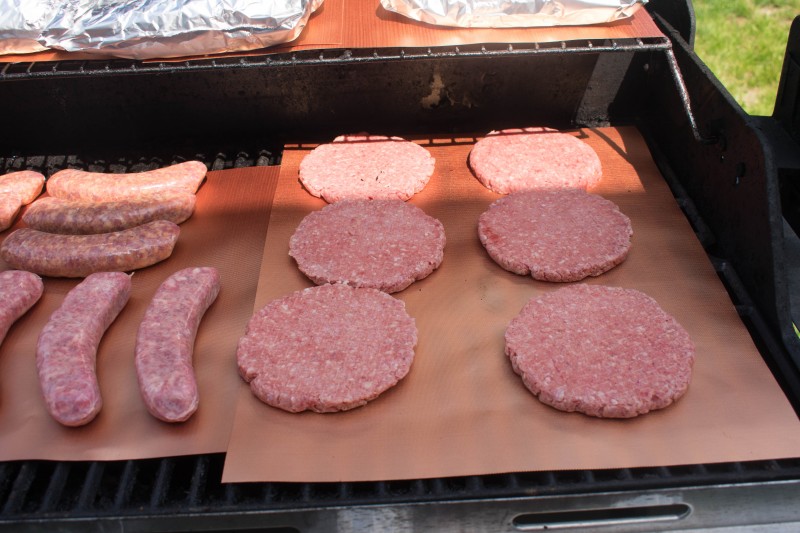 YRYM HT sent me product and compensation for this post. All opinions are my own. There are affiliate links in this post.
We love grilling in the summer. We feel like some foods taste better when grilled and it's nice to not have to make the whole house hot just to make dinner. When we first got a grill we stuck with common meat for grilling such as hamburgers, hot dogs or bratwurst. Then over time we started getting more creative, adding in veggies, trying out steak, we even tried watermelon! When camping last summer we brought along a cast iron skillet and made bacon and eggs, though it didn't really seem grilled because it was made in a pan.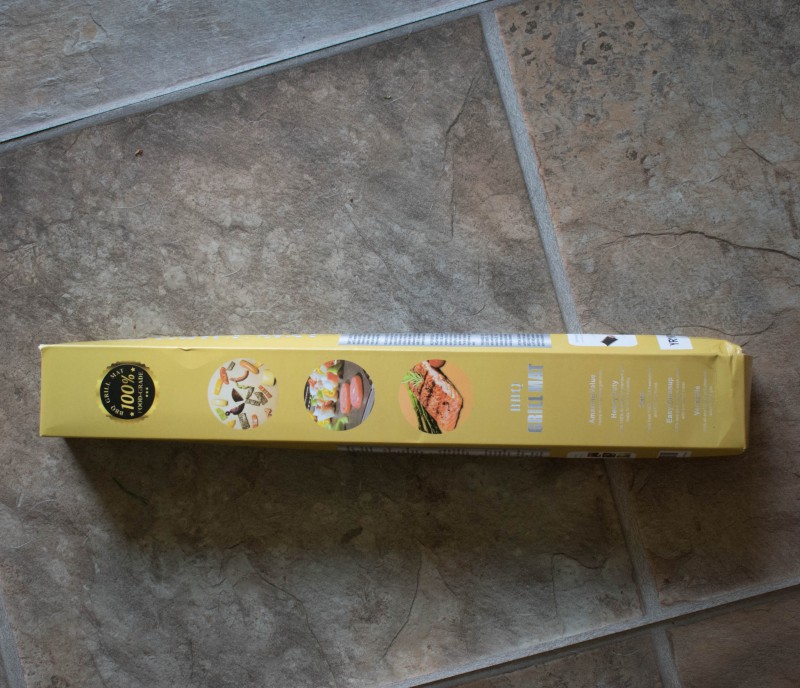 The mats come in a tiny box, but they uncurl and lay flat without an issue. 
With smaller items it can be tricky to keep them from falling through the grates. And cleaning the grill grate can take a lot of elbow grease. So I was excited to try out YRYM HT grill mats. They are PTFE Teflon Fiber grill mats and they can be used on all types of grills as long as you use the mat over a grill grate. The mats are thinner and more flexible than I expected. The set comes with 5 mats which are 13×16 each, but they can be cut easily with ordinary scissors to make them smaller or to custom-fit them to your grill if you wish. It also comes with two silicone brushes.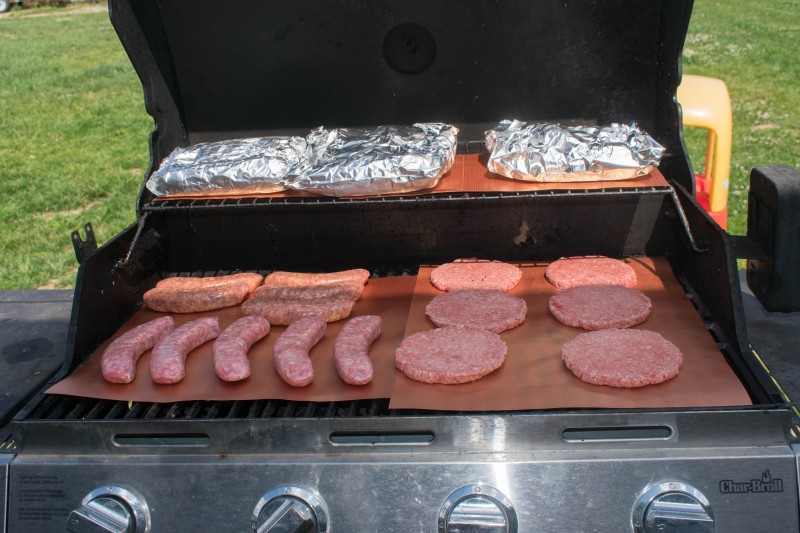 I decided to test these out when we were grilling with my family for the 4th of July on my dad's full sized gas grill. We used two mats on the lower half of the grill, and cut one mat length-wise to fit it over the top of the grill. We grilled burgers and brats, and made foil packs of corn on the cob.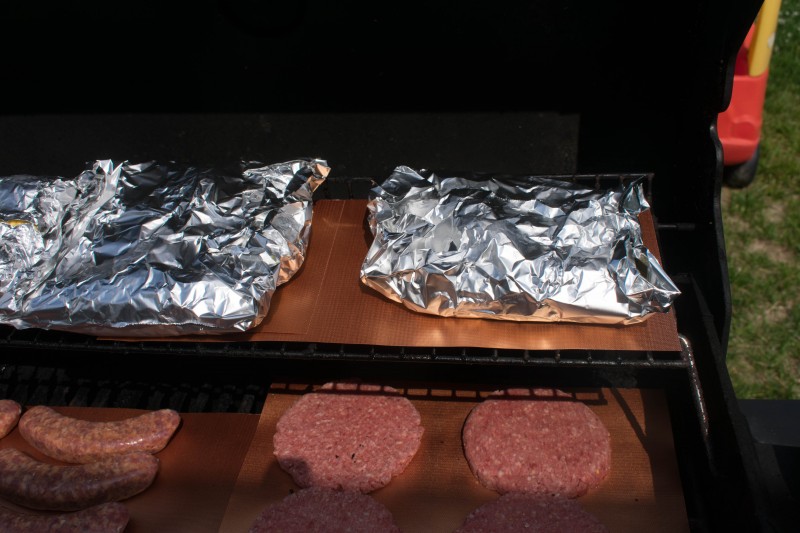 We had a small mishap with these mats. Because they provide a large flat surface, grease that comes out of your food can pool up on these mats and then run off in a big glob instead of in small drips which can cause a grease fire. So I would recommend cutting the mats into pieces instead of trying to cover your entire grill with the mats because then there will be more spaces for the grease to drip off in smaller amounts and reduce the risk of fire. Or, perhaps just use them for veggies or other small items that are low in grease. If you're a fan of the grilled appearance, you can still get grill marks on your food while using these mats, they will just be more subtle.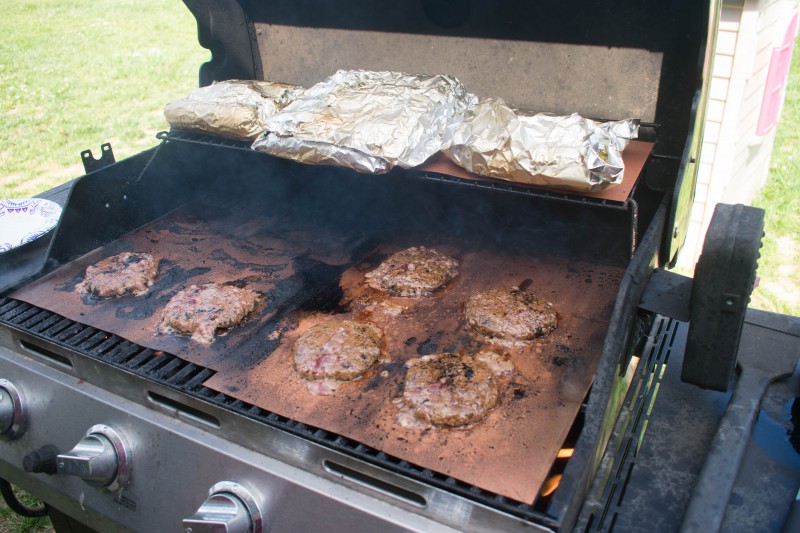 The food tasted great! We left the mats on the grill while we ate, and removed them later. They were super easy to clean because we could throw them right in the sink with other dishes. We don't' have a dishwasher, but they are dishwasher safe!
You can pick up YRYM HT grill mats on Amazon.com.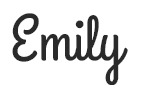 Hi there! I am Emily Evert, the owner of Emily Reviews. I am 25 and live in a small town in Michigan with my boyfriend Ryan and our two pugs. I have a large family and I adore my nieces and nephews. I am a calorie counter who loves soda. I budget to save money so I can spend it on my dogs. I love reading memoirs, and learning about child development and psychology. I love watching The Game of Thrones, Teen Mom, Sister Wives and Veep. I like listening to Jason Isbell, John Prine, Kris Kristofferson and Blue October. I created Emily Reviews as a creative outlet to share my life and the products that I love with others.
This post currently has 7 responses.