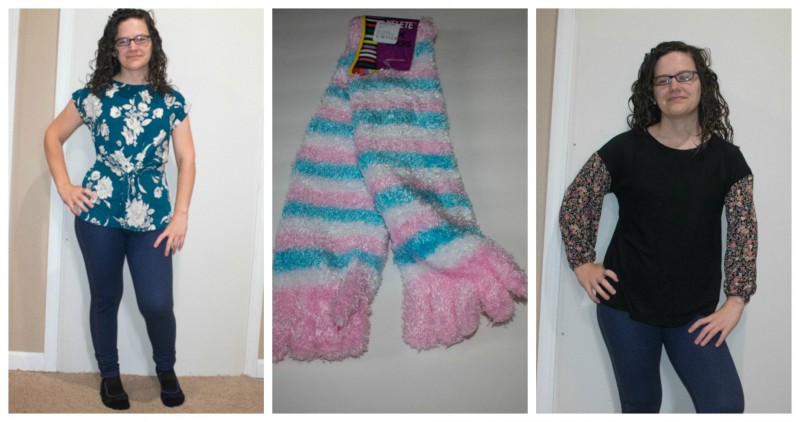 I was sent a Nadine West fashion subscription bag for review. There are affiliate links in this post. All opinions are my own.
With tomorrow kicking off the holiday gift guide, I decided to share the newest Nadine West review a bit early. This bag just arrived yesterday so it is my November bag. For my October review I mentioned how I was excited to see the clothing be a bit more fall-like last time but that I was hoping for even more this month. That is definitely the case! I feel like this was definitely a 'fall' bag, which is great because it snowed today so warm weather is definitely behind us for 2019 here in Michigan.
To those of you who may be new, Nadine West
is a clothing service that lets you fill out a style profile explaining what colors prints patterns and styles of clothing you like to wear. Then monthly or bimonthly (your choice) they will mail you a big pink envelope full of clothing and accessories. Mine have ranged from 8 to 15 items in total. You can request items within the price range of your choice (over $25 per piece, under $25 per piece or both). I am signed up for both, but I have never been sent an item over about $37. That's a big part of what sets Nadine West apart from some other services out there – they're affordable!
On to what was sent to me this time. Also, quick disclaimer about my hair – this time of year is really busy for me so I wound up taking these photos while my hair was in a gel cast which is why it looks a little stiff or wet or just generally kinda odd! I had time to take these photos so I had to make it work despite being in the middle of waiting o my hair to be 100% dry.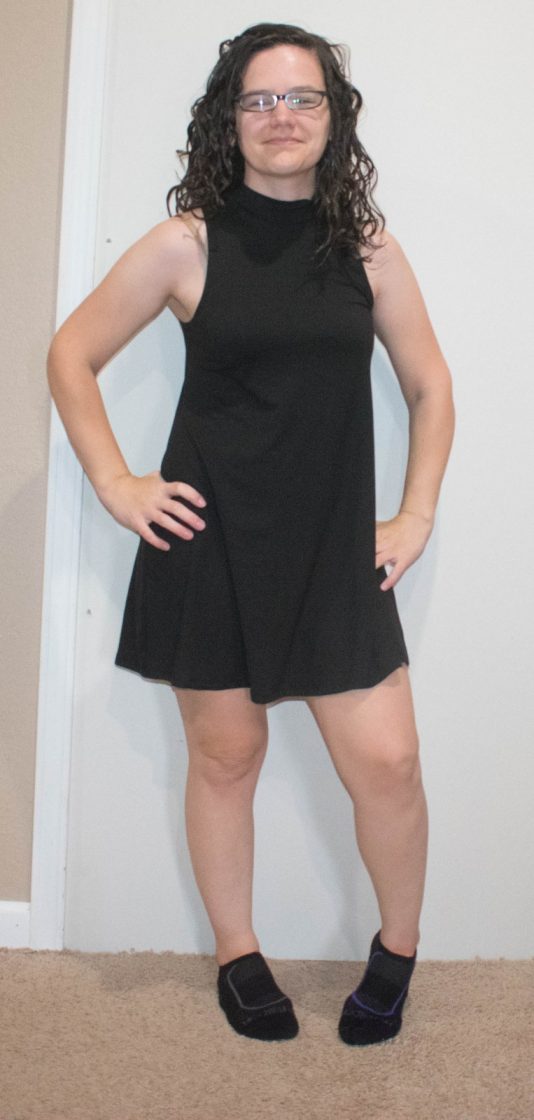 This little dress is cute, but I guess I don't really know how to wear dresses that are this simple. I assume you would have to spice up your overall outfit using accessories? I'm not usually one to do that so I won't keep this dress but it fit well and would be cute on someone who knew how to style it. It is $24.99 to keep.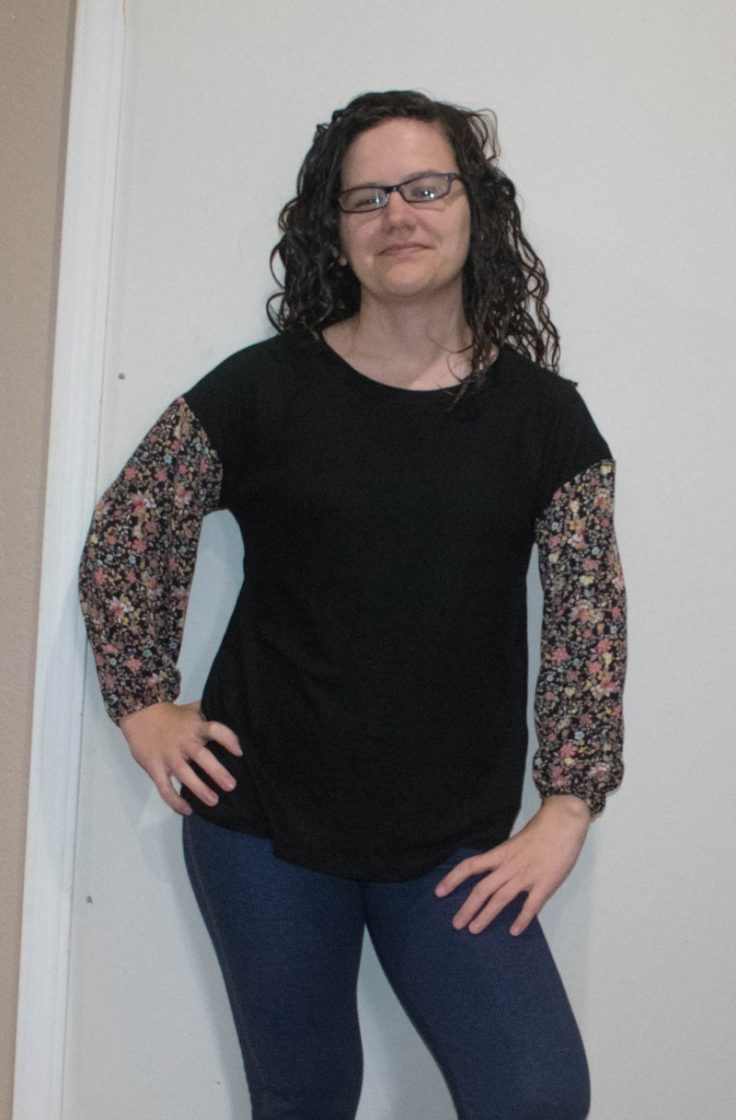 This top is pretty unique! The main portion of the shirt is a thicker fuzzy material like a sweater while the sleeve are really thin – chiffon maybe? It felt a little big on me at first but it was sent in my normal size so I think it is supposed to be oversized. I like how the floral sleeves add a feminine touch to a otherwise dark sweater. It has elastic at the wrists to hold the somewhat puffy sleeves in place. It's different, but I like it! It is $27.99 to keep.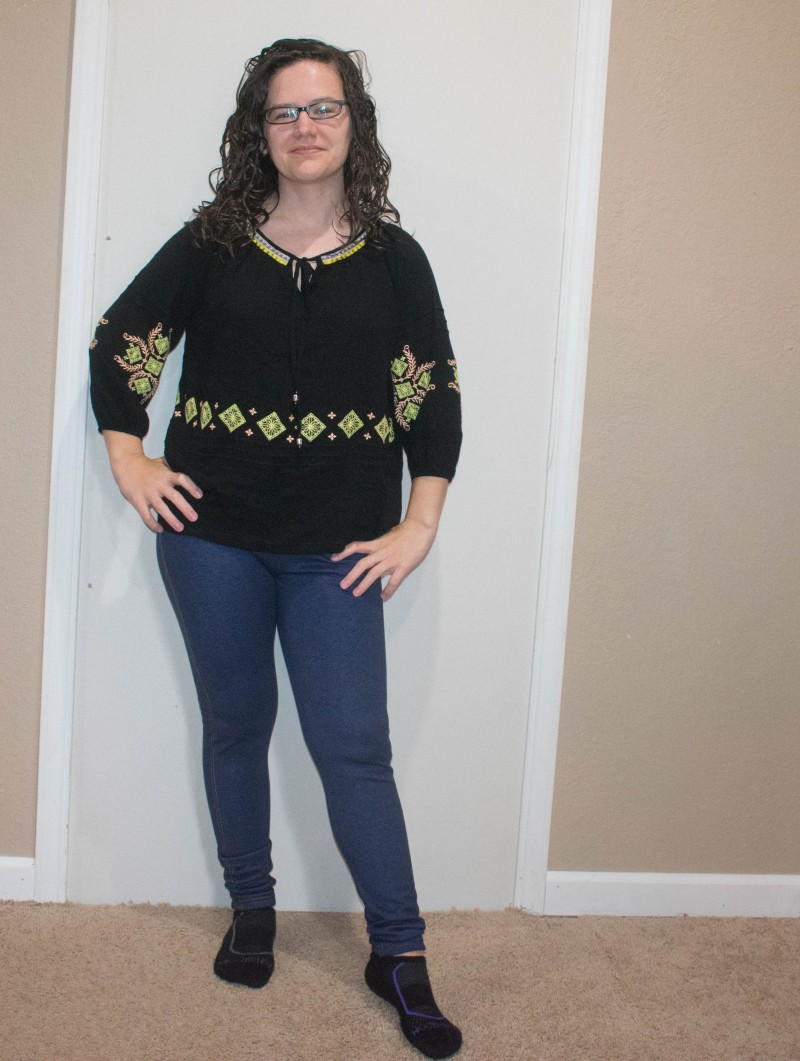 This top has a bit of a western look to it. It seems really wide so I guess it's supposed to have a baggy fit to it. It's not my style but that's okay! It is $14.49 to keep.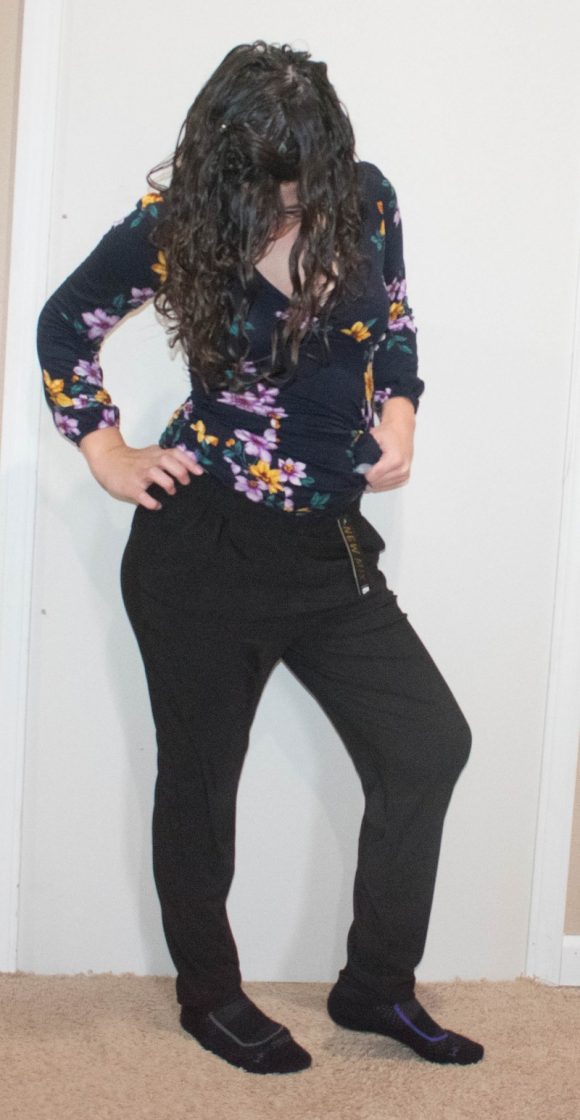 These bottoms were a really unique material. They had a lot of static on them maybe you can see how the static was making them cling to my lower legs in an odd way? The material is very light almost feels sheer. The upper thigh and crotch area seems to have a lot of excess material so I thought these were intended to be worn slouchy but I see that the Nadine West listing calls them trousers so based on that I assume they are intended to be dressed up instead? These were sent to me one size up from my norm so perhaps they were just big on me? Though them being trousers seems odd to me given the super-thin material. I'm not sure! But they are not my style either way. They are $11.99 to keep.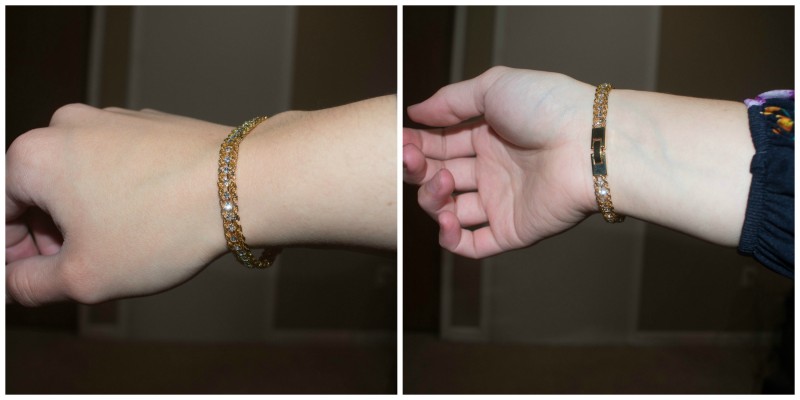 I'm a little unsure what I think of this bracelet. Maybe you guys can help me decide! It's a silver and gold bracelet that is pretty thin but pretty, I think. It has a buckle type clasp that is a little tricky to put on yourself but that feels very secure. I like it, I'm just not sure if I would wear it if I kept it. What do you guys think? It is $17.99.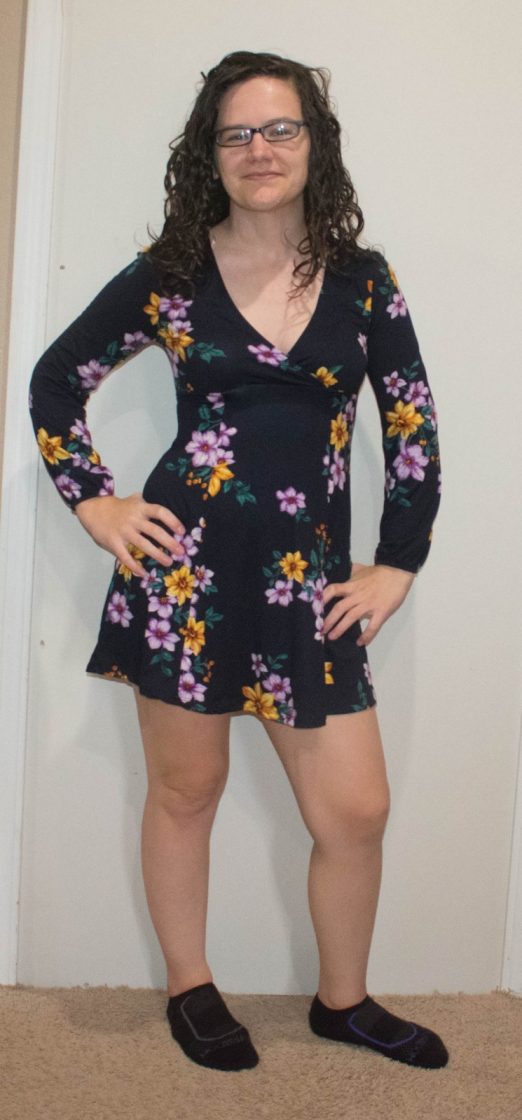 Some of my favorite all-time pieces from Nadine West are their dresses so I'm glad they continue sending them to me year-round. The material of this one is soft and light. With it being long-sleeved it can e worn in spring or fall I thought. I like the print and the style. It's a bit tight on me right now but I'm heavier than I usually am. My partner and I have agreed to go back to eating a bit better next time we get groceries so hopefully by spring it will fit a bit better! It's a keeper. I am only 5'1″ and it is short on me so it may be too short on someone of average or taller height. This is $29.99.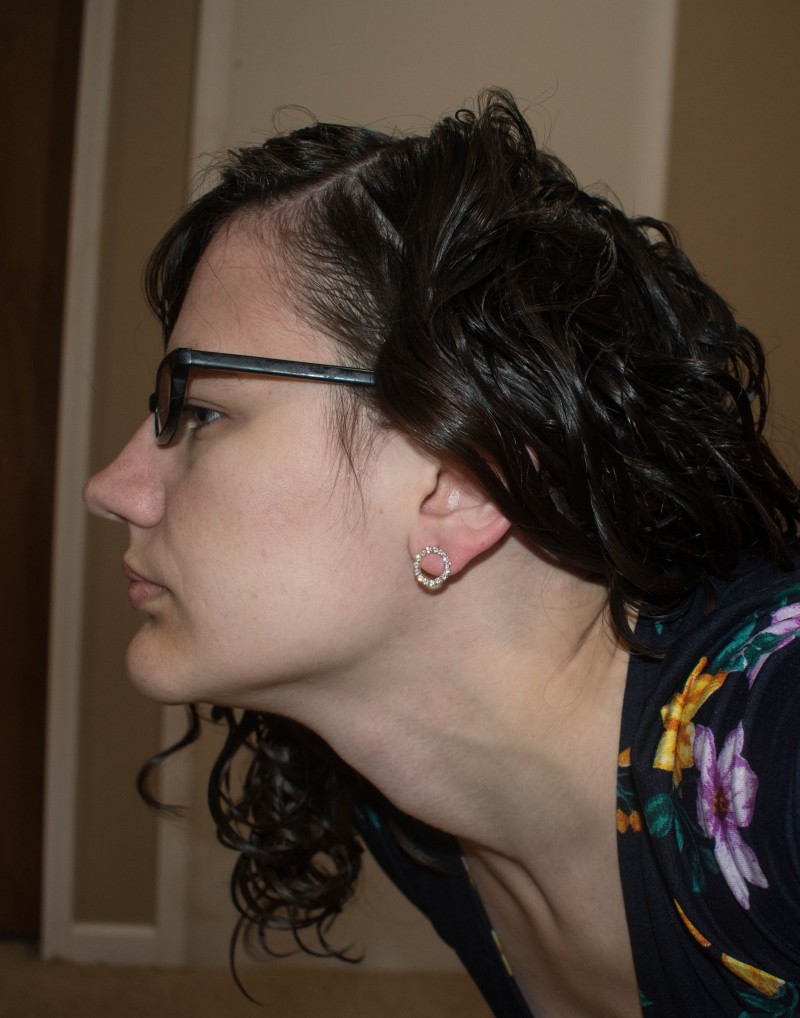 These earrings are simple little rings with zirconia pieces. These would go with about any outfit so they are a keeper for me. They are $11.49 to keep.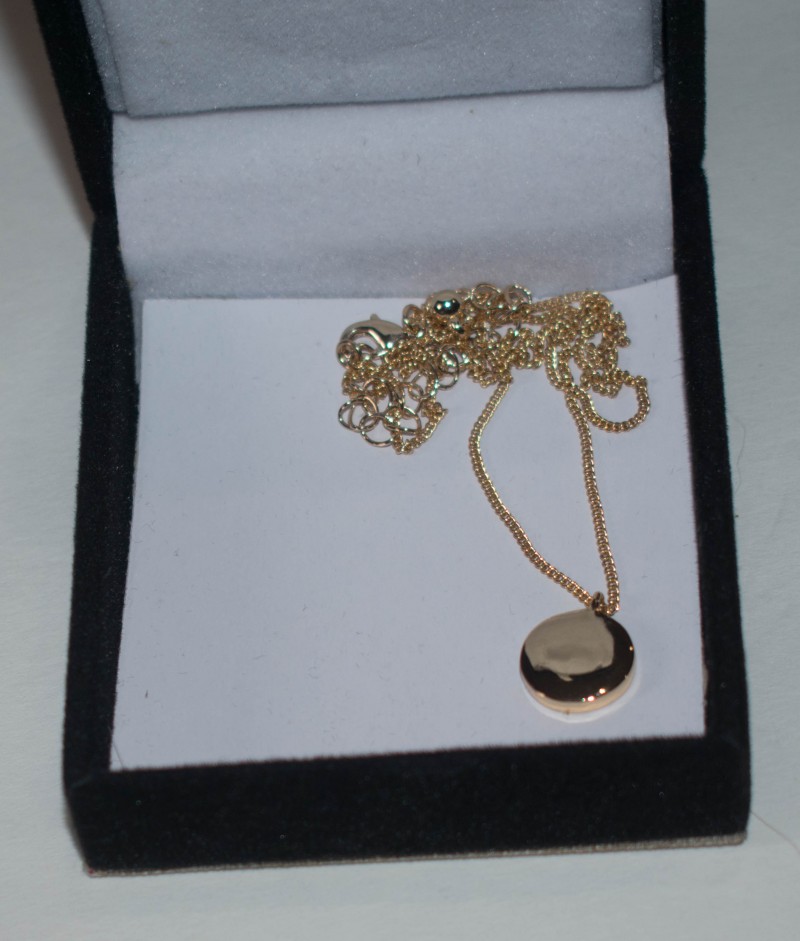 Nadine West jewelry usually comes in a pink mesh pouch. This was my first time getting a necklace in a box. This little necklace has a simple gold-toned circle pendant. It's a bit too simplistic for my tastes. It is $24.99 to keep.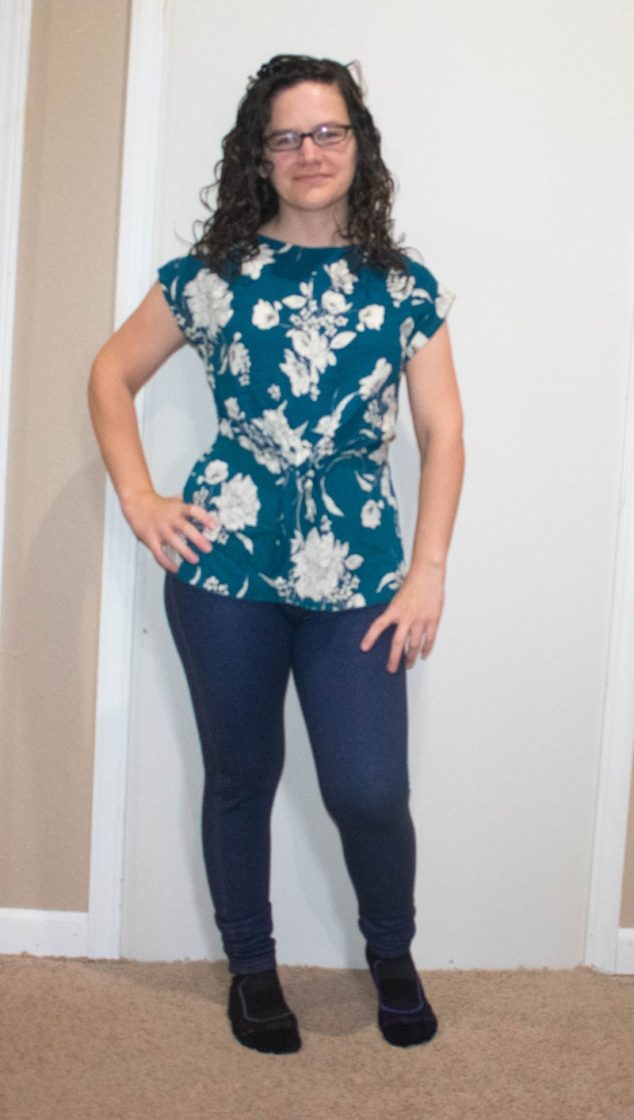 This top is one that I wouldn't try on if I saw it in a store. Teal isn't usually my color and I've always thought that shirts that tie or knot in the front are odd. In my mind ties go in the back! But I like ho this shirt looks on! That's part of what is so cool about Nadine West, is trying on things you normally wouldn't and sometimes finding things you really like! This shirt is $22.99 to keep.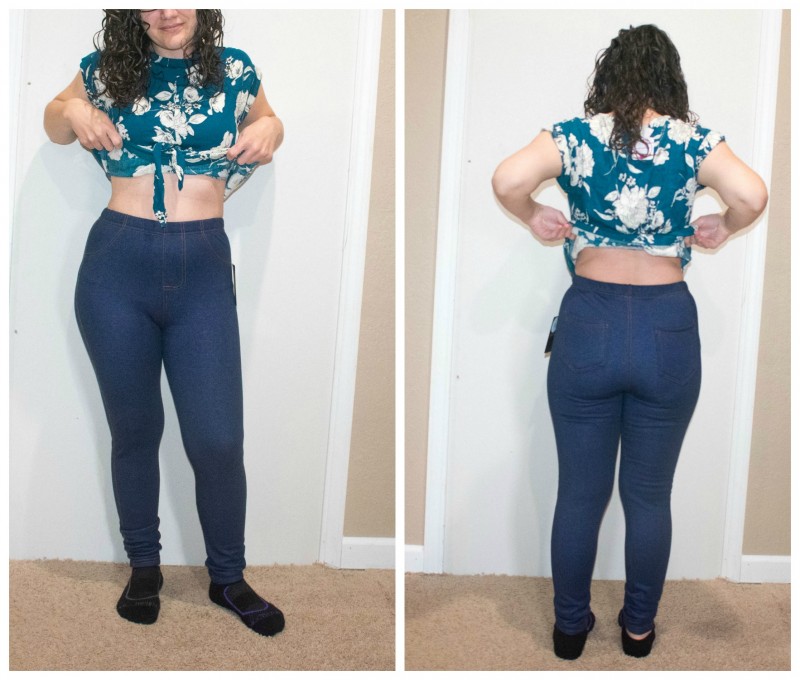 These bottoms are thick fleece-lined leggings that are designed to look like they have a zipper and front pockets like jeans, but they do not. They do have real back pockets though. These are thick, soft and warm. I've tried fleece-lined leggings a few times and they were always highly elastic and would get a lot of lint balls all over them the first time thy went through the dryer. These don't have that sort of feel to them, I think they will hold up much better to beig washed. They're super comfortable, too. I wish they weren't super high waisted (I raised my shirt to show how they go up to my natural waist. With other leggings I would just fold the waist over, but with these having he pockets/fly look on the front, it looks odd to fold them over. In these photos I think they are really unflattering to my body in general. I have a curvy butt but these make it look sort of long and flat. However, when worn with a top covering the top of these, I think they look okay. I wore these bottoms when trying on all the shirts this month so you can check out how they look with various shirts to get a better idea. These are $19.99. I'll be wearing these a lot this winter around the house, but much more for comfort reasons than aesthetic ones!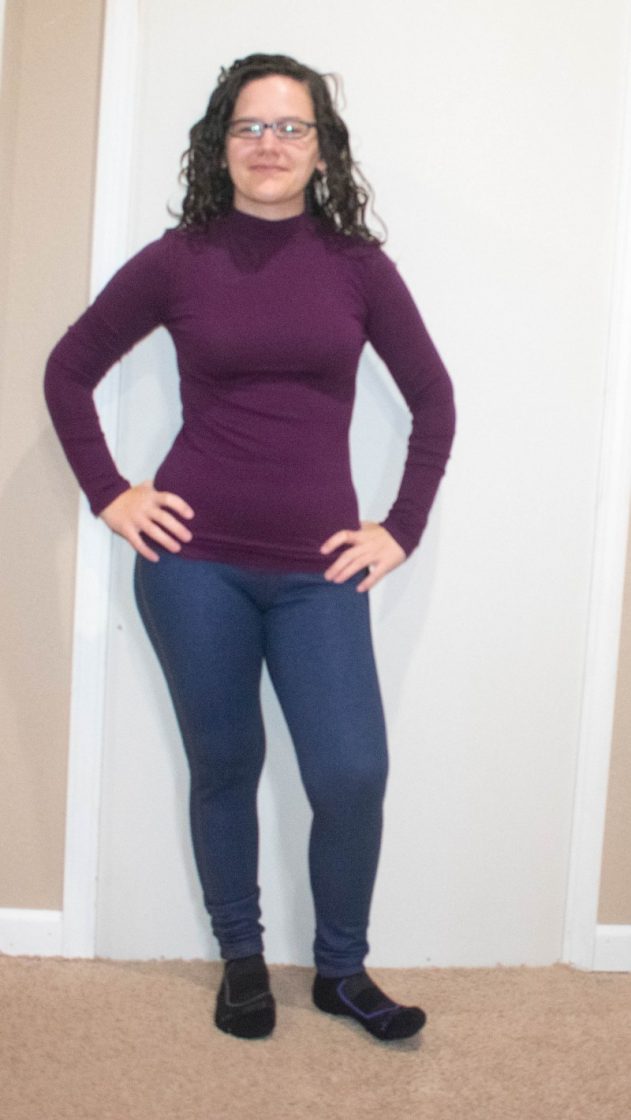 This top is soft and stretchy. Purple is my favorite color so it's hard to go wrong with a solid-purple top of any sort for me! This is a bit tight but again, I am heavier than my norm right now. I like how it has a sort of mockneck that gives this a bit of a fall sweater feel but without actually having that restricting feeling that turtlenecks give. I'll get plenty of use out of this top. It is $18.49 to keep.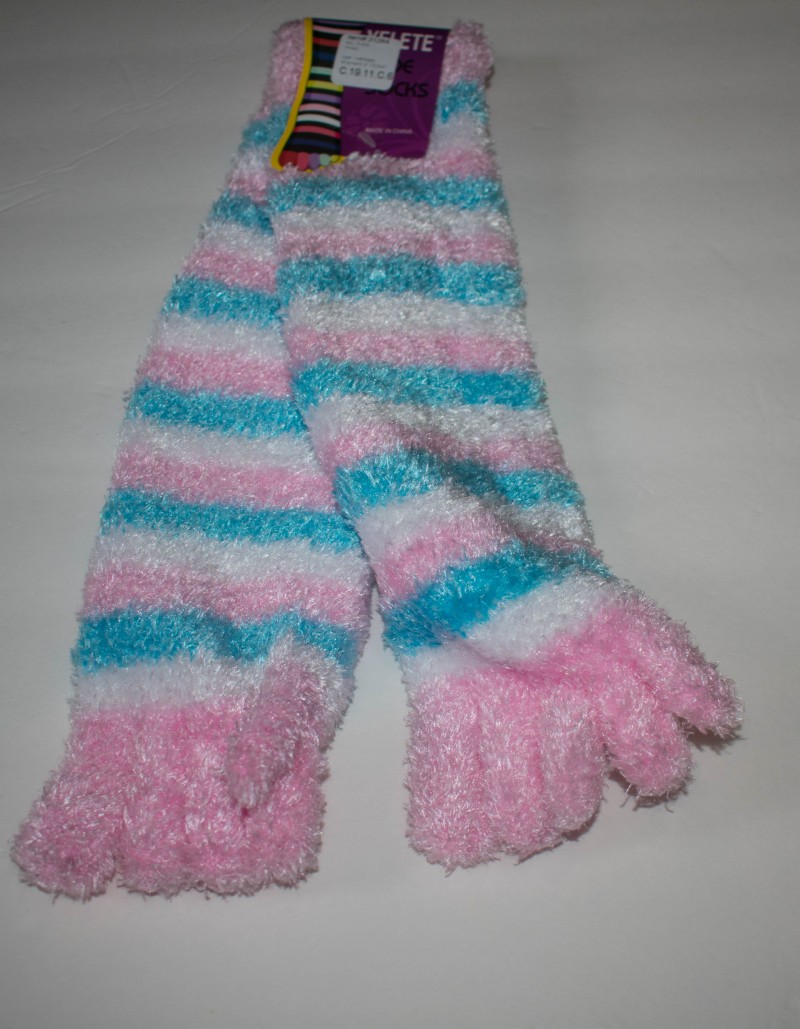 Nadine West typically sends tops, bottoms, dresses and jewelry. Those are sort of the staples that I expect every month but occasionally they'll send extras such as sunglasses, hats, or in this case – socks! My feet sweat easily even in regular socks (gross right? but true!) so fuzzy socks have never been my friend but I know so many girls and women LOVE fuzzy socks so I'll use these as a gift this holiday season. They are super cute!
Remember you can head to Nadine West
to take the style profile and start getting stylized clothing bags for yourself! Each shipment includes a prepaid return mailing label so you can mail back anything you send back. You will only be charged for what you decide to keep.
What was your favorite item that I received this time?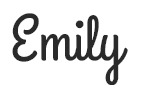 Hi there! I am Emily Evert, the owner of Emily Reviews. I am 28 and live in a small town in Michigan with my boyfriend Ryan and our two pugs. I have a large family and I adore my nieces and nephews. I love reading memoirs, and learning about child development and psychology. I love watching The Game of Thrones, Teen Mom, Sister Wives and Veep. I like listening to Jason Isbell, John Prine, and other alt-country or Americana music. I created Emily Reviews as a creative outlet to share my life and the products that I love with others.
This post currently has 7 responses.