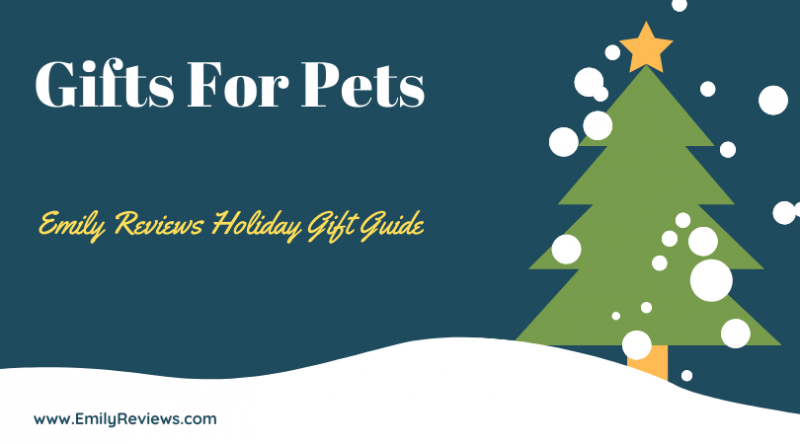 Emily Reviews writers were sent products in exchange for inclusion in our gift guide. All opinions are our own. There are affiliate links in this post.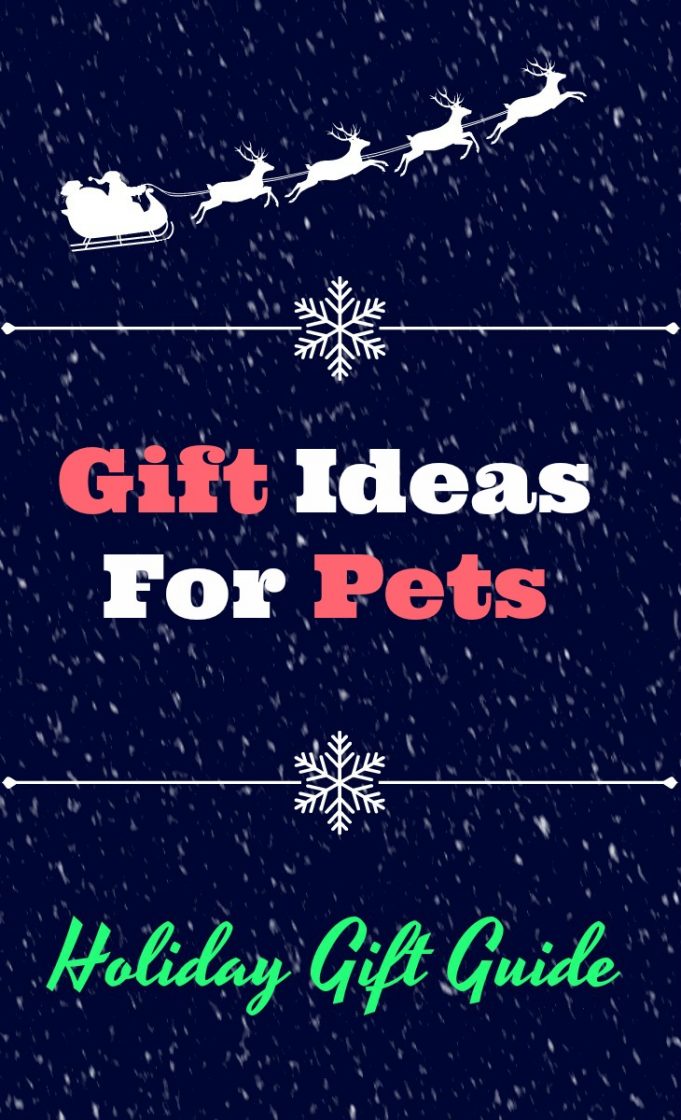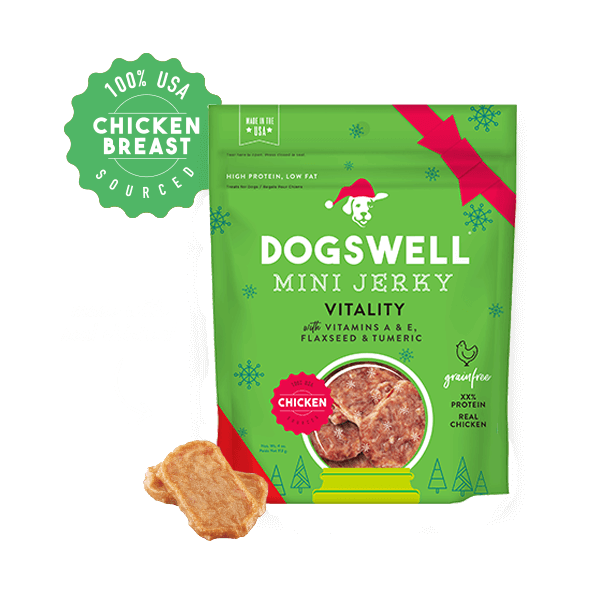 Right now you can get Dogswell Vitality Mini Jerky treats in special holiday packaging that feels festive for the holiday! Real chicken is the first ingredient, they are made in the USA and they help support a healthy immune system and overall vitality! My dogs are older but these are soft enough for them to chew without trouble. They get really excited when they see the bag, too!
Buy it: These can be purchased at pet supply stores such as Petsmart, Petco, Soldan's and more.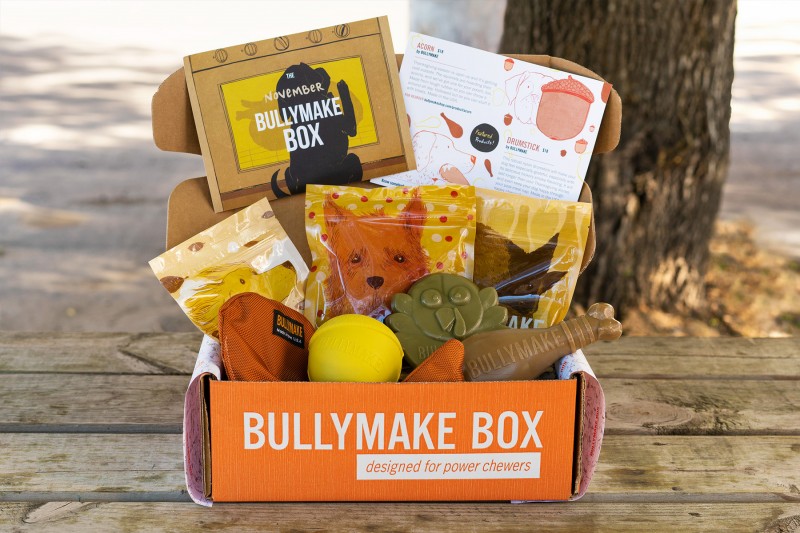 Bullymake Box is a subscription service for dogs. Bullymake Box specialized in toys for power chewers. Each box comes with 2-3 durable toys and 3-4 nutritious treats. All of the Bullymake toys are made in the USA and are exclusive to Bullymake Box. If your dog has food allergies, you can opt for a "toys only" box. Toys only boxes come with 4 toys. Worried about the toy size not fitting your dog, at checkout, you will specify your dog's weight. Bullymake Box will then select the best toys suited for him/her.
Buy it: Bullymake.com
Win it: Giveaway can be found here.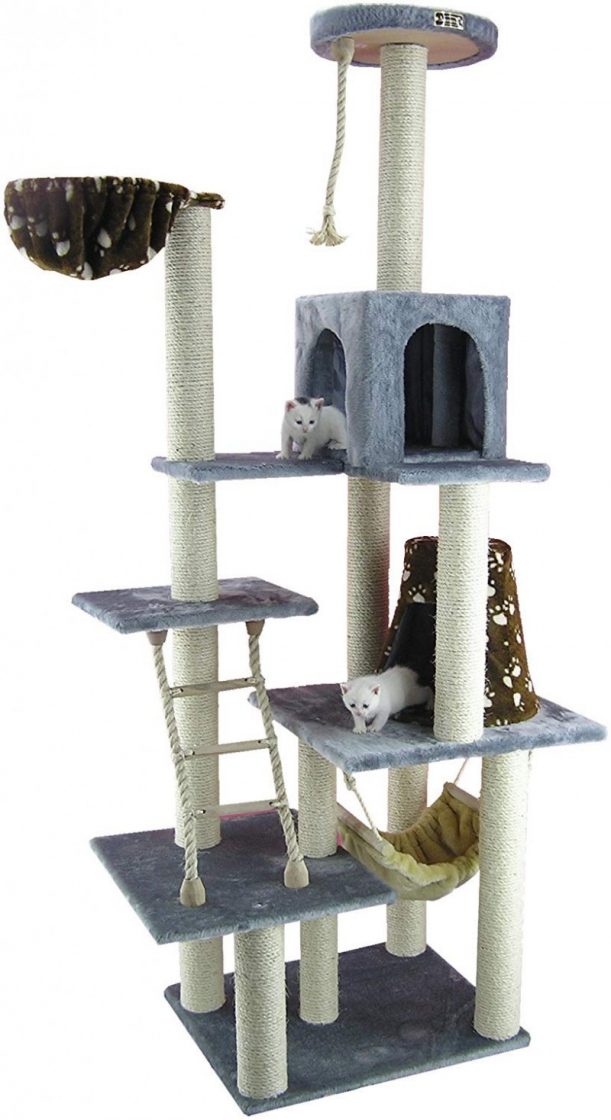 This incredible Classic Cat Tree from Armarkat is sure to please even your pickiest feline! With two hanging hammocks, two small huts, multiple scratching posts, and even a hanging rope tassel, it provides multiple gifts in one big package. The neutral colors will match any room, and will give your cats a place to escape and scope things out from a high vantage point. With a weight rating of 60 pounds, multiple cats can use this cat tree at the same time.

The Crazy Warm Pet Pad from The Green Pet Shop contains a naturally occurring mineral called tourmaline powder which activates from your pet's body heat. The tourmaline acts as a conductor when it comes into contact with their body heat, taking "warm" to a whole new degree! Tourmaline Powder is said to reduce pain from arthritis and muscle strain giving your pet a restful relaxed feeling; both dogs and cats love this pad. Specifically designed to fit most crates, this pad can be used for travel or at home.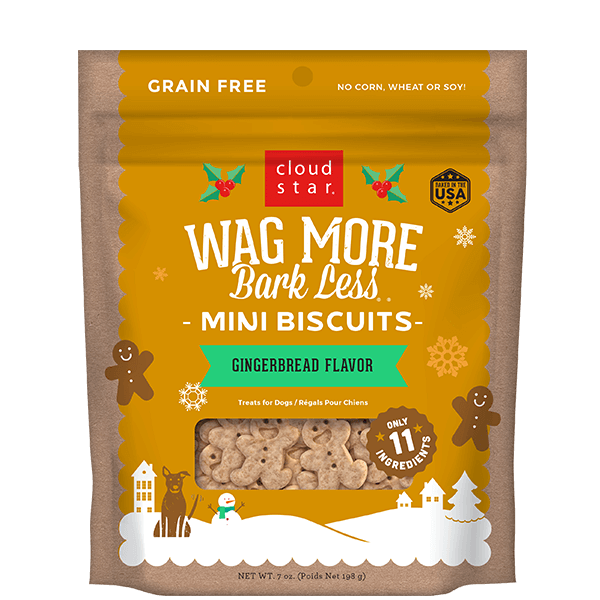 Cloud Star Wag More Bark Less Holiday Mini Biscuits are stinkin' adorable. They are gingerbread man shaped soft little dog treats. They are grain-free and have no soy, corn, gluten or wheat. They are free from artificial colors and flavors. They are made in the USA. The treats are nice and small so they are appropriate for dogs of any size. They're soft so you can even break them to make each piece extra tiny if you'd like.
Buy it: These can be purchased at pet stores like Petco and Petsmart or on Amazon.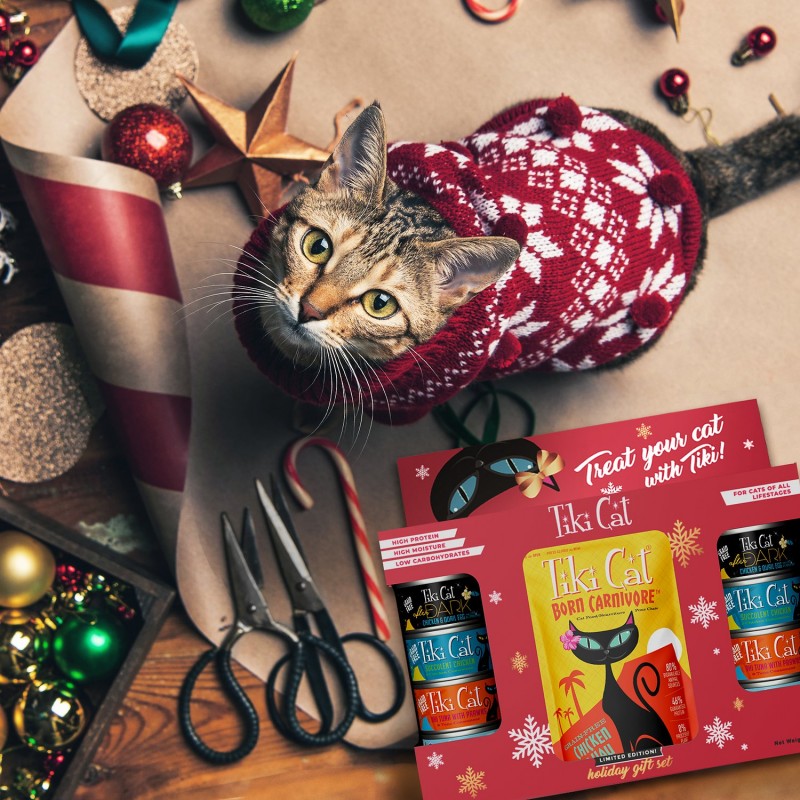 This holiday season give your feline friend the gift of a Tiki Cat Limited Edition Holiday Gift Cat Variety Pack! It comes with protein-packed recipes including four canned cat foods, two broths, one pack of lickable cat treats and one pack of dry food. Each yummy goody is crafted with real, recognizable whole foods like chicken, tuna, pumpkin, prawns, quail egg and more! This holiday gift is purr-fect for felines from all life stages, making it especially great for homes with multiple cat companions.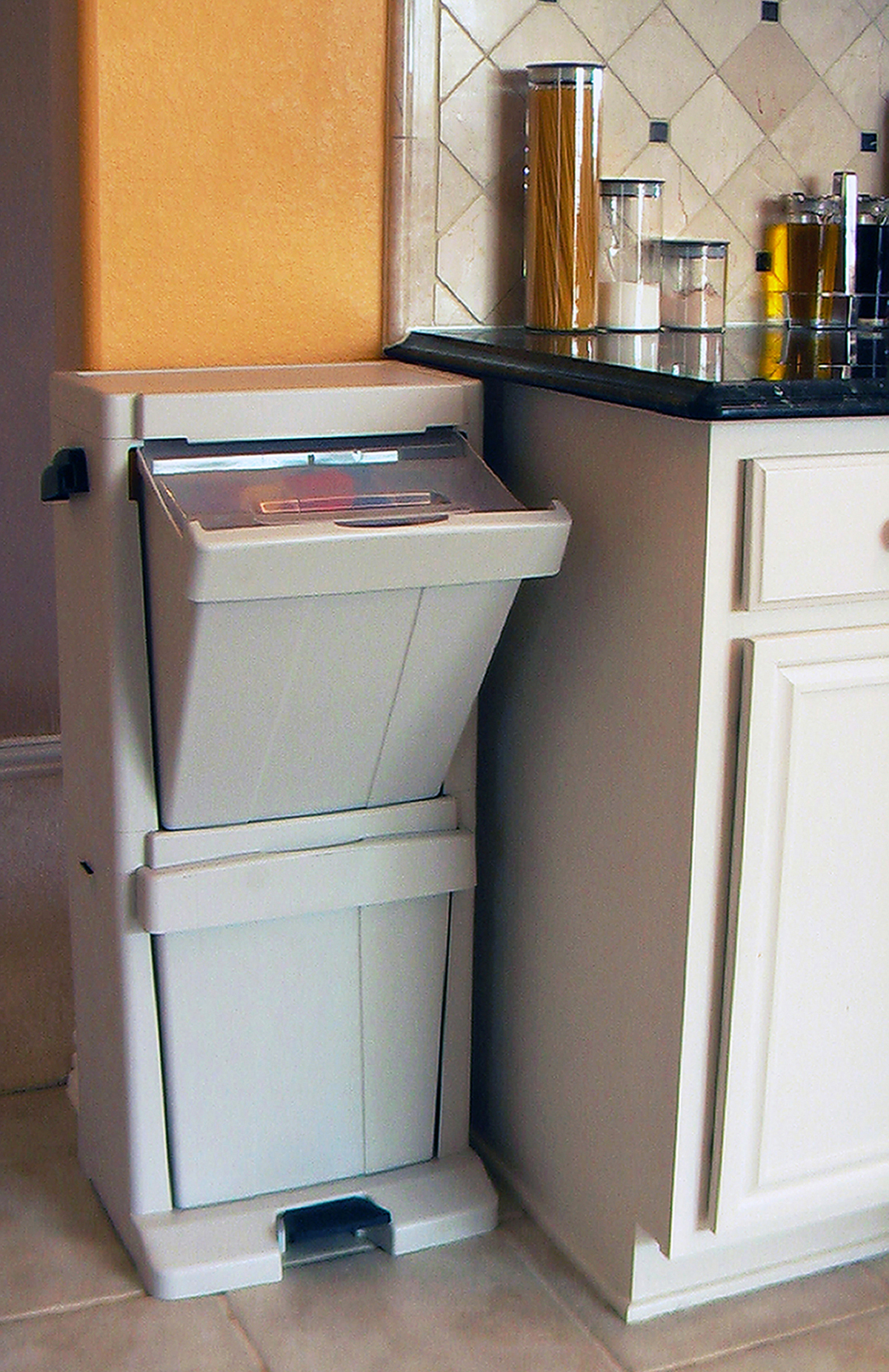 Four years ago or so, we got a Richelle Pet Stuff tower. We still use ours everyday and I just love it. I like how it's tall and skinny so it doesn't take up much space. It has two storage drawers. We use this to store everything for our dogs except for their dry food. Leashes, harnesses, extra dog treats, toys, waste bags, etc are all in this tower. The top is a flat surface which we set an open bag of treats on. We leave this just inside our door so we can treat our dogs for going potty as soon as they come inside.
Buy it: Amazon.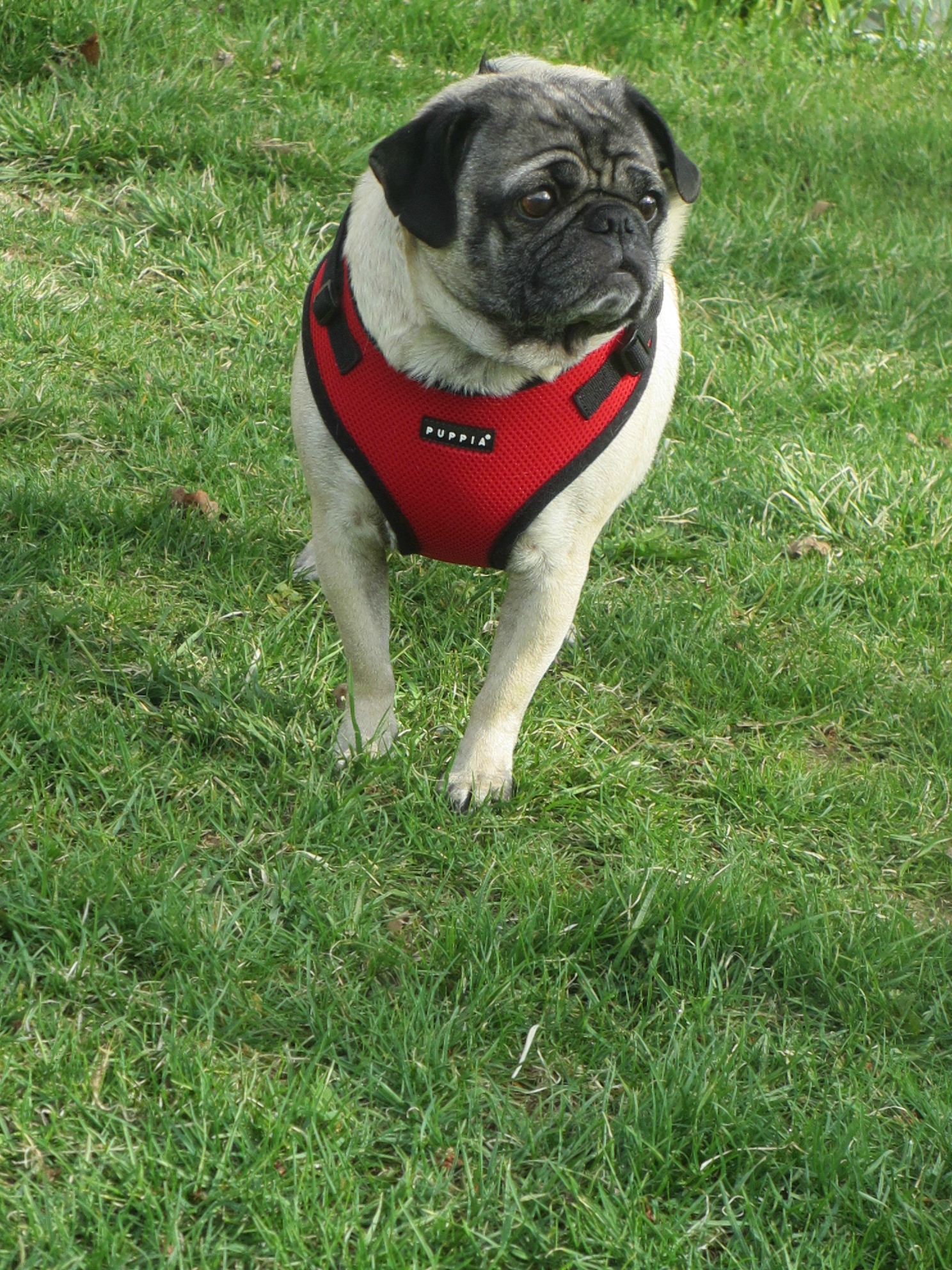 For pugs and many other small dog breeds, using a harness is recommended over using a collar. Collars can increase the odds of tracheal collapse which is common on many small dog breads. I also just like using a harness because if it pulls, whether it is on the human end or the dog end, it doesn't put that pressure around their neck but instead spreads it over their chest and shoulders. We love puppia brand harnesses because they are soft and breathable. In other stiffer harnesses, our dogs looked uncomfortable when trying to lay down in the harness. We've had our Puppia harnesses for years and they are still going strong. Our favorite is the Puppia Ritefit.
Buy it: Amazon.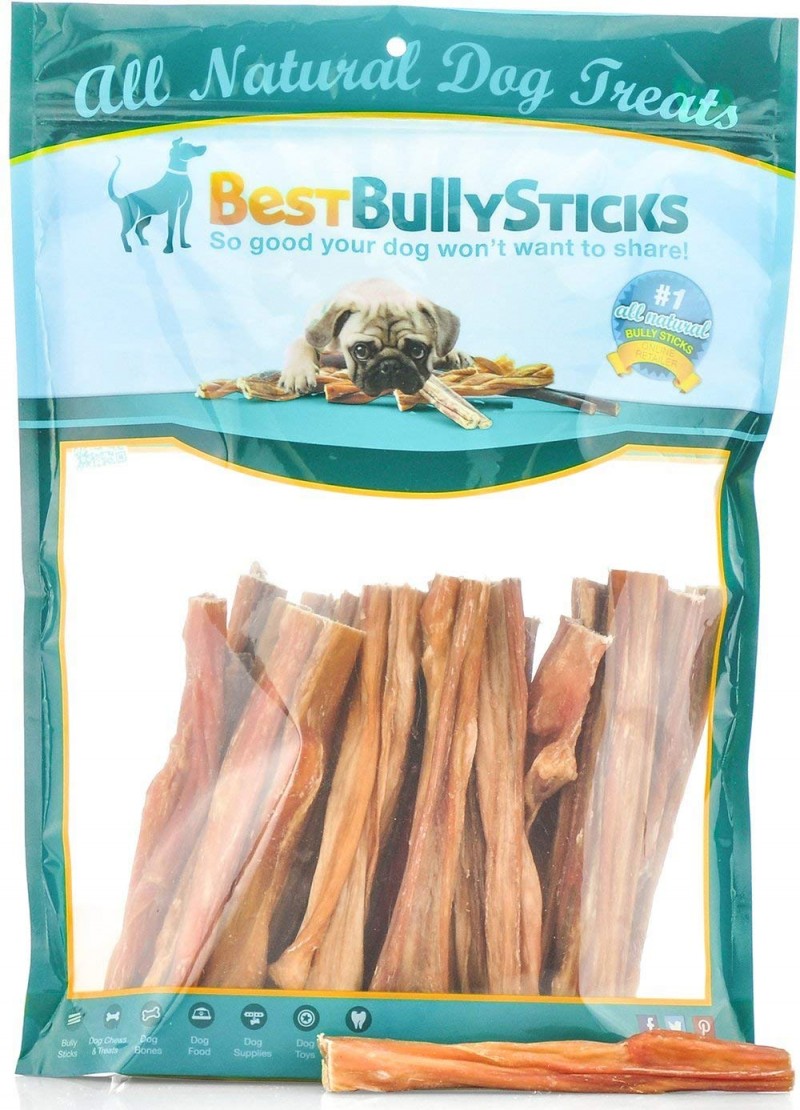 Bladder sticks are a staple in our household. These are less-than-appealing for humans because they are made from bladder and they have an odor, but our dogs love these. We used to buy regular bully sticks but as our pugs have gotten older, we've begun to prefer bladder sticks. They are a bit softer than bully sticks so older and smaller dogs can handle them and my dogs get so excited to have one. Plus, they are quite a bit cheaper than bully sticks.
Buy it: Amazon.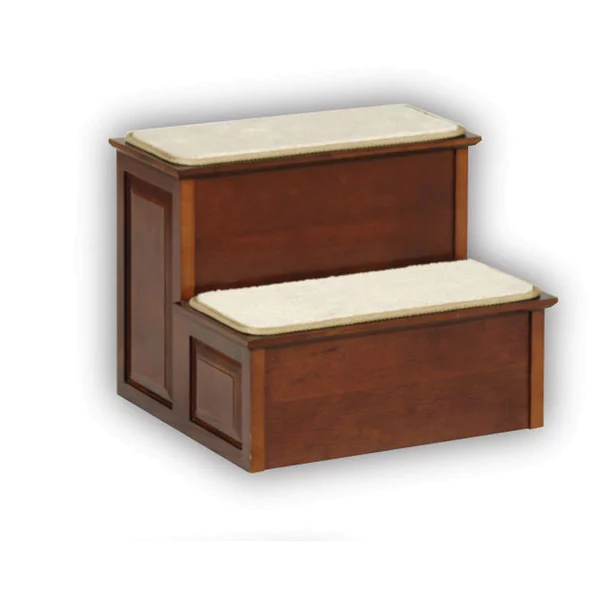 PetSafe's decorative dog steps come in two sizes, either two or three steps. They are furniture-grade quality and are very sturdy. They are great for reducing strain on the joints of a dog at any age. For older dogs who can no longer jump, they can provide the freedom to navigate up and down to the couch, bed or other high surfaces without assistance from people.
Buy it: Amazon.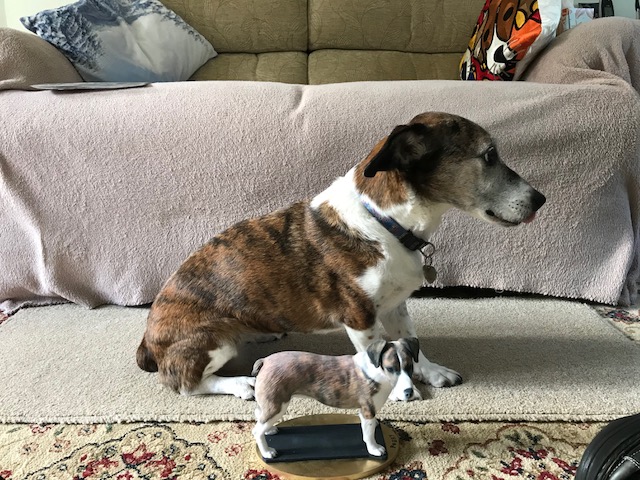 Arty Lobster makes 3D pet sculptures that are just like your pet! Send in photos of your pet and the sculpture will be created to look just like them. You'll be sent a preview before the sculpture prints, so you can request any edits. These are a great, unique way to honor your pet in a keepsake that will be treasured for years. Sculptures can be made for a variety of pets, not just cats or dogs! They can even be customized with a collar or other special details.
Buy it: ArtyLobster.com.
Learn more: Arty Lobster review.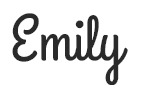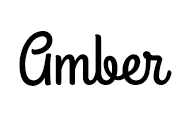 Hi there! I am Emily Evert, the owner of Emily Reviews. I am 28 and live in a small town in Michigan with my boyfriend Ryan and our two pugs. I have a large family and I adore my nieces and nephews. I love reading memoirs, and learning about child development and psychology. I love watching The Game of Thrones, Teen Mom, Sister Wives and Veep. I like listening to Jason Isbell, John Prine, and other alt-country or Americana music. I created Emily Reviews as a creative outlet to share my life and the products that I love with others.
This post currently has 11 responses.