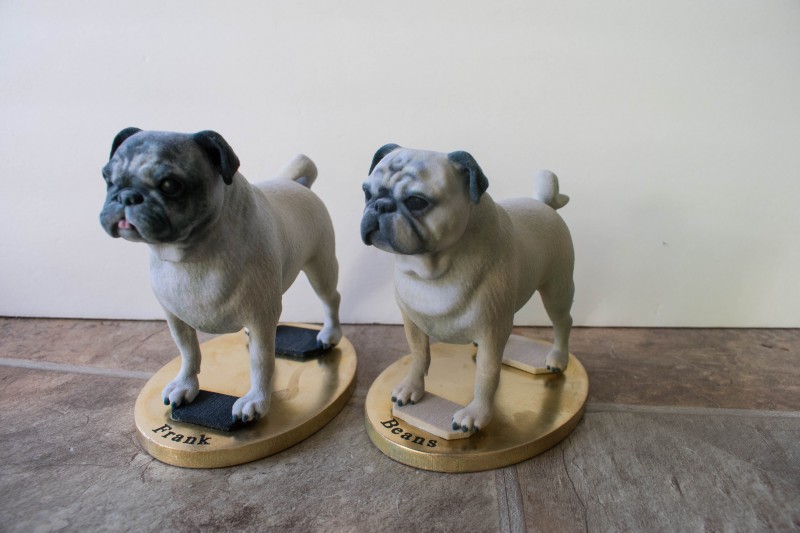 I was sent figurines from Arty Lobster for review. All opinions are my own.
I was really excited to get a dog before we brought My pugs Frank & Beans home. I thought it would be fun and I expected to grow to care about them a lot. Still, it surprised me just how quickly and intensely I grew to care for them. I had a lot of pets growing up who I would have said I loved, but having two of my own as an adult was very different. These two little dogs are really more like family for me.
Ryan had a really special dog that he essentially grew up with. That dog passed away a couple years after we started dating. We didn't really have any kind of keepsake to remember that dog with. So, when I heard about Arty Lobster and how they make custom 3D printed sculptures for pets I loved the concept. Of course, we are hoping our dogs have many years of great health left but it's just really cool to have a physical representation of them that we can keep forever.
The figurines are made based on photos, so if you have a dog that has already passed away you can have a figure of them made based on those photos.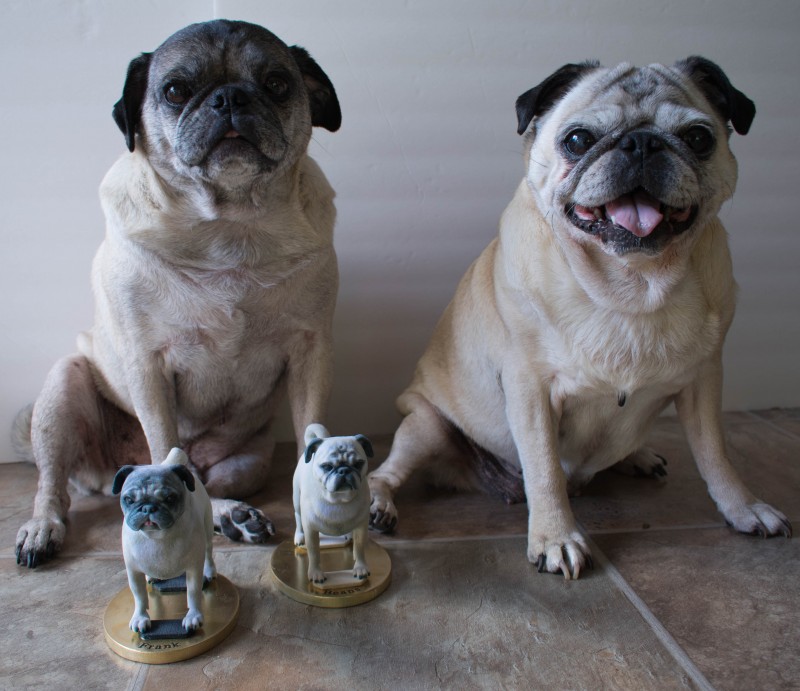 I emailed in photos of the pugs. They recommend sending 5 to 10 and there is not any real strict requirements for the photos. For example, it's fine if part of their body is cut off in some shots. The sculptures are not 100% based on any one photo, but instead, they use the combination of photos to create the overall look. I tried to send in photos that show their body from different angles, and their faces from different angles.
I believe my dogs are full breed pugs, and I understand hat they look fairly similar to most of our family members or friends who see them only on rare occasion. However, on a closer look they really do have several differences. For Ryan & I, it's very easy to tell them apart. I suppose it's sort of like having twins in that way! I was really impressed with how Arty Lobster took our photos and made the figures specific to each dog. It's very clear that they didn't use a generic "pug" base. I will try to point out some of those differences between my dogs in real life, and how those differences showed up in the figurines.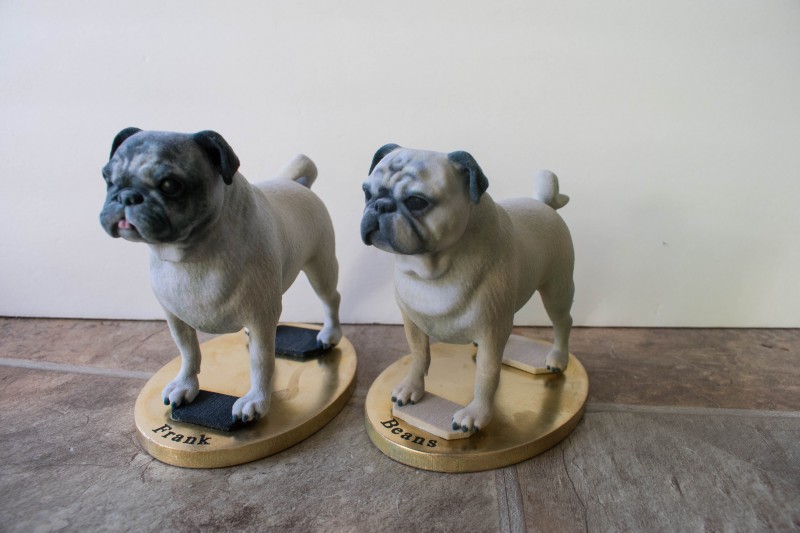 And some photos for comparison.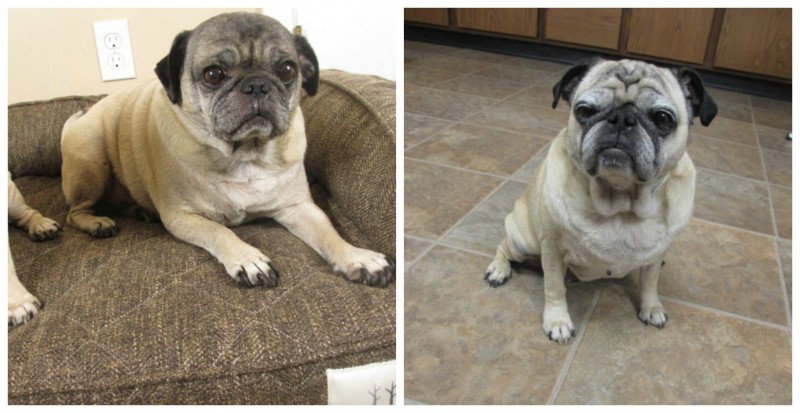 The most obvious difference is their faces. Frank has a much darker face. However, his face is still not pure black. He has some tan spots that sort of show through on his face, particularly around his eyes. I love how they captured that! It's a bit hard to photograph, but Frank's sculpture is just a hair taller than Beans'. In real life, there is about a 1.5 inch height difference but it certainly isn't obvious when viewing photos of just one or the other of them. So, it really impressed me that they caught that difference in the sculptures. They even captured the difference in how their face wrinkles lay. When viewed from the side, Frank has a rounder belly, and thicker shoulders and hips just like he does in real life. He is just slightly bigger in general, though it's not enough to be noticeable to most people. While both dogs have excess skin that hangs at their neck, Beans has much more and that was captured as well.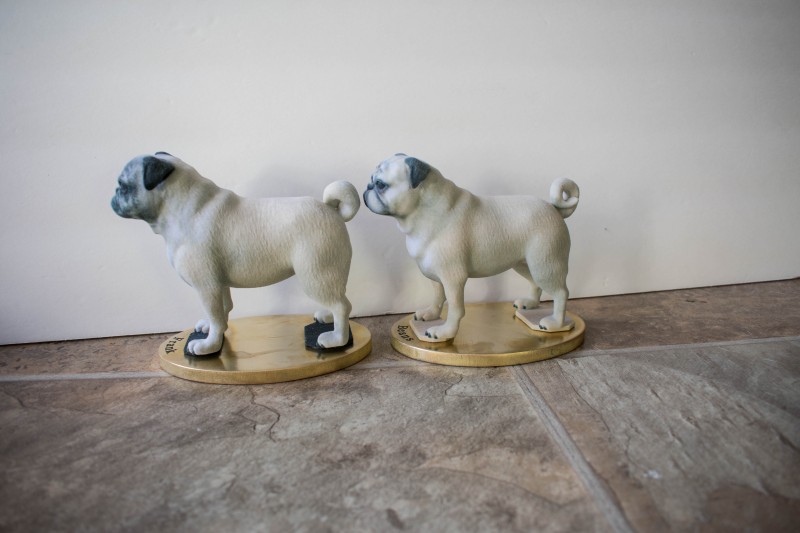 Arty Lobster is not just limited to dog sculptures, they also offer sculptures of cats or horses. You also share your pets' name so they can be put on the base of the sculpture. When I placed my order I requested that they were made standing up. However, they do also offer ones sitting or laying.
After you send in your photos you will be emailed a preview of your sculpture. This is a graphic image that your figurine will be based on. You can request edits as this stage. I requested an edit on Beans. When I was picking my 10 photos of her to send in, I was focused on getting photos of her from as many body angles as possible. I wasn't considering how new or old the photos were, unfortunately. I sent in a couple that were a few years old, when her face was much darker. The preview had partially focused on those older photos so her sculpture showed her looking much darker than she does now. Here is a photo of Beans from about 4 years ago to show you her old appearance.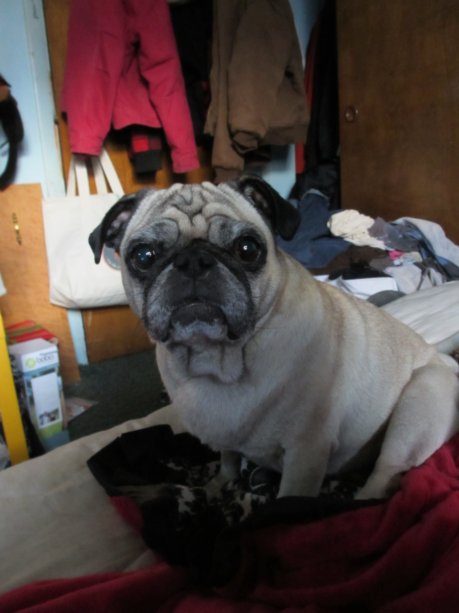 This was right after we got the pugs. She quickly got much more gray in the face. Seems how she had this darker look for such a brief time with us, I really wanted the sculpture to represent her more current appearance. Here is the original preview I was sent.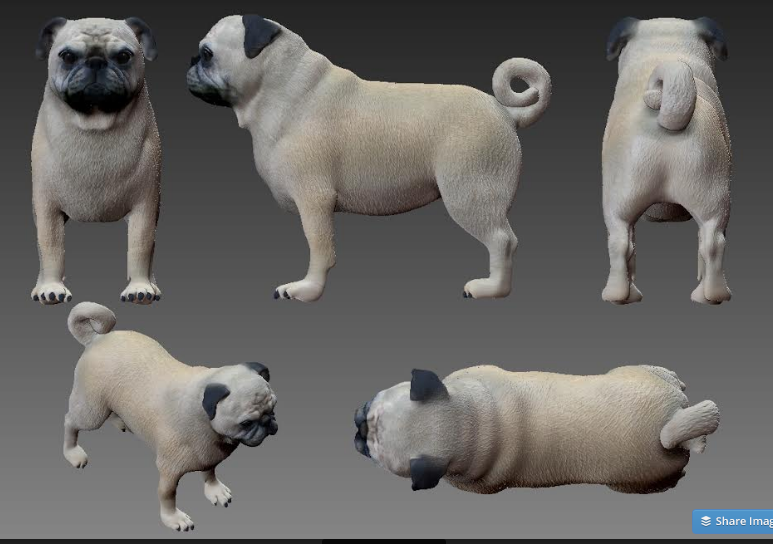 Upon seeing that, I asked if I could send in additional photos that showed her face in more recent photos. Here is the second preview I was sent and I accepted this one so it was the one used to print the sculpture.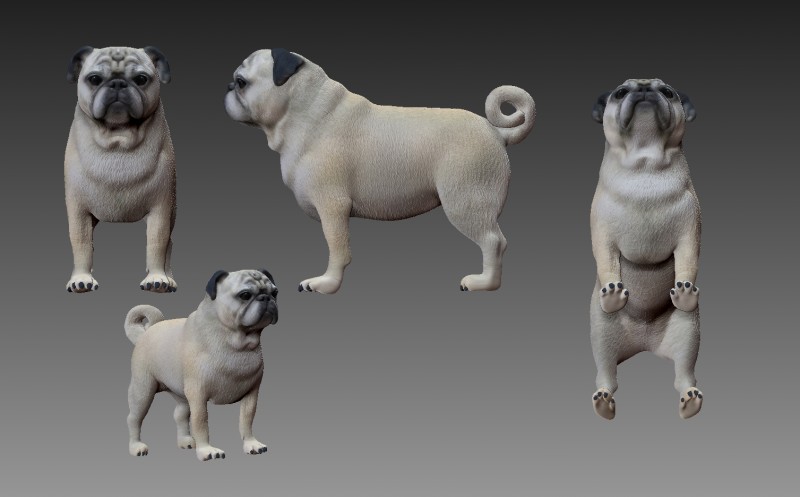 I really like how it gives you the ability to have a say in the final piece. These sculptures will be treasured for years to come, so it's to be expected that you want to have a bit of say in exactly how it looks. My advice for sending in photos is to do a photo shoot if you can. Going outside to get better lighting is great. Then try to get a photo of your dog from each angle and a few face shots. This way, you won't have to worry about some of your photos being older and not showing them as they currently look. Plus, if you want the sculpture to include a collar or clothing you can do that by sending in photos that all use that clothing or accessory item and by noting that preference in your order. They were great about redoing the preview but I felt bad for needing more of the designers time.
Overall I am really happy with both of our Arty Lobster pet sculptures. I think they would be a great gift for anyone who adores their pet, or who has recently lost a beloved pet.
You can learn more or purchase from Arty Lobster by visiting ArtyLobster.com. It is too late to be gauranteed delivery before Christmas, but I think they make a great gift. I would be glad to wait on my sculpture to come in the mail after Christmas if it was me!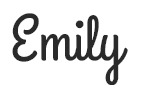 Hi there! I am Emily Evert, the owner of Emily Reviews. I am 25 and live in a small town in Michigan with my boyfriend Ryan and our two pugs. I have a large family and I adore my nieces and nephews. I am a calorie counter who loves soda. I budget to save money so I can spend it on my dogs. I love reading memoirs, and learning about child development and psychology. I love watching The Game of Thrones, Teen Mom, Sister Wives and Veep. I like listening to Jason Isbell, John Prine, Kris Kristofferson and Blue October. I created Emily Reviews as a creative outlet to share my life and the products that I love with others.
This post currently has 14 responses.