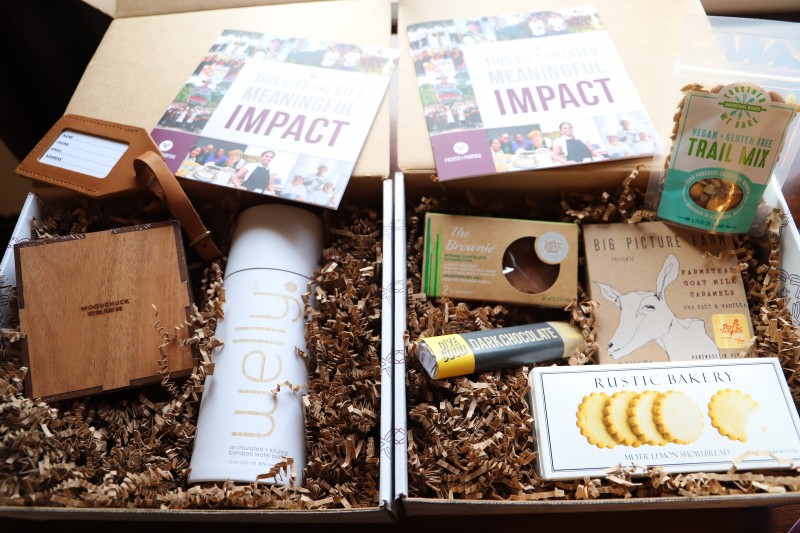 Thanks to Packed with Purpose for sending me these gift sets. As always, all opinions are my own.
Do you want to give a gift this holiday season that also makes an impact in the world? You'll want to check out Packed with Purpose, a company that offers gift sets curated by purposeful purveyors. They offer a huge variety of gift sets, so whether you're looking for a gift for a boss, co-worker, family member, or new parent, Packed with Purpose has something for everyone.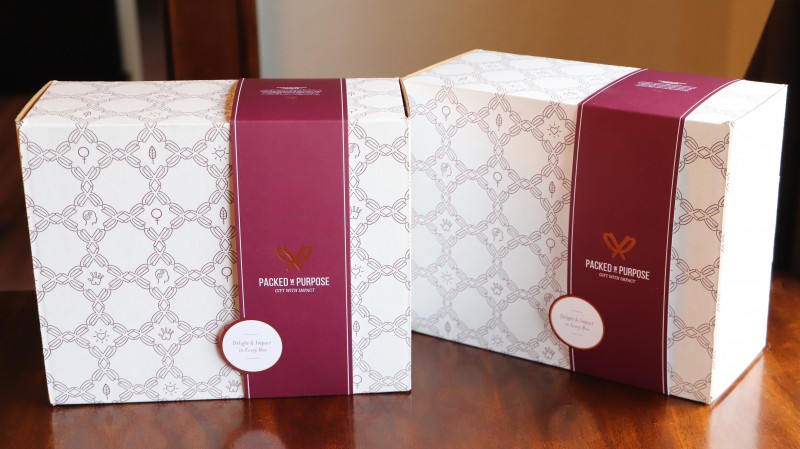 Each Packed with Purpose gift set comes in a signature, recyclable box. Each box is filled with ethical, sustainable, fair-trade, eco-friendly selections that impact local communities. The products in these gift boxes provide young women job skills, train homeless youth, reduce landfill waste, offer the formerly incarcerated new opportunities, and more. Check out what you can impact with the purchase of a Packed with Purpose box:
Environment (rainforest preservation, clean water access, landfill waste reduction, and more)
Workforce Development (vocational training for adults with disabilities, the formerly incarcerated, and more)
Women's Empowerment (professional and personal development for women, safe housing for young mothers and their children)
Youth Development (opportunities for youth in under-resourced communities, artistic and skill development)
Wellness (cancer screening and program funding, nutrition and healthy living education, and animal welfare support)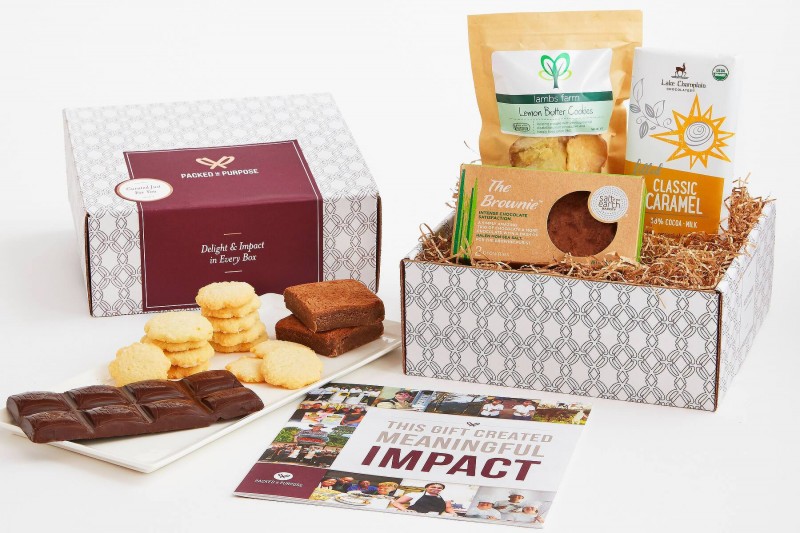 One gift option is this Petite & Perfect Gift set from Packed with Purpose. It contains just the right amount of treats to leave a chocolate lover feeling satisfied and appreciated. It's the perfect gift to show you care, and it comes in a recyclable signature box. With treats like a gourmet caramel filled milk chocolate bar, buttery cookies with a hint of lemon, a 2-pack of satisfying triple chocolate brownies, and an artful booklet that showcases the stories of purposeful purveyors, it would make a great gift this holiday season.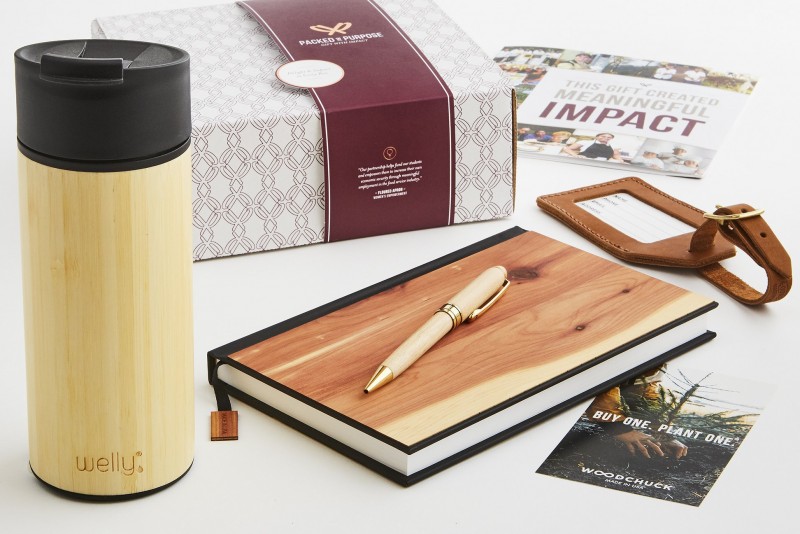 Another option is the Everyday Exploration set from Packed with Purpose. This is a gift set that is as functional as it is refined, and would make the perfect gift for a boss or co-worker. A bamboo-wrapped bottle with infuser will keep the receiver hydrated with their favorite beverage while the sustainably-sourced cedar wood journal is the perfect accompaniment for business meetings or for personal use. Paired with a handcrafted leather luggage tag, this gift will become their go-to favorite.
There are SO many gift set options available on the Packed for Purpose website, so make sure you check out all they have to offer.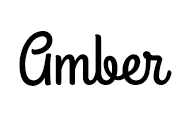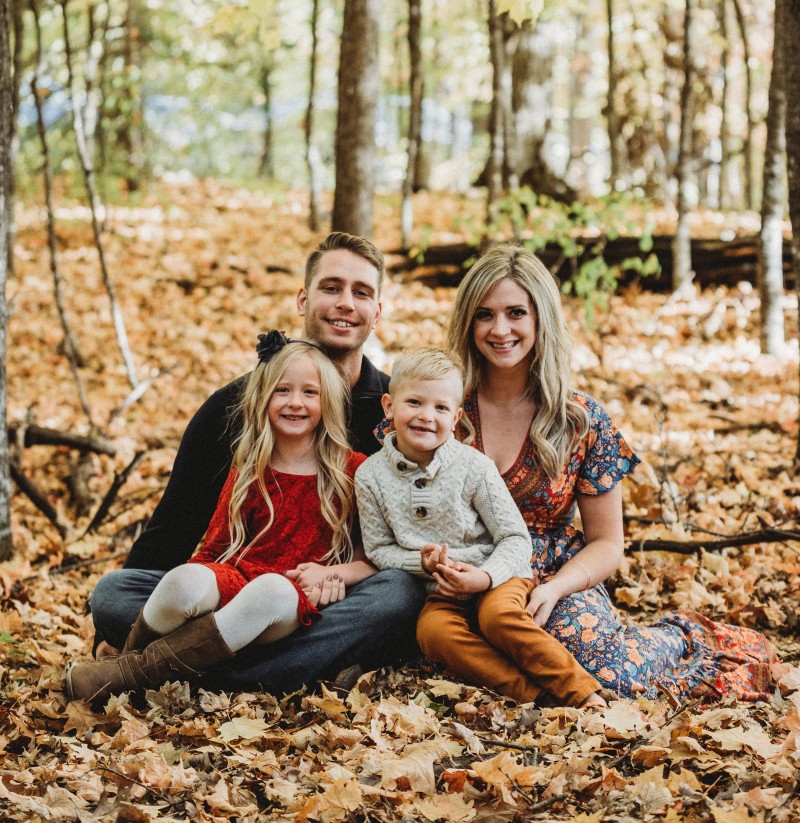 Hi there! I'm Amber, a 34 year old wife and mom of two from central Minnesota. I love to be outside with my family anywhere the weather is warm (which means I spend half the year freezing). We're a homeschooling family that loves to travel as often as possible! When I have a spare free moment, I love to read, take photos, and scrapbook. I'm interested in anything that makes life more fun; I also love socializing and sharing about my favorite products!
This post currently has 8 responses.