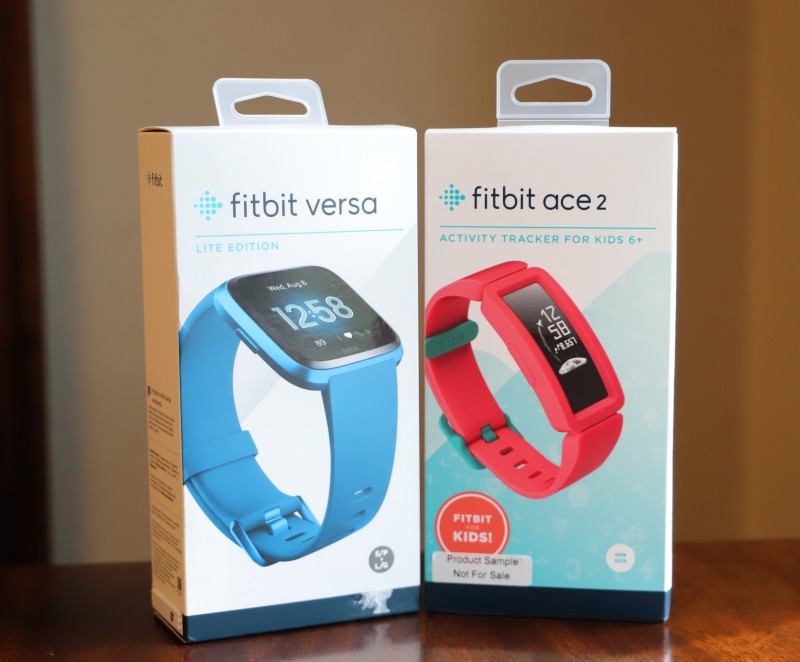 Thanks to Fitbit for sending me these fantastic fitness trackers! As always, all opinions are my own. 
I've been on the hunt for a fitness tracker for awhile now, but I was hoping to find one with multiple functions rather than something that just tracks steps and heart rate. When I heard about Fitbit's Versa Lite (and their new Versa 2!) I figured it would be the perfect option. On top of that, I found out that they carry a fitness tracker for kids ages six and up which is perfect since our daughter has been begging for her own watch. With the new Fitbit Ace 2, I can track her fitness and sleep and she gets her own watch – a perfect combination! I'm excited to share more about these great Fitbit products and why they'd make amazing gifts this holiday season.
Fitbit Versa Lite
I received the Fitbit Versa Lite in Marina Blue, though there are five different color options available. Each Versa Lite comes with a small and large band, and the small fits my wrist perfectly. When I initially opened the Fitbit, setup was very simple and I was able to sync it to my iPhone with no issues. Our health insurance offers a $20 monthly incentive for reaching 7,500 steps at least 21 days out of each month, and I was able to sync my Fitbit to that app to track steps as well. This is a huge bonus because I don't always carry my phone with me so my steps weren't being tracked before; especially while I was running on the treadmill!
This is the daily overview that shows up in the app on my phone. As you can see, it's got my steps, calories burned, sleep tracking, days of exercise for the week, and heart rate. It continues below with female health tracking, weight management, food and water logs, and more. You can join guided programs, challenges, and check out workouts all available from the app. Plus, you can even add apps to your Fitbit!
I usually try to run on the treadmill for about three miles, five days a week. As the weather has been nice, we've also been going to the park to play tennis a couple times each week. I forgot how much I loved tennis, and now that our kids are able to play on the park nearby without direct supervision, it's fun to get in a few games when we can! Here's a snapshot of what the fitness section of the Fitbit Versa Lite looks like, post-exercise.
I really enjoy tracking my fitness and sleep in particular, and I like that the Versa Lite is stylish and available in many colors. I can change the watch face anytime, which is another fun feature. I synced my Bitmoji and our kids have fun checking my Fitbit throughout the day to see what my character is up to! I set up notifications on my Fitbit to alert me when I get texts or calls, as well as Facebook messages and Gmail emails. I love that I don't have to keep my phone on me all day now – it cuts down on the amount of time I waste scrolling social media!
Fitbit Kids' Ace 2
Our daughter has been loving her Ace 2 also, and I was able to easily sync her Fitbit to my app so I can track her fitness and sleep as well. She's a pretty active kid and easily hits 10,000 steps daily. Her sleep was something I was particularly interested in tracking, as she sometimes sleeps fitfully. I think it's great that I have this simple way to see how much sleep she's getting!
She chose the Watermelon and Teal colorway, but the Ace 2 is available in three different colors and is only $69.95. For kids who have a smartphone, they can sync their Fitbit up with it, but as our daughter is only six I control her account. We have a family account and I let her know about daily incentives and new clock faces she can try out.
I think Fitbit Fitness Trackers would make a wonderful gift this holiday season. I know that if I didn't already have one, I'd love to receive one this year. And I know kids love technology, and having a smart fitness tracker and watch is a really fun gift!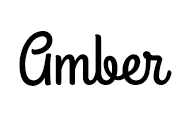 Hi there! I'm Amber, a 30 year old wife and mom of two from central Minnesota. I love to travel and to be outside with my kids anywhere the weather is warm! When I have a spare free moment, I love to read and scrapbook as well as binge-watch Netflix long after the kids are asleep. I drink too much Caribou Coffee and have a real sweet tooth but also try very hard to consume organic foods and use eco-friendly, fair trade products as much as possible. I also love socializing and sharing about my favorite products!
This post currently has 10 responses.