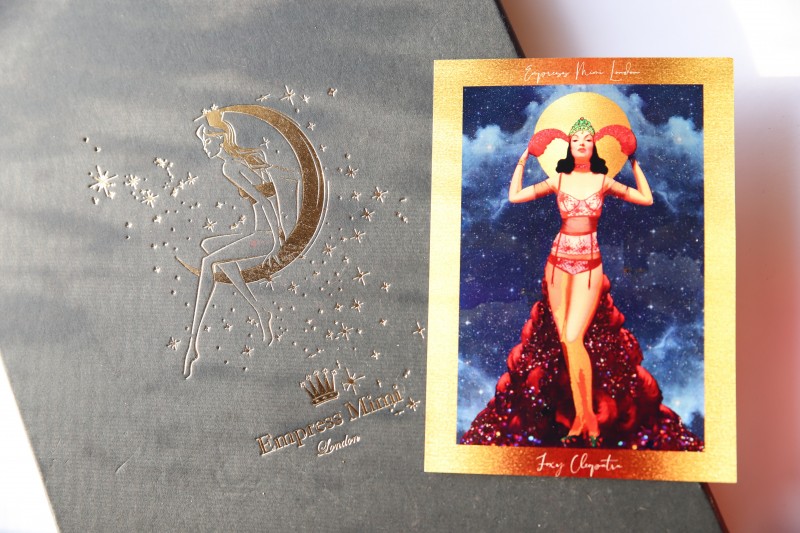 Thanks to Empress Mimi for sending me this gorgeous set. As always, all opinions are my own.
Mother's Day is just around the corner, and while a lingerie subscription isn't something you'd probably purchase for your mom, it could make a great gift for the mother of your children or for yourself! Empress Mimi is a lingerie subscription service that offers custom boxes filled with beautiful lingerie designed by and for women. Along with the monthly subscription option, you can purchase pieces individually and this month I want to share the Foxy Cleopatra Set with you!
Empress Mimi Foxy Cleopatra Set
This stunning set showed up on my doorstep in a beautifully wrapped box that would make a great gift. I love that Empress Mimi allows you to purchase items individually, or to sign up for a subscription with a variety of different levels, from a pair of panties to a full set of lingerie like this!
Made from a delicate sheer stretch-tulle, the Foxy Cleopatra wireless set wasinspired by a woman who was as gifted at ruling a Kingdom as she was in ruling the hearts of men. The set features luxe embroidery and a wireless design for comfort. I love the color red and am always amazed how well my Empress Mimi lingerie fits! Most pieces fit true to size and can be adjusted. These panties have an elastic band which makes them both comfortable and functional!
Check out each individual piece of the Foxy Cleopatra set:
If you're looking to spice things up in the bedroom during quarantine, or simply want to treat yourself for the upcoming Mother's Day, be sure to check out Empress Mimi and all of the gorgeous sets available on their site and through their subscription service.
Buy it: Empress Mimi
Discount: Use the code EmpressAmberB30 for 30% off your first order!