Thanks so much to Celebrations in the Kitchen for sending me this Rainbow Dough! As always, all opinions are my own.
I'm so excited to share another product from one of my favorite small businesses! A couple weeks ago I shared about Celebrations in the Kitchen and their At-Home Cookie Decorating Kits. Our kids had SO much fun decorating cookies with icing and sprinkles! This week, we got to try out their Rainbow Dough which was another great way to spend the afternoon during quarantine, and was a totally different type of fun.
Rainbow Dough Baking Kits
Check out the beautiful, vibrant colors you get when you purchase a batch of Rainbow Dough! We actually received our kit a few days ago but didn't have a chance to make our cookies until today. Luckily, Rainbow Dough can be kept in the fridge for up to two weeks or frozen until you are ready to design and bake!
This Rainbow Dough gets shipped right to your door, which is a necessity during these crazy times! Celebrations in the Kitchen actually offers birthday parties and other events regularly, but that part of their business is closed right now due to Covid-19. In the meantime, they're sending their Cookie Decorating Kits, Rainbow Dough, and Cupcake Baking Kits out so kids can still enjoy baking at home! Their Rainbow Dough is dairy and nut free, just like the rest of their products.
What you want to do with Rainbow Dough is up to you! You can roll it out and cut with cookie cutters or completely design your own cookies by rolling and shaping the dough with your hands. It honestly feels just like play dough, but once you bake it, turns into a slightly crisp and delicious cookie!
Our kids had a blast shaping the dough and coming up with creative cookie ideas! I think my favorite was our daughter's bird nest with eggs, and the little robin she made to go along with it. The cookies should all be about the same size and thickness to ensure even baking, and we found that about 10 minutes at 350° Fahrenheit was perfect for ours.
Before heading into the oven, we put our creations on parchment paper. That made clean-up a breeze and the cookies had a great texture when coming out!
I just love the vibrant colors and how many different designs we came up with when making cookies with Rainbow Dough! Celebrations in the Kitchen made it so easy by sending the dough and tools right to our door, even providing parchment paper and baking instructions. They couldn't have made the process more seamless and simple for me, which is great because I'm not a big baker! I can't wait to make more creations with Celebrations in the Kitchen and their easy at-home baking kits!
Pick up your Rainbow Dough from their website, and be sure to check out their other kits too!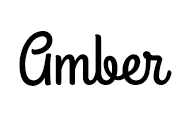 Hi there! I'm Amber, a 30 year old wife and mom of two from central Minnesota. I love to travel and to be outside with my kids anywhere the weather is warm! When I have a spare free moment, I love to read and scrapbook as well as binge-watch Netflix long after the kids are asleep. I drink too much Caribou Coffee and have a real sweet tooth but also try very hard to consume organic foods and use eco-friendly, fair trade products as much as possible. I also love socializing and sharing about my favorite products!
This post currently has 5 responses.