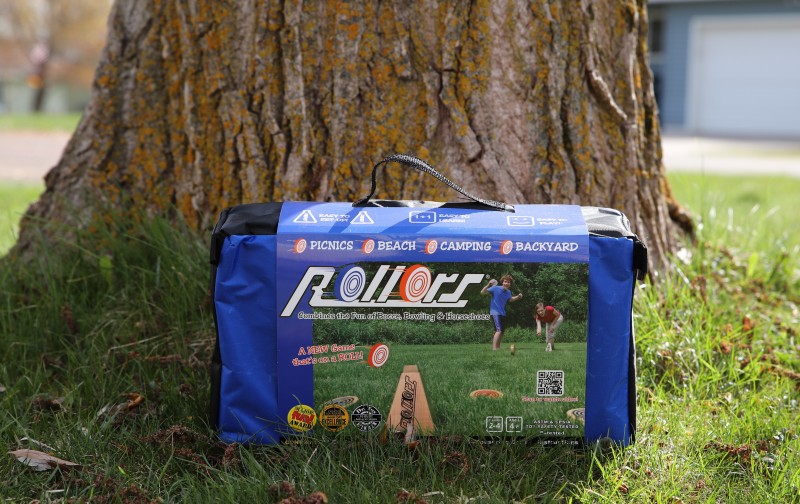 Thanks to Rollors for sending me a game for review. As always, all opinions are my own.
As we head into summer, I'm holding out hope that we'll be able to have a few gatherings with friends and family since we've all been missing them the past few months! As a few states start to slowly open businesses, I hope that will begin soon in Minnesota too. April was surprisingly fair when it came to weather here, so we've been outside as much as possible. We love yard games, and we recently discovered Rollors – an outdoor game that's great for all ages!
Rollors was created by a Minnesota native and veteran, Matt Butler. He visualized the game between deployments in Iraq and Afghanistan, and worked on a prototype in his garage which were a huge hit locally. Then he noticed that many of his fellow veterans, who were out of work due, were great with wood working. Matt decided that he wanted to employ local veterans to craft the wooden pieces of the game, which they sold at local craft fairs, churches, and on their website. Since then, the business has grown and the game is sold at brick and mortar stores as well as outside the United States!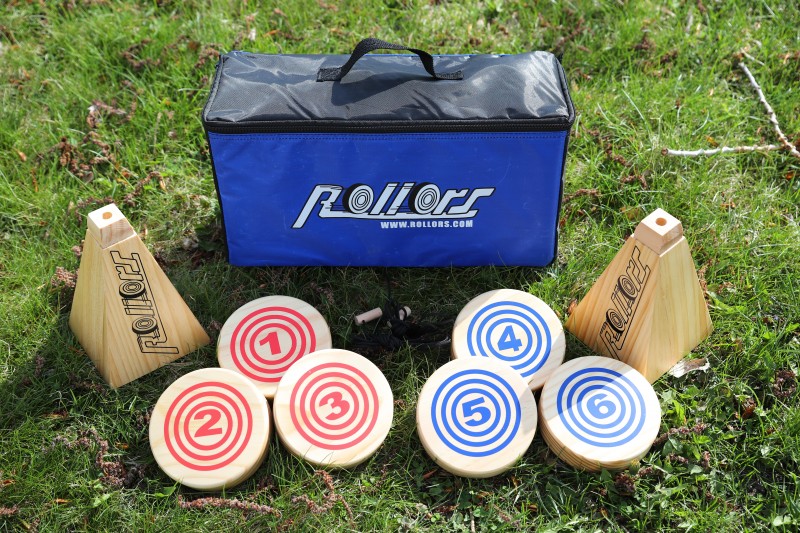 Rollors Yard Game
We love playing yard games with our kids who are six and four years old. Sometimes it can be tough to find games that they're able to play and that we can also enjoy! But Rollors is a yard game for the whole family, and you can play a few different ways to change the difficulty level. It takes just a few seconds to set the game up. You place the goals 15-20 feet apart, and everyone throws from the same side to start.
There are two colors (red and blue) that come with the game, but you can also purchase the expansion pack with yellow and green if you want more friends to get in on the action. Each disc has a front and back with different numbers and you never know which side the disc will land on! You count the number shown when adding up points and there are bonus points if the disc stays upright or lands leaning on the goal.
The objective is to roll your discs low to the ground, like you're bowling, towards the goal at the other end. The team/player with the closest disc to the goal gets to add up the points shown on their discs that are within five feet of the goal. The game comes with measuring cords so it's easy to see which discs are in range. Only one team/player scores per round and you play until someone reaches 21 points!
While the idea behind it is simple, I can tell you that there IS a learning curve! We have a bumpy lawn, so even if you throw the second disc the same as the first, it may head in a completely different direction! Plus, since each disc has two different numbers, your score can add up very quickly or a little slower. Either way, we've had a blast playing it the past week and can't wait to use it more this summer! Since it comes in a handy carrying case, it's easy to take anywhere; camping, to the beach, or a neighborhood cookout. It would also make a great Father's Day gift since I'm sure that's going to sneak up on us quickly!
Buy it: Rollors
Win it: One lucky reader will take home a Rollors game of their own! This is a US giveaway ending 5/25. Enter using the form below, and good luck!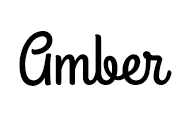 This post currently has 6 responses.