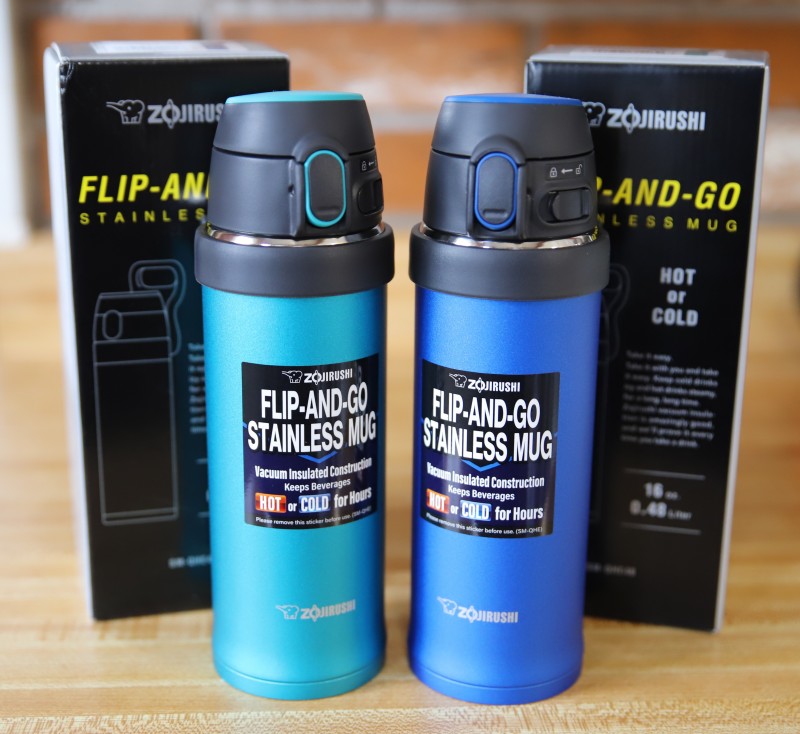 Thanks to Zojirushi for sending me these bottles. As always, all opinions are my own.
Our family loves to go for hikes in the summer, and I'm always on the hunt for reusable water bottles to take on those hikes. We try to avoid single-use plastics as much as possible, and we've found stainless steel bottles to be the best alternative! This year, I added to our collection with Zojirushi's innovative Flip-and-Go Stainless Mugs.
These bottles are stainless steel and vacuum-sealed, so they can keep beverages hot or cold for hours! While we tend to use these bottles for water, I think they would be great for tea or coffee as well. One of the key selling points for me is the slide lock on the lid. I cannot count the number of times I've had water bottles leak into my purse or beach bag – so frustrating! I never worry about that with these bottles, because of that handy lock.
Another great feature on these Zojirushi bottles is the Flip-and-Go handle. The handles store flat when not in use so the bottles fit perfectly into the holders on our bikes, and are also easy to carry by hand. They're surprisingly lightweight also!
Once you open the slide lock, you simply push the button to pop the lid open. There's an air vent on the mouthpiece to prevent gushing or overflowing. While the mouthpiece does have a few small pieces, they all come apart for easy washing. Since we just use our bottles for water, I don't even disassemble them most of the time.
These Flip-and-Go bottles have a SlickSteel® polished interior that resists corrosion and repels stains. They're also the perfect size to carry in your hand or fit in a vehicle drink carrier. Our kids love the bottles too, and are excited about the variety of colors Zojirushi offers so I'm sure we'll be adding to our collection soon!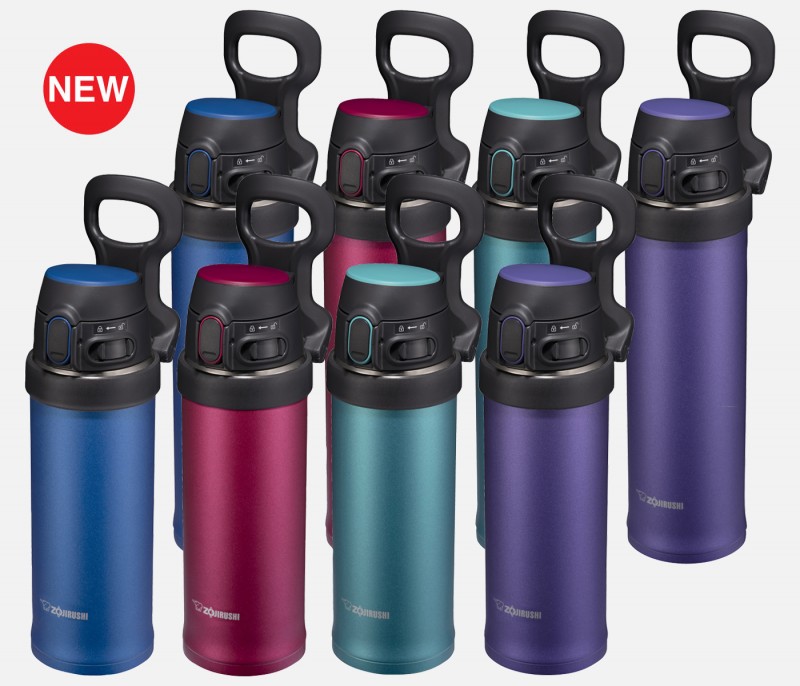 Buy it: Zojirushi
Win it: One lucky reader will take home two blue Flip-and-Go Stainless Mugs! This is a US and Canada giveaway ending 6/13. Enter using the form below, and good luck!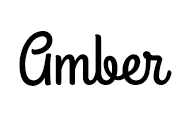 Hi there! I'm Amber, a 30 year old wife and mom of two from central Minnesota. I love to travel and to be outside with my kids anywhere the weather is warm! When I have a spare free moment, I love to read and scrapbook as well as binge-watch Netflix long after the kids are asleep. I drink too much Caribou Coffee and have a real sweet tooth but also try very hard to consume organic foods and use eco-friendly, fair trade products as much as possible. I also love socializing and sharing about my favorite products!
This post currently has 8 responses.