There are affiliate links in this post. As always, all opinions are my own.
All families take different approaches to health. Our family leans towards the prevention method and we try to eliminate or lessen the effects of illnesses, especially in winter when we're more likely to catch something. With two young kids, both involved in activities throughout the year, we are exposed to our fair share of sickness. That being said, we tend to get over things fairly quickly and have also been able to avoid illness even when around others who aren't feeling well. I attribute that to a few things which I'll share with you! Before I do though, know that I am not a doctor and that you should speak with your provider before starting any supplements.
Natural Ways to Stay Healthy in Winter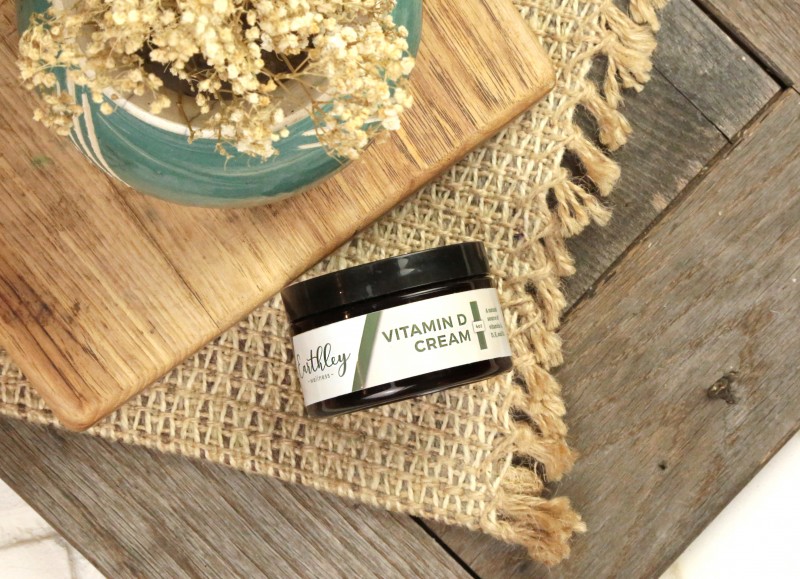 The first thing we do is increase our Vitamin D. In the summer in Minnesota, we use it sporadically or if we feel an illness coming on. However, in winter, we all take Vitamin D daily. Earthley's Vitamin D cream is a great option because you simply rub a little on your thighs or stomach and you're good to go.
Drink lots of water. I know, easier said than done! But we try to drink lots of water in the winter to help flush our bodies and stay hydrated. It really does make a difference.
See a chiropractor. The nervous system plays a huge role in overall health. Seeing a chiropractor who can adjust subluxations and keep your spine in tip-top shape is vital for overall health, at least in my opinion! I see a chiropractor monthly and my kids go every other month.
The final preventative tip I have is to take elderberry. It's such a simple thing, but I truly feel like it made the biggest difference in how healthy we were last winter. Sure, we had a few respiratory colds come through the house, but last year was significantly better than years past and I think elderberry was the big difference. Before I did much research I used elderberry syrup, but after finding Earthley I realized that not all elderberry products are created equal. Check out the differences below:
As you can see, Earthley's Elderberry Elixir doesn't contain any sweetener, "natural flavors", juice, or other additives. Instead, it's filled with organic herbs and elderberries and is vegan, too! I'll admit that I don't know a ton about herbs but reading the ingredients in Elderberry Elixir made me feel far more comfortable than the syrup we'd previously been using. Earthley offers an adult version and a kids version of the elixir; there are a couple differences in herbs and the adult version is in alcohol rather than glycerin. Either are great options, but in our house we all use the kids version because it's more palatable.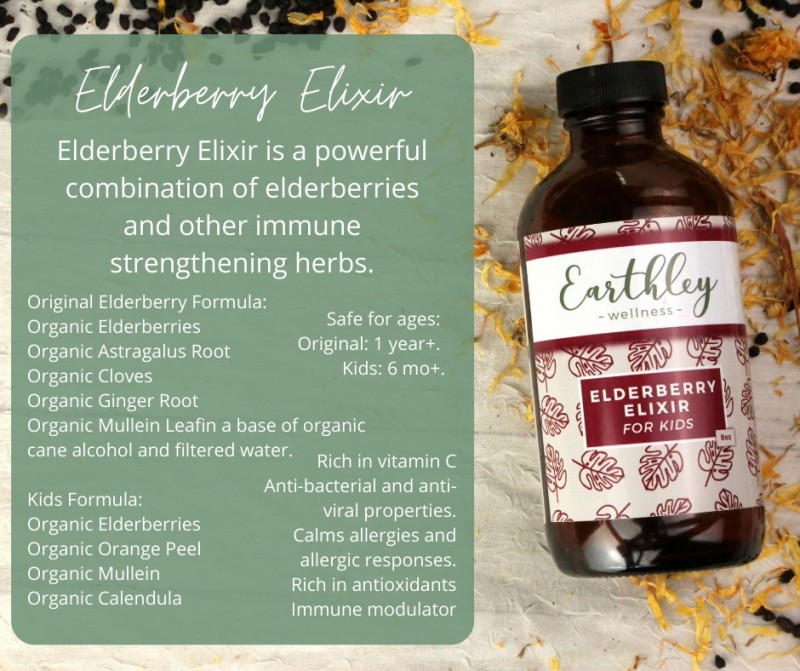 If you're completely new to elderberry products, Earthley offers a great (and free!) guide on What You Need to Know About Elderberries. This guide is super helpful and will answer all your questions about the benefits of elderberry, how to use it safely, other great herbs for immunity, and more!
Our whole family takes Elderberry Elixir through the winter, and we will likely start up around flu season again this year. We personally love the tincture because it's less sweet than the syrup and each bottle contains so many doses. Some people love to make their own Elderberry Syrup though, and Earthley offers kits so you can do that too!
While I have never tried this (mostly because I'm more of a buyer than a DIY-er), I know many people that love to make their own syrup and think Earthley has the best kit out there.
Now through August 24th, 2020, ALL Elderberry products are 20% off at Earthley. You don't need a code for this; the prices will automatically show the 20% off in your cart. Plus, any order over $50 gets FREE shipping!
Let me know in the comments if you have any questions about Earthley's Elderberry or other products. I'd love to let you know how their products have helped our family stay healthy in the past and how we continue to use them!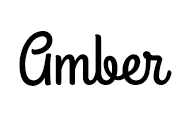 Hi there! I'm Amber, a 30 year old wife and mom of two from central Minnesota. I love to travel and to be outside with my kids anywhere the weather is warm! When I have a spare free moment, I love to read and scrapbook as well as binge-watch Netflix long after the kids are asleep. I drink too much Caribou Coffee and have a real sweet tooth but also try very hard to consume organic foods and use eco-friendly, fair trade products as much as possible. I also love socializing and sharing about my favorite products!
This post currently has 6 responses.