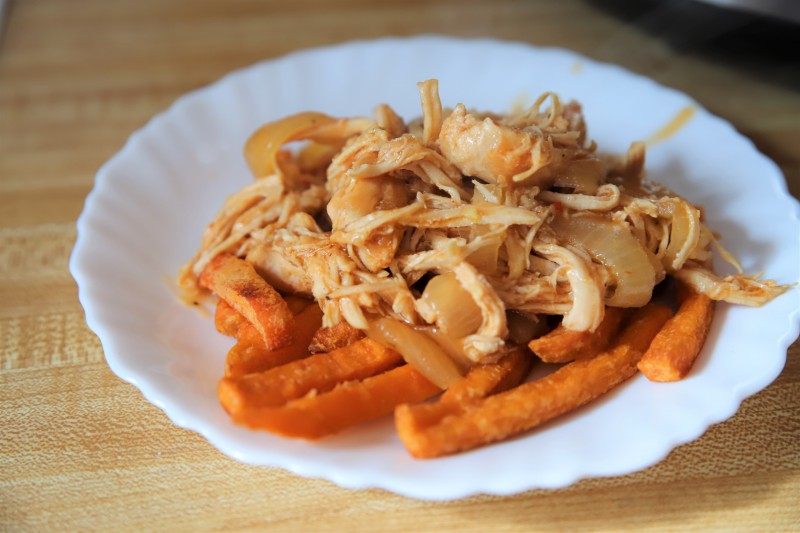 This summer, despite Covid-19 and all of the closures, we have still been very busy! Every week my planner seems to fill up and that's left us stopping at the drive-thru way more than I'd like to admit. A couple weeks ago I threw together a shredded chicken in the crockpot and it was a massive hit with the whole family. In fact, it's been something I've been making weekly since then because it's so simple to throw together and we always end up with leftovers!
4 Ingredient Crockpot Shredded Chicken
I don't love cooking with the oven when it's super hot outside because it brings extra heat into the house that we just don't need. I prefer to grill in the summer or make crockpot meals because I can usually just toss the ingredients in and go about my day. That's exactly what I did with this meal, and we were all so surprised by the delicious flavor and how versatile the meal is!
I start by slicing an onion up and just lay the slices in the bottom of the crockpot. These really get sweet while the chicken cooks so even our kids ate them without complaint! I've really started to appreciate the flavor of onions as I get older and try to add them to as many dishes as I can for their antioxidant benefits.
You could use your favorite barbecue sauce in the recipe, but this Golden BBQ Sauce from Primal Kitchen was absolutely perfect paired with the Italian dressing. It was SO flavorful and not overly sweet. It doesn't have any added sugar and is Whole 30 and keto-compliant! I layer the chicken on top of the onions and then pour the barbecue sauce and Italian dressing on top.
After that, I set the crockpot to five hours on low and walk away. I love when my house fills up with the smell of dinner; I also feel a small success as a housewife when I actually have a meal planned out since I'm certainly no domestic goddess – ha!
Once the chicken is done, I shred it in the crockpot. Here's where the versatility comes in! There are a few ways we've eaten this and we love all of them. My favorite way to serve this shredded chicken is actually over sweet potato fries. The salty crunch of the fries balances out the sweet and flavorful chicken and they go perfectly together.
We have also served this chicken over baked sweet potatoes with shredded cheese on top; also super tasty! For the leftovers, we usually end up warming the chicken and eating it on a bun. The sauce actually really permeates the chicken and by the second day it tastes even better than the first!
For quick meals that I can put together before we leave the house, that can be ready when we get home, this recipe cannot be beat!

I hope you enjoy our simple shredded chicken recipe!
This post currently has 12 responses.