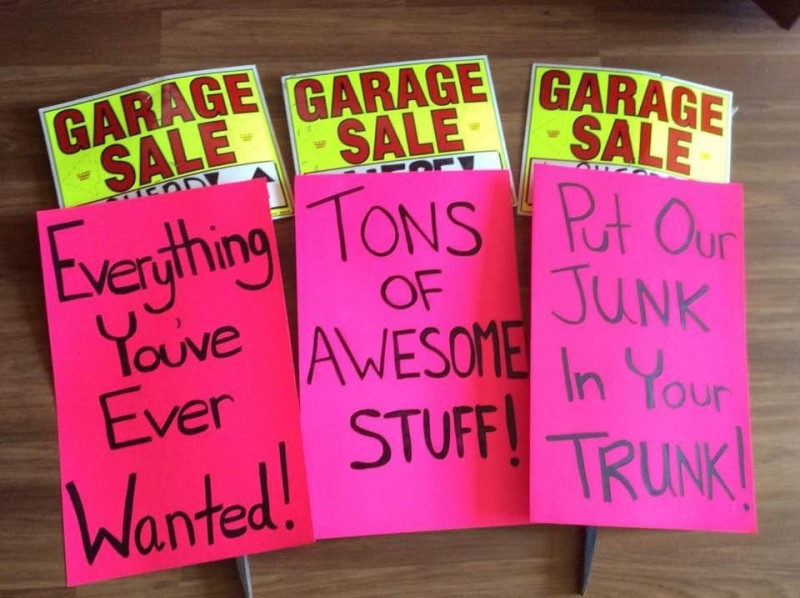 I am a die hard garage/yard sale shopper. I LOVE a good deal. Some Garage/Yard Sales I visit are awesome and some are a bust. Here are my tips to make your garage sale super successful!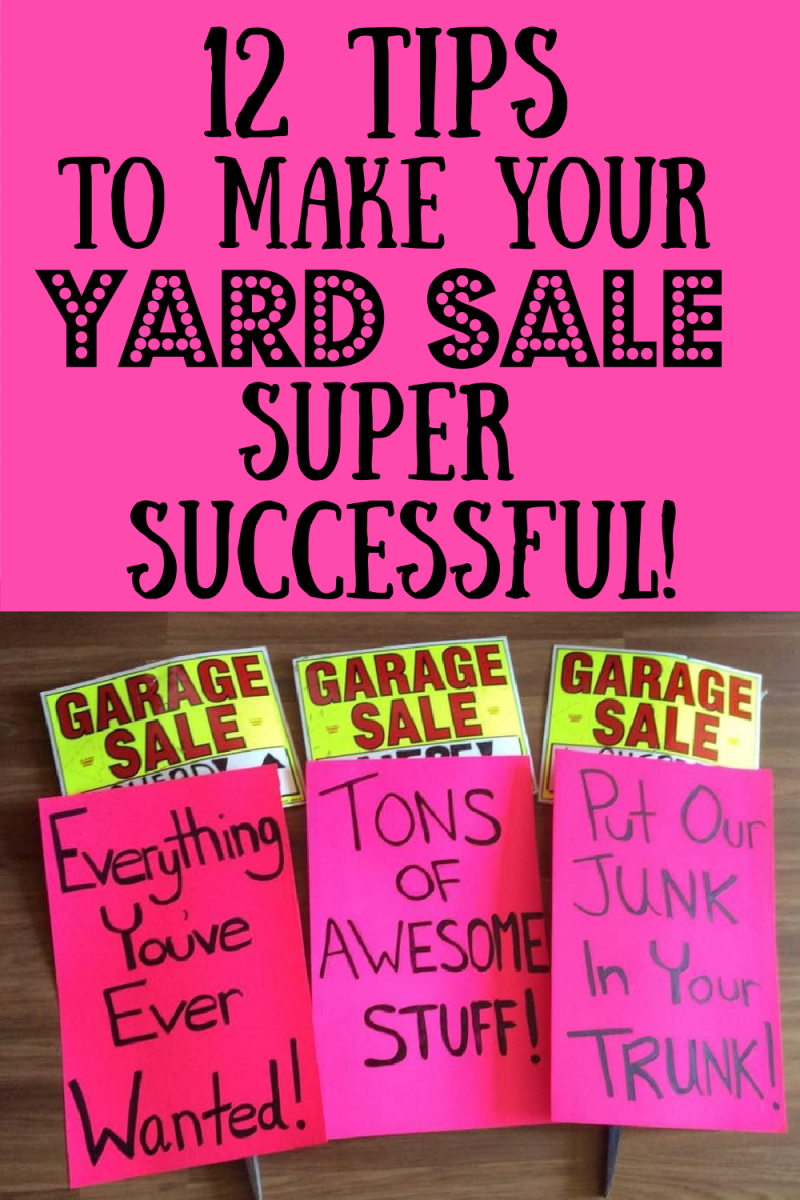 Plan Ahead – Pick a day or two where you have nothing else going on. You will bring in more shoppers if you have a sale that lasts more than one day. Avoid holiday weekends as folks may be vacationing. In my area garage/yard sales tend to begin on Thursday or Friday and last through Saturday.
Better Together – Hold the sale with another friend or family member. Use the home with the larger garage or yard space and/or use the space that has the most traffic nearby. Adding a second person or family's items will give you a greater variety of items to appeal to a larger variety of buyers. It will also help to have two people working at the sale.
Advertise! Local Newspaper, posters, Social Media such as Facebook 'Sell It' Groups. Post the hours your sale will be open as well as your address. Include a description of items shoppers can expect to find at your sale. Use a photo with your ad to attract attention.

Make Signs – Use neon/bright colors. Use fun sayings to catch people's attention. Make sure the writing is very clear so it can be seen from a vehicle. Put the address on the signs. I put my signs on wooden stakes and add balloons to the top to add extra color and catch attention.
Clean & Working Items – make sure items are free of pet hair and do not smell like smoke or have other strong smells. Inspect clothing before selling to make sure there are no holes or stains. Also make sure toys and electronics are in working order before selling.
Organize By Size & Put Signs/Labels on Tables – Think like a store. Make sure to put like items together. Hang signs to label clothing by size so it is easy for shoppers to know where to look.
Tags – On the tag write the price, as well as the size of the item for clothing & your initials if having the sale with another person/family. Personally, I do not care for sales where it says "make an offer". I put a price on everything. I do not like haggling, however if you do, you can put up a sign or verbally tell shoppers that they are free to make an offer. You can buy tags or you can make your own. I make my own by cutting strips of masking tape and placing them on a sheet pan, I then write on them and they pull right off the sheet pan so I can stick them on my item. It is a trick my mom taught me and it works super slick!

Price – The lower the better. Think lower than a thrift store. You want to make money but you also want to get rid of your stuff! Most items I sell are $1 or 50 cents. Although that seems low, when you have lots of those items selling it adds up quickly! If you have a higher priced item it may help to share what the retail value is right on the tag. Keep in mind you are not going to get anywhere near retail value for items even if they are brand new with tags. Garage sale shoppers are looking for a good deal.
FREE Box for items you just want to get rid of!  If it isn't worth 50 cents then I put it in the free box. I put the free box at the end of the driveway/near the curb and label it very clearly as FREE.

Bundle like items & small items together. I do this especially with things like baby socks, baby toys, etc. I use zip-top bags to bundle items or hold them together with safety pins. I always tie pairs of shoes together with string to keep them together and looking tidy. Buy one get one free deals are great! I bundle kids books 3 for $1.
Be prepared – Have change & bags ready. I do not take personal checks so I put a sign up saying so. I always go to the bank and get some some 20's, 10's, 5's and 1's to start the cash box, I also get a roll of quarters to start so I can make change. It is nice to have shopping bags to put the shoppers items in once they are ready to go. It's a great way to use up that bag of bags you've been saving (or is that just me?!)
Be inviting! Greet shoppers. Ask if there is anything specific they are looking for. Help them find the item(s) if so. If a person feels welcome they are likely to stick around longer looking at your items and hopefully make a purchase!
Tell me in the comments – do you visit garage/yard sales? Is there anything I missed on my list?

Hi, my name is Asha. I am 32-years-old and am a nurse by profession. My husband and I have been married for almost 7 years and together we have a sweet five-year-old daughter, a two-year-old son, and a lovable bunny named Caramel. I enjoy spending time with family, taking photographs, scrapbooking, hunting, fishing, cooking and gardening.
This post currently has 8 responses.