Thanks to The Spa Girl Life for sending me this candle. As always, all opinions are my own.
I've got a question for you; how are you holding up during this worldwide pandemic? I don't know that any of us could have predicted that we'd still be experiencing this back when it all started this spring. I've had the opportunity to talk to many of my girlfriends and family members so I feel like I'm in a good place mentally, though I know others are really struggling. And when it comes to men, who are often notorious for keeping feelings to themselves, I'm sure many are feeling the affects of the pandemic also.
About a month ago I started some mindful meditating using The Spa Girl Life candles and crystals. They recently released a "mini first aid kit for the soul" for men, and I think it could be really useful if your guy wants to check in with himself on a deeper level. We can all use some self-care and reflection especially if we're feeling overwhelmed!
The Clarity Candle from The Spa Girl Life comes with two Amazonite Crystals, a journal card to record your thoughts, and a mantra to help you meditate. The idea behind the two crystals is that you hold one in each hand to balance your body evenly. While my husband isn't much of a journal person, he does enjoy the scent of this candle and I'm hoping I can get him to try the crystals too!
This Clarity Candle has soothing scents of eucalyptus and mint and has aromatherapy benefits specifically for releasing grief and sorrow. The Amazonite crystals can help create a sense of calm as they pacify, soothe, and restore harmony. If you're looking for clarity in a specific situation, it can allow you to see both sides of the story.
The Spa Girl Life offers a large variety of these mini spa kits, including the following:
They make wonderful gifts and can be great for self-care, too. Check out my previous review to see some of my favorite options.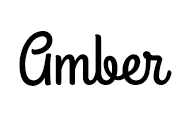 Hi there! I'm Amber, a 30 year old wife and mom of two from central Minnesota. I love to travel and to be outside with my kids anywhere the weather is warm! When I have a spare free moment, I love to read and scrapbook as well as binge-watch Netflix long after the kids are asleep. I drink too much Caribou Coffee and have a real sweet tooth but also try very hard to consume organic foods and use eco-friendly, fair trade products as much as possible. I also love socializing and sharing about my favorite products!
This post currently has 4 responses.