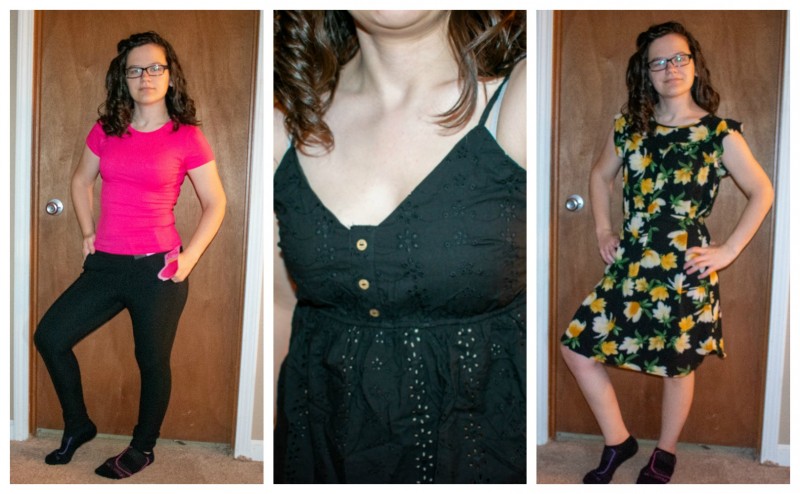 I was sent a Nadine West shipment for review. There are affiliate links in this post. All opinions are my own.
Nadine West is a style subscription service. You take their style profile to let them know what size you wear, what colors and patterns you like to wear, what type of jewelry and more. They take the information you provide about your style and send you clothing and accessories that they think you might like.
You get to try them on at home, and decide what you want to keep and what you don't want to keep. The shipment includes a prepaid shipping labels o you can return anything you don't want to keep. You're only charged for the items that you don't send back. So, it's a great way to try out new clothing in the comfort of your own home, which I think is always nice, but especially now during COVID. Sometimes Nadine West sends me clothing that is spot-on to my style and I love that. However, I also love that they sometimes send me items that I would pass by if I waw them hanging on a rack in a store, yet I try them on and realize I actually really like this on me once it's on. Nadine West has definitely helped me to expand my style and learn more about what I actually like, which is probably my favorite part.
Now through the end of the month, we have a special $25 off deal for you! Scroll to the bottom to find it. 
This bag included 12 items.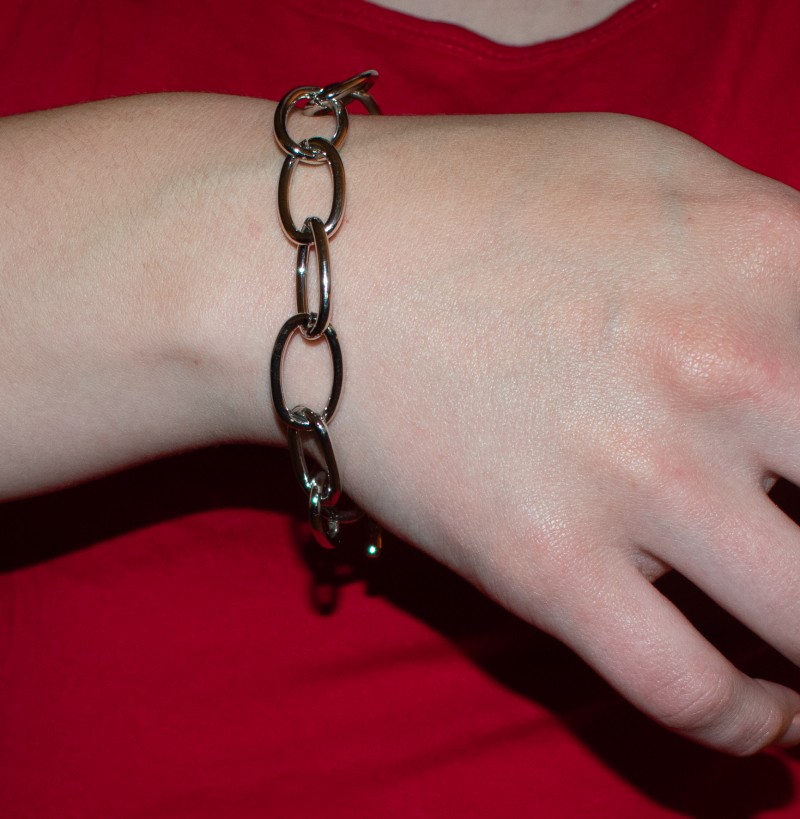 This clasp bracelet mimics the a look of a chain. It's different, but I think it's cute! It's a keeper for me. It is $16.99 to keep.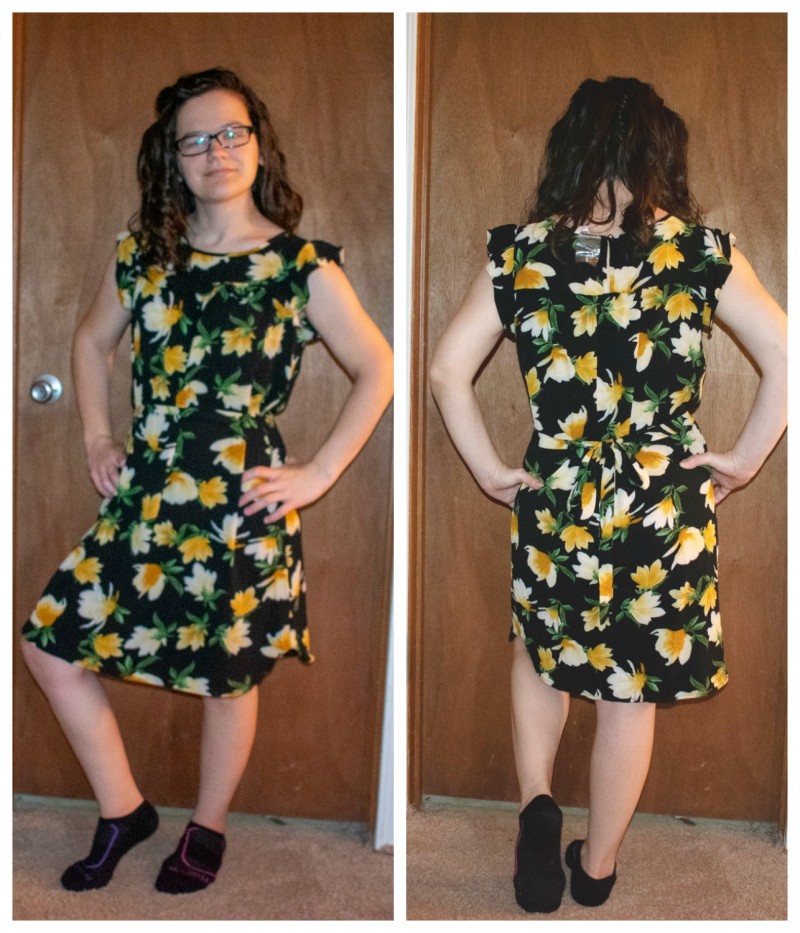 I had mixed feelings about this dress. Something about the pattern isn't quite my style. Typically the shape of the dress wouldn't be for me either, I typically prefer dresses that are elastic at the waist, where this just falls from the shoulder and has a tie more for looks. Yet, I did feel like this flattered my body type. I have quite a lot of dresses that I really love, so I won't be keeping this in my closet. It was a near-match though! It is $41.99 to keep. I think that makes it the most expensive item i've ever been sent from Nadine West.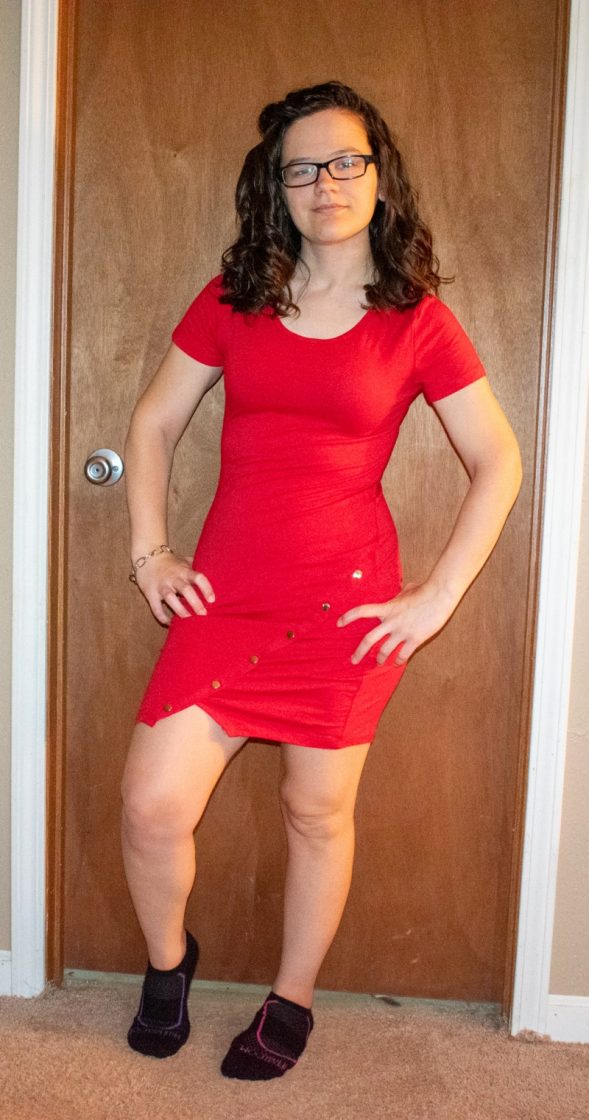 This dress has a much different vibe, of course. I sometimes wish the Nadine West style profile asked about professional clothing, casual clothing, workout wear, or nightwear clothing, and so on. This strikes me as something that might be worn to a club? And I am such a homebody that my lifestyle hasn't changed much since COVID. Haha! So, I don't have much use for clothing like this. Yet, the style profile really only lets you say that you do or don't want dresses. I love getting sundresses or similar casual dresses like sweater-dresses. I don't have much use for formal dresses or club type dresses. It's also just too small for me, I would need to size up in this particular dress. Oh well. This is $29.99 to keep.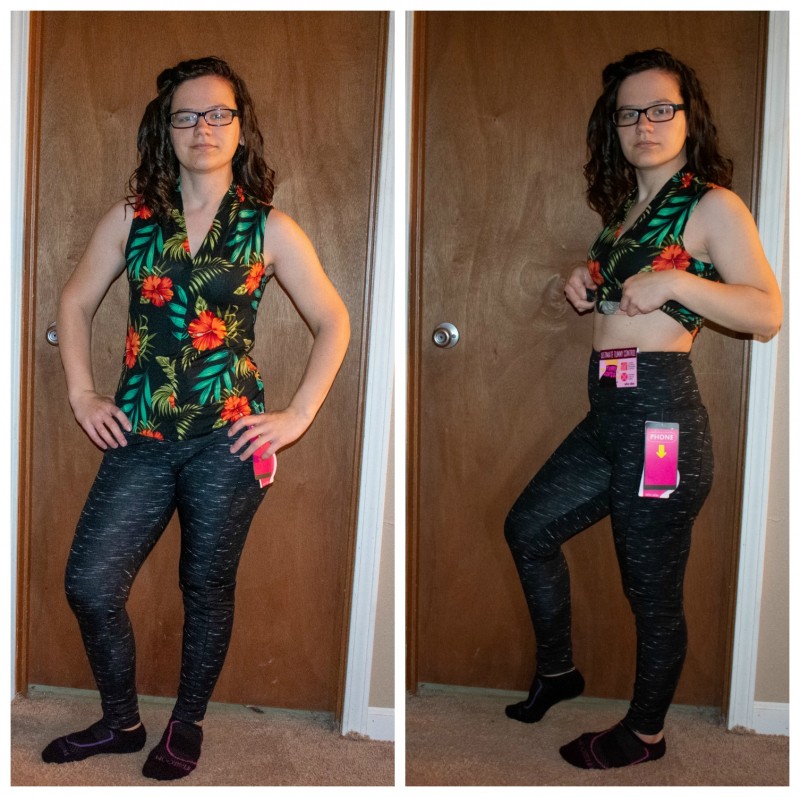 While they don't coordinate well at all (sorry), the top and bottoms here were both sent in this shipment.
The top is a bit too exotic for me. Sorry, I couldn't help myself from making that bad joke. I don't mind the shape of the shirt, the print just isn't for me. The top is $27.99 to keep.
The bottoms are a bit closer to my style. I like the print, but they're quite thick and an athletic type material. I like leggings for lounging around the house, but I prefer cotton-based materials more so than the moisture-wicking actual wearout wear like these. I think they were also a bit too snug. Or, at least that was my opinion. However, I realized they sent me a medium, where I buy a small more often than a medium. I never need a large. So, perhaps these are just designed to fit as snug as they do. They are designed to help conceal the belly area and/or "love handles" and as you can see in the second photo, they do a pretty good job!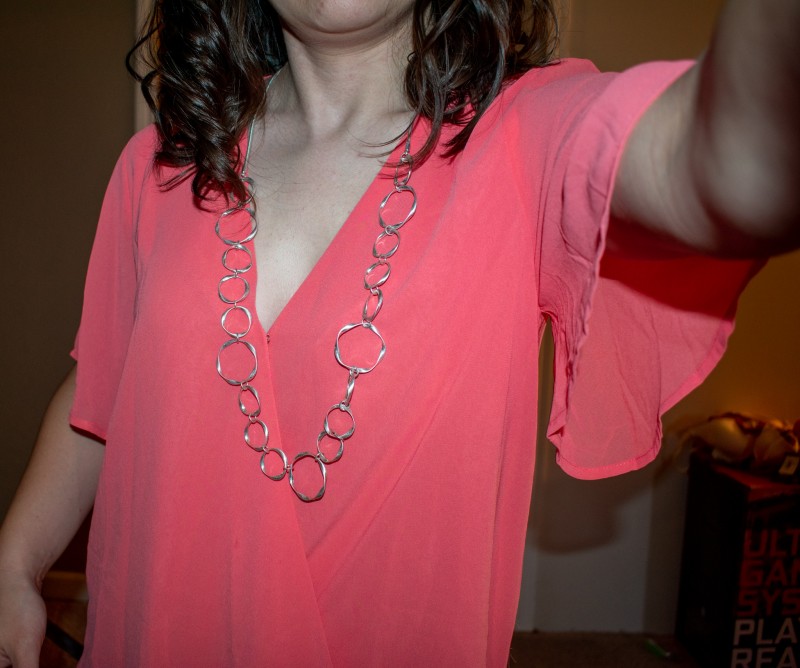 I thought this necklace was really pretty. I love simple, silver jewelry that can go with most anything. Definitely a keeper for me. It is $29.99.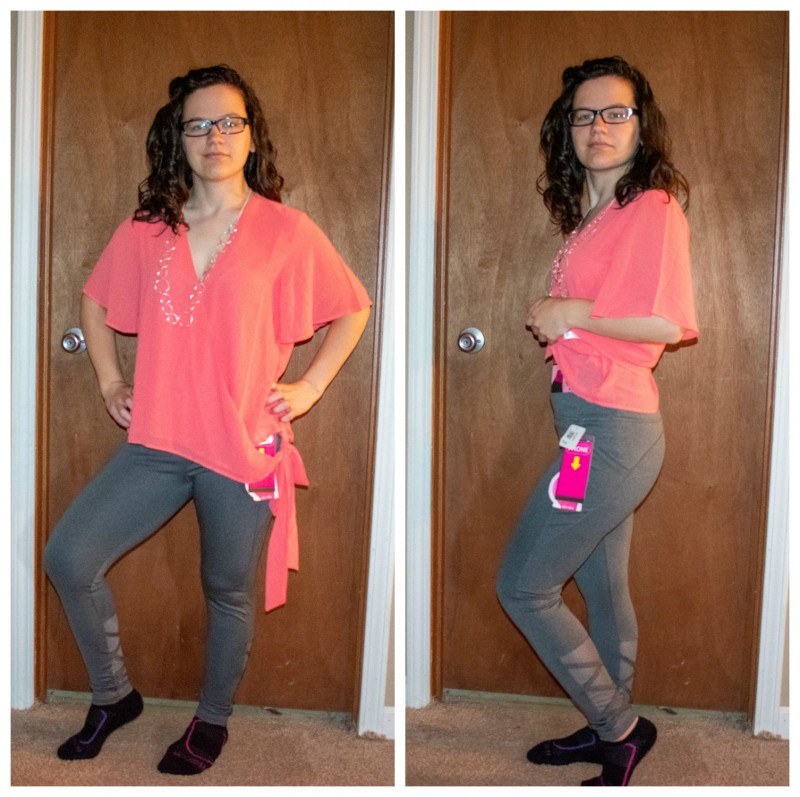 Again, forgive my odd pairing, but the top and bottom here both came from Nadine West. These leggings are athletic material so again, not really a style I wear much. I like how they have the mesh on the lower legs. Sort of gives a ballerina look! They're somewhat higher waisted to help hold you in. They are $39.99.
I love the color of this top, but not really the fit. It's a big too big and flowy for my tastes. The top is $31.99.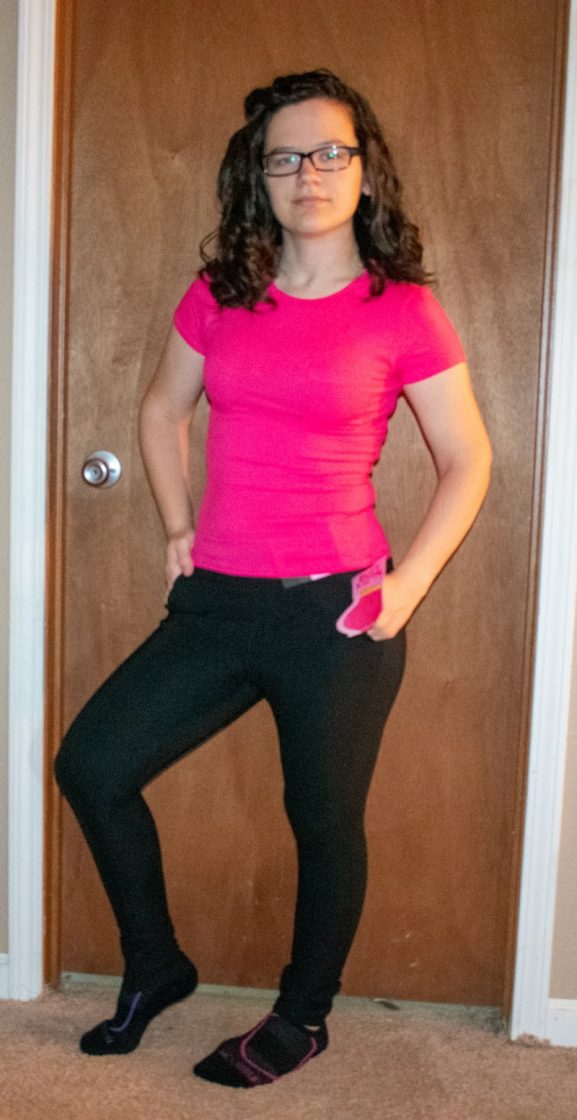 Sorry this photo is a bit blurry, I didn't realize that until I was uploading.
This top is quite basic, but I like to wear simple tops fairly often. I wish this were a size bigger, it would have entered my wardrobe. IT was too tight though. Also, the price is listed as $33.49 which seems steep to me for quite a basic shirt. You have to look closely, but it does have a breast pocket, it's not a totally basic t-shirt. Still, $33 seems like a lot to me.
These pants are sort of more like joggers than leggings. The material felt a bit cheap to me, but they are comfy to wear. They are $33.99.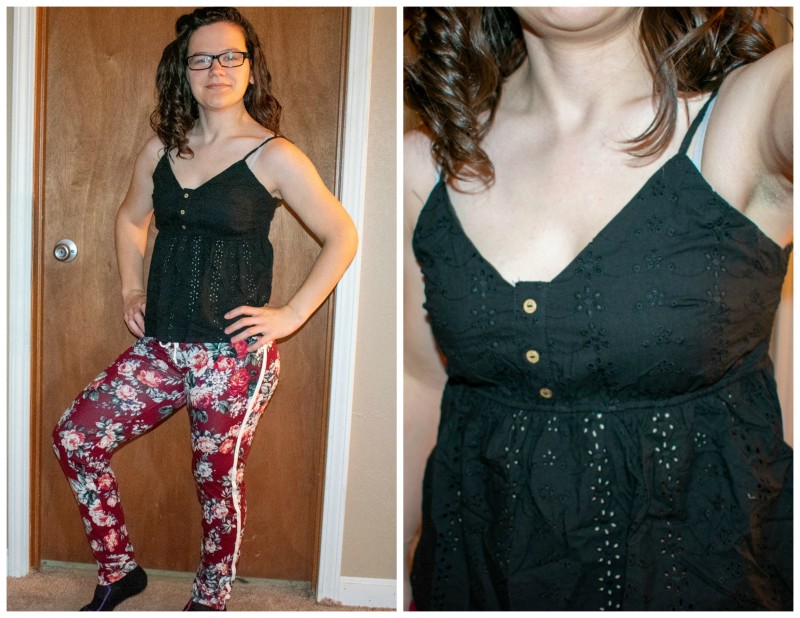 Again, sorry for an odd combo! The tops and bottoms didn't really lend themselves to coordinating outfits very well this month.
I love floral dresses and tops, but flora bottoms aren't really my thing. These are comfy, the pattern just isn't for me. These were sent to me in a larger size than usual bit fit fine, so they must have known these run small and sized up accordingly. Not always, but in most cases, Nadine West does accommodate for a-typically sized clothing. I just wanted to point that out as I did happen to have a few items in this shipment that didn't fit, but this is quite unusual. They usually adjust sizing really well. These bottoms are $21.49.
This top? This top would make me giddy if I walked past it in a store. I LOVE this top. It's 100% me. I love the lacey pattern mixed with balck. I love wearing black especially when it's made a bit more feminine. I fine the stye of this top to be really girly so I just love that combination. I also like the buttons. The bottom portion of the dress has small holes, in the fabric as you can see in the bottom half – you can see bits of skin. I'm a fairly modest person, but they are so tiny that it doesn't feel too reavling for me personally. Most important to me, the bust section of the top is the same fabric, but without the holes being cut-out, so your bra or chest won't show through. I only wish this top were sent to me a bit earlier in the summer as I only got to wear it a few times before fall weather hit here in Michigan. I'll be excited to pull it back out next summer though! It is $34.49.
What was your favorite item from my shipment this time? Remember, you can sign up for Nadine West and fill out a style profile today to get items sent to your door based on your personal style.
Custom Discount Code: Fall fashion has arrived at Nadine West! Save $25 when you keep every item from your fab filled box! Use code EMILY25 at checkout & save. Hurry- offer expires 9/30!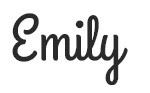 Hi there! I am Emily Evert, the owner of Emily Reviews. I am 28 and live in a small town in Michigan with my boyfriend Ryan and our two pugs. I have a large family and I adore my nieces and nephews. I love reading memoirs, and learning about child development and psychology. I love watching The Game of Thrones, Teen Mom, Sister Wives and Veep. I like listening to Jason Isbell, John Prine, and other alt-country or Americana music. I created Emily Reviews as a creative outlet to share my life and the products that I love with others.
This post currently has 4 responses.