Thank you to Serenity Mountain Foods, LLC for providing me with products to facilitate my blog review. All opinions are 100% my own.
My mom and step-father have found CBD products to be very helpful with a number of issues they are experiencing. Nothing major…just some aches and pains from being on this earth for 60+ years, finding themselves crankier than usual (her words) with all that is going on in the world right now, some sleeplessness and brain fog (probably brought on from lack of sleep and feeling "on edge" during the day).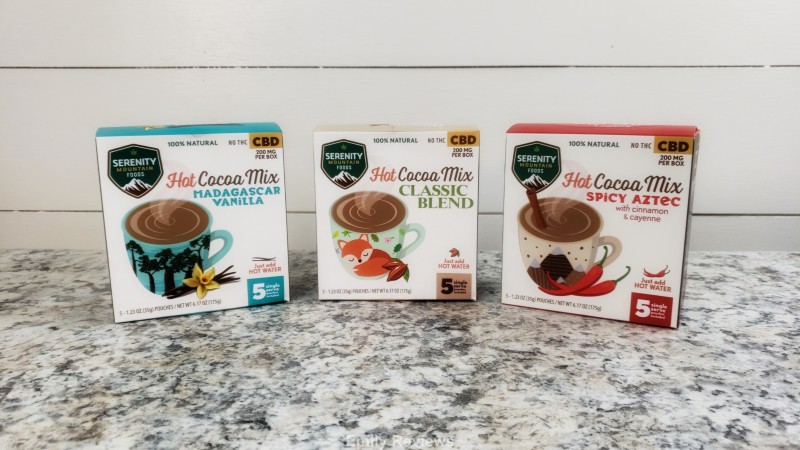 Long story short, we were given the opportunity to try the CBD Hot Cocoa Mixes. Of course, I immediately thought of my mom and step-father. I asked if they would be interested in trying them and they said "absolutely!"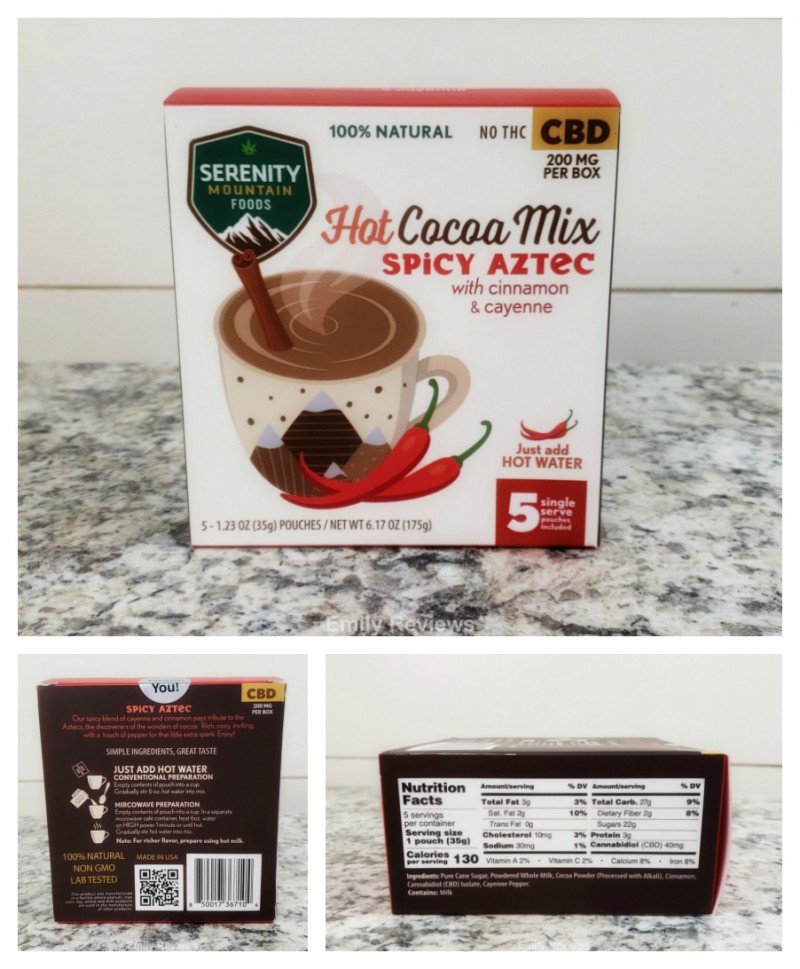 Serenity Mountain Foods CBD Hot Cocoa Mixes come in a variety of three luscious flavors: Classic Blend, Madagascar Vanilla, and Spicy Aztec. All three flavors are 130 calories per serving and have 40 mg of CBD. My mom said the other CBD products they have tried recently max out at 10 mg of CBD per serving so she was excited to see what the additional 30 mg would do for them.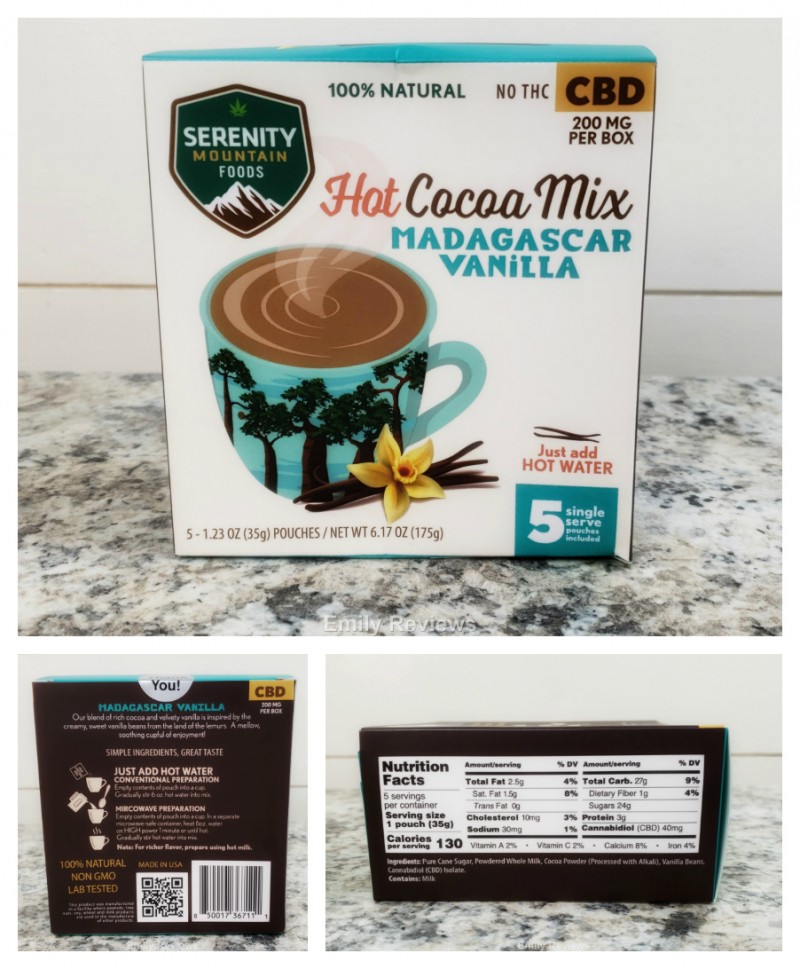 All three of the Serenity Mountain Foods, LLC hot Cocoa mixes have a base flavor of Dutch Chocolate. The Spicy Aztec flavor gets its kick from cayenne pepper and cinnamon. This flavor was my husband's favorite but he was willing to let me sample it and I have to admit that it was definitely enjoyable. Madagascar Vanilla has a rich vanilla bean flavor added to it. This was the flavor I was most excited to try and it did not disappoint me. The vanilla was warm vanilla if that makes sense. It felt cozy, satisfying, not overwhelming, and very soothing.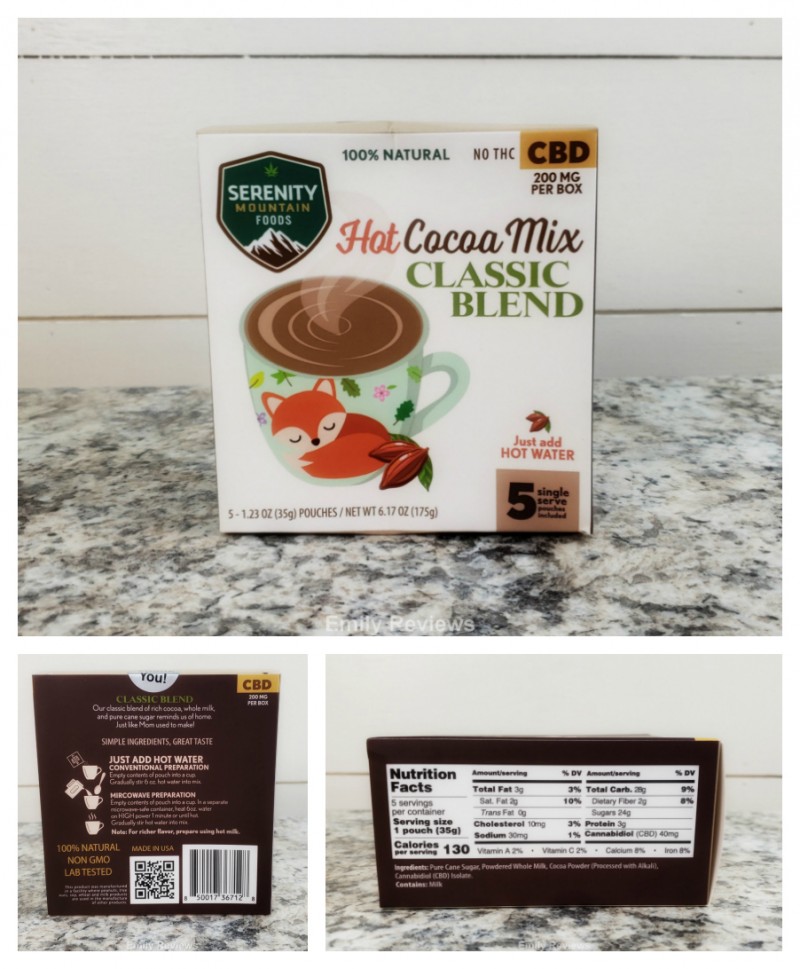 The instructions say you can make these drinks with water or with milk (6 ounces per package of chocolate mix). I made ours with water but then added I a little vanilla-flavored almond milk to mine and practically sank into my chair it was so good.
Serenity Mountain Foods, LLC hot cocoa mixes are made in the USA, and you can rest assured that nothing unnatural or artificial has been added to any of these products.
Buy It: Please visit the Serenity Mountain Foods website to see the great selection of products they offer and convenient shopping locations.
WIN IT: Three winners will each get to chose one flavor of Serenity Mountain Foods CBD Hot Cocoa Mix. This is a US giveaway. It is scheduled to end on 9/25/2020. Good luck!

Hello, my name is Laurie. I have been married to my husband for 14 years. We have two young daughters, ages 11 and 13 years old. My family and I live in Oregon so that means we are just minutes from the beach, mountains, and desert.  We love it here and try to spend as much time outdoors playing as we can. When we aren't outside playing, I enjoy reading, gardening, refinishing furniture, and other crafts.
This post currently has 5 responses.