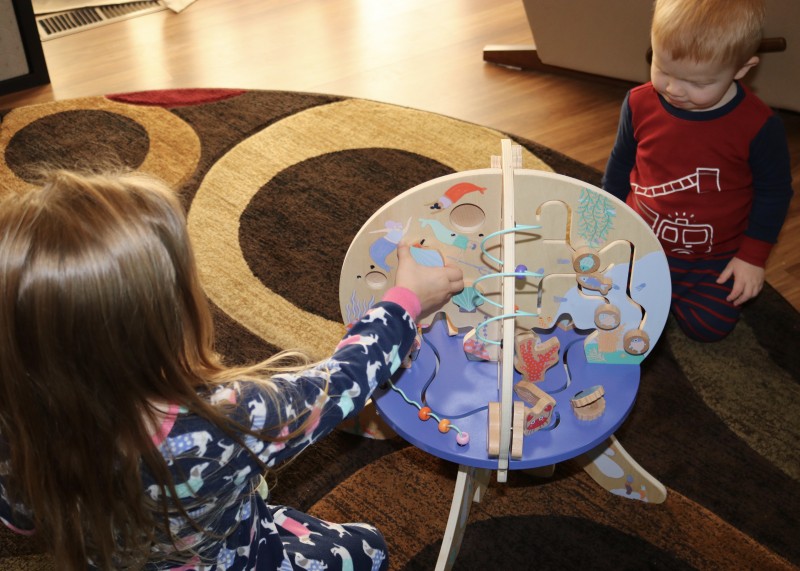 Thank you to Manhattan Toy for sending toys for review in exchange for my honest opinion.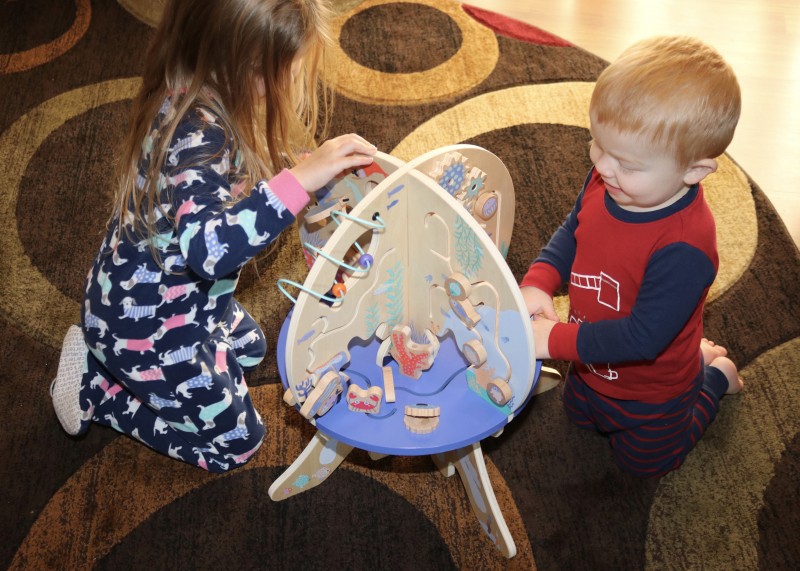 I was first introduced to Manhattan Toy in 2016 when my daughter was just a baby. I fell in love with their products right away! I've gifted their toys to multiple new momma friends for baby showers, because they are such high quality – and oh so cute!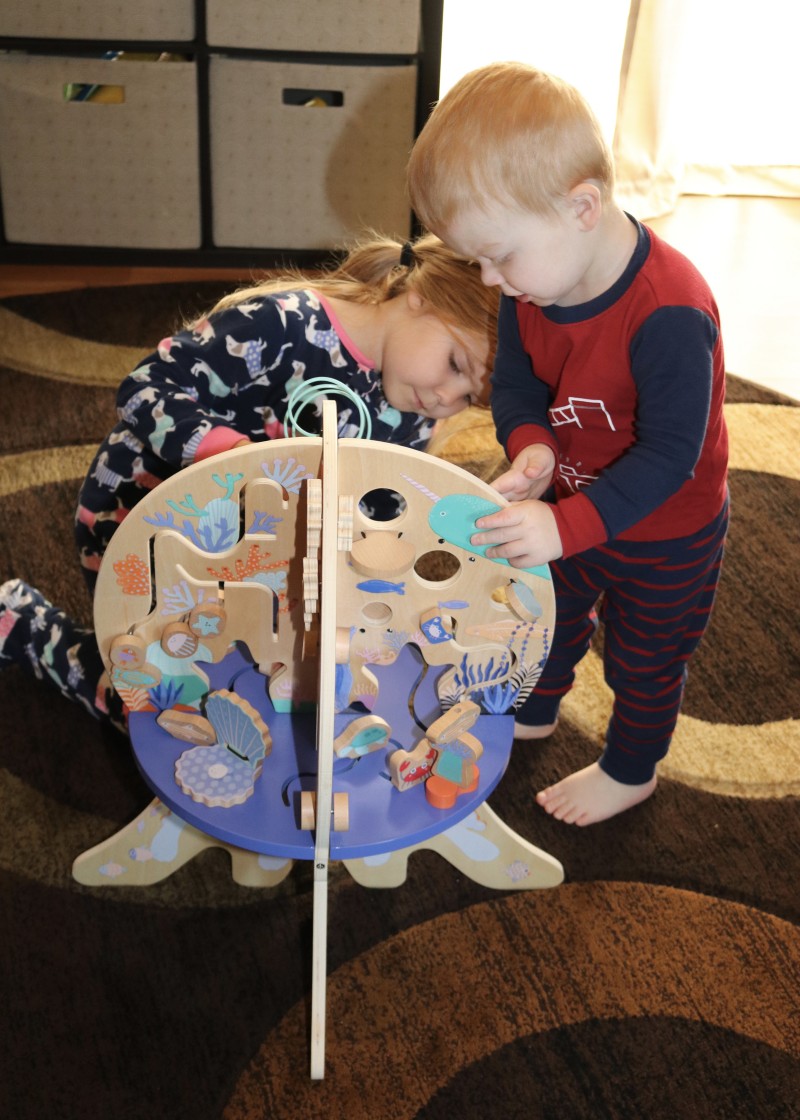 The Deep Sea Adventure wooden activity center is packed with exciting features! Shaped like a jellyfish, with four quadrants of fun! Featuring a variety of activities: gliders, bead runs, spinning gears, springy coral and clacking clams. Geared for ages 12 months and older. My two and four-year-olds both love it! Measures 19.5 inches long, 19.5 inches wide and 21 inches high. The Deep Sea Adventure is large enough for more than one kiddo to play at one time, plus it supports motor skill development while teaching cause and effect. This and all Manhattan Toy wooden toys have non-toxic water based finishes. Adult assembly is required, as it comes as five pieces that you'll need to fit together and then place four screws. Assembly is super easy and takes less than five minutes.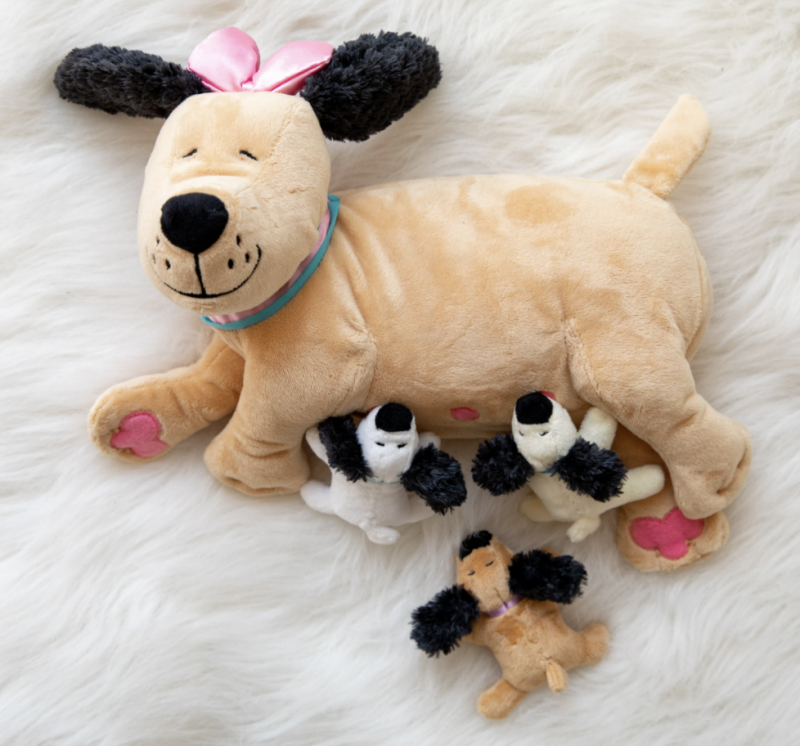 I picked out the Nursing Nana Dog toy for my daughter for Christmas. She loves stuffed animals, and I know she is going to be so excited! The three pups cuddle up to their mother and attach with magnets. She encourages nurturing role play. Manhattan toy also has other Nursing Pet stuffed animals including a rabbit, cat and hedgehog. This toy is recommended for ages three and up. Nursing Nana measures 10 inches long, and should be surfaced washed only.
For our godson for Christmas, I chose the Camp Acorn Canoe Buddies. This brightly colored canoe filled with three plush little buddies will be perfect for him. The raccoon squeaks, the owl rattles and the fox chimes. All fit nicely inside the soft fabric canoe. This toy is appropriate from birth. Our godson will be 14 months old at Christmas and I think he'll love toting these cute critters around. The fun features will be engaging and encourage exploration. Plus, he can hone his motor skills while playing with the buddies and taking them in and out of the canoe. The canoe measures 9 inches long by 4 inches wide by 5 inches high. It should be surfaced washed only.
Buy It: Head over to the Manhattan Toy to see for yourself the great selection of toys they offer.
Connect: Don't forget to like them on Facebook, follow them on Instagram and Pinterest for all the latest news and promotions.


Hi, my name is Asha. I am 31-years-old and am a nurse by profession. My husband and I have been married for over five years and together we have a sweet four-year-old daughter, a one-year-old son, and a lovable bunny named Caramel. I enjoy spending time with family, taking photographs, scrapbooking, hunting, fishing, cooking and gardening.
This post currently has 8 responses.