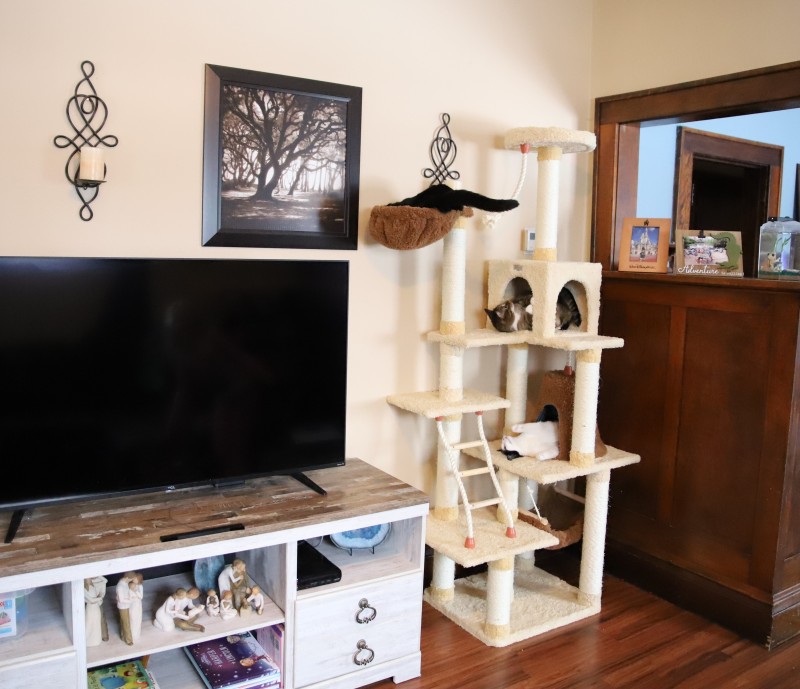 Thanks so much to Armarkat for sending me this amazing cat tree. As always, all opinions are my own.
Do you have pets? If so, do you buy them gifts for the holidays? Our cats are members of the family so we like to get them something each Christmas, and this year we turned to Armarkat for a new cat tree. Earlier this year we lost our senior cat Teddy, and our whole family was devastated. A couple months later, when we found out there was a pregnant stray cat at my parents house, we decided it was time to add to our family again. We ended up adopting two of the kittens which gave us a total of three cats at home; Mittens, Kismet, and Calypso!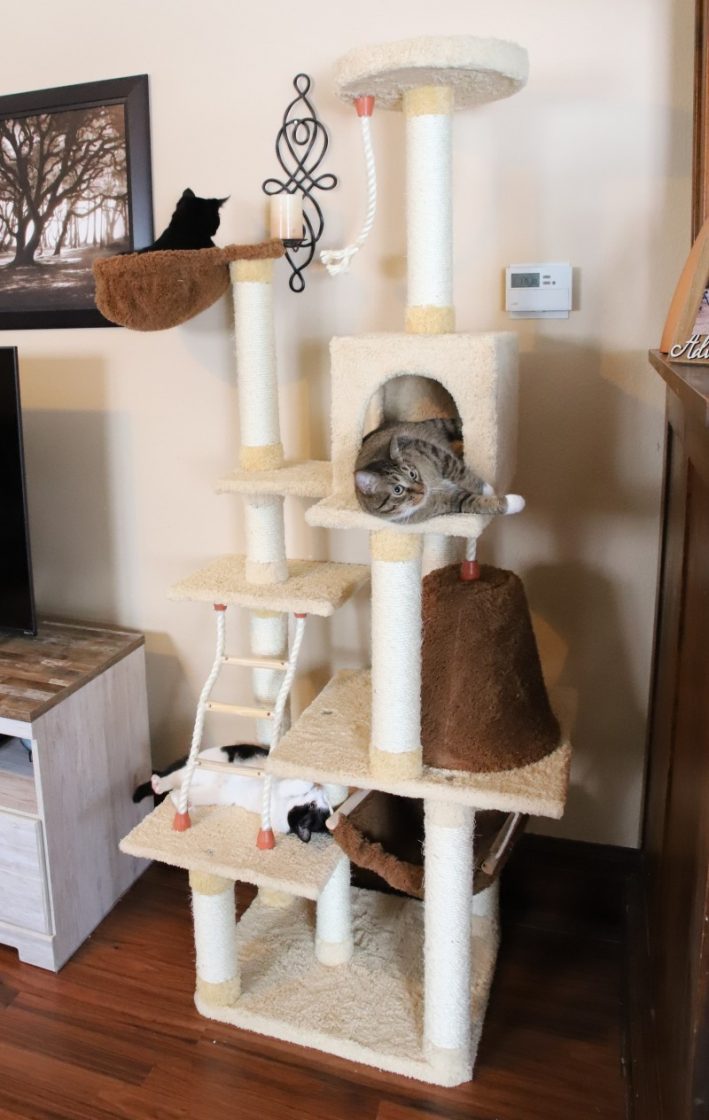 With three cats and two kids, you can imagine that everyone needs some space now and again. That's what I was hoping to do with this cat tree-give the cats a high perch to escape from the kids never-ending love and also let them have some space from each other. I went with the X7805 Premium Cat Tree because it's very tall and the cats have a variety of spaces to choose from.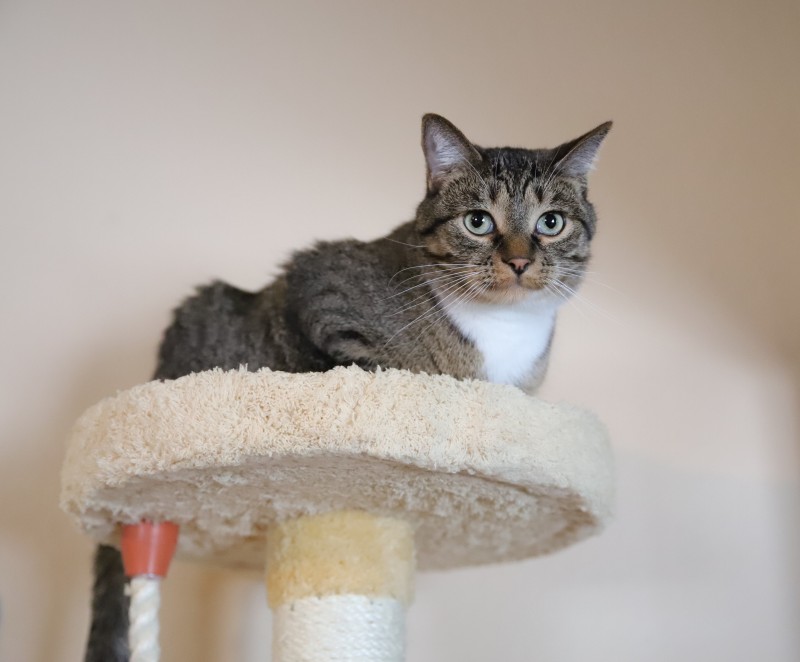 As soon as we started assembling the cat tree (which is no small feat, but is made fairly simple with the included instructions), Mittens was checking things out and trying out the scratch posts. Once it was all put together, he surprised me by climbing straight to the top! I honestly wasn't sure if our cats would use the highest perch since it seems more difficult to get to, but they all take turns and seem to love it the most out of all the levels.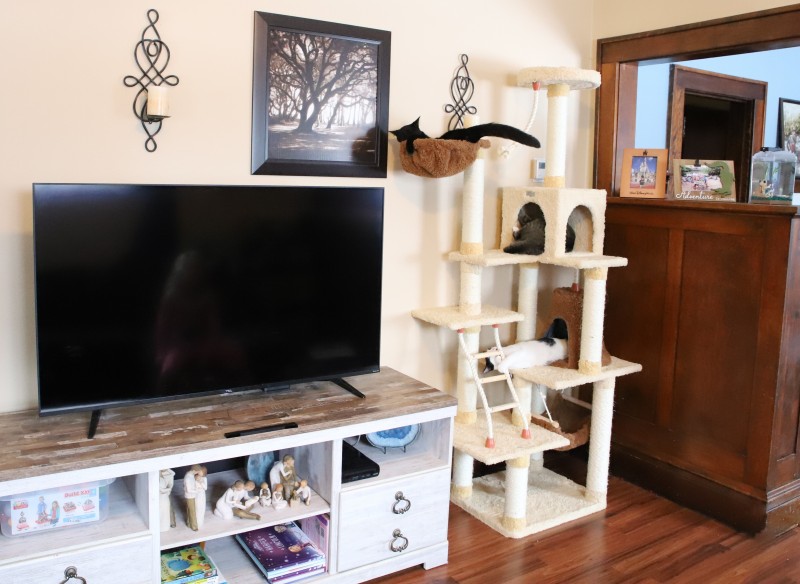 As you can see, this cat tree also features a hanging basket near the top, a square hut, a smaller soft hut, and a hammock. Our cats probably use the hanging basket the least, but every once in awhile I catch one of them lounging in it. Aside from the top perch, the square hut is the most well-loved space, and sometimes I see them trying to squeeze in together!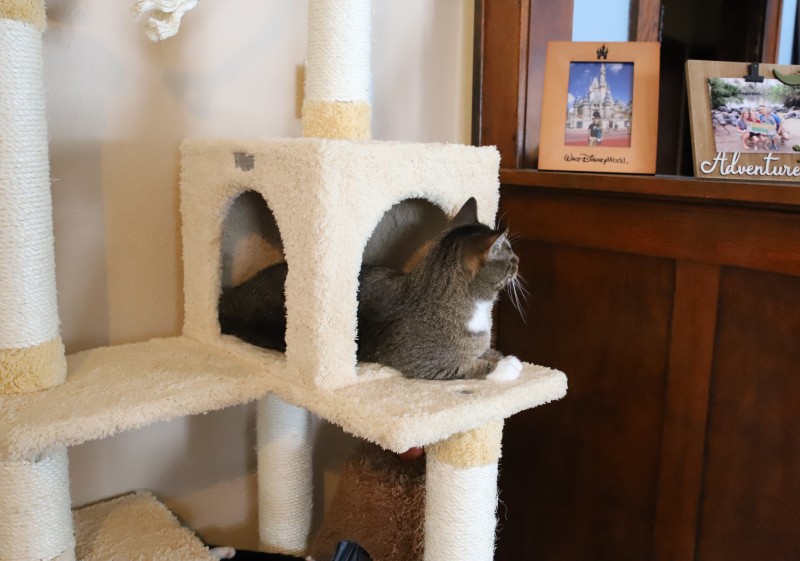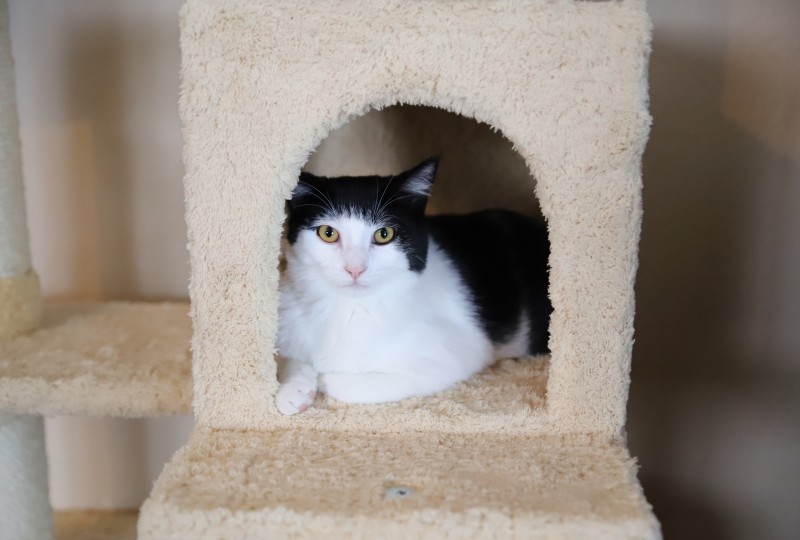 One of the things I love best about Armarkat Cat Trees is that they create levels of play for the cats. I've seen ours sprint up and down it and play fight each other on the bases. They'll even lay on lower levels and bat at another cat's tail – the tree really brings out their playful sides!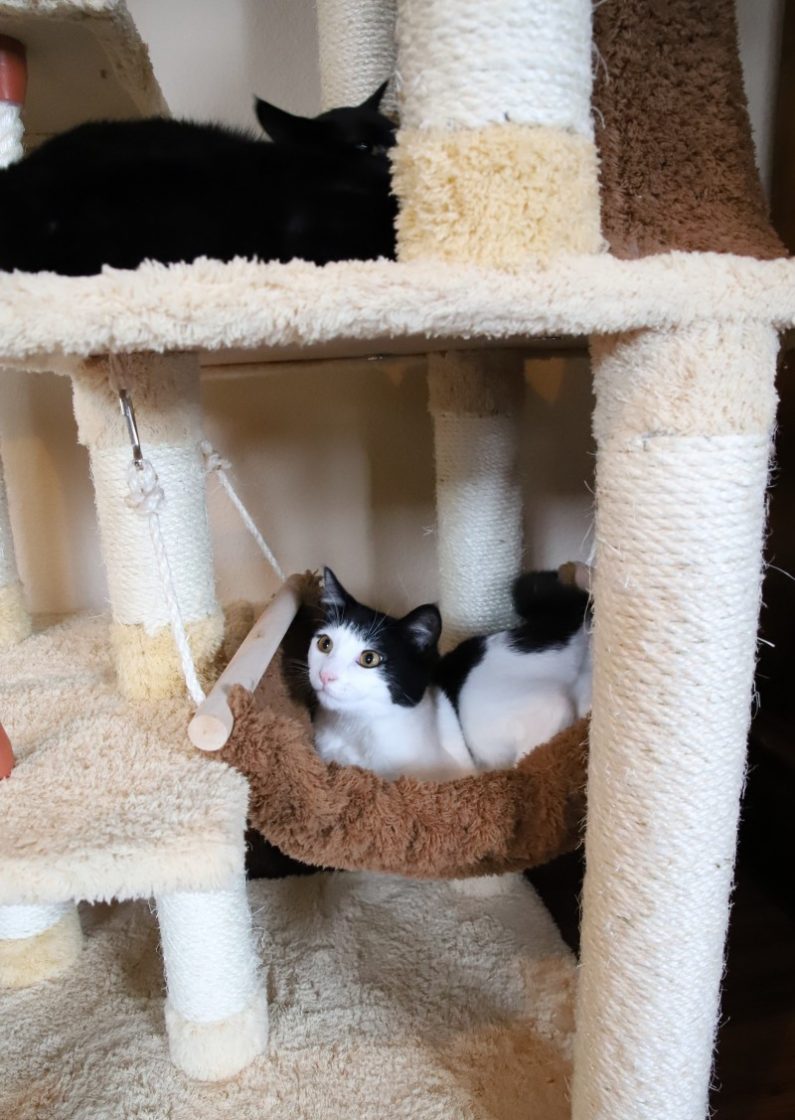 Armarkat Cat Trees also come with so many scratch posts, utilizing all of the attachment posts. Our cats use these ALL THE TIME and I'm glad they do, so they're not scratching my furniture or mattress like they have in the past. The scratch posts are made of high quality material (really the whole tower is) and we never have issues with the cats tearing apart the fabric or rope as we have with other brands.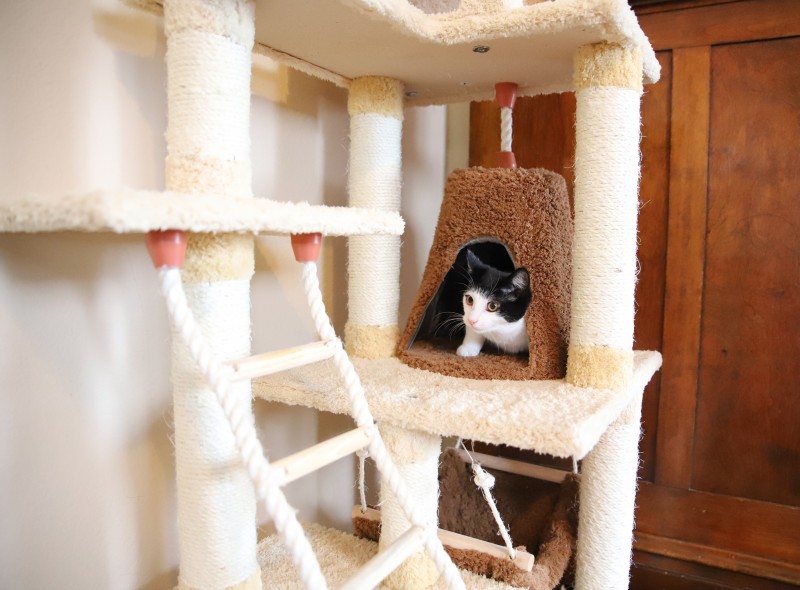 Our cats love lounging on the cat tree all hours of the day. They really seem to enjoy having a high perch to look down on us from!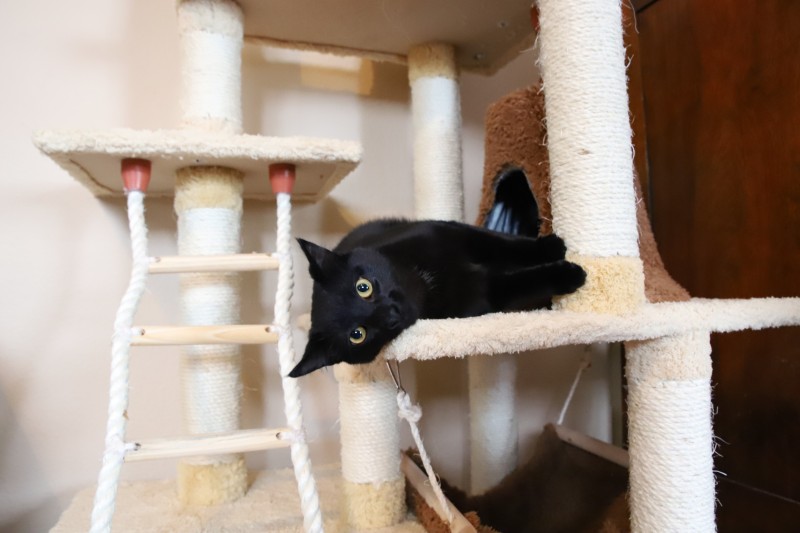 Along with a large variety of Cat Trees, Armarkat offers Cat Beds, Scratchers, Pet Carriers, and Dog Beds too! Their dog beds are very impressive and have great reviews. I always have a hard time finding gifts for my mother and father in law, but they love their dogs like they're kids, so I think a large dog bed would make a great gift for them this year.
Buy: Armarkat
Win it: One lucky reader will take home the Armarkat M12HMB/MB-L Dog Bed! This is a US giveaway ending 11/21/2020. Enter using the Giveaway Tools form below, and good luck!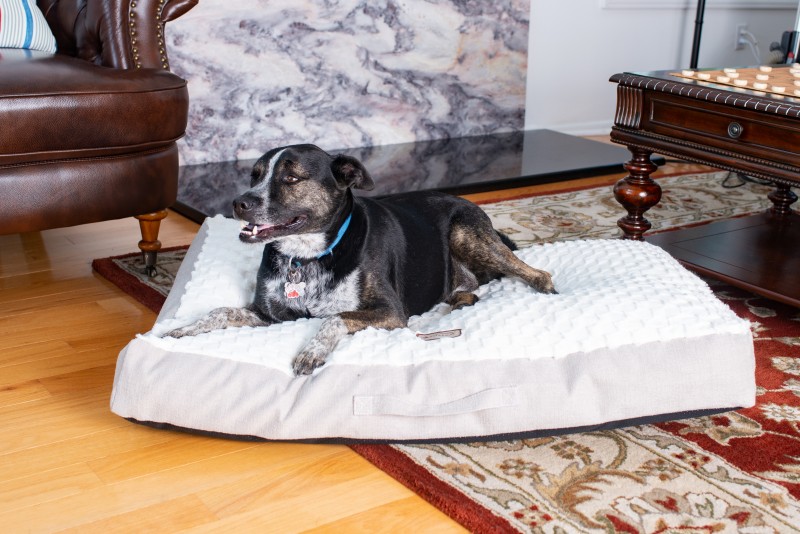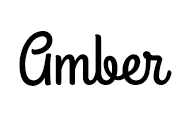 This post currently has 12 responses.