I was sent a Nadine West shipment for review. There are affiliate links in this post. All opinions are my own.
Nadine West
is an affordable fashion subscription service. If you'd like, you can even request that you're only sent items priced at $25 or less! Or if you're comfortable paying more sometimes, you can agree to be sent items at a wider range of price points. I don't have a price limit on my subscription, and the most expensive items I've been sent are around $40, and thsoe are fairly rare.
Many other fashion subscription companies send really expensive items. I'm not someone who is open to paying $80 for a shirt or $150 for a pair of jeans, generally speaking. So, I like that Nadine West is an affordable option.
Plus, they send you a prepaid mailing label with each shipment. You have a chance to try on everything you're sent, and then you can mail back anything you don't wish to pay for. They let you know the price of each item so you can decide if you like it enough to keep it and pay for it.
Let's get in to what they sent met his month!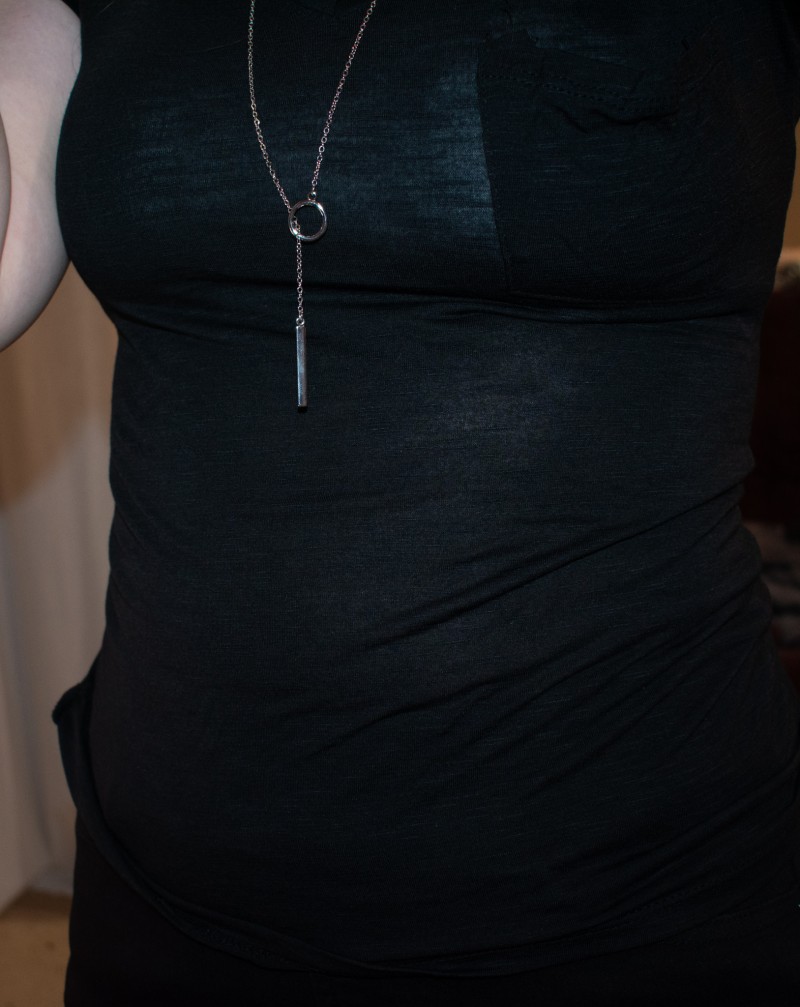 This type of necklace isn't one I've owned before. It's not one that I would typically think to try on if I saw it in a store. Yet, it surprised me how much I liked it once I got it on. I tend to only remember to wear necklaces on special occasions, and this is definitely a more casual one. I was surprised to see that it's the most expensive item Nadine West has ever sent me – it's $44.99 to keep. I'm not sure I would typically purchase this at that price, as I am a litlte uncertain if I'd really remember to wear it. I do really like it though.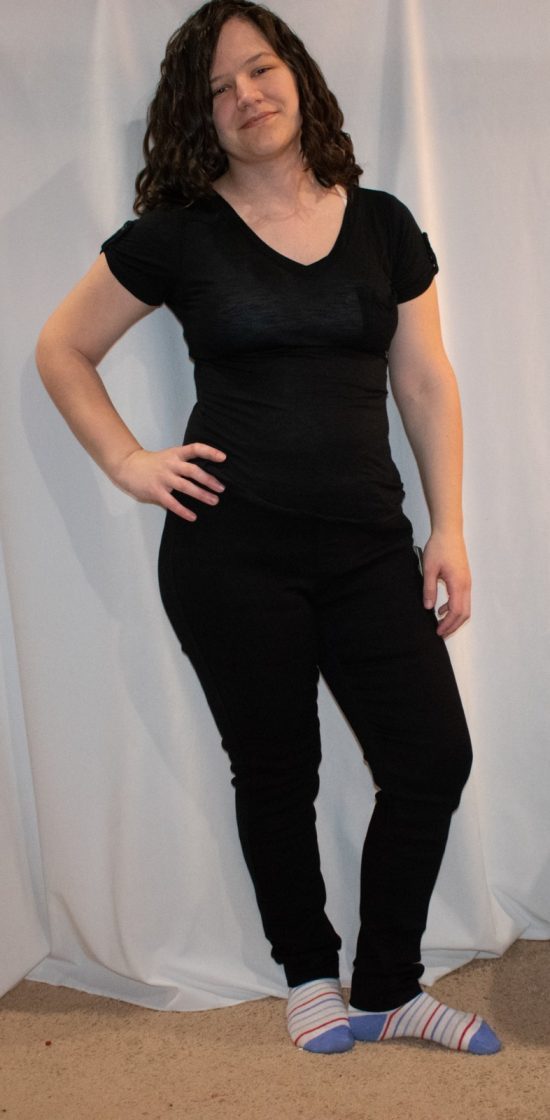 Both the top and bottom here were sent in this month's shipment. The shirt is a thin, fitted t-shirt with a pocket. Sort of a feminine version of a man's t-shirt, I suppose. I like the overall style, and black is a color I enjoy wearing. I like the v-neck, the small chest pocket, and there are little loops on the sleeves that I thought were cute details, too. Unfortunately, it's too small/tight on me right now. You can't really tell very well from this photo, but it's too snug around the waist area. I gained weight last year, and have gone back and forth on changing my top size on Nadine West in the past. When I leave my size set on size small, I sometimes get shirts like this which are too tight for me as a small. Yet when I've bumped it up to a medium, then I sometimes get clothes that are way too baggy for me. I am at my highest weight ever right now, and hope/plan to get back to a lower weight in the future so I've decided to leave my profile at the smaller size fr now. As hopefully, even items that are too snug for me now, will fit me in the future. Anyway, I love this shirt and kept it for future use even though it's too tight right now. It is $23.99.
The bottoms here are rather simple black skinny jeans. These were in my typical size, yet seem to fit rather generously, they're almost too big around the waist. I like them though and kept them. Can't really go wrong with some basic black jeans! They are $24.49 to keep.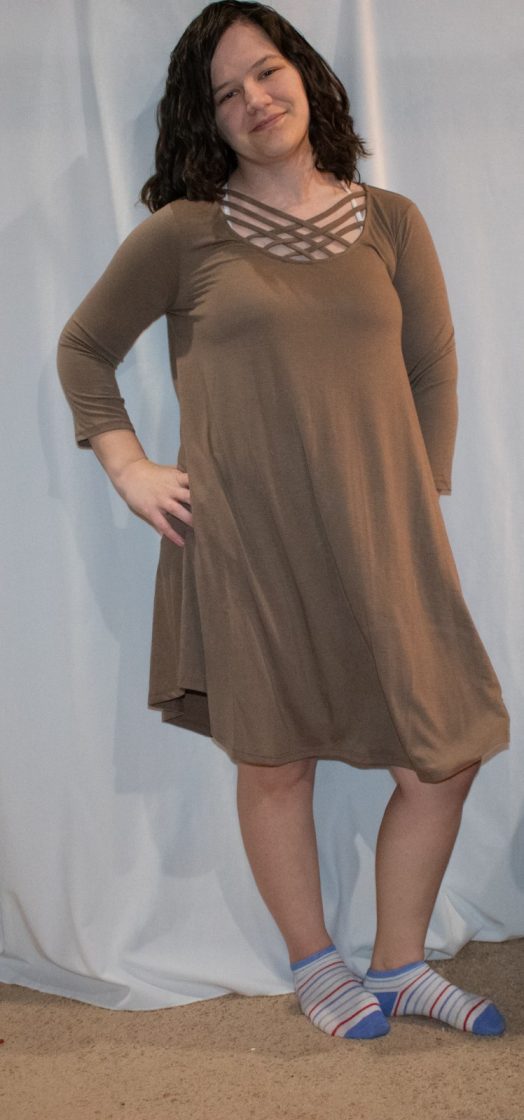 Nadine West has sent me a wide range of cotton, stretchy dresses that feel similar to this one. They are definitely comfortable, but I feel like dresses that don't come in either under the bust or at the natural waist leave me looking shapeless and bigger than I really am, so I don't care for them. The criss-cross design on the chest and the fact that this one has pockets tells me other women would love it! Just not for me. It is $34.49.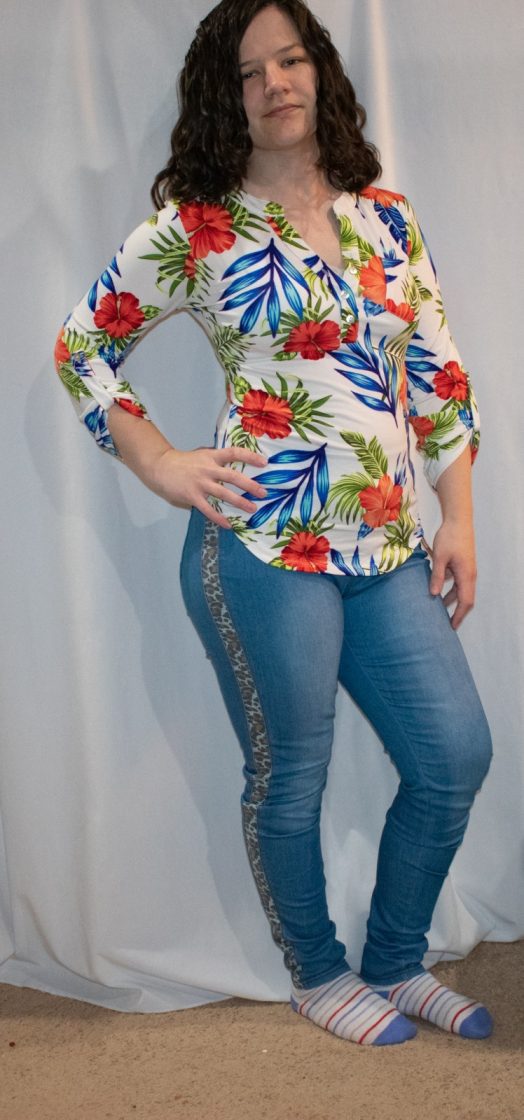 The tp and bottoms here were both sent this shipment.
This top is really close to my style! I like the thin, stretchy, almost meshy material. It's form-fitting without being stiff or uncomfortably snug. I like the buttns at the chest, the little details on the elbows, etc. This would have been a keeper for me if the print was different. I like a lot of floral prints, But something about the sizes of the flowers, foliage and the colors used just made this a bit too bold for my tastes. It is $21.99 to keep.
The pants sent here were another near-hit for me. I love a lot of the skinny jeans or jeggings that Nadine West has sent me. They tend to be stretchy enough to feel like leggings, yet they look like jeans. They let me feel super cozy while looking like I have "real clothes" on, which I just love. When I first saw these wrapped up in my package, I thought I'd love them. Unfortunately, the strip on the side with the animal print makes them a no-go for me. They are just $12.99.
This was a bit of a less successful shipment for me than usual. I like the shirt, but the fit was off. I like the necklace but it's outside of my typical budget for casual necklaces. The rest were misses. I've subscribed to Nadine West for a long time and this rarely happens. This shipment had fewer items than usual which was certainly part of it, but it still wasn't a total loss because I did find items that I liked. The fact that most shipments include multiple items that I love says a lot, I think.
Try it risk free: Now through 2/23 new customers can get a Nadine West shipment risk-free. Typically there is a $9.98 shipping fee to have a shipment sent to you. Then if you keep any 1 item, the shipping fee is taken off the cost of that item. So, you only ever really pay for shipping if yu were to not have any items that you want to keep.
However, now thrugh the 23rd, there isn't even the risk of spending shipping money! Use the code NEWNADINE15
and you'll get your first shipment sent to you for FREE and you'll get a $15 discount on any item that you choose to keep! You can theoretically get a $15 item to keep, without paying anything out of pocket!
You can always cancel your Nadine West subscription at any time. You aren't locked in for 6 months or 3 months or anything like that.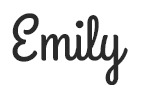 Hi there! I am Emily Evert, the owner of Emily Reviews. I am 28 and live in a small town in Michigan with my boyfriend Ryan and our two pugs. I have a large family and I adore my nieces and nephews. I love reading memoirs, and learning about child development and psychology. I love watching The Game of Thrones, Teen Mom, Sister Wives and Veep. I like listening to Jason Isbell, John Prine, and other alt-country or Americana music. I created Emily Reviews as a creative outlet to share my life and the products that I love with others.
This post currently has 8 responses.