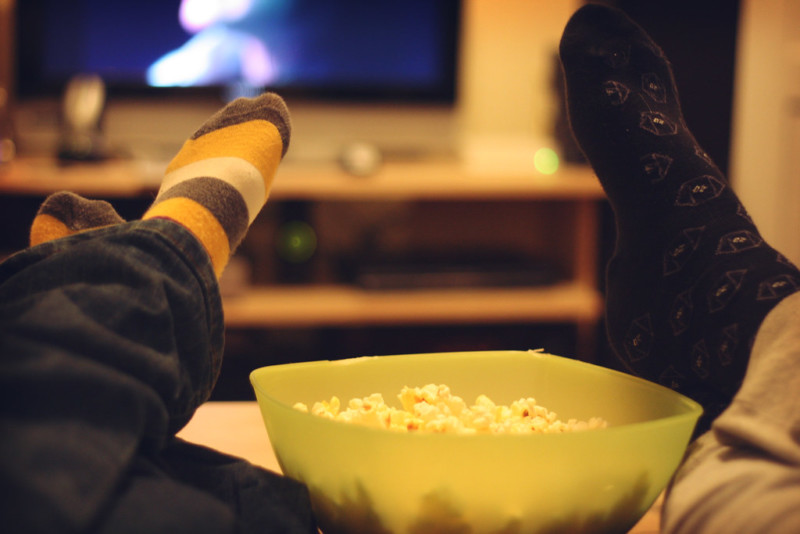 Do you ever turn on a movie or a show on Netflix, get partway through and realize you aren't sure what's happening anymore? You were half-watching the TV, and half doing something on your phone. I have seen memes about this online so I know it's a common problem.
I like to do some basic crafts. For a while I was into cross-stitching, then embroidery, and now I've been loom knitting. I like to do these on the weekends to relax, but it's a bit boring to do without anything else. I often put something on Netflix, but sometimes I find that I miss too much of the storyline because I'm watching my craft too much. Shows that require subtitles, or just have fast-paced, detailed storylines where you really have to give it your full attention just aren't a good match.
For example, I enjoy a lot of true crime shows, but if you miss a small detail, it can make the rest of the show confusing sometimes. So, those are a no-go while I'm crafting. I also really like some of the foreign food shows such as the "Street Food" shows, but if they include people who don't speak English then I have to stare at the screen to read the subtitles, which I can't do while keeping up with a craft.
Through trial and error I've found some shows that are easier to follow while doing something else. I am always looking for more, too. So, I thought I'd share them with you guys in case you're looking for shows like this, too!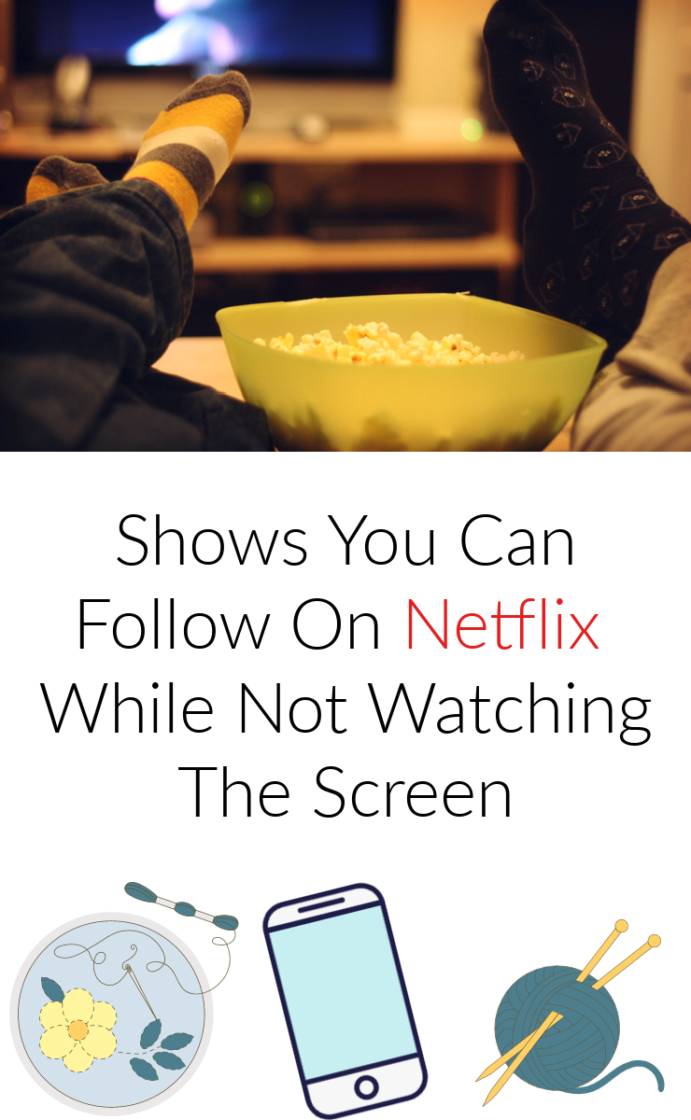 Netflix Shows To Watch While Multitasking
British Bake Off. This is a favorite of mine because it's a light, heartwarming show that is interesting to follow. Prior to bake-off, I didn't think I was a cooking show person. I just fell in love with this so much that it caused me to branch out and try more cooking shows!
Best Leftovers Ever. Another cooking competition show, this one has a unique twist. Each challenge gives the participants "leftovers" – meals that are already prepared, that they have to deconstruct and turn into something new. This show isn't really trying to teach you how to cook or anything, it's mostly just to see how creatively others can turn an old meal into something new. So, just glancing at the exciting parts is enough to follow along.
Our Planet. If you like nature and animals, this is a nice watch. It's narrated, so you can follow without watching the screen a whole lot. There will certainly be things you'll want to pause to look at, though.
Wheel of fortune, jeopardy, super market sweeps. Game shows like this have a lot of dialog and not a whole lot of critically important visuals.
Nadiya Bakes. Nadiya is a well-loved participant from British Bake Off, and has two shows of her own, Nadiya Bakes and Nadiya's Time To Eat. I'd recommend both of these as shows to watch while multitasking. She shares recipes in each episode and does a lot of talking so you don't have to watch a whole lot. If you like one, you're likely to enjoy both. The 'bakes' one is just focused on baking while the other is all forms of cooking. Even the 'bakes' show is not exclusively desserts. She does all types of foods in both shows.
Blown Away. I like seeing people be creative in different forms, this show is a competition show for blown glass artists! It's a gorgeous art form. I tend to watch the screen a bit more towards the end when the pieces are being finished and judged, but most of the rest of the show, I focus on my crafts.
The Repair Shop. This is a sweet show that follows various types of craftsmen as they repair vintage keepsakes for customers. From teddy bears that have been loved so much they're falling apart, to broken statues, to generations-old family furniture. It's sometimes really heartwarming to see the customers get their repaired or redone piece back. In most cases, watching the repairs get done aren't super important to me so I can look away quite a bit.
American Barbeque Showdown. Another competitive cooking show, this one is based on American Barbeque. This show often makes me hungry!
Hoarders. For whatever reason, I've enjoyed this show for years. You can pretty easily tell when something important is happening that you want to look up at the screen for. Most of the rest of the time you can focus on other things.
Married At First Sight. A friend talked me into watching this, I thought it sounded like a silly concept…but, it hooked me! Various experts match people up based on suspected compatibility and they get married without meeting each other. The show then follows them through the first few weeks of their marriage as they try to get to know each other. It's certainly a weird concept for a TV show, but I find it interesting and don't feel like I have to stare at the screen to keep up.
The Big Flower Fight. A creative competition show, combining flower arranging with MASSIVE sculptures (yes, making huge sculptures out of flowers!) is a really unique show. It found teh general concept really interesting and was amazed at a lot of the sculptures the competitors came up with.
Children's shows. Most children's movies are really simple and can be followed without really watching them. If there are any kids shows that pique your interest, give them a try while multitasking!
Shows you've seen before. If you've watched a movie or TV show before, even if they are a more in-depth, thoughtful show, you will be able to rely on memory. So, anything you've seen before should make a good candidate for something you can watch while multitasking.
Stand-up comedy. These can basically be consumed as podcasts without losing anything in most cases!
Those are my personal recommendations for what to watch. Here is a list of recommendations that I've seen others give online. Same concept as above, despite the change in heading.
What to watch on Netflix while working
How It's Made
Queer Eye
Parks and rec
Stand up comedy specials
Instant Hotel
The Final Table
Grace and Frankie
Trailer Park Boys
Arrested development
Brooklyn nine nine
Schitts Creek
Gilmore girls
Sitcoms in general
Your turn! Leave a comment sharing your favorite "background noise" or "casual viewing" show or movie to watch on Netflix.
Hi there! I am Emily Evert, the owner of Emily Reviews. I am 28 and live in a small town in Michigan with my boyfriend Ryan and our two pugs. I have a large family and I adore my nieces and nephews. I love reading memoirs, and learning about child development and psychology. I love watching The Game of Thrones, Teen Mom, Sister Wives and Veep. I like listening to Jason Isbell, John Prine, and other alt-country or Americana music. I created Emily Reviews as a creative outlet to share my life and the products that I love with others.
This post currently has 6 responses.