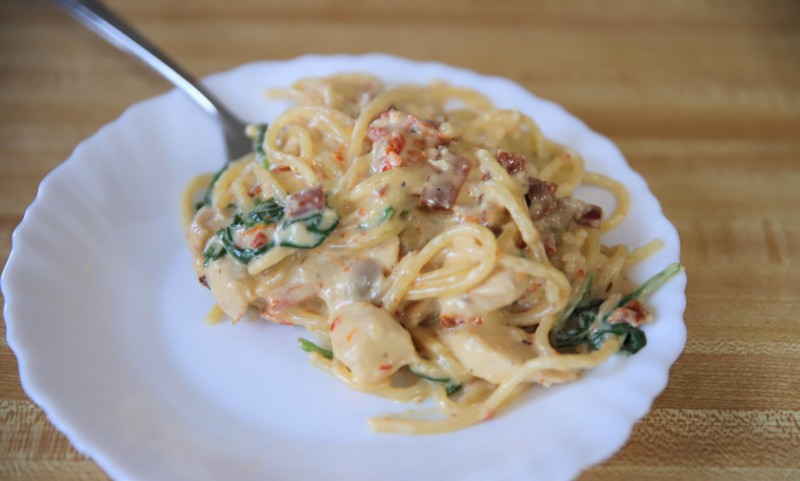 This one pot chicken bacon mushroom Florentine is a huge hit in my house, even with our increasingly picky kids! It's a great way to pack some protein and vegetables including mushrooms, sundried tomatoes, and spinach into a hearty, filling meal. While we had a week of nice weather here in Minnesota, we're back to chilly 40's this week and I knew it would be the perfect time to make this for dinner.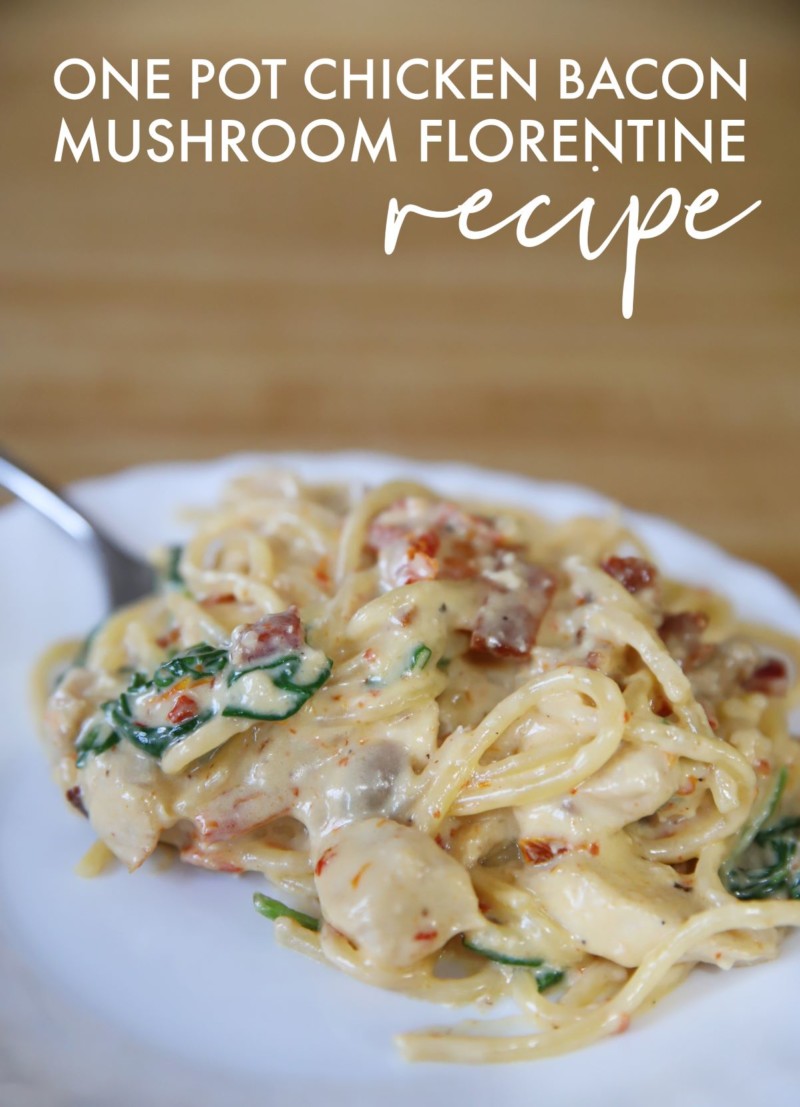 One Pot Chicken Bacon Mushroom Florentine Recipe
One of my favorite things about this meal is that it only uses one pot for cooking. It does take a few steps and some prep, but nothing too crazy and I can usually have it on the table within 45 minutes from start to finish. You start by cooking the bacon and while the bacon is cooking you can thaw and cut up your chicken.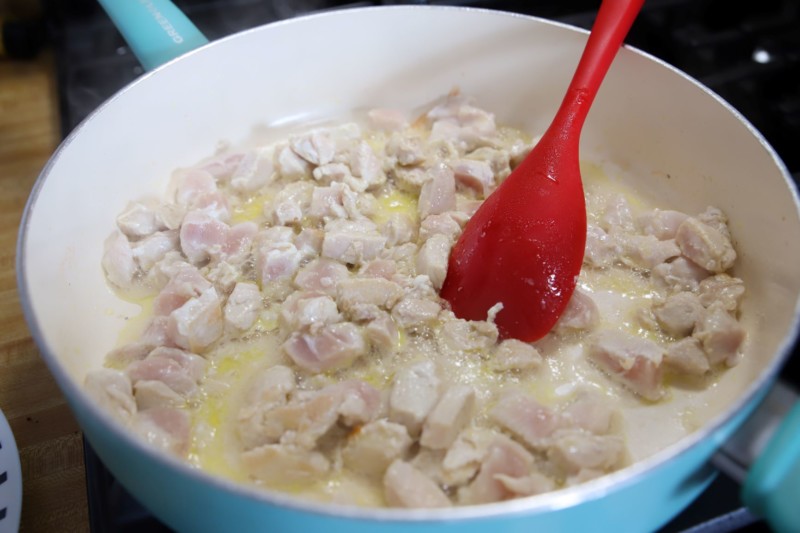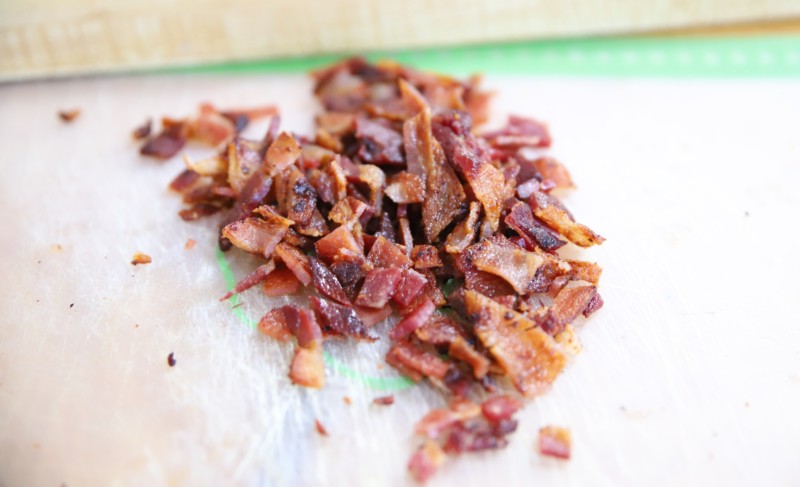 Once the bacon is done, you take it out and use the same pan with some added oil to cook the chicken. While the chicken is cooking, I chop the bacon into small pieces and also chop the sundried tomatoes and mushrooms. When the chicken is fully cooked, you'll add in the mushrooms, sundried tomatoes, and garlic. Once the mushrooms are tender, add the flour and fully mix.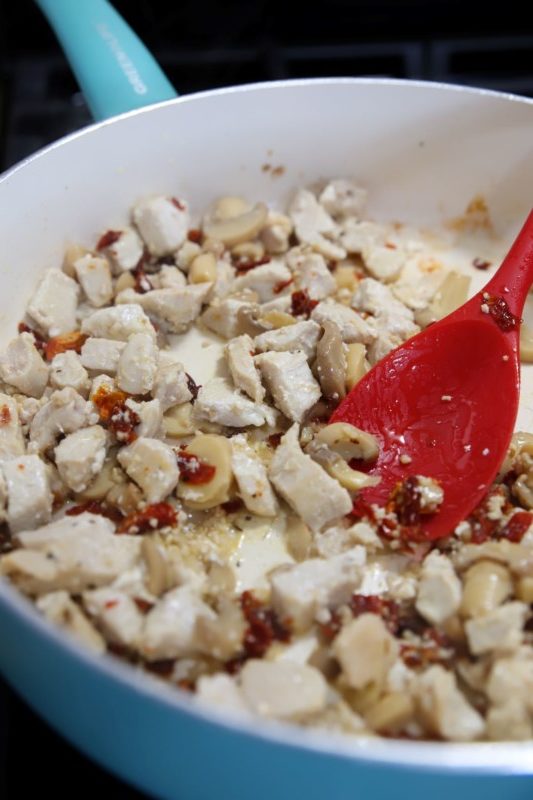 At this point you'll add the broth, heavy cream, salt, pepper, and garlic powder to the pan. Whisk until this is incorporated and then bring to a low boil and add the noodles. Simmer for 10-15 minutes or until the noodles are soft. If it looks like the sauce isn't cooking the noodles you can add a little milk or half and half, but I think the recipe has the perfect amount.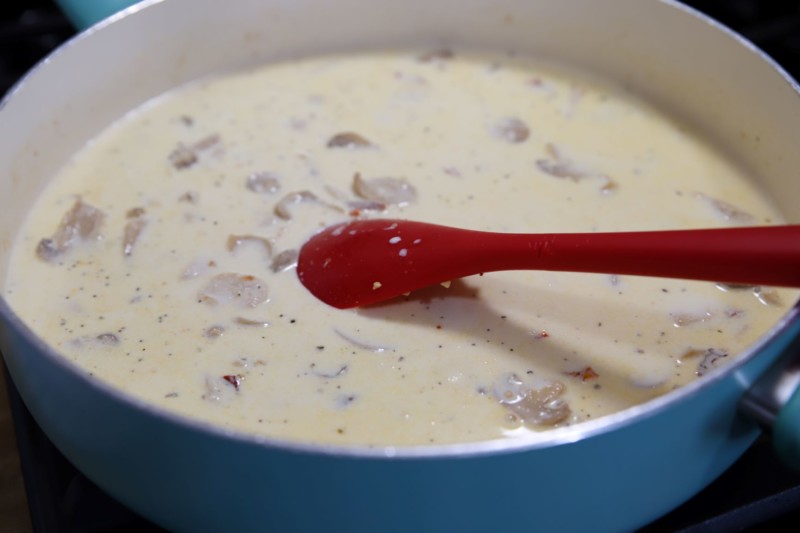 Once the noodles are fully cooked, add the bacon, parmesan cheese, and spinach to the pan and stir until the spinach is wilted. That's all there is to it! This meal pairs great with caeser salad or a side of roasted sweet potatoes. Check out the full recipe below!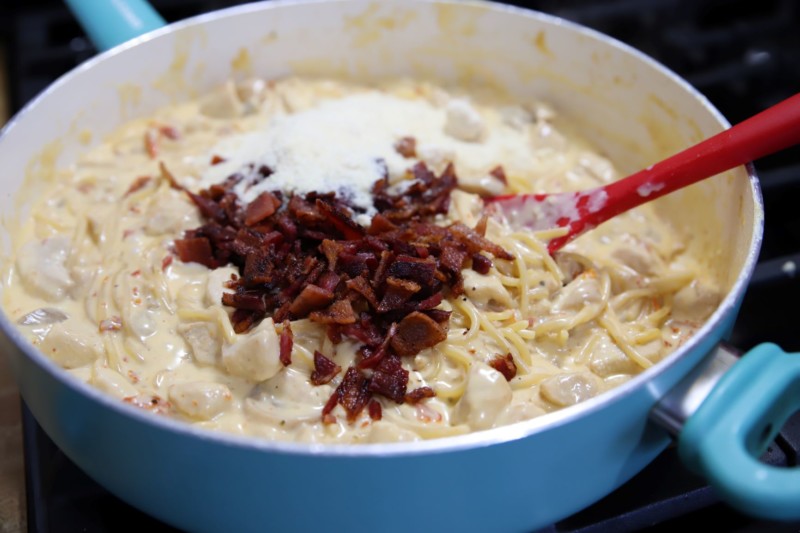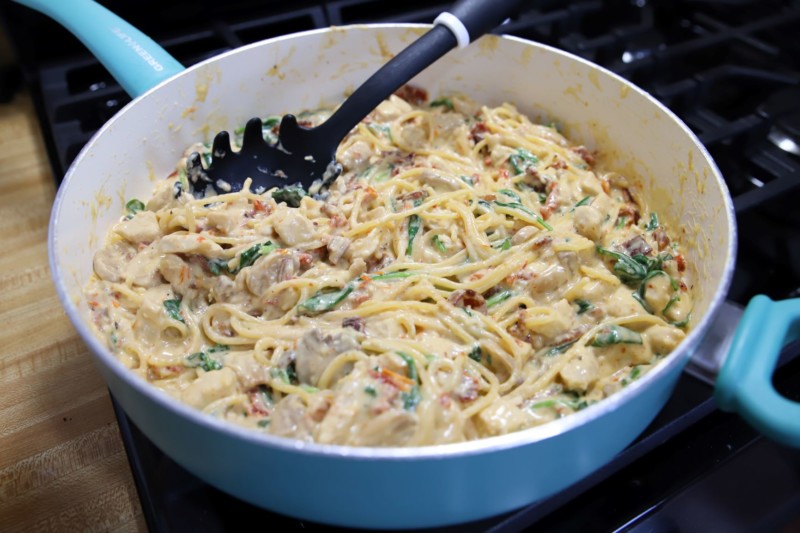 One Pot Chicken Bacon Mushroom Florentine Recipe
Prep time:
Cook time:
Total time:
This One Pot Chicken Bacon Mushroom Florentine is packed with protein and veggies for a healthy and filling weeknight meal.
Ingredients
½ pound bacon
3 chicken breasts, cubed
2 Tbsp. oil
½ cup sundried tomatoes, chopped
8 ounces sliced mushrooms
2 cloves garlic, minced
¼ cup flour
2½ cups chicken broth
1½ cups heavy whipping cream
1 tsp salt
¼ tsp pepper
½ tsp garlic powder
8 ounces spaghetti
¼ cup parmesan cheese
2 cups baby spinach
Instructions
Cook ½ pound of bacon then remove from pan
Heat 1 Tbsp oil in pan and then cook chicken
While chicken is cooking, chop up sundried tomatoes and slice mushrooms
When chicken is cooked, add sundried tomatoes, mushrooms, and garlic to pan with 1 Tbsp. oil
Cook until mushrooms are tender, then add flour to pan and incorporate
Add broth, whipping cream, salt, pepper, and garlic powder to pan
Heat and add spaghetti to pan
Cook spaghetti for 10-15 minutes until cooked (if sauce is too thick, use a little milk or half and half to thin it out)
Add parmesan cheese and spinach to pan and stir until spinach is wilted
Enjoy!
I hope your family enjoys this recipe as much as mine does!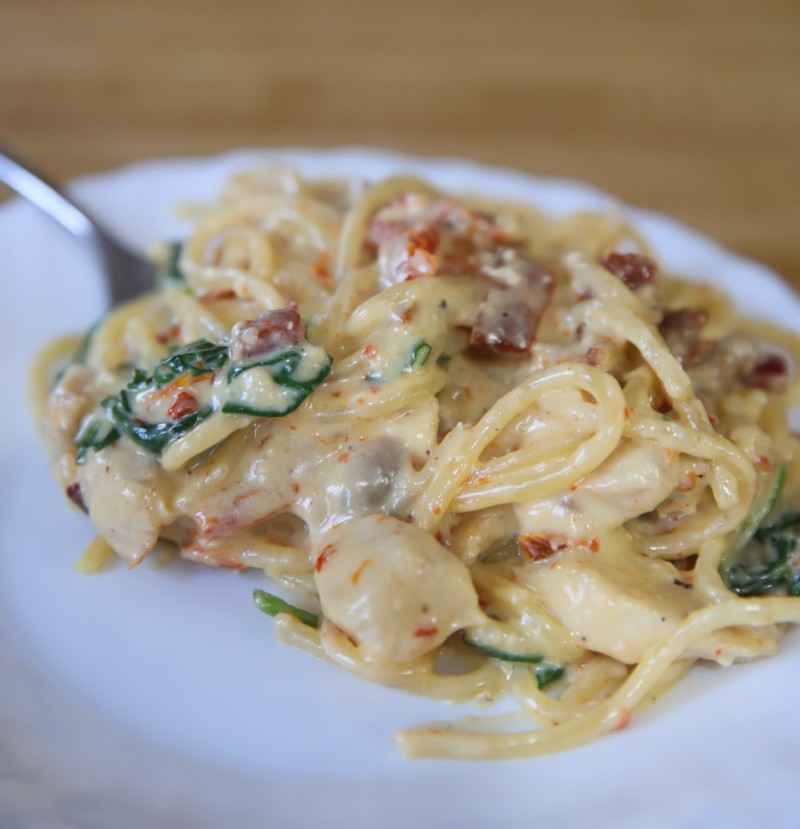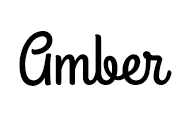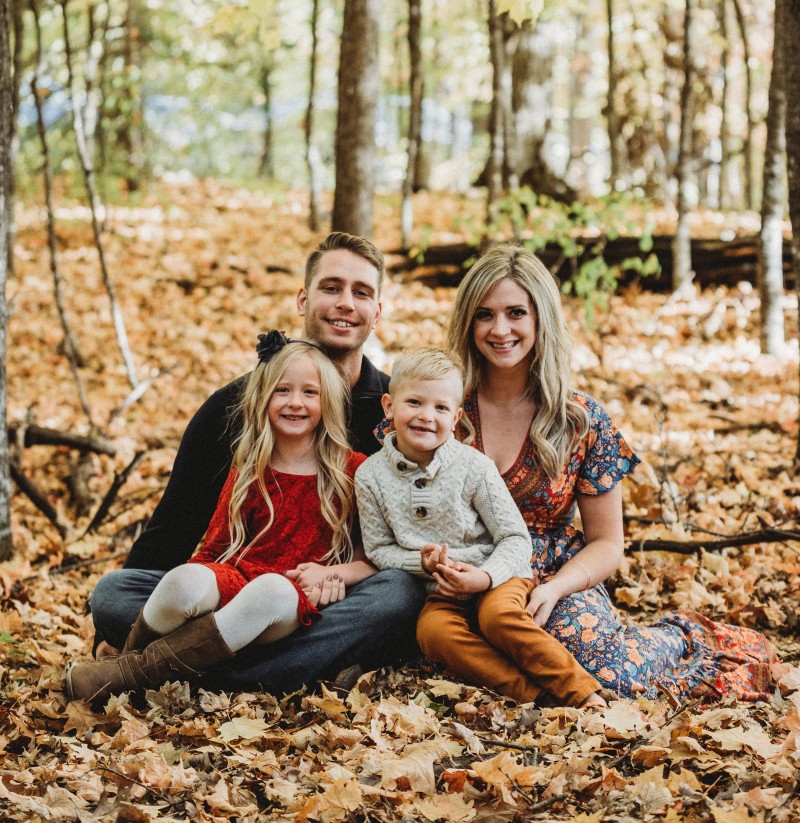 Hi there! I'm Amber, a 34 year old wife and mom of two from central Minnesota. I love to be outside with my family anywhere the weather is warm (which means I spend half the year freezing). We're a homeschooling family that loves to travel as often as possible! When I have a spare free moment, I love to read, take photos, and scrapbook. I'm interested in anything that makes life more fun; I also love socializing and sharing about my favorite products!
This post currently has 17 responses.