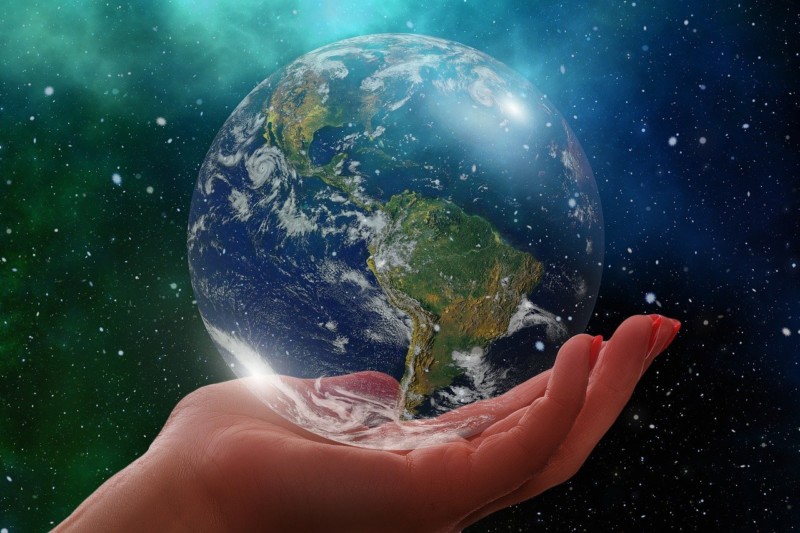 The official Earth Day for 2021 may be past but there's never a bad day to think about, take care of, and enjoy our Earth! Thursday, April 22nd has come and gone but it's not too late to still celebrate Earth Day. I've teamed up with Spin Master to share some easy ways how you can make Earth Day every day!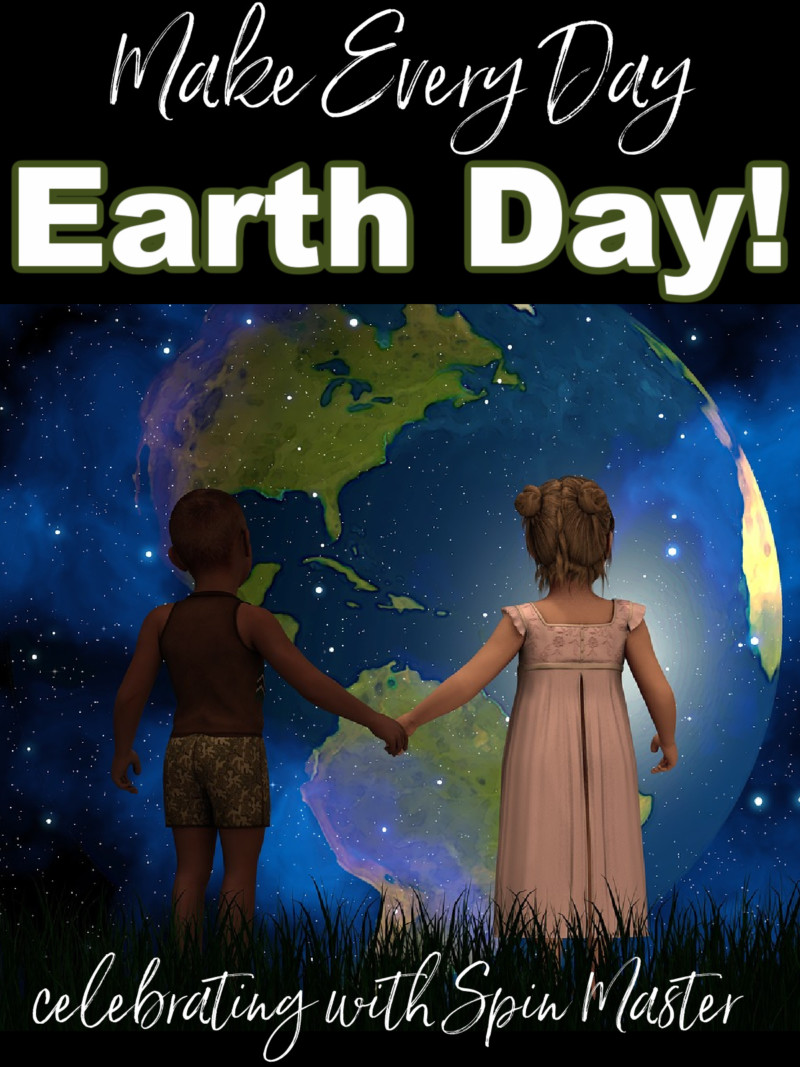 Make Earth Day Every Day
No matter what age you are, we should all strive to take care of our Earth. By celebrating Earth Day, we aim to "build the world's largest environmental movement to drive transformative change for people and the planet." The movement's mission is "to diversify, educate and activate the environmental movement worldwide." Not only is Earth Day a day meant to increase awareness of the current environmental problems, it's also a popular time for local communities to gather together to clean up litter, plant trees, or simply reflect on the beauty of nature.
In simpler terms, spend time doing something beneficial to the Earth and/or nature and also educate your children about the importance of caring for the environment. Here are some easy and fun ways to celebrate Earth Day, ANY DAY!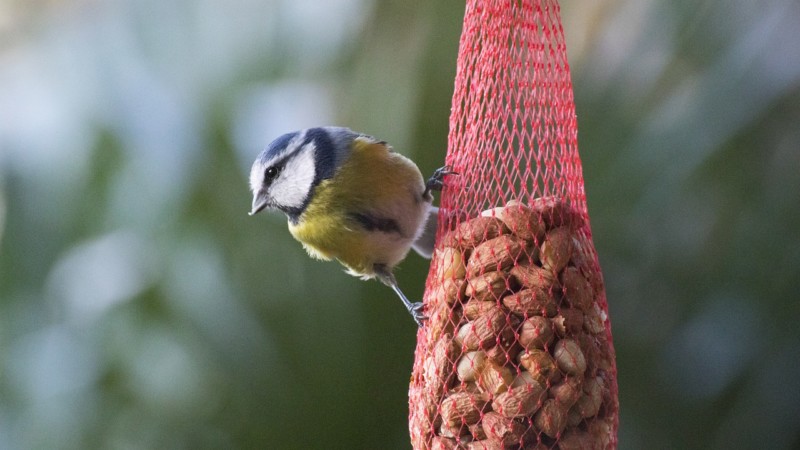 1) Make A Bird Feeder:
There are so many great homemade bird feeder options on Pinterest. One of our favorites is slicing an apple and 'painting' it with peanut butter. Then roll in bird seed. Poke a hole through the center and string a piece of yarn through. Finally, head out and tie to a tree! This is a great activity, no matter what time of year! So don't let winter scare you as the birds appreciate a little extra food all year round!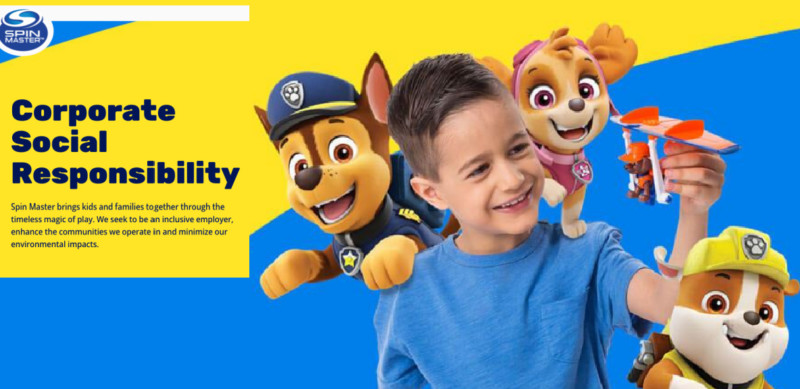 2) Spin Master Recycling Program:
Parents can help children put the important lesson of caring for our environment into action through the Spin Master Recycling Program. This is a fun partnership with international recycling leader TerraCycle®, in an effort to make the company's toys and games free to recycle in the U.S. Parents can easily sign upon the TerraCycle program page to receive a prepaid shipping label that will allow you to send in Spin Master brands well-loved toys and games (with the exception of Kinetic Sand). The returned items are then cleaned and melted into hard plastic and remolded into new recycled products!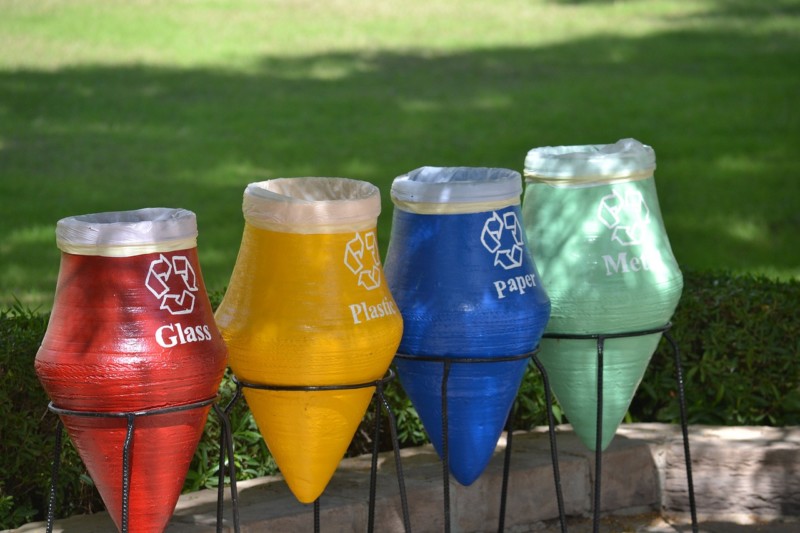 3) Discuss All Types Of Recycle Programs:
On top of the Spin Master Recycling Program, be sure to share with the kids all the different types of recycling that we can do! A great activity is to walk the ditches and collect cans for recycling while also picking up trash and discuss littering.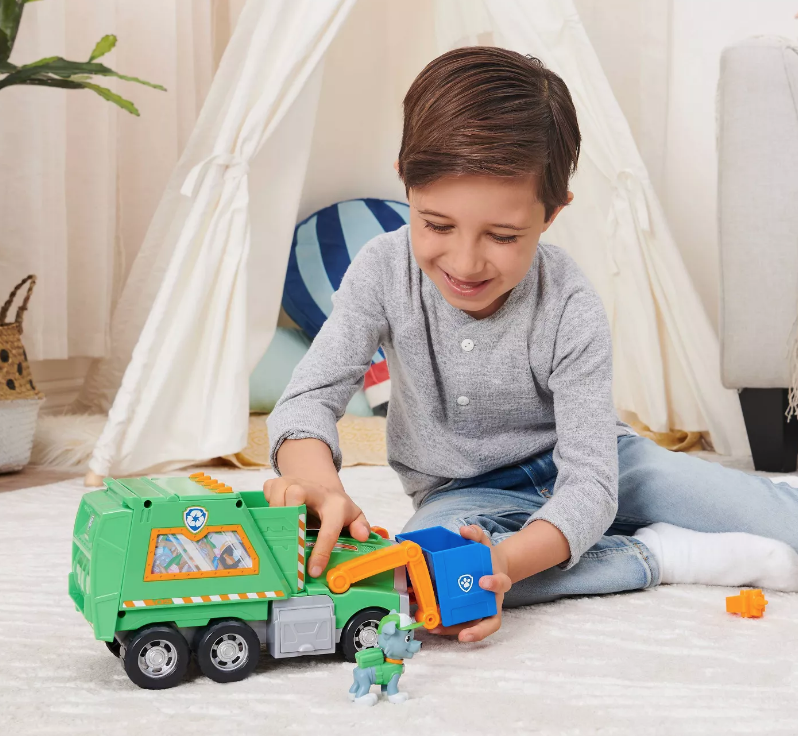 Rocky Reuse It Truck – Pretend Play And Practice!
To put this topic into play, check out the Paw Patrol Rocky Reuse It Truck. Don't lose it, reuse it! With the help of PAW Patrol's Rocky and his Reuse It Truck, kids can pretend play and recycle materials to turn them into tools to help you save the day! Equipped with rolling wheels and moving arms, Rocky's Reuse It Truck makes it easy to play out your missions. Rocky's Reuse It Truck includes three different tools to help children play out their adventures! Pretend to sweep and clean up the streets with the brush, pick up trash with the claw, and fix things with the hammer!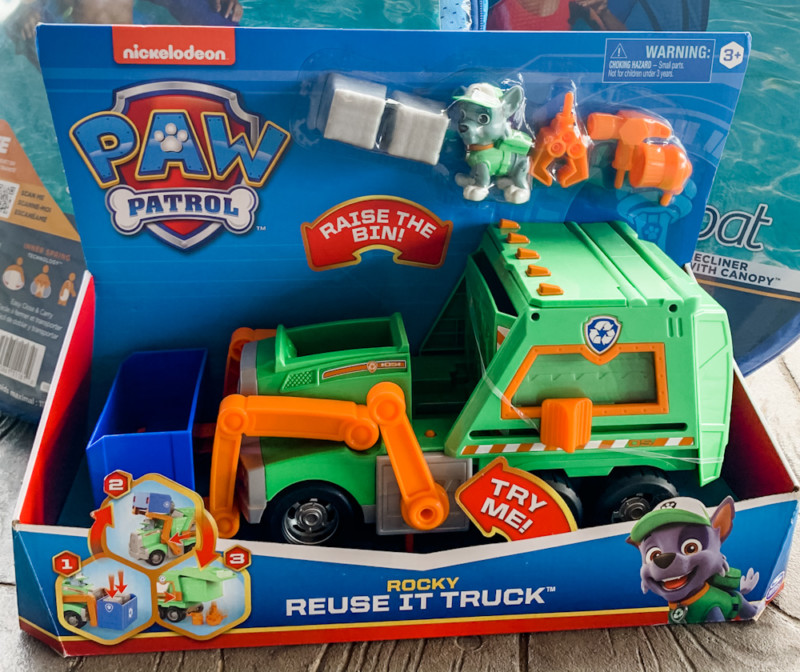 You can fill the dumpster with the metal cubes (there's 2 included!) as you work to recycle them. Then push the lever to lift the dumpster and watch as it empties the cubes into the recycler, just like a real truck! Pretend play is so beneficial and this Rocky Reuse It Truck allows you to practice and then put it into effect in your own life.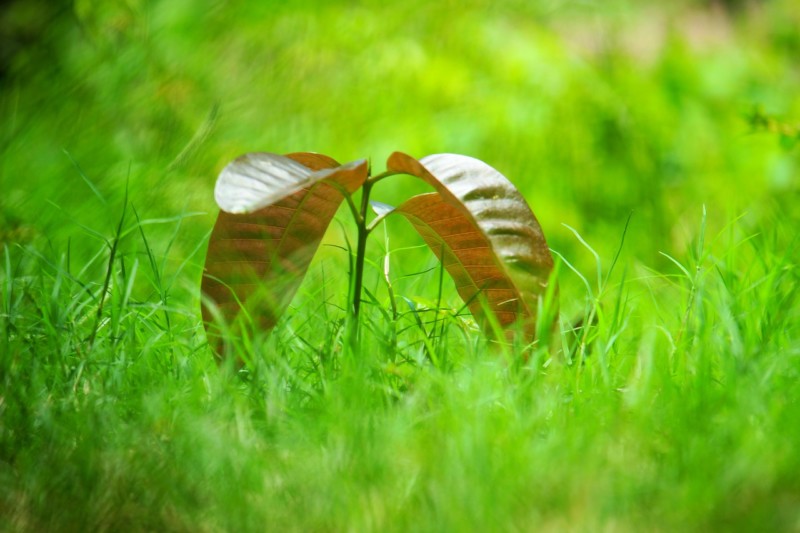 4) Grow Something – Plant A Tree!
Something tangible that kids can understand easily is when they help to plant something. Whether it be a garden that the family works together to plant and harvest through the year or a new tree for the backyard. Have the kids give input and participate from start to finish in growing something or planting a tree.
**Story Time: About two years ago we were cleaning up the rock bed around the house and our (8 year old and 6 year old, at the time) sons saved a tree that had started growing there. They dug it out and planted it in the backyard and it's actually doing really well! It's grown a decent amount already and has been such a fun project for them. That first summer, they would go out by the tiny tree and clean up the grass around it, water it, and just sit by it talking. It's been so great to see their joy at watching THEIR tree grow!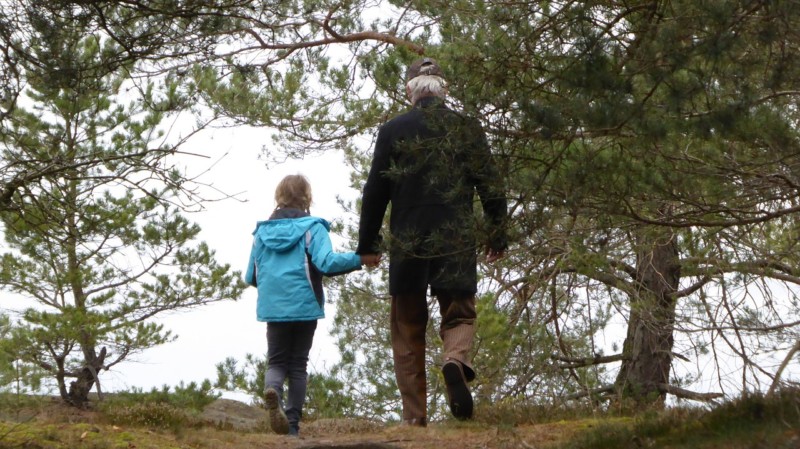 5) Make A List Of Ways You Can Continue To Care For The Environment The Rest Of The Year
While it's great to celebrate the official Earth Day, sit down and make a list with your kids on things you can do going forward to make this world a better place. Ideas to include are: walk or bike to school, create recycling bins for your home, make positive promises, support the pollinators by planting bee friendly flowers, clean up around your local park, be aware of water usage, and discontinue pesticide use in the garden.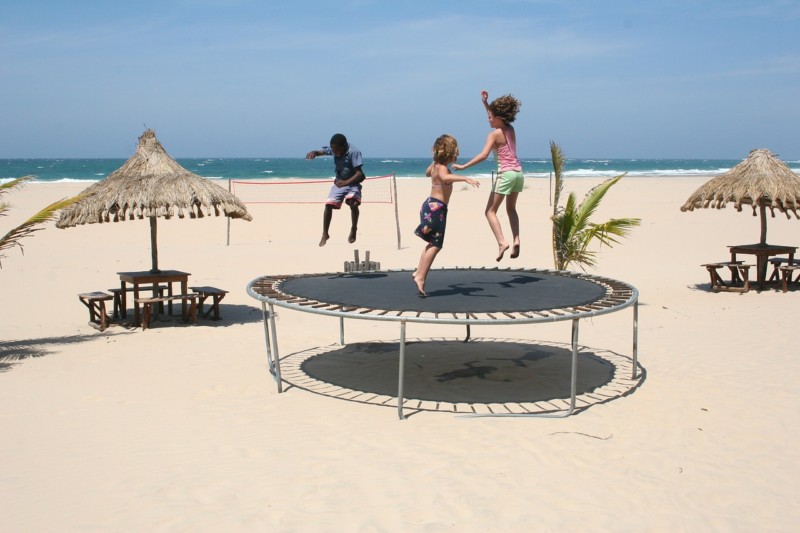 6) Enjoy A Beach Day!
Finally, plan an upcoming beach day with the family! Having access to beautiful bodies of water is an awesome benefit we have when we take care of our Earth. Don't forget to enjoy it!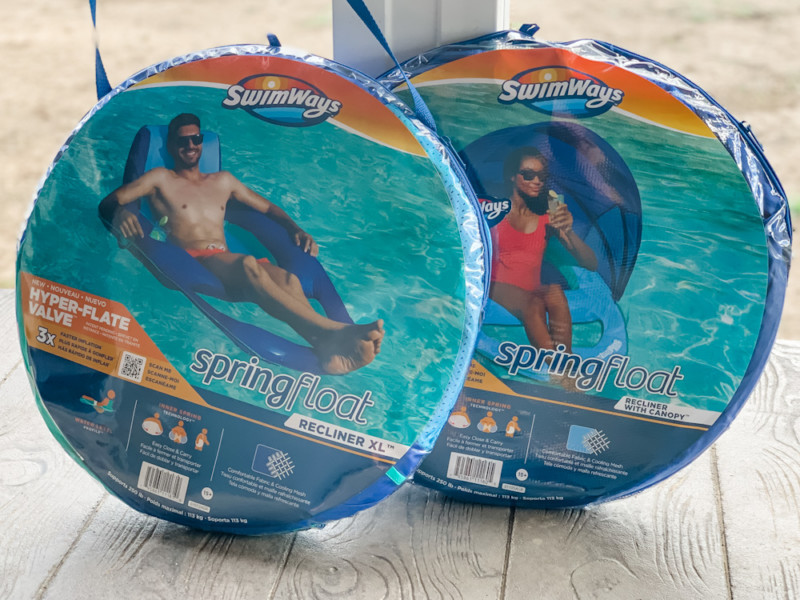 Pool Floats From Spin Master Brand

Swimways
While spending time in the water can be fun in itself, make it even better by adding some great floats! Spin Master's Swimways brand has some awesome new options that truly make a day at the beach extra special. Even better, they feature an ALL NEW Hyper-Flate Valve technology!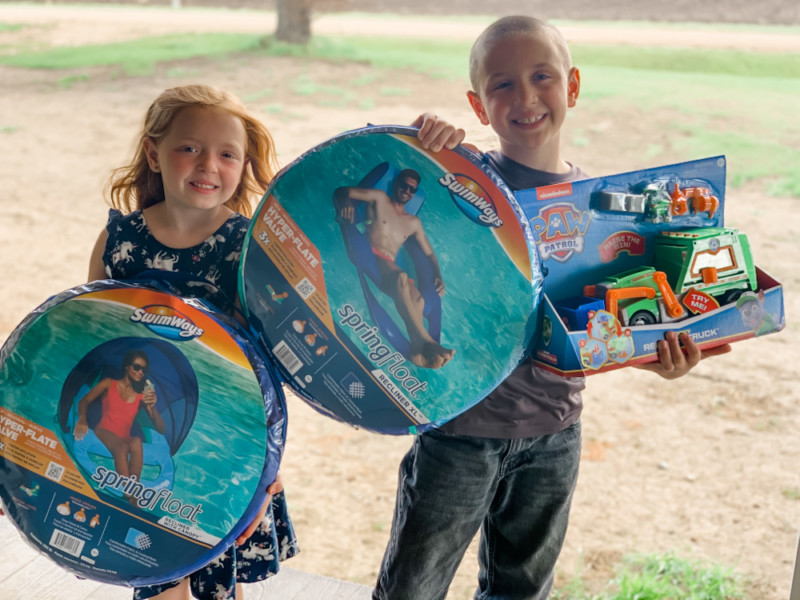 Offered exclusively in the Spring Float line and available now are 6 great options!
Swimways' line of Spring Floats, the most comfortable, fabric-covered floats on the market now have 3 times faster inflation and deflation, with no pump needed! The innovative, patent pending Hyper-Flate™ Valve is engineered to increase airflow in, while preventing airflow out. Hyper-Flate takes the stress and struggle out of setting up your float, so there's more time to relax and have fun! Deflate just as quickly by inserting the tail of the valve cap and folding the float into three compact circles for convenient portability and storage.

The collection of foldable, portable Spring Floats features comfortable fabric and a durable soft cooling mesh, as well as patented inner spring technology along the outside edge of the floats for greater stability and comfort in the water.
Choose one or grab them!
So tell me, what things do you do to care for the Earth?
Connect With Spin Master Brands
Website / Facebook / Instagram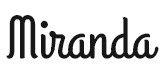 I'm a city girl turned country by my awesome husband and we have three busy boys and two darling daughters. I love spending time with my family, reading Karen Kingsbury novels, and catching up with friends while our kiddos have play dates. I'm blessed beyond measure and can't wait to see what God has in store.
Follow Miranda on Pinterest | Twitter| Blog | Instagram
This post currently has 18 responses.