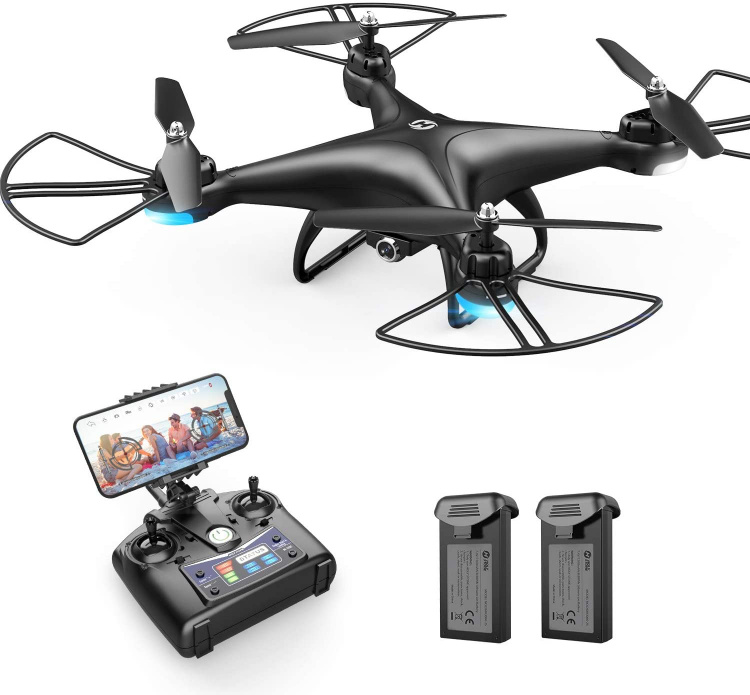 Holy Stone sent me their HS110D drone for review and inclusion in my holiday gift guide. There are affiliate links in this post. All opinions are my own.
I've been with Ryan since high school, we recently had our 14th dating anniversary. After all this time, as well as I know him, I still find him hard to shop for! His mom has even told me that she found him hard to shop for as a kid compared to her other sons. That made me feel a little bit better!
Anyway, thankfully he isn't someone who cares about surprises, so he's happy to give me specific ideas if I ask what he'd like me to get him. A lot of years he just says nothing, and that's because a lot of the time he really doesn't want anything. This year, he did have a couple of things that he had realized he'd like…and one of them was a drone.
I noticed that drones are often marketed as being for beginners, intermediates or advanced drone users. If you're like me and you're seeking out a drone for someone and don't know a lot about them…that can be a tricky decision. Beginner drones often feel childish, so if shopping for a teen or adult, you may not be inclined to go with a drone marketed for beginners. Price is another big factor, as the price range of drones varies dramatically.
Holy Stone HS110D Review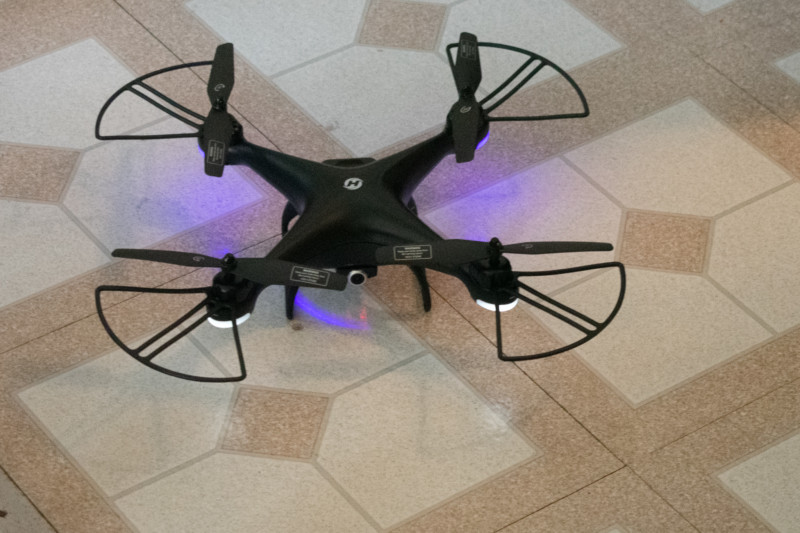 Technically Ryan is a beginner because he's never had a drone before. However, he has played plenty of video games, and owned plenty of remote control vehicles over the years…so I thought that experience would make him less of a 'true' beginner than many, when it comes to drones. I also knew that he would appreciate some of the features that come on slightly more advanced drones, such as a camera.
Price-wise, I figured that he wouldn't want a really cheap, low-quality drone, but he also isn't looking to use this to make professional videos or anything, so we didn't need a professional-level drone. I went with the Holy Stone HS110D drone and I think it's great for teen or adult beginners or intermediates.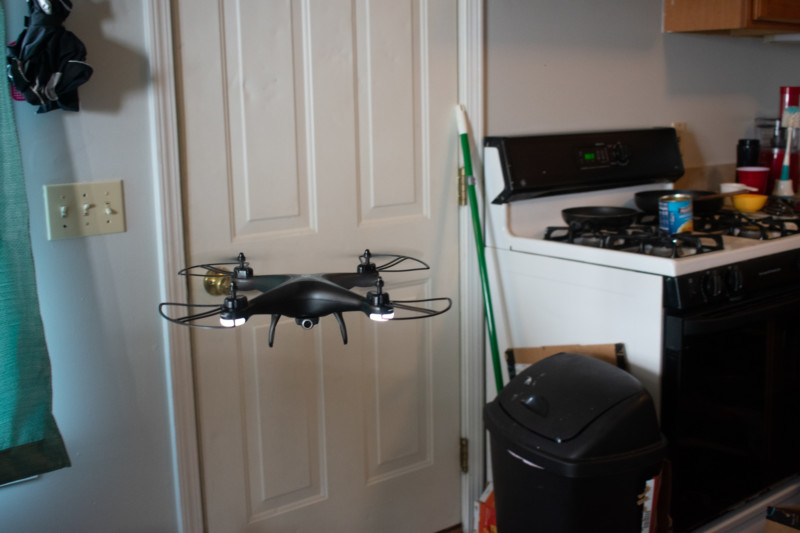 The Holy Stone HS110D drone is very lightweight, so it feels a bit fragile or delicate. The remote control for it feels extremely light, too. Honestly, the control felt so lightweight that we were worried about the quality, initially.
Ryan has played with this drone in our apartment a little bit so far. There were some crashes early on, but the propeller protectors did their job. They work sort of like bumpers, and if you bump into something the propeller protectors usually fall off, but you can then land your drone and put them back on. They've worked well so far.
Once Ryan played with it a little more and got more familiar with the controls, he gained better control of the drone and stopped crashing. It was a really small window of time where he needed to practice first, so the learning curve wasn't too steep.
You can use your phone to get a live view of what the camera on the drone is viewing, which is really cool.
Each battery charge lasts about 20 minutes worth of drive time. It comes with two batteries so you can have one charging while using the other.
We haven't had the chance to explore with it much more than that. However, I still wanted to tout some of the cool features it has even though we haven't used them quite yet.
You can use voice control to direct the drone.
You can use your phone as a controller rather than the controller it comes with, if you'd like.
There is an altitude hold function that attempts to have the drone hover!
There's headless mode, to make the drone easier to control when it's out of sight.
There is a flip mode for doing tricks!
Discount code: Use the code EMILY110D to save 5% when buying the Holy Stone HS110D on Amazon.


Hi there! I am Emily Evert, the owner of Emily Reviews. I am 28 and live in a small town in Michigan with my boyfriend Ryan and our two pugs. I have a large family and I adore my nieces and nephews. I love reading memoirs, and learning about child development and psychology. I love watching The Game of Thrones, Teen Mom, Sister Wives and Veep. I like listening to Jason Isbell, John Prine, and other alt-country or Americana music. I created Emily Reviews as a creative outlet to share my life and the products that I love with others.
This post currently has 9 responses.