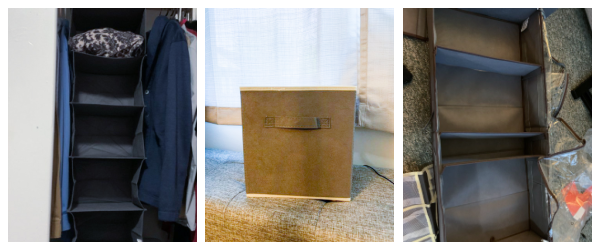 Lifewit sent me products for review. All opinions are my own. There are affiliate links in this post.
About 9 months ago I moved into a house that is tiny. Not one of those new modern "tiny houses" just, a house that happens to be tiny. It's just under 400 square feet. It's just my partner and I, so we have made it work but even for just two people, it's small! We have tried to get creative about how we store and organize different belongings. We need everything to fit, of course, but we also want the items we use regularly to be easily accessible.
I was excited to work with Lifewit because they have an Amazon store that has a wide range of products that can assist with organization. I was sent four products for review.
Lifewit over the door hanging shoe organizer review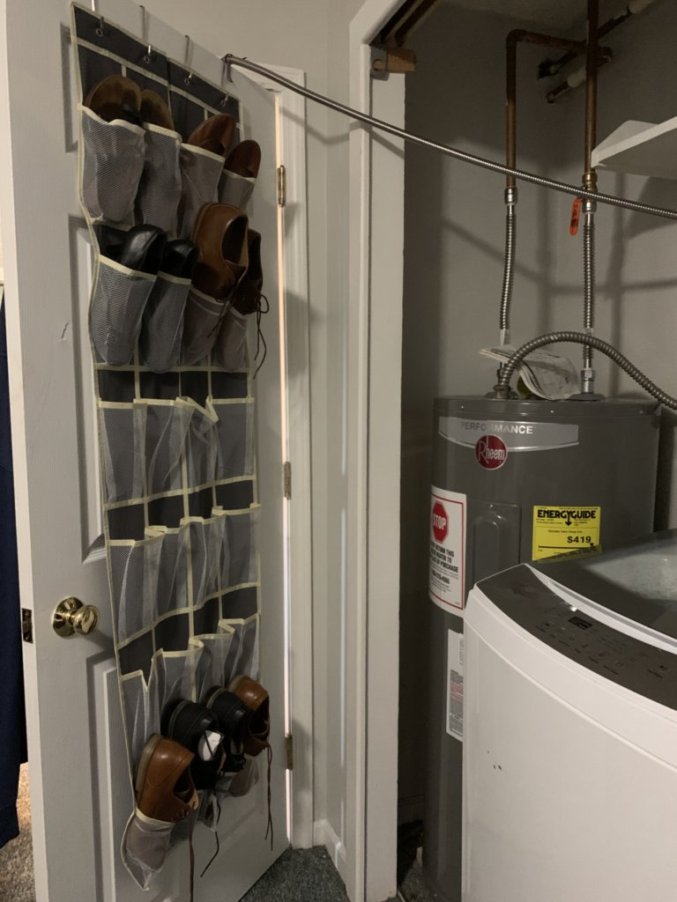 Why yes, that IS a water heater and a washing machine in my bedroom closet! Told you this place was tiny! haha.
This shoe storage organizer is really affordable, its regular price is $9.99 and it's currently on sale! It's quite a simple product, it has 24 mesh pockets that are each large enough to hold 1 regular shoe (boots aren't likely to fit). The top of the organizer has four holes, and it comes with four hooks that you place through the hooks, and then over your door.
My original plan with this shoe organizer was to hang it on the backside of the door we enter the house at. We leave our shoes near the door, so I thought storing extra shoes behind the entrance door would make sense. I didn't think about how exterior doors are thicker than interior doors, though. So this wouldn't fit over our entry door. So, we've placed it on our bedroom door instead. This isn't super ideal because we use the other side of our bedroom door to hag out jackets and my purse. However, we were able to get this over the top of the door while still leaving the coat hanging organizer over the top of this door as well. This has cleared up some space in our bedroom closet that we had been using to store our shoes.
While this is sold as a shoe organizer, I've seen people use organizers like this for other needs as well. I've seen people hang them in their bathroom and use the various pockets for shampoo, conditioner, body lotion, etc. I've also seen people use them in children's bedrooms to store stuffed animals. There are really a lot of options with these beyond shoes!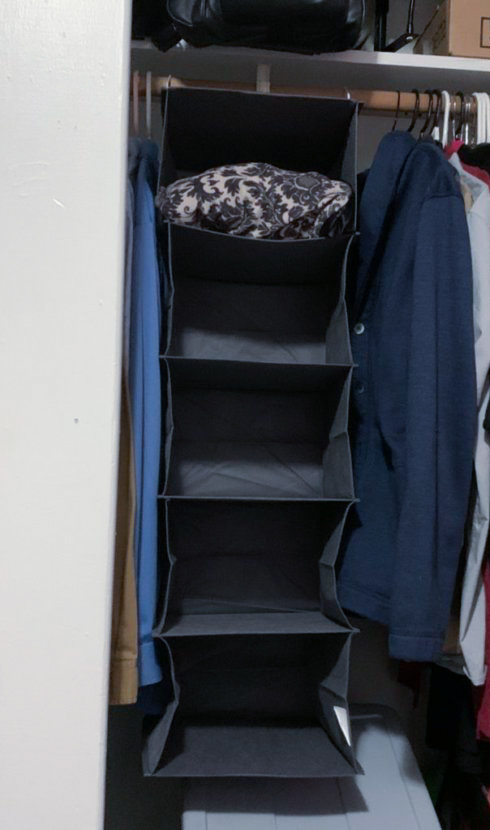 LifeWit 5-shelf hanging closet organizer review
This hanging shelfis a neat product that sort of adds a skinny shelf to your closet. It hangs using two metal hooks, while the rest of the organizer is a cloth material. If you've ever owned storage cubes, the material that this is made of feels really similar. It is pretty lightweight and can hold items like clothing but I wouldn't want to really stuff this full or put heavy items on it, as it doesn't feel real heavy-duty.
While I appreciate organization myself, I am really bad at figuring out how to organize. Thankfully, Ryan has a good eye (or good mind? both!?) for organization so he tends to organize our home and then I just try to help maintain teh systems he sets up. Anyway, he thought we could find good use for this which is why we ordered it. We haven't put it to use yet, but I set it up with a throw-sized blanket in one of the shelves to give you an idea of what that would look like.
I've heard of parents using these to help lay out their children's clothing for the week at school or daycare. They'd place tops, bottoms and underclothes in each shelf, so that each morning the child can just choose one shelf and have a completed outfit without needing their parents' assistance each day.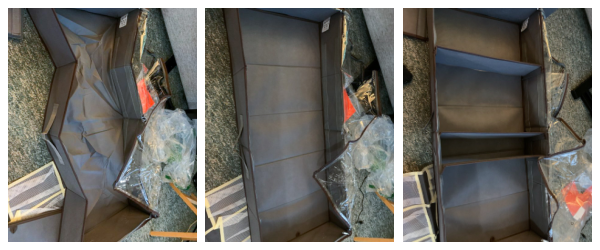 LifeWit Under Bed Clothes Organizer Review
When you're tight on space, that space under the bed can be useful! These under bed organizers are short in height and rectangular so they can slip under your bed. They have handles on the outsides so you can reach under and retrieve the case from under your bed as needed. Similar o the closet organizer, the material on these does feel pretty thin. However, they come with a board that you place in the bottom of the organizer which helps lend durability and structure to the organizer – this helps greatly. They also come with a total of six dividers that have velcro on them. The long sides of the organizers have velcro too, so you can set up the dividers wherever you'd like to meet the size/shape needed to store the items you're adding to these. We've used ours to store out-of-season clothing.
While these are great for under the bed, they also could be placed in other long, thin spaces such as behind a dresser or something if you needed or wanted. They measure 37.8 × 15.7 × 5.9 in which allows them to fit quite a lot.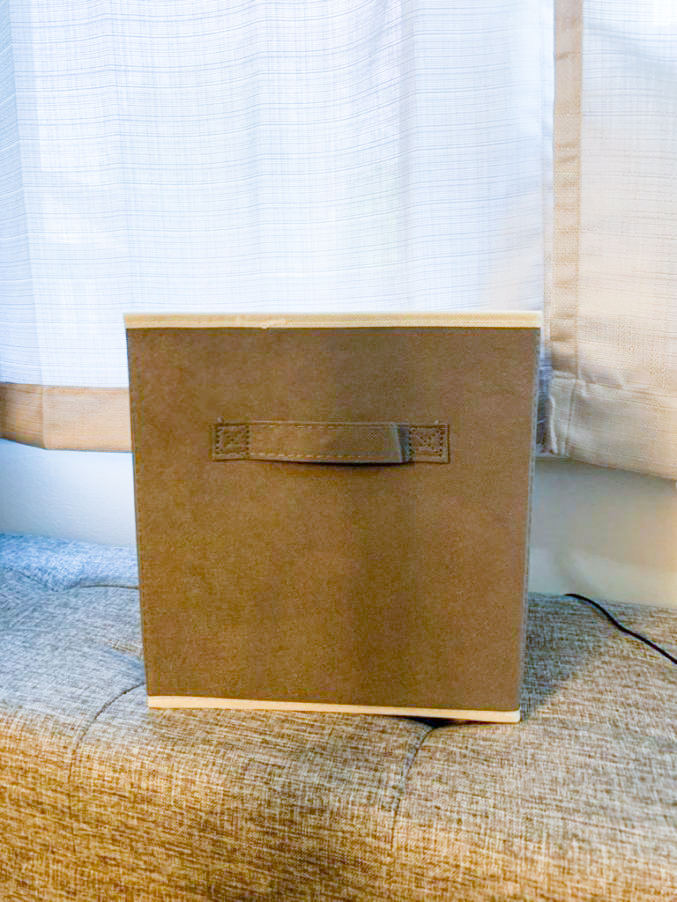 Lifewit collapsable storage cubes review
One of our tried and true methods for organizing in this little house is cube organizers. We have a 9-cube organizer, a 6-cube organizer and a 3-cube organizer. We use them for organizing bathroom products, craft and hobby items and even food (our kitchen is sooo tiny we don't have enough room for pantry items!).
While we've had the cube organizers for a long time, I've been wanting to replace some of the storage cubes that we put inside the organizer. I had baby powder bust open in one of the cubes and while 've washed it several times, I just can't seem to get that smell out so I sneeze everytime I open that cube! Plus, the material inside some of our cubes was just getting really worn as we've owned them for several years.
The Lifewit storage cubes are 11 inches square which is the most common size of storage cubes that fit most cube storage units. They offer a few different colors. I do wish that they offered solid colors, but they don't so we opted for the gray cubes with a cream-colored lining. I've owned four or five different brands of storage cubes in the past and most are roughly the same quality, but I bought one brand that was really thin and cheap. These Lifewit storage cubes are on-par with most of the other types of storage cubes that I've owned before, so I'm happy with their quality. They are currently on sale for $19.99 for a six-pack on amazon which is a nice price.
These are just a few of the organization products that Lifewit offers. If you're looking for affordable ways to get organized, check out the Lifewit website or their Lifewit amazon store for more!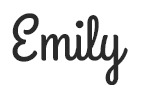 Hi there! I am Emily Evert, the owner of Emily Reviews. I am 28 and live in a small town in Michigan with my boyfriend Ryan and our two pugs. I have a large family and I adore my nieces and nephews. I love reading memoirs, and learning about child development and psychology. I love watching The Game of Thrones, Teen Mom, Sister Wives and Veep. I like listening to Jason Isbell, John Prine, and other alt-country or Americana music. I created Emily Reviews as a creative outlet to share my life and the products that I love with others.
This post currently has 6 responses.