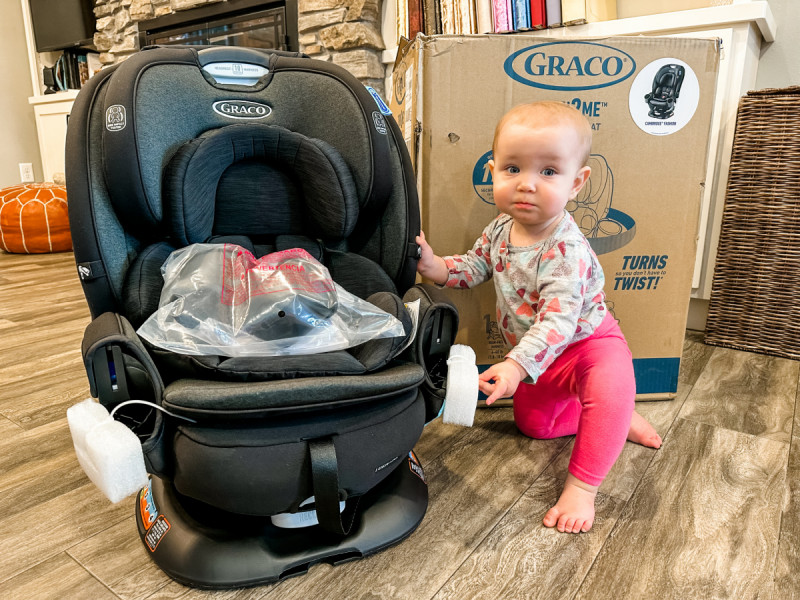 This 'Graco Turn2Me 3-in-1 Rotating Car Seat Review' is sponsored by Graco. As always, all opinions are my own.
If you have a child, you'll quickly realize that not all car seats are made equal. As a mom to six kiddos plus a former foster parent, we've purchased and used more than our fair share of car seats over the last 18 years. So while they do all need to pass certain current safety tests and standards in the US, the bells and whistles (or lack there of) can really make or break a seat on like-ability.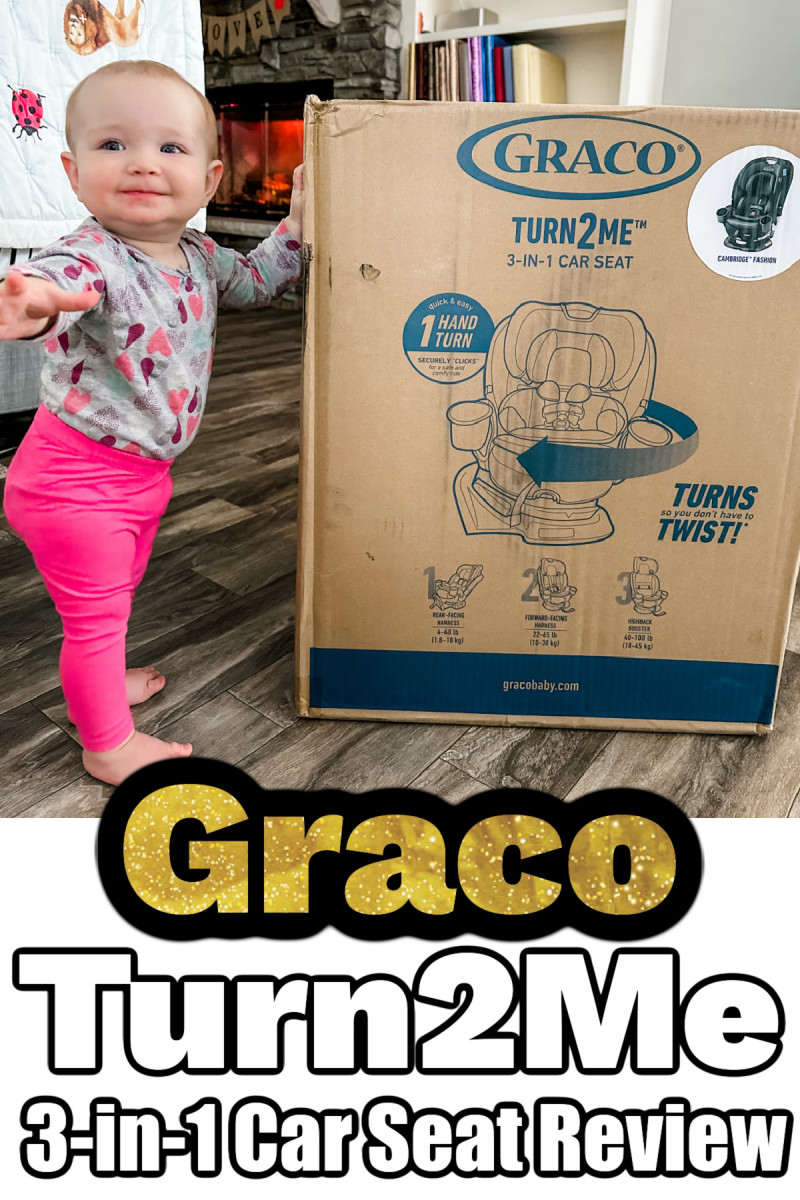 Graco Turn2Me 3-in-1 Rotating Car Seat Review
Recently, I noticed Graco has a new seat released and it had me extra curious. Right off the bat, I noticed this isn't your typical car seat. The Graco Turn2Me 3-in-1 Rotating Car Seat twists so you don't have to bend like a pretzel to get your kiddo in!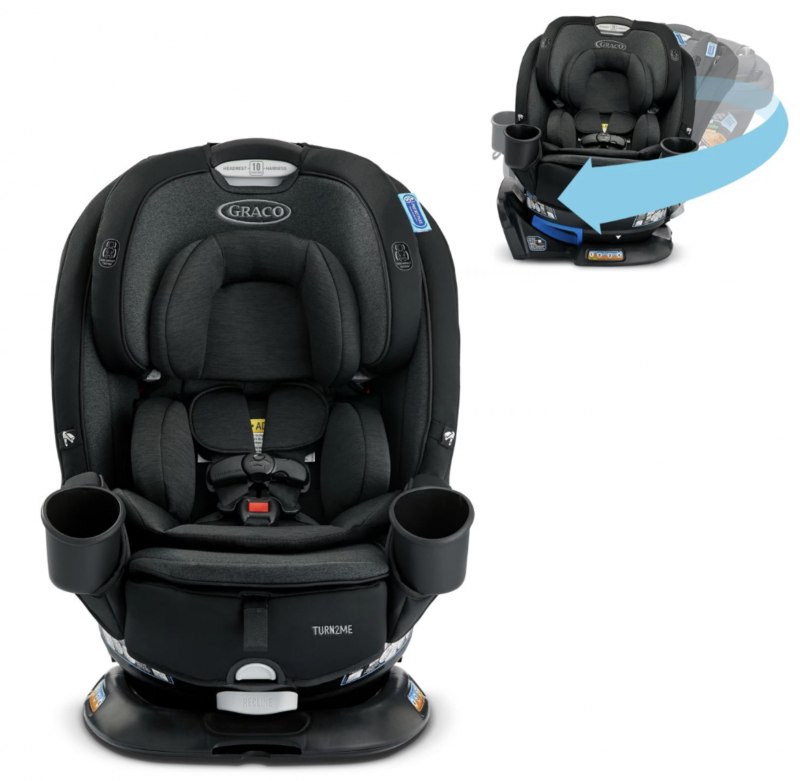 Convertible Car Seat – Great For Multiple Ages & Stages
Before I get too far, I want to point out that the Graco Turn2Me Seat is what's considered 'a convertible car seat'. A great thing about convertible car seats is that they are a seat that can be used with children of various sizes as they are designed to change from rear-facing to forward-facing. Some seats, like the Graco Turn2Me can even transform into a high back booster too.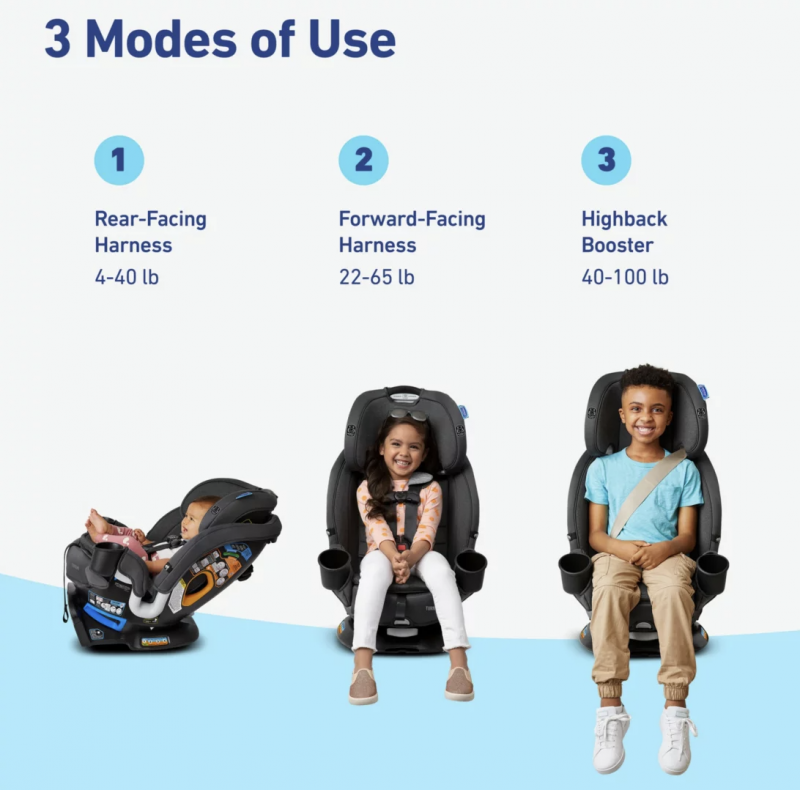 Assuming your baby meets the seat's weight minimum (which most full-term infants and even some preemies do), it's possible to use a convertible car seat from day one. This means, you may only need to purchase one car seat for your child instead of multiple as you can skip the infant bucket seat!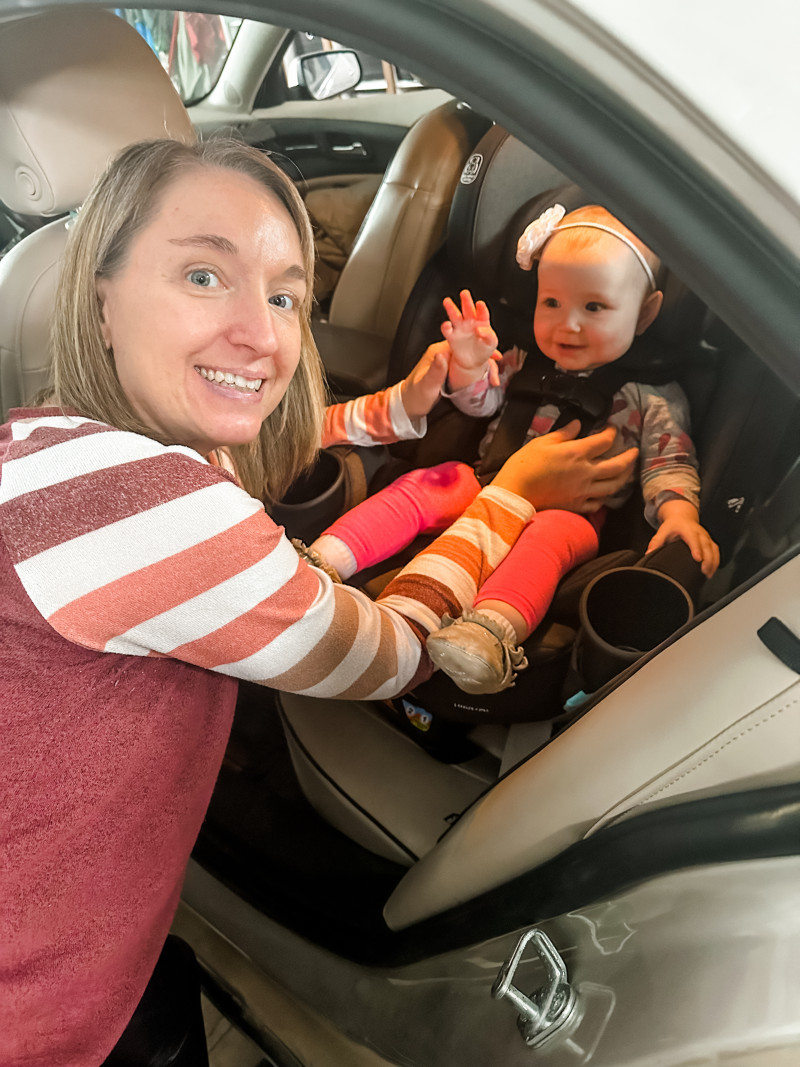 Graco Turn2Me 3-in-1 Rotating Car Seat Review
The Turn2Me 3-in-1 is basically ready for use directly out of the box. I only had to snap the cup holders on and remove the tags. As I began exploring this seat, I loved what I was seeing. It feels like an extremely high quality seat. The padding is cozy and I like the adjustable headrest as it slides up and down so I can position where it works best for the age and stage my baby is at.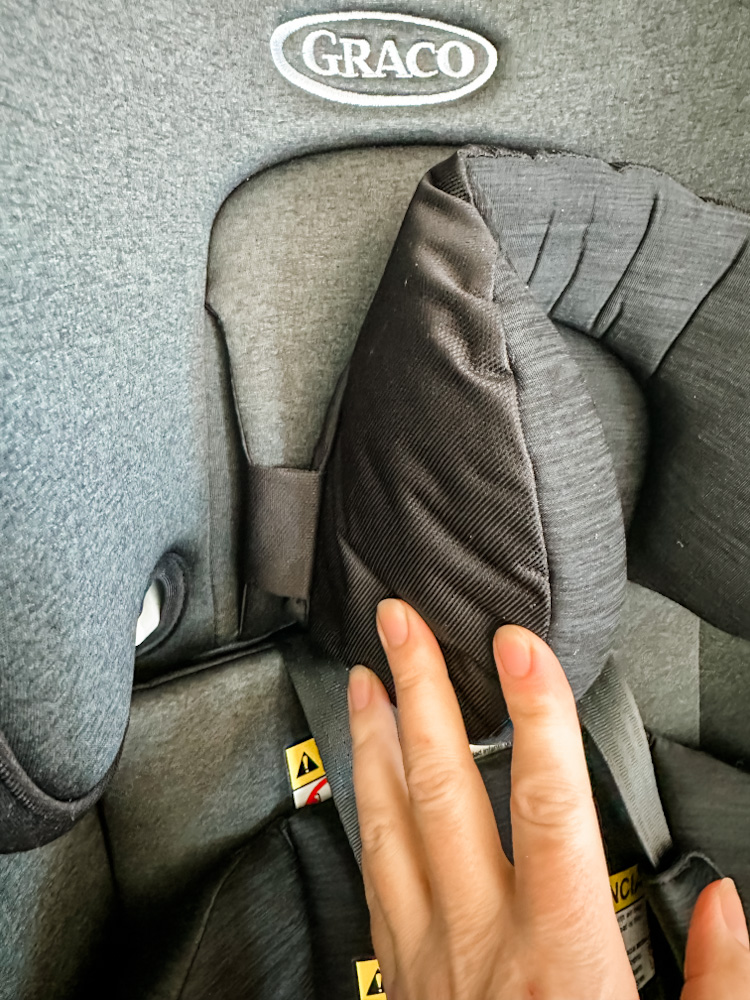 The 5-point harness chest clip and buckle are solid and easy to do but not too easy where I'm worried about my little one getting out by herself.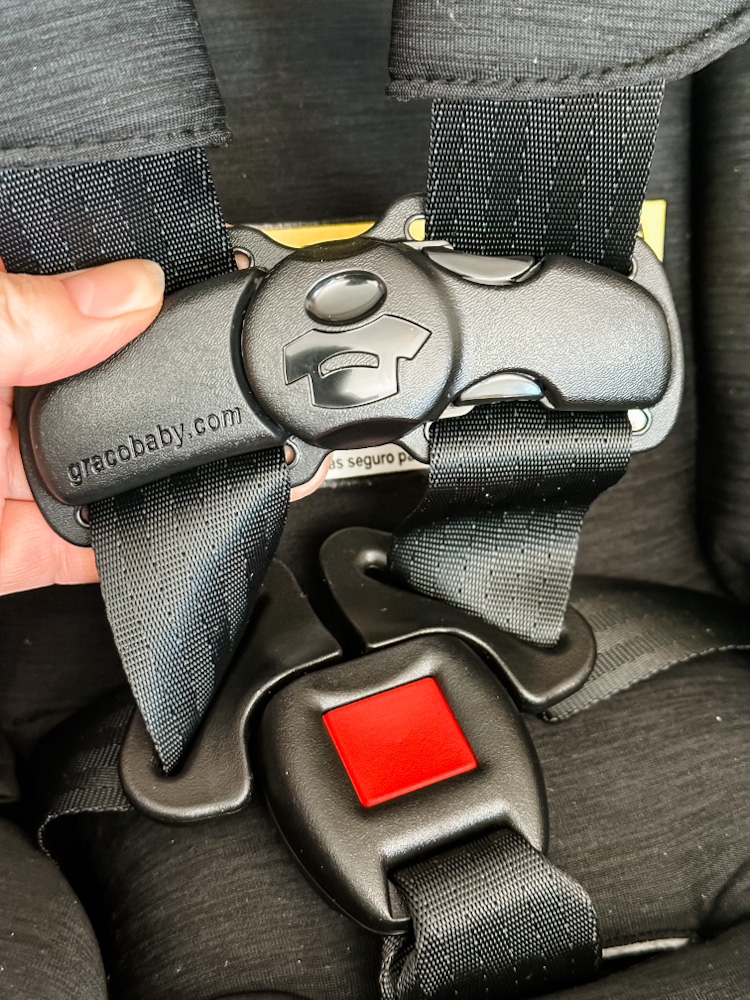 The no re-thread harness is absolutely amazing. Gone are the days where you'd have to turn the carseat upside down and completely take apart the straps to reposition into the next slot! Instead, simply squeeze the grey handle and the entire harnessing system and back slides up and down. There are 10 different position heights so you can find the perfect one for the stage your child is currently at.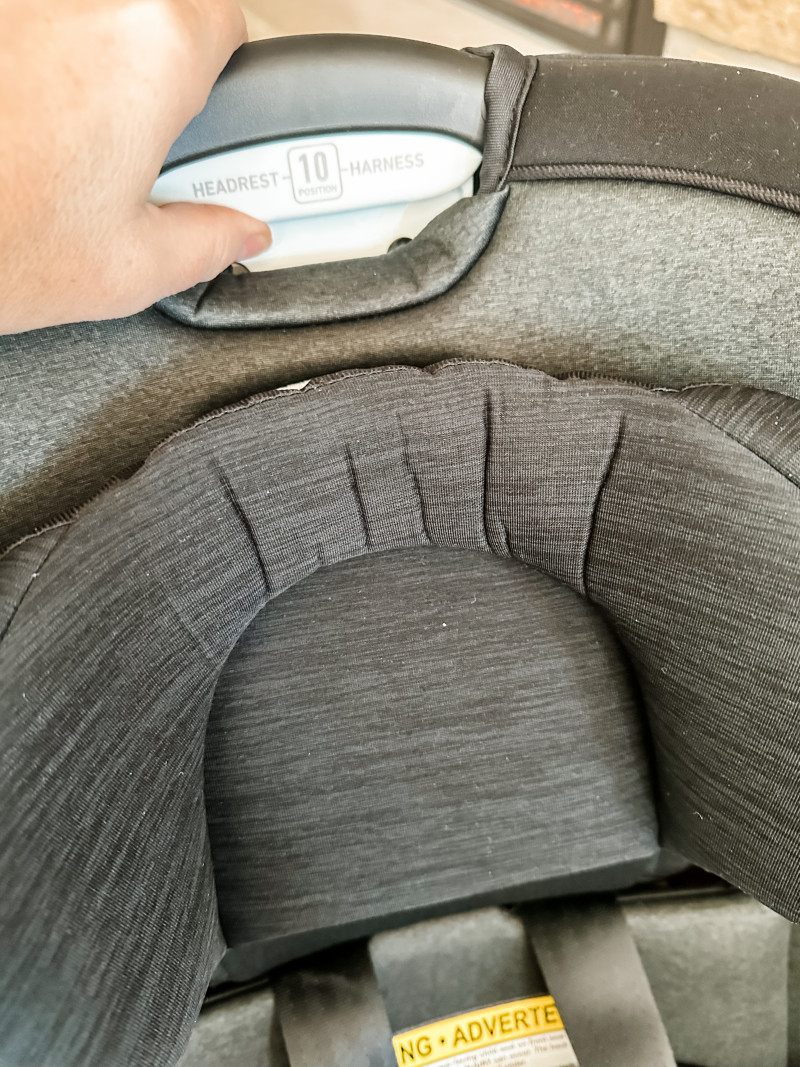 ***Remember: For rear facing, you want the harness slot to be directly at or slightly below baby's shoulders. For forward facing, you're wanting the harness slot at or slightly above the top of your child's shoulders.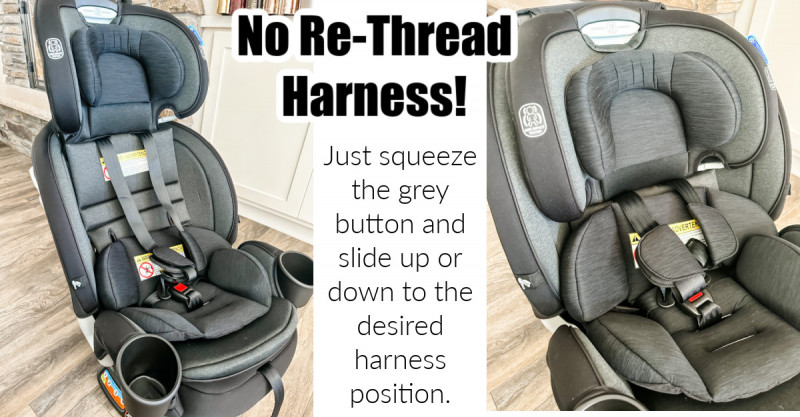 I am also really liking how simple it is to get a secure fit in the vehicle. Remember when you used to have to try and wiggle the buckle through the back of the seat without being able to see what was happening or get your hand through to help guide? If so, you will LOVE this feature. Just press the button and the hatch pops open to allow you easy access to the belt path!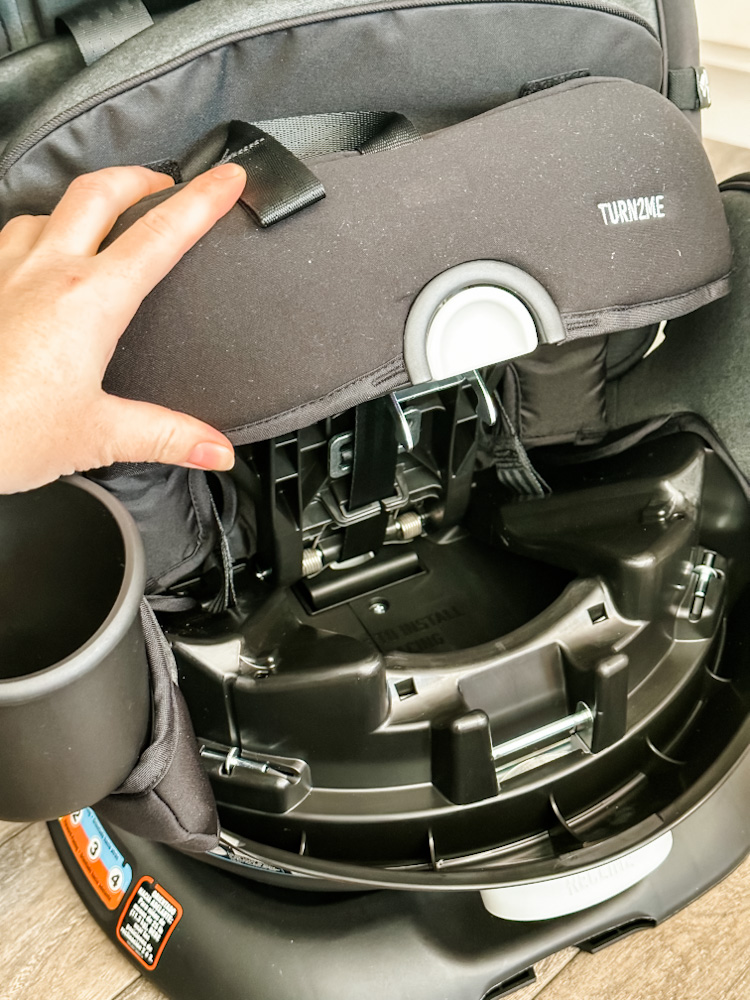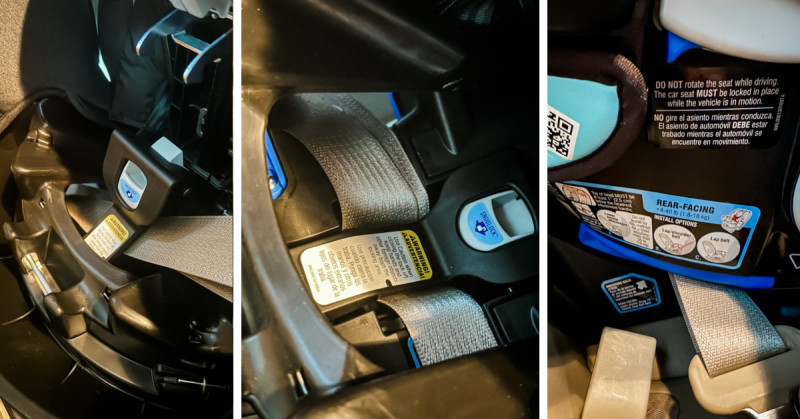 The entire design of this seat is wonderful. It feels so comfortable and well-padded. And you can rest easy as it's been side impact tested as well.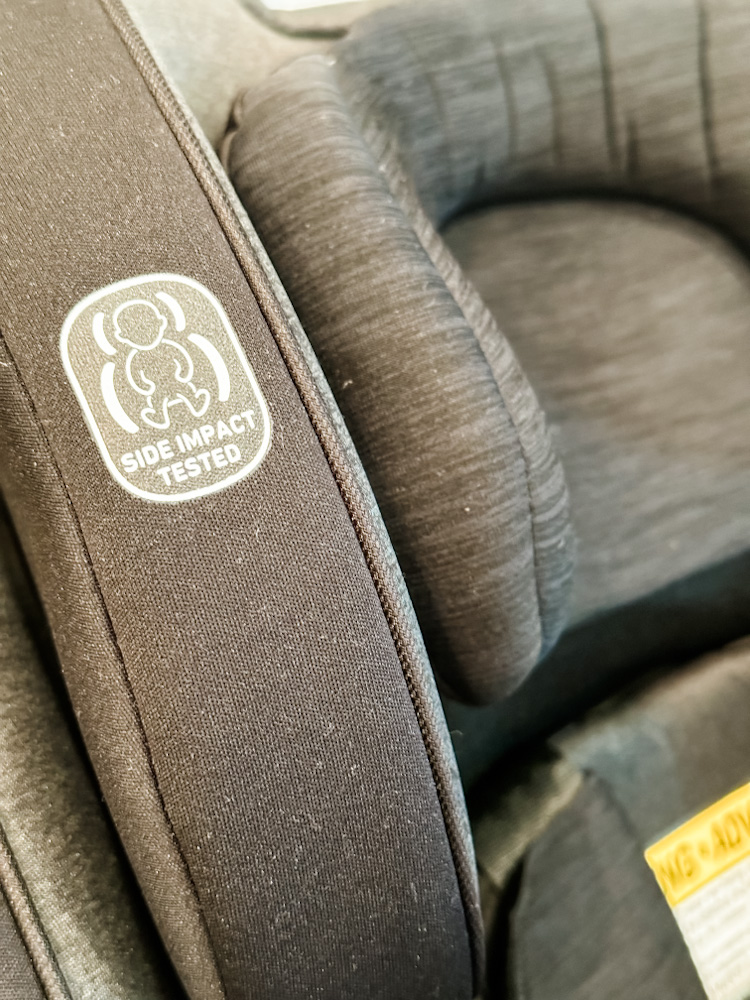 As mentioned above, the biggest feature that makes the Graco Turn2Me 3-in-1 Rotating Car Seat stand out is the rotating seat! There's a release button on both sides of the seat so no matter which side of the vehicle the seat is on or which direction you want to turn baby to get in and out, the process is easy!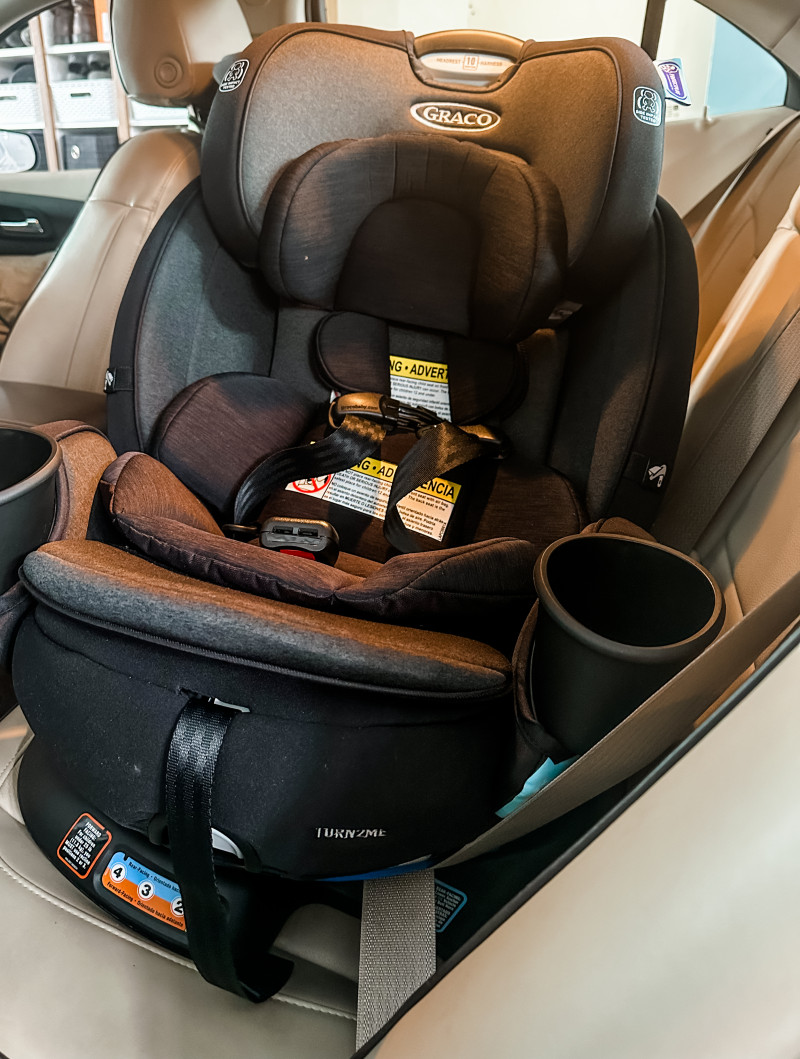 Our 17 year old will often be the one to buckle her little sister in and we didn't tell her about the new seat but as soon as she saw it, she was ecstatic! Even she's amazed at how this feature makes buckling and unbuckling Ruby so much easier.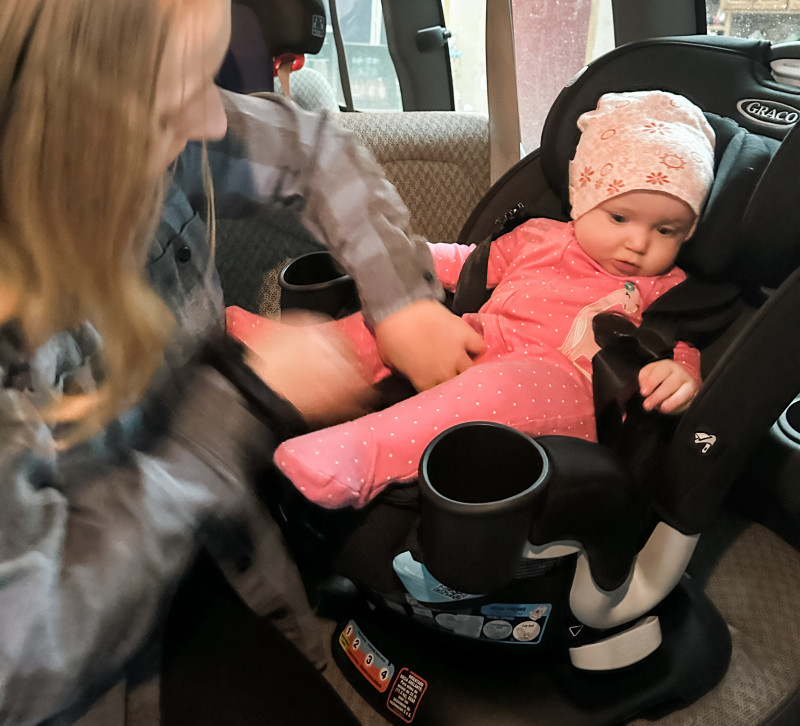 Features At A Glance:
Graco's push-button InRight™ LATCH provides an easy, one-second attachment with an audible click to help ensure secure installation

Store InRight™ LATCH in the storage compartment when not in use

Removable, plush head and body inserts help to keep your infant feeling cradled and comfortable

Harness storage compartment keeps the harness safely stored while in belt-positioning booster mode

Fuss-free harness storage pockets conveniently hold the harness out of the way for easy in and out

4-position recline helps you find the right angle for your little one to ride safely at every stage

Easy-to-read level indicator helps eliminate installation guesswork

2 easy-to-clean cup holders keep your child's drinks and snacks close at hand

Steel-reinforced frame provides strength and durability for 10 years of use

EPP, energy-absorbing foam for effective impact management

Meets or exceeds the child restraint criteria for a frontal crash test under the US FMVSS 212

Side-impact tested for occupant retention with the built-in 5-point harness system

Rear-impact tested based on the European Rear-Impact Crash Pulse

Tested to Graco's RollSafe™ testing standard based on the European rollover testing procedure

Tested using approximately twice the impact force required by the US FMVSS 213 car seat safety standard

Tested for structural integrity in extreme hot and cold temperatures

Certified for use in an aircraft, in rear-facing and forward-facing harness modes
See The Graco Turn2Me 3-in-1 Rotating Car Set In Action

So Much To Love
I can't rave about this seat enough. We were previously using a Graco as Ruby's main seat since Graco is such a trusted brand but they have really hit it out of the park with this one. All the features and well thought out design truly make this the seat you'll want to own!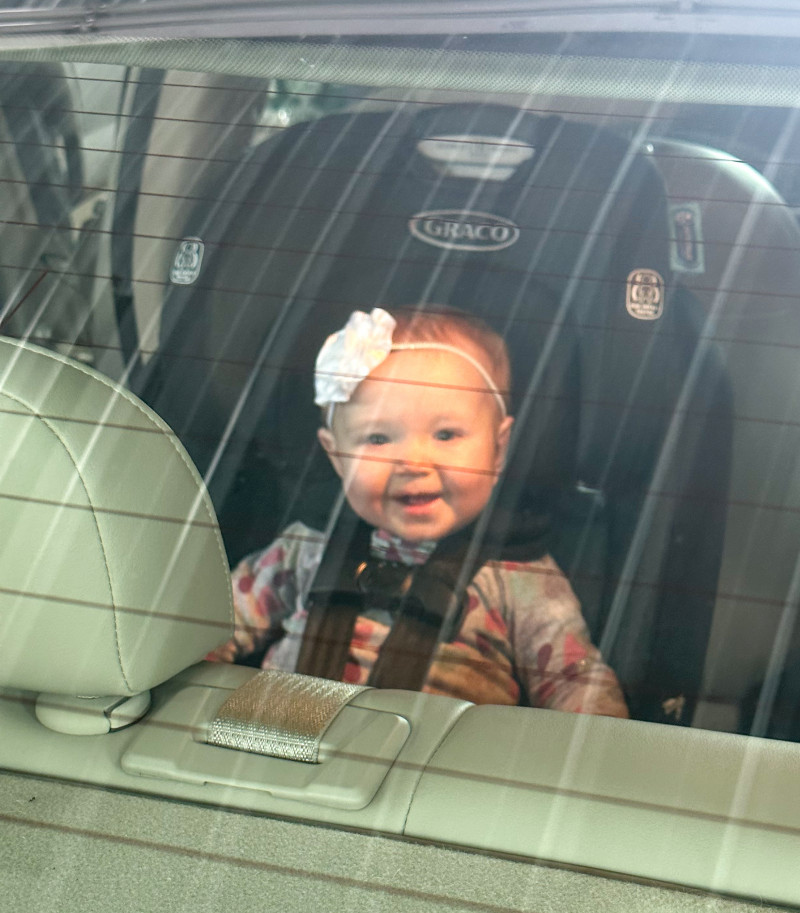 Connect With Graco
Website / Facebook / Instagram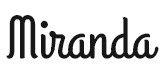 I'm a city girl turned country by my awesome husband and we have three busy boys and two darling daughters. I love spending time with my family, reading Karen Kingsbury novels, and catching up with friends while our kiddos have play dates. I'm blessed beyond measure and can't wait to see what God has in store.
Follow Miranda on Pinterest | Twitter| Blog | Instagram
This post currently has 7 responses.