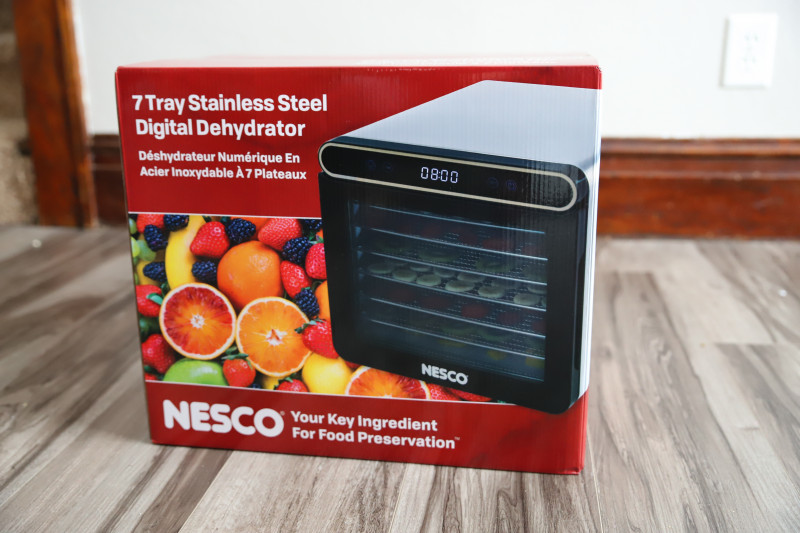 Thanks to NESCO for sending me this dehydrator. As always, all opinions are my own.
Growing up in a hunting family, I have a fair amount of experience making jerky in a dehydrator. That said, when I started researching a dehydrator for my own family, I was amazed by all of the enhancements that have been made to the product compared to the one my parents have from the eighties! NESCO offers a large variety of dehydrators and I chose the 7-Tray Stainless Steel Digital Dehydrator for our needs. I'm excited to share some of my favorite features with you, along with a giveaway!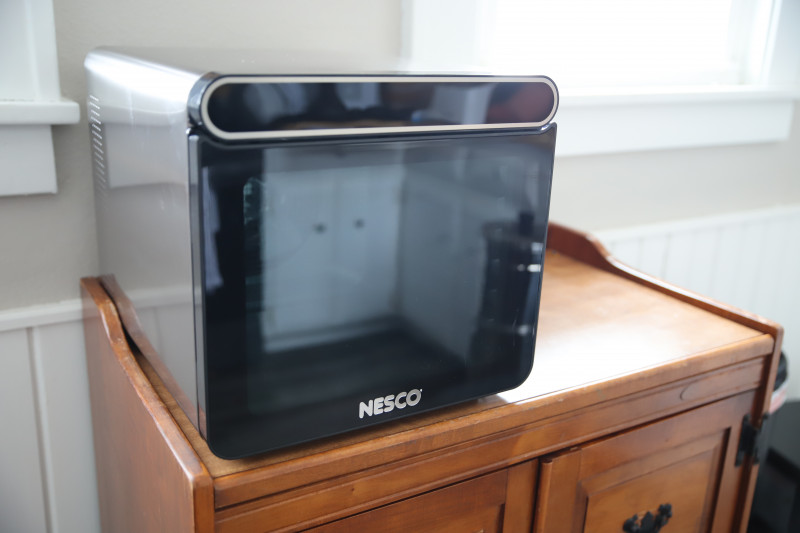 NESCO 7-Tray Stainless Steel Digital Dehydrator Review
First of all, I have to mention how much I LOVE the look of this dehydrator. Stainless steel fits right in with the rest of our appliances, and it really looks so sleek on the counter. It is deep so you'll want enough counter space for it and about six inches on each side of it. I also have to note how much space there is inside, and I can fit SO much on the seven trays; enough to definitely make it worth running for hours as it dehydrates whatever I'm working on at the time.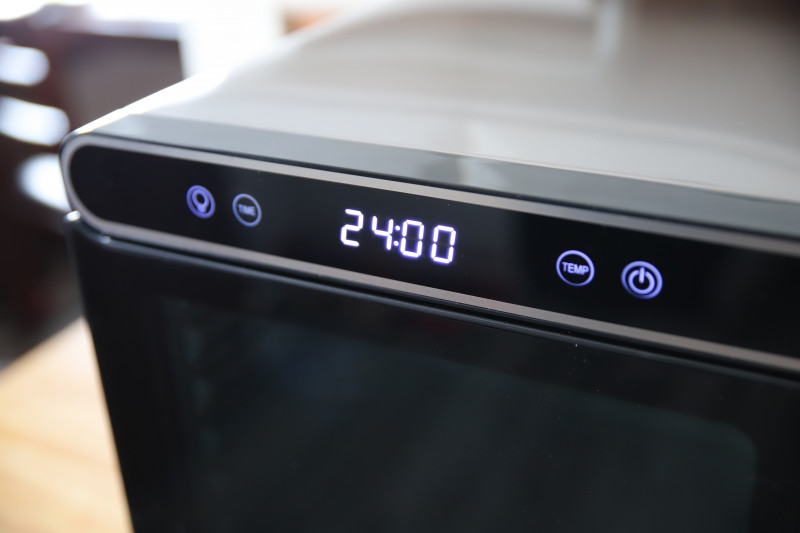 This dehydrator has a digital LED display that's super responsive to touch. I can adjust the temperature, time for dehydrating, and switch the light on/off using the display. The dehydrator will run anywhere from one to 24 hours depending on your needs! One of the features this product has that I didn't have growing up is the light; it's so nice to check on what I'm making without needing to open the dehydrator.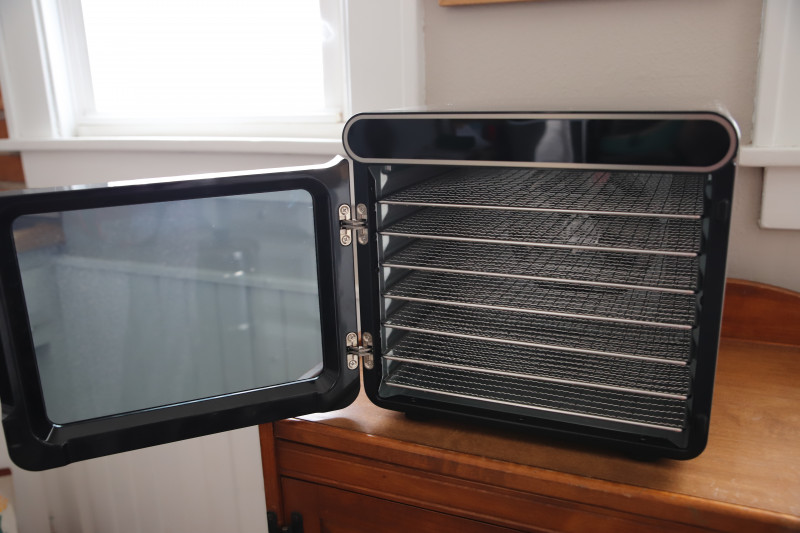 Here's a peek at the inside of the machine. You can see the central fan in the back which allows for even dehydration. The seven trays are removable for easy washing, and the dehydrator also comes with a plastic mesh sheet (great for herbs and smaller items like blueberries) and a plastic drip tray for when I'm making jerky or fruit rolls.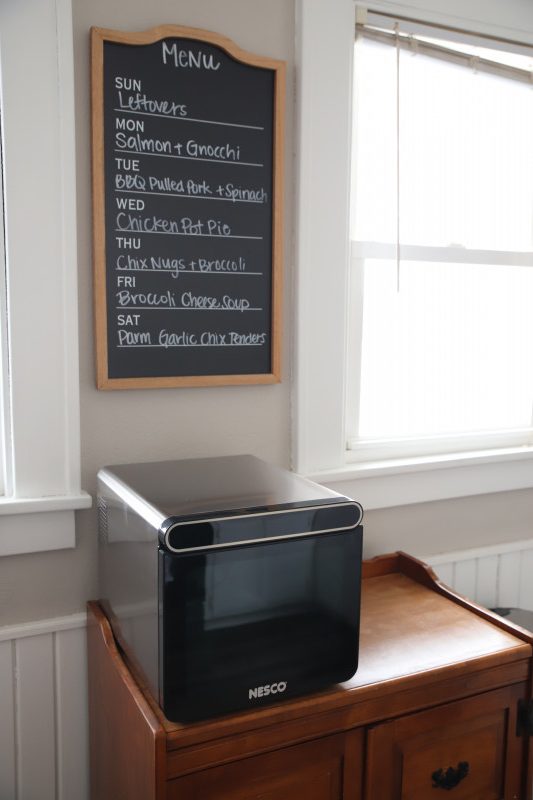 Growing up, I only knew about dehydrating jerky, but now I realize there are so many other things I can make, too! The first thing we decided to try was bananas and blueberries because they were at the end of their life and I figured they'd be hard to mess up. Our son requested chili banana chips so we did a combination of those, regular banana chips, and blueberries as our first batch. They took longer than I expected but I think I just need to learn more about choosing the right temperature and time frame. Even though we ended up needing to dehydrate them for a few extra hours, they are delicious and a huge hit! I should mention that the dehydrator is very quiet when it runs, too – a nice perk.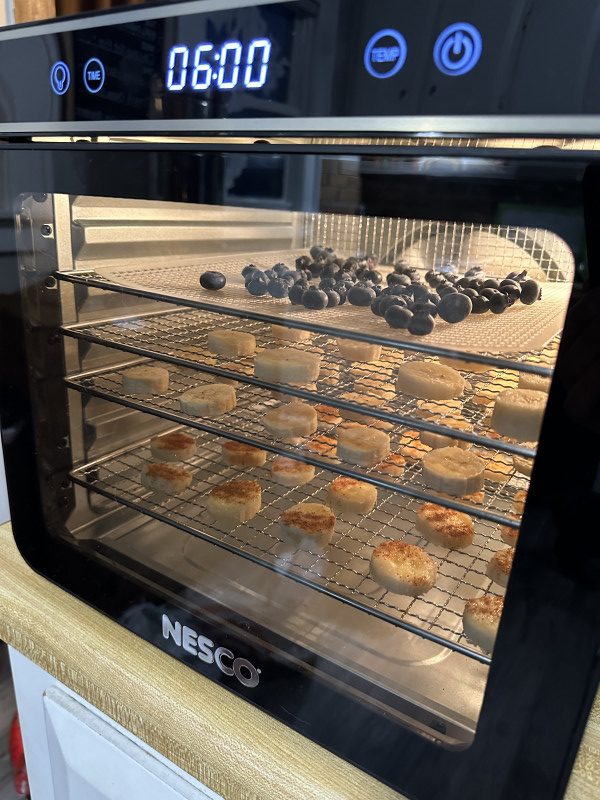 This NESCO Dehydrator has a pamphlet with handy instructions for dehydrating common items and an approximate timeframe. I plan to start with fruit and jerky, but I'm excited about the prospect of dehydrating herbs and making cat treats as well! My kids really want to try making fruit rolls. It will be fun to experiment over the next few weeks! This will be a great project for the rest of our frigid winter.
Buy it: NESCO
WIN IT: One lucky reader will take home this NESCO Dehydrator! This is a US giveaway ending 2/18. Enter using the form below, and good luck!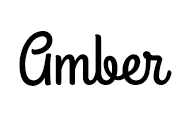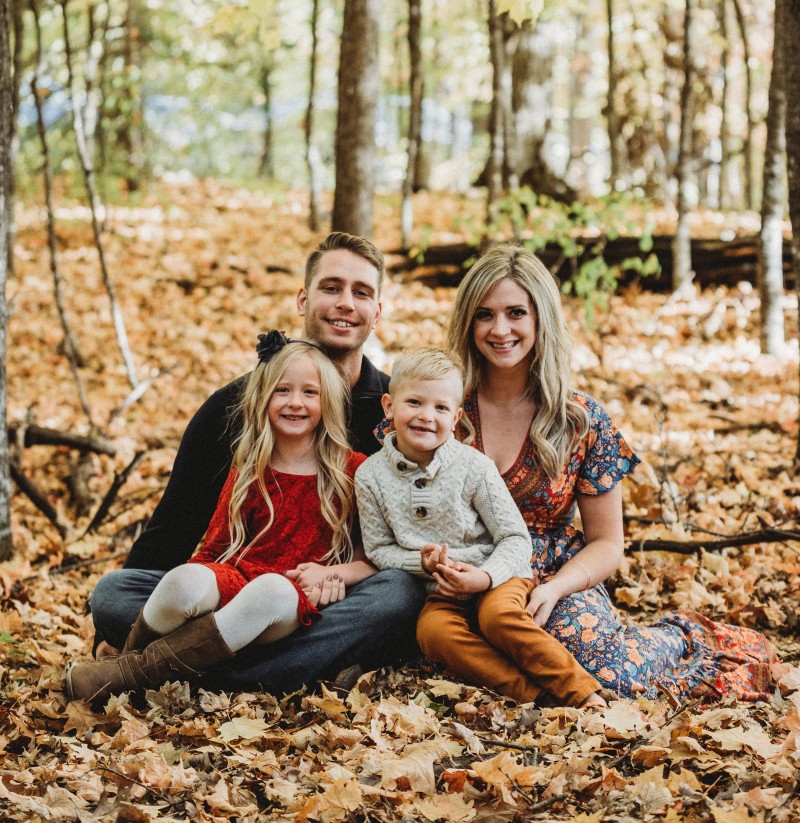 Hi there! I'm Amber, a 34 year old wife and mom of two from central Minnesota. I love to be outside with my family anywhere the weather is warm (which means I spend half the year freezing). We're a homeschooling family that loves to travel as often as possible! When I have a spare free moment, I love to read, take photos, and scrapbook. I'm interested in anything that makes life more fun; I also love socializing and sharing about my favorite products!
This post currently has 12 responses.