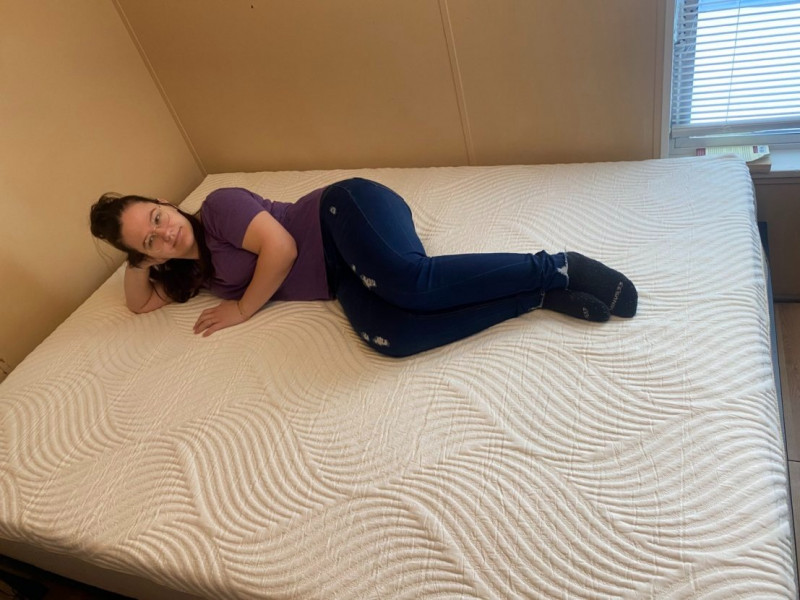 MinoCasa sent me a mino hybrid mattress for review. There are affiliate links in this post. All opinions are my own.
MinoCasa is a new mattress company that just released its first mattress in 2022! My mother-in-law was in need of a new mattress so I was excited to work with them on a bed for my mother-in-law. First, let me share a bit about this mattress with you!
MinoCasa Mino Hybrid 12″ Mattress Review
The "Mino Hybrid" is a 12-inch memory foam and spring pocket hybrid mattress that promises a comfortable and supportive sleep experience. This mattress is produced using environmentally friendly and hypoallergenic materials and is certified by CertiPUR-US and OEKO-Tex 100 Standard.
When it comes to value, the Mino 12" Hybrid Mattress competes well with other mattresses in its price range. At $449.50 for a queen size, it offers a good balance between quality and affordability, making it an attractive option for those in the market for a new mattress. It features a combination of memory foam and spring coils, which provides a comfortable and supportive sleeping surface. Additionally, its certifications and eco-friendly materials further add to its value.
The "Mino Hybrid" mattress is delivered compressed in a box, making it convenient and easy to transport. The delivery process is straightforward and typically takes a few days to arrive at your doorstep. Ours arrived in just two days!
Setting up the "Mino Hybrid" mattress is a simple process that can be done within minutes. Once the mattress is removed from the box, simply remove the packaging and allow the mattress to expand to its full size. It will expand to full size really quickly once you cut the plastic packaging and allow air inside.
The mattress comes with a 180-day sleep trial, giving you ample time to determine if it is the right fit for you. This free trial period allows you to test out the mattress in the comfort of your own home, giving you peace of mind and the confidence to make an informed purchasing decision.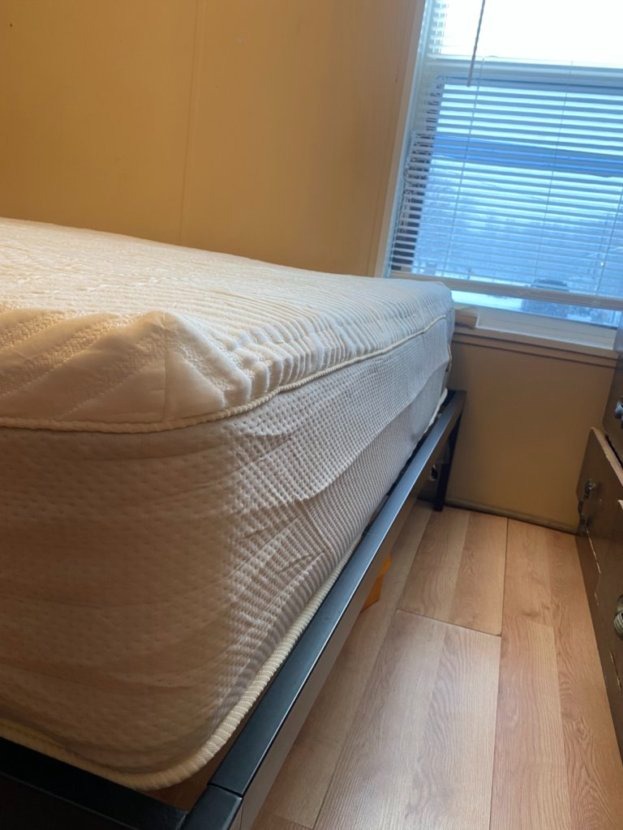 The return policy for the "Mino Hybrid" mattress is straightforward. If you are not satisfied with the mattress during the sleep trial period, you can return it for a full refund. The manufacturer takes customer satisfaction seriously and aims to make the return process as smooth and hassle-free as possible.
The brand says that the "Mino Hybrid" mattress has a firmness level of 5-7 out of 10 on the firmness scale. However, when I briefly laid on this mattress after we set it up for my mother-in-law, I couldn't see someone rating it a 5 out of 10 in terms of firmness. Now that my mother-in-law has had this mattress for about a week, I asked her to rate the firmness on a 0-10 scale and she said an 8. I thought it was more like a 7 to 8 as well. I don't think someone who was after a soft or even medium-level mattress would be happy with this. It's a pretty firm mattress.
The "Mino Hybrid" mattress is made up of five layers of material:
A premium Tencel eco-friendly soft cover

A cooling gel-infused memory foam layer

A double layer pressure relief foam

A heat isolation cotton felt layer

A 5-zone spinal support pocket coils foundation
These layers work together to provide a comfortable and supportive sleeping surface that cradles your body, reduces pressure points, and promotes healthy spinal alignment. The combination of memory foam, pressure relief foam, and pocket coils allows for a unique blend of comfort and support that is unmatched by other mattresses on the market.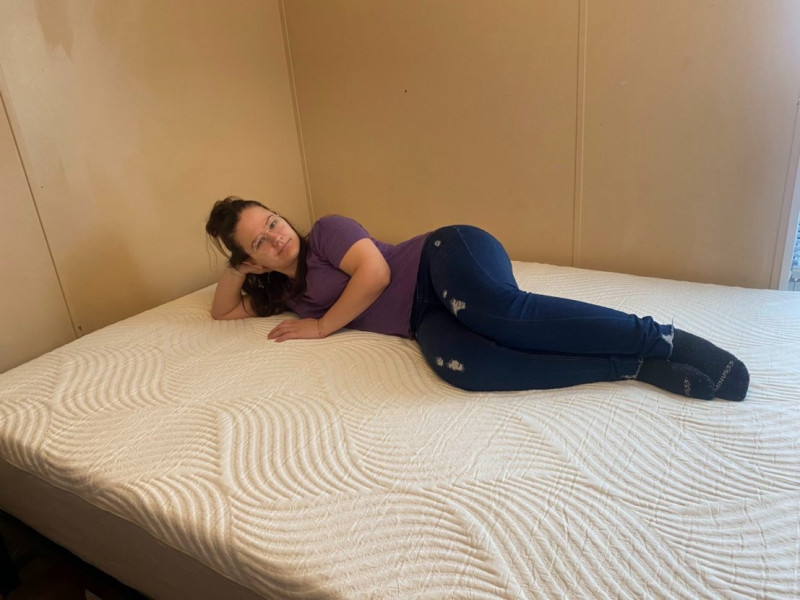 The "Mino Hybrid" mattress provides optimal body support through its 5-zone spinal support pocket coils foundation. This foundation enhances motion isolation and offers superior support to different areas of the body, including the head, shoulders, hips, legs, and feet. The layers of memory foam and pressure relief foam work together to relieve pressure points and provide comfortable and supportive cushioning.
The combination of individually wrapped pocket coils and memory foam results in a mattress that is responsive to your movements and provides personalized support throughout the night. The result is a comfortable and rejuvenating sleep experience that promotes healthy spinal alignment and reduces morning aches and pains. Whether you are a side sleeper, back sleeper, or front sleeper, the "Mino Hybrid" mattress is designed to provide the support your body needs for a restful night's sleep.
My mother in law was specifically seeking a firmer mattress than she had previously. If you're someone who enjoys firmer mattresses, you may worry that getting a mattress online, mailed to you in a box would not work for firmer mattresses. I had honestly worried about this some, myself! I knew that all-foam mattresses are very common in "matress in a box" companies, and that hybrid spring + foam mattresses were becoming more popular in "mattress in a box" options, too. However, I just assumed that what hybrids were available to be shipped in a small package must still be mostly foam and therefore primarily soft.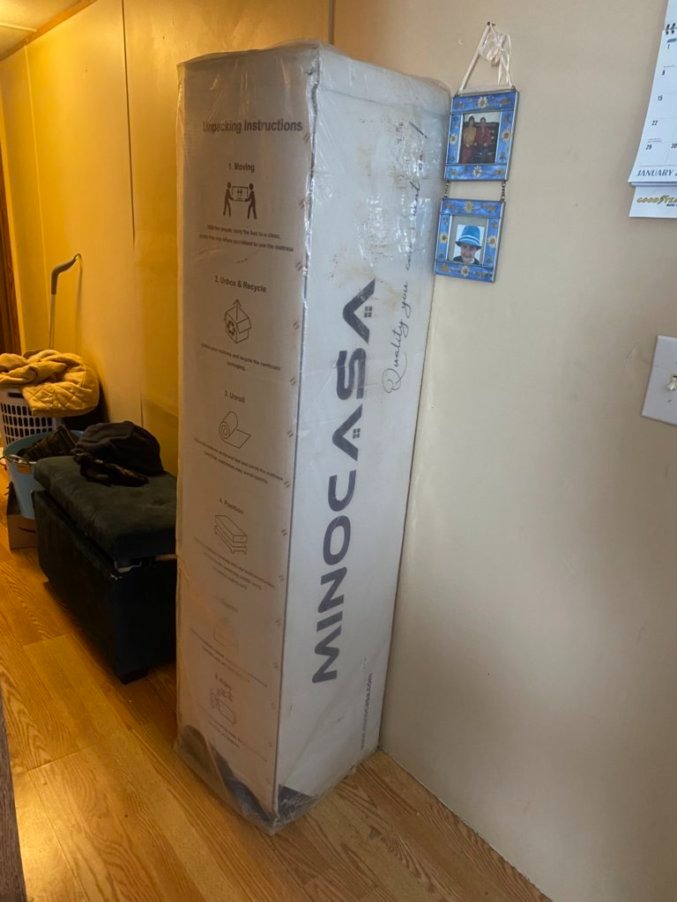 The MinoCasa hybrid has managed to make a really supportive, primarily firm mattress that really does ship in a pretty small box!
Buy it or learn more on the Minocasa website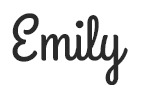 Hi there! I am Emily Evert, the owner of Emily Reviews. I am 28 and live in a small town in Michigan with my boyfriend Ryan and our two pugs. I have a large family and I adore my nieces and nephews. I love reading memoirs, and learning about child development and psychology. I love watching The Game of Thrones, Teen Mom, Sister Wives and Veep. I like listening to Jason Isbell, John Prine, and other alt-country or Americana music. I created Emily Reviews as a creative outlet to share my life and the products that I love with others.
This post currently has 4 responses.