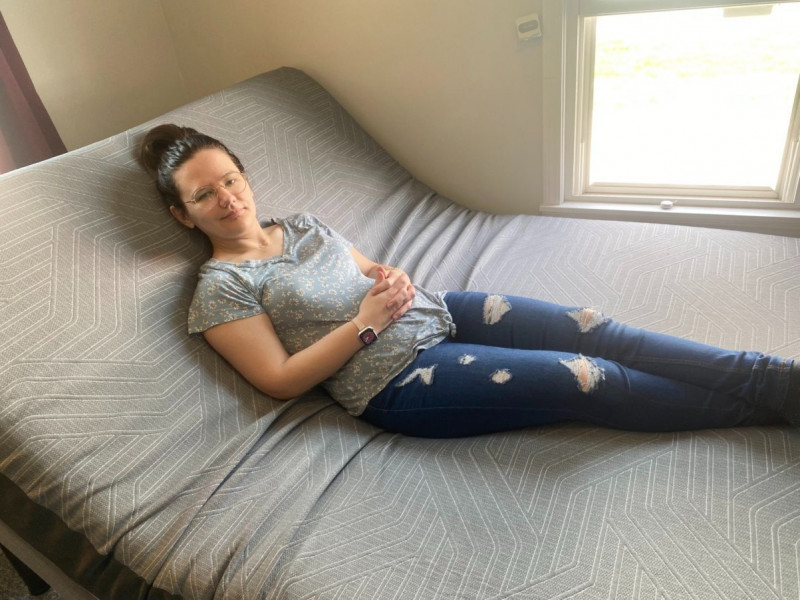 Regine from Flexispot sent me an adjustable bed base for review. All opinions are my own.
The FlexiSpot S4/S5 Adjustable Bed Base is a top-of-the-line product that is designed with the user's comfort and convenience in mind. The bed base's motor is the heart of the product, and it supports daily flawless operation. The motor has passed strict fatigue testing, and you can use this bed base with confidence for at least 10 years. The main frame of the bed base is made of construction-grade carbon steel, providing solid support for a comfortable bed experience.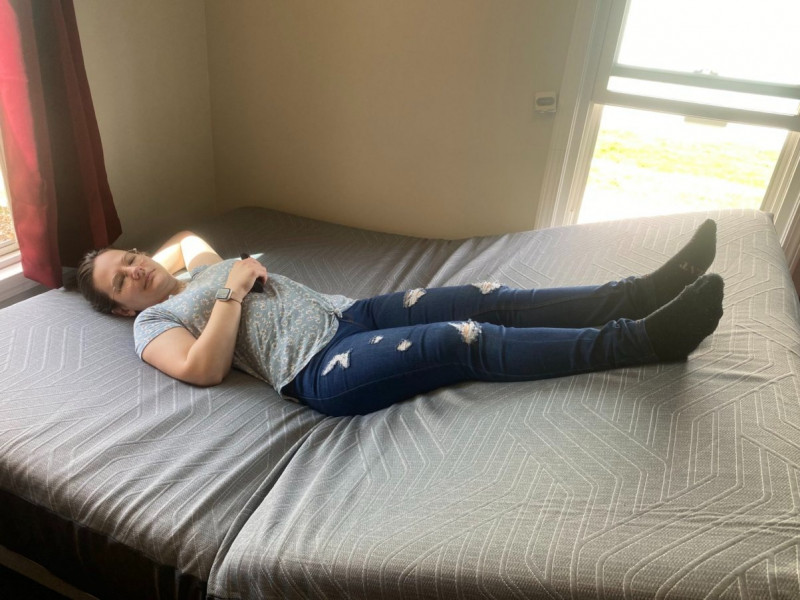 The bed base runs smoothly, with operating noise that is less than 55 decibels. You will never have the hassle of getting stuck when raising or lowering the bed. The bed base is also stable and can easily support three adults in medium stature. It provides strong support even when both the head and feet are raised to the highest level.
The FlexiSpot S4/S5 Adjustable Bed Base has sturdy legs that are still intact after 25,000 wobble tests. The 6 legs are solid and stable—not easy to bend even with two adults jumping on top of it. The bed base also offers flexible 3 ways of use, including placing the bed base directly on the platform bed without installing the bed legs, installing the bed legs, removing the slats, and placing the bed base inside your existing bed frame, or installing bed legs to use the bed base without the fixed bed frame.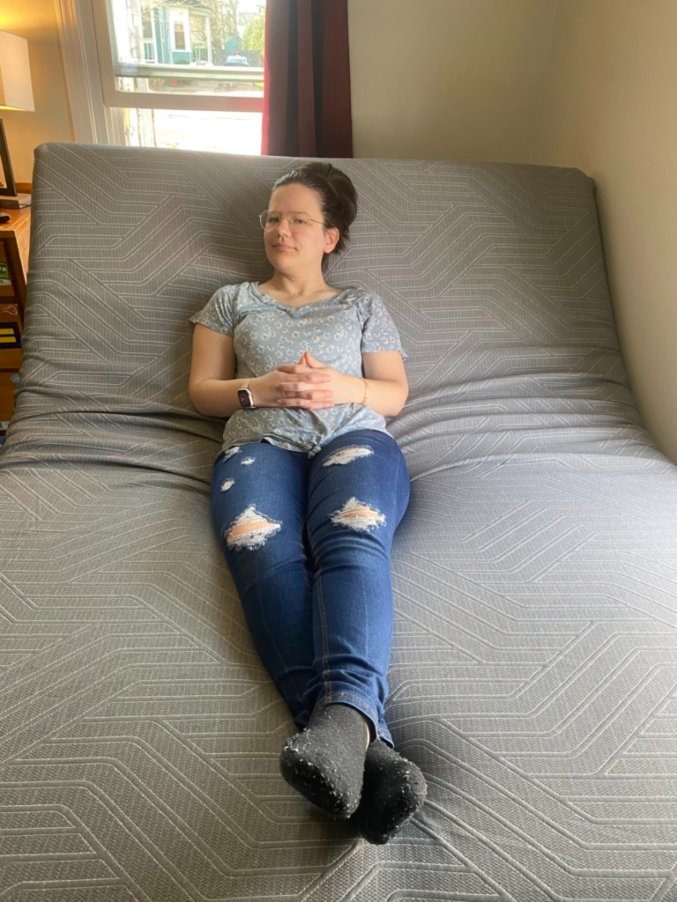 One of the most impressive features of the bed base is its flexible bed leg heights. Available in 4 different heights, including 3″, 6″, 9″, and 12″, the bed base provides the best ergonomic solution for getting on and off the bed. Not only suitable for people of all heights, but it also meets under-bed storage needs.
Another impressive feature is the bed base's zero gravity mode, which raises your legs slightly above your heart to keep your spine's natural curve. This position not only helps reduce pain but also improves blood circulation, reduces snoring, improves digestion, and helps you get better sleep. The bed base also comes with a retainer bar and sidebars to hold your mattress firmly in place, a side pocket for storing remote controls, and an under-bed light located on both sides of the adjustable bed base and controlled by remote control.
My boyfriend and I found the bed frame quite easy to put together, and it also comes apart pretty easily if you move. We didn't add on the retainer bar and sidebars, so the mattress did move around a bit, but we're sure that by adding those, it would have stayed in place.
Neither of us has limited mobility, but this bed would be great for disabled people or older people who have limitations. I have an appointment next month to find out if I'm going to get surgery on my eyelids. If I get that surgery, I will need to sleep somewhat upright while healing. Previously, I thought I would have to sleep in a recliner chair, so I'm glad that now I'll be able to sleep in bed!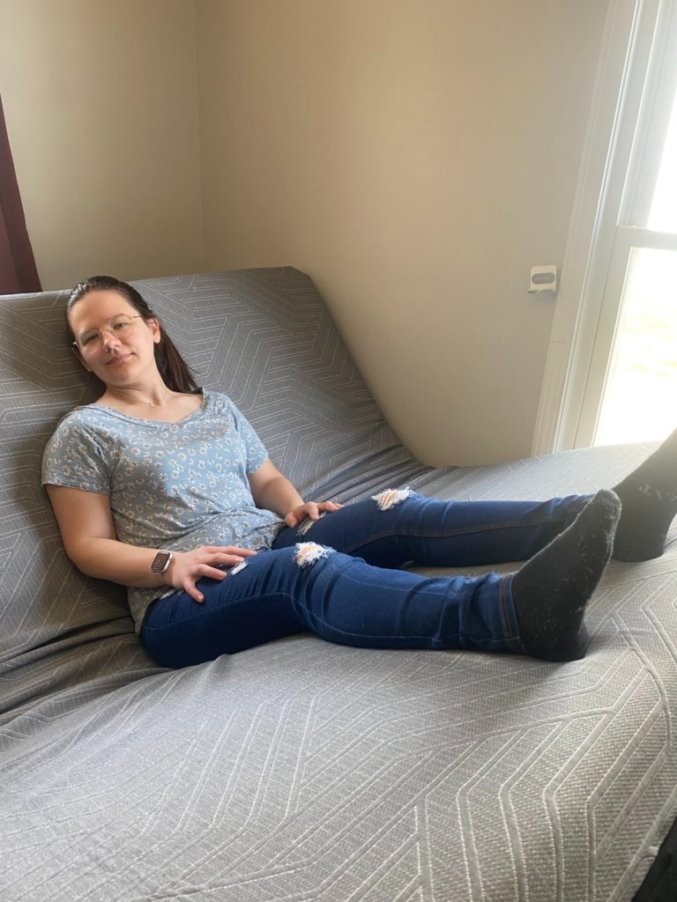 We were also sent a mattress to pair with this frame. Flexispot doesn't make their own mattresses, but they partner with Mlily so you can order a mattress at the same time as ordering this frame if you'd like. We were sent a Mlily 12″ queen mattress. This mattress comes in a small box and is vacuum sealed. It expands after you release it from the plastic. We found that it came up to about 80% size almost instantly, and was at full size within 24 hours. We found this mattress to be a nice mix of soft yet supportive. I like slightly firmer mattresses than Ryan does, but we both like this mattress so I think it will work for a wide range of people and mattress preferences. So, if you're considering getting a mattress alongside your frame, I feel that Flexispot did well to partner with Mlily!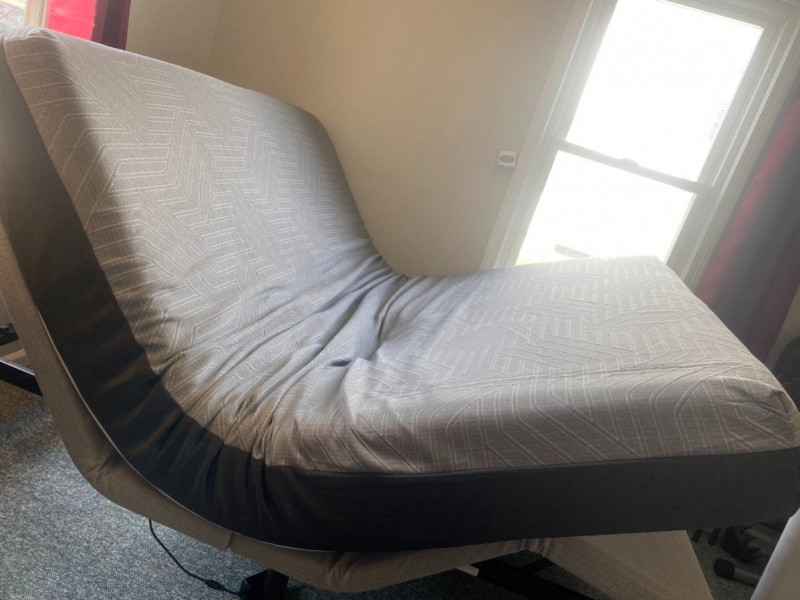 However, you can also use many other mattresses with this frame if you prefer. You don't need a foldable mattress or one with obvious bends in it, for example. If you currently have a mattress that you're happy with, head to the brand's website to see if it is listed as compatible with adjustable bed frames. A lot more mattresses are compatible with adjustable bed frames than you may have realized! At least, I didn't realize prior to this partnership that a mattress that looks like any other mattress could be used on an adjustable frame.
Overall, the FlexiSpot S4/S5 Adjustable Bed Base is an excellent investment for anyone looking for a comfortable and convenient bed base. The bed base offers a 10-year warranty, 24h live customer service, and a 30-day free return service in case of any dissatisfaction. The bed base is also designed with every detail done to perfection, and you can use it with confidence. I look forward to having movie nights in this bed with the bed propped up. It's so nice to be able to relax but be propped up at the same time.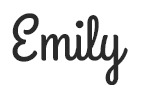 Hi there! I am Emily Evert, the owner of Emily Reviews. I am 28 and live in a small town in Michigan with my boyfriend Ryan and our two pugs. I have a large family and I adore my nieces and nephews. I love reading memoirs, and learning about child development and psychology. I love watching The Game of Thrones, Teen Mom, Sister Wives and Veep. I like listening to Jason Isbell, John Prine, and other alt-country or Americana music. I created Emily Reviews as a creative outlet to share my life and the products that I love with others.
This post currently has 3 responses.