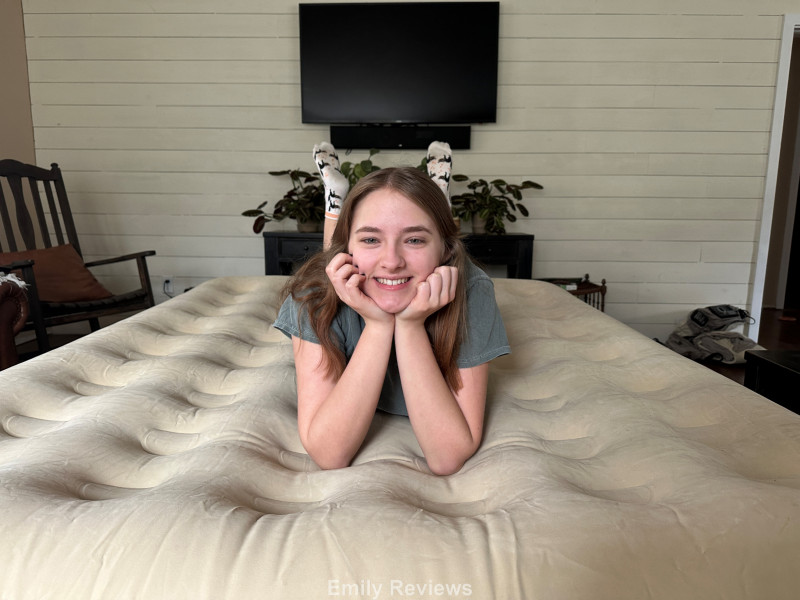 Thank you to Simpli Comfy for providing me with products to facilitate my blog review. All opinions are 100% my own.
This has been a looong winter for us in the Pacific Northwest! We have had more snow days this year than I ever remember us having. In fact, it was snowing yesterday. According to the local forecast, we may get to see warmer temperatures and drier days starting in a couple of weeks. Fingers crossed!
In the meantime, I am dreaming about our upcoming family camping trips. One of our annual trips is made with my side of our family. We have thirteen people planning on joining us this year. While I was thinking about everything I needed to pull together for the trip, I came to the realization that I needed to upgrade some of our camping gear. Perhaps the most important was our camping beds.
When I go camping, I try to embrace all that mother nature has to offer, but I also like to be comfortable. Something that I won't budge on is getting a good night's sleep. I am too old to sleep on the ground or on a thin pad. I need a bed that will provide back support and will allow me to rest comfortably. While researching my options, I found Simpli Comfy.
Simpli Comfy is the place to go for innovative air mattresses. They focus their designs on simplicity and comfort. Simpli Comfy build its beds for comfort, use long-lasting durable materials, and design them to be easy to use and store. They also quality check each and every product before sending it out.
Simpli Comfy has an assortment of air mattresses in a couple of different styles and sizes.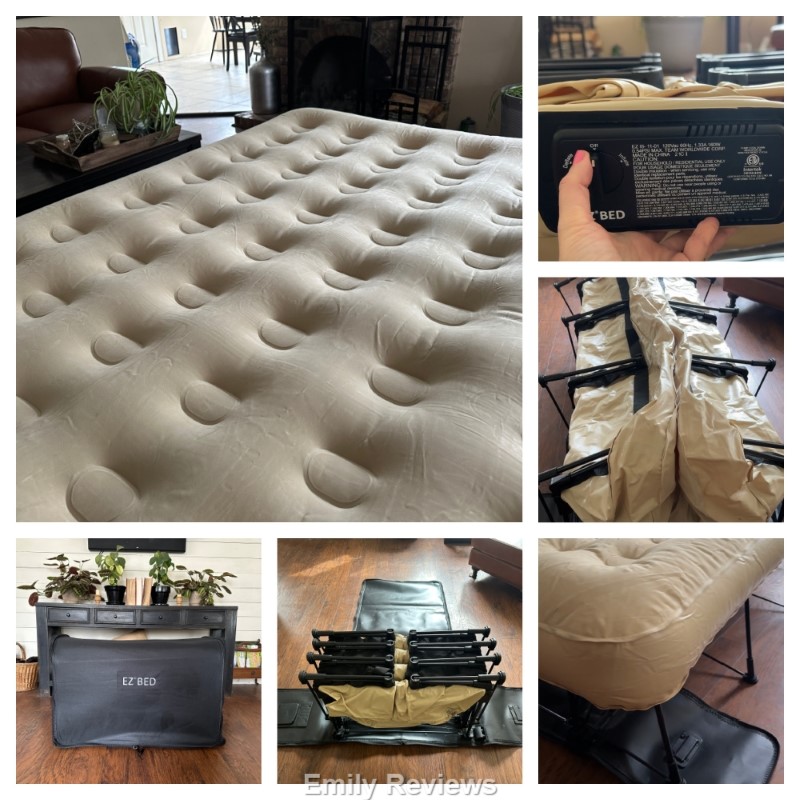 I decided on the EZ Air Bed Self-Inflating Queen Size Air Mattress for my husband and me. The EZ Air Bed Self-Inflating Air Mattress is amazing! Everything you need is in one unit. It has an air mattress, a built-in bed frame, a self-inflating/deflating air pump, and a wheeled storage case. The air mattress has a velvety sleeping surface that helps keep your bedding secure throughout the night. It also has comfort-coil construction that provides you with stability. The EZ Air Bed frame is made with PVC chosen for its strength and durability. The frame has 16 powder-coated steel legs to provide a solid base. The EZ Air Bed can withstand up to 500 pounds of weight.
To set up the bed, you simply unzip the case, roll out the frame with the attached mattress and plug in the integrated air pump into any standard outlet. It does the rest on its own! In a couple of minutes, your bed is ready to go. They couldn't have made it any easier.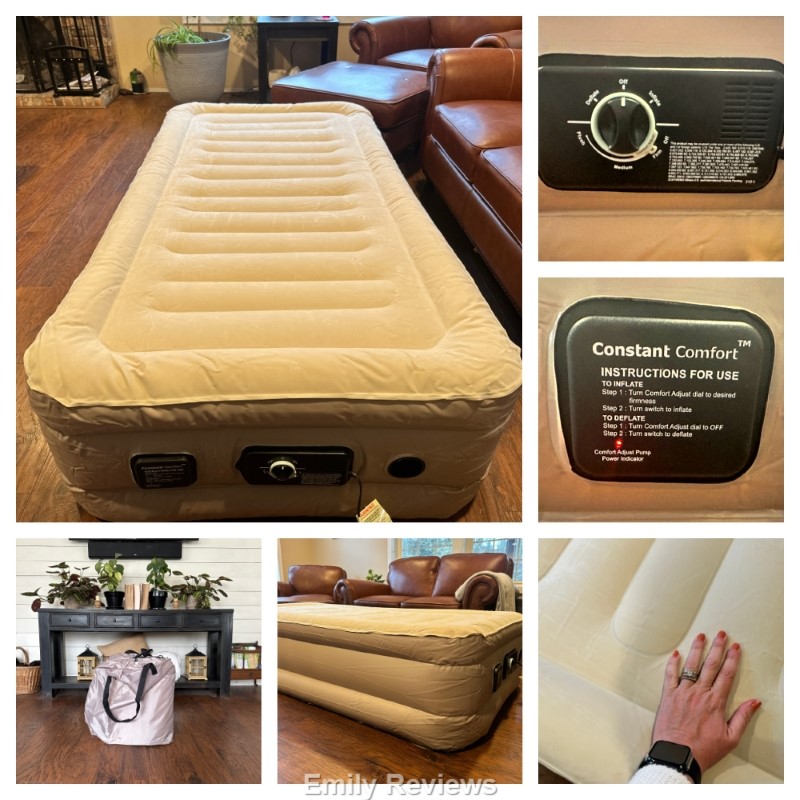 For our two teen daughters, I got them each a twin-size ConstantComfort Inflatable Air Mattress. The ConstantComfort Inflatable Air Mattress is also spectacular! It has a sensor that monitors the air pressure in the mattress throughout the night. If your desired air level starts to go down, a pump will automatically turn on and quietly refill it to your chosen firmness. Isn't that amazing?!
When you set up your ConstantComfort Inflatable Air Mattress, simply unroll the mattress, and set the dial to your desired level of firmness you can choose from plush, medium, or firm. The integrated air pump will automatically stop when it reaches your level. When you are ready to pack the bed away, the pump will help you deflate the air mattress and then you can store it in the included tote bag.
My daughters recently had a friend sleepover. They set up the Simpli Comfy beds in our living room. They said the beds were great. They felt just like their bedroom mattresses. It actually looked like the girls slept well. They were all in great moods.
I am so excited about our camping trip! Having Simpli Comfy air beds is going to be so nice.
If you are in the market for a new air mattress, I strongly suggest you check out Simpli Comfy!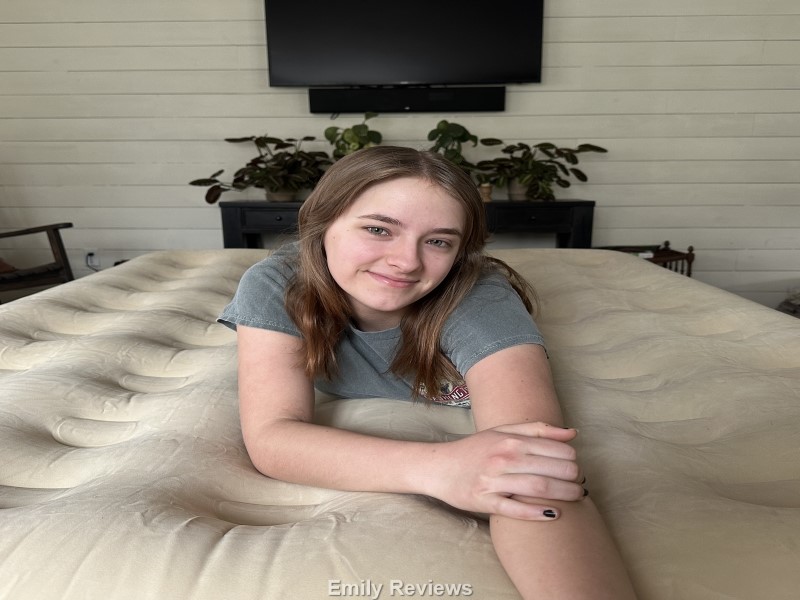 Buy It: Please visit the Simpli Comfy website to see their great selection of products and convenient shopping locations.


Hello, my name is Laurie. My family and I live near the Oregon coast. When we aren't at work, in school, or on the volleyball court, we enjoy traveling, cheering for our favorite sports teams, playing outdoors, and checking off items on our bucket list. We are lucky in that both sets of our parents, as well as our siblings and their families, live within an hour of us. We get together often to help one another out, celebrate milestones, and go on adventures together.
This post currently has 5 responses.